26th June 2018. Friday
Route: Bratislava – Liptov
Total km: 300
The trip begins. Milan leaves his house around lunch time and he goes to pick up Paťo. Maťo joins them in Bystrica and they come to Liptov around 5 PM. Mood is awesome, with liquor and beer we discuss the last details about the trip. We try to drink moderately but despite of that we go to bed around midnight and pretty drunk. The day of departure was getting closer.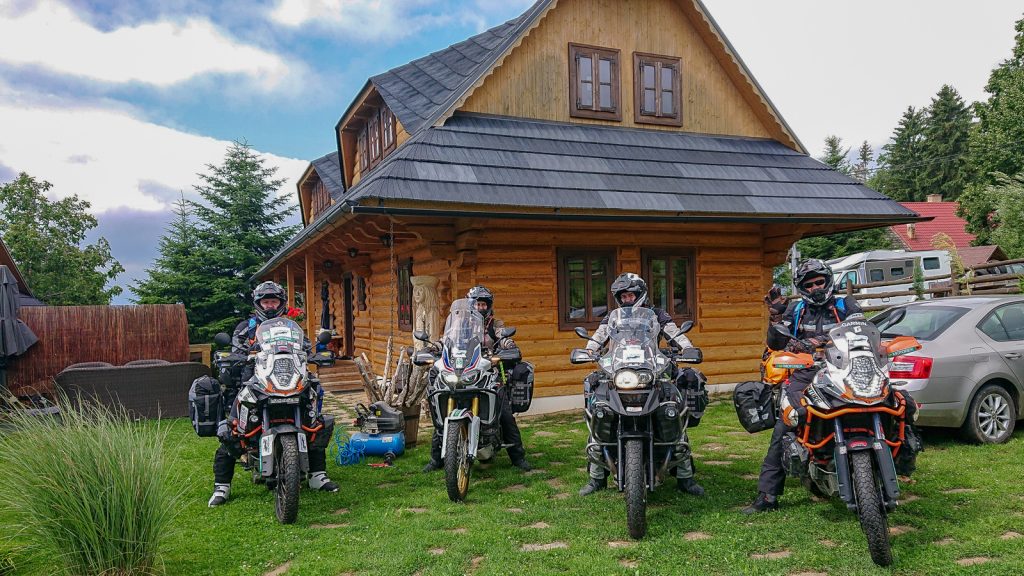 I want to go few days back. I started to check my motorbike on Sunday. It was necessary to check and tighten everything, to change all the fillings and set up the valves. The process was this one: dismantle half of the motorbike, release the cooler, measure the values on valves, run to Banská Bystrica on Monday to get the washer to be able to set up the values, put it all back together and start to pack for the trip so that nothing could surprise me. But I did not assemble the tighteners of timing chains in correct way and I realized that my valve timing is completely out of order. Great. Four days to go and my bike is into pieces in my workshop. Having no idea how to put everything as it was before, I called few people that I know could help me. Finally Robo from KTM Bratislava gave me some advices and I started to apply it. When I put all together I realized that my battery had power of 5V and it would not even make an alarm clock to ring. I waited till morning to start up the engine. On Tuesday I went to Žilina to Customs Office to get foam air filter which would come on Thursday otherwise and on that particular day I need to have everything packed. One trap after another.
On Wednesday morning I came to garage and I hoped it would work. I turned the key and with huge joy I listened to the whispering of the engine. It worked. I assembled additional light and finally I could start to pack up on Thursday. On Friday morning I went for a ride, completely packed. I did not want anything to surprise me tomorrow. I was curious about the motorbike´s weight so I went to waste collection point. The number was 320 kg….it will be difficult. I think we are all looking forward to the departure moment because the last days were very tiring.
30th June 2018, Saturday
Route: Liptov – Ľvov
Total km: 788
We start to move around the house at 7 AM like ants. Each of us deals with nervousness differently but it does not restrict us. Trip begins with departure before 10 AM. We said goodbye and set off. The last hugs, touching the hands and views to surrounding mountains. The wheels started to roll and we could start to live our dream. We went through our land around High Tatras, through Dukla. We crossed the border with Poland through Vyšný Komárnik at 1 PM. The road was good, we were getting used to the bikes and their heavy weights. We reached the border with Ukraine at 4:15 PM. The whole customs clearance took only one hour which was a very nice surprise.
We could start to take the dust off our knowledge of Russian language. When a woman at Customs Office asked us how many we were and what was the name of our group, I promptly answered "sorok". (Means 40 in Russian). She took her bum of the chair and looked out from the window. She couldn´t see 40 bandits and she didn't understand our laugh after realizing this stupidity. Just to be sure, we calmed down the situation with embarrassing silence and after a while we entered Ukraine. Today´s goal is Lviv. We stopped few kilometers behind the town in little motel with charming price – 5,50 eur per person. We managed the first day.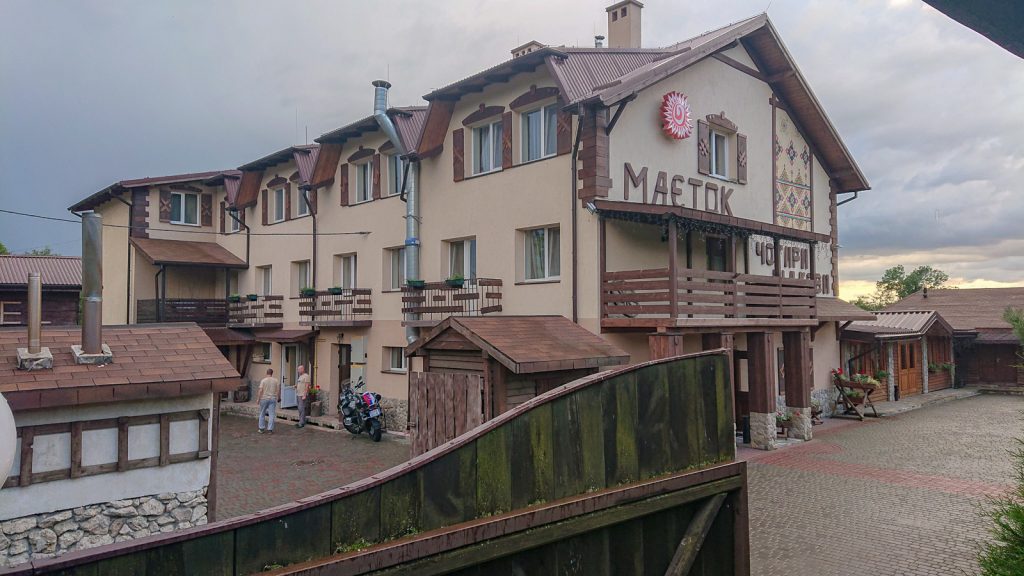 1st July 2018, Sunday
Route: Ľvov – niekde za Kyjevom
Total km: 1 478
We woke up to cold morning and we thought about putting on waterproof clothes. We decided that our morning departures will be at 9 AM that means to wake up at 7 AM. I could feel the one hour time difference, mainly because of the tiredness from last days.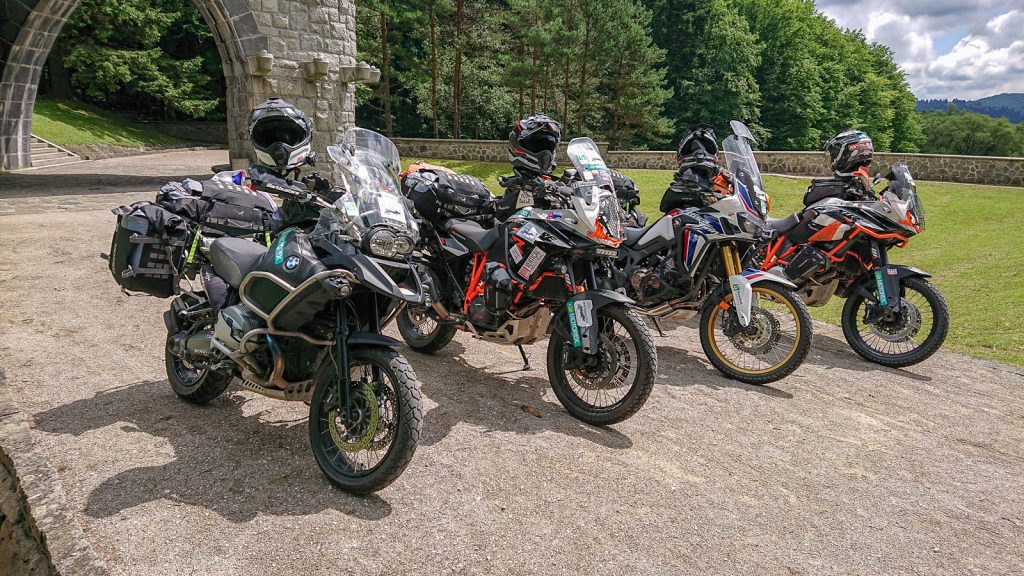 The road is dynamic, we mostly ride on 1. Class roads with maximum speed of 90 km/h. At the end of the day our average speed is 105 km/h. We try to perceive the surroundings, each of us thinks of different things while collecting more and more kilometers.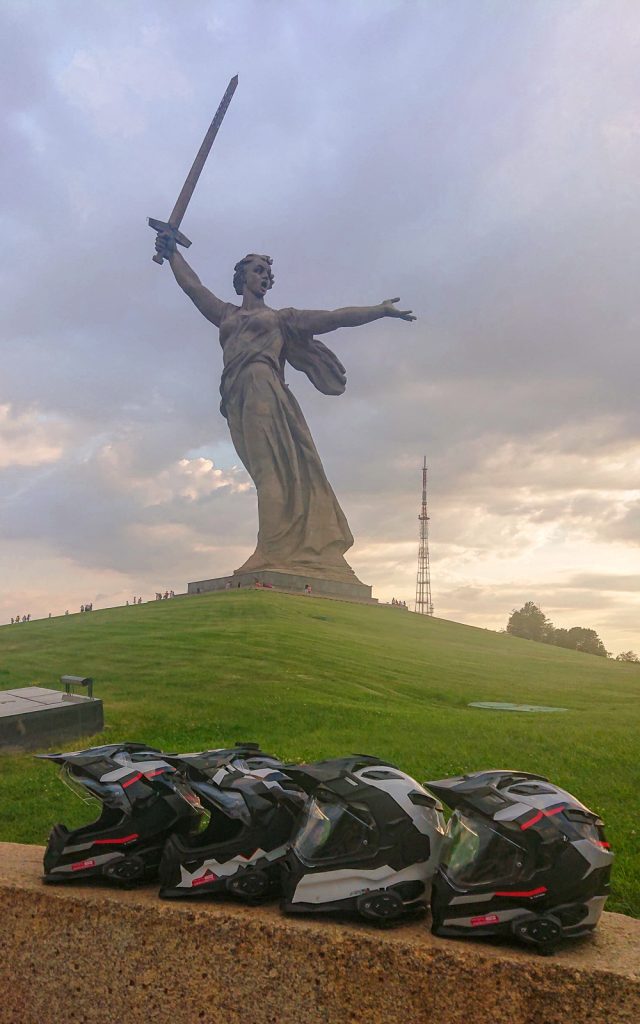 We literally fly through Kiev like we know the place, between never-ending traffic jams. There is magnificent statue of woman holding sword and shield above the town with a height over 80 m!
The whole day is abut refilling the tanks, drinking coffee, smoking and chasing kilometres. The traffic situation was good so at 7 PM we reached 700 km and very satisfied with ourselves we think about reaching Russian borders. Needles to say, this stupid idea was knocked down 800 metres after the petrol station where we found very nice motel. We do not have to rush, tomorrow is other day as well. We have dinner in a very good mood, we enjoy beer with vodka but we do not order the fourth granyonyi stakan (table-glass).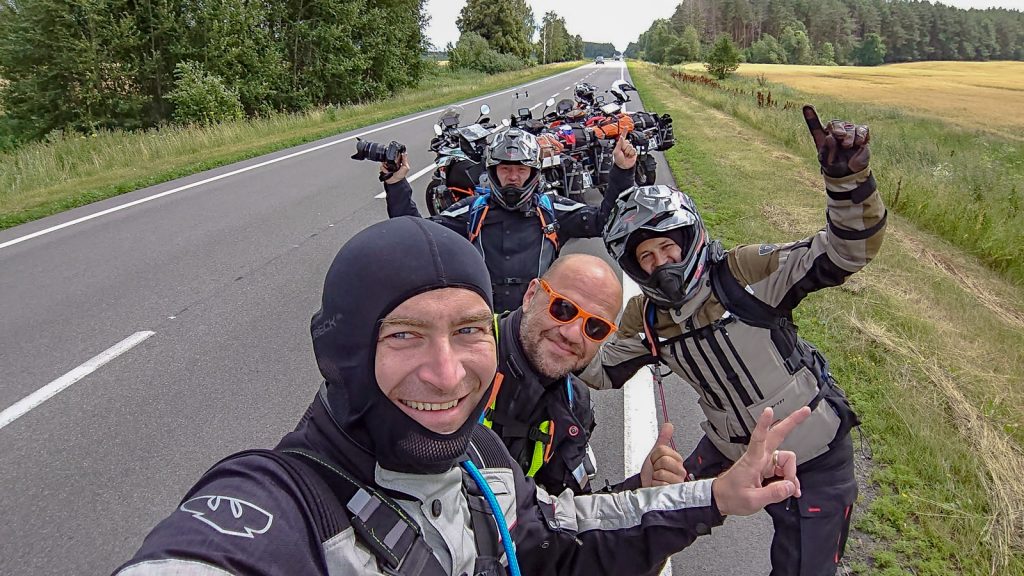 The biggest disadvantage of the accommodation is Wi-Fi that doesn't work. It is a disaster. Paťo who is responsible for IT suggests to join two girls that sit next to us. It is a very interesting idea but we cannot see how that deals with internet connection. Very easily…you will talk to them and I will create hotspot on their mobiles. I always say that these IT brains are different 🙂
Route that we've made during "this article"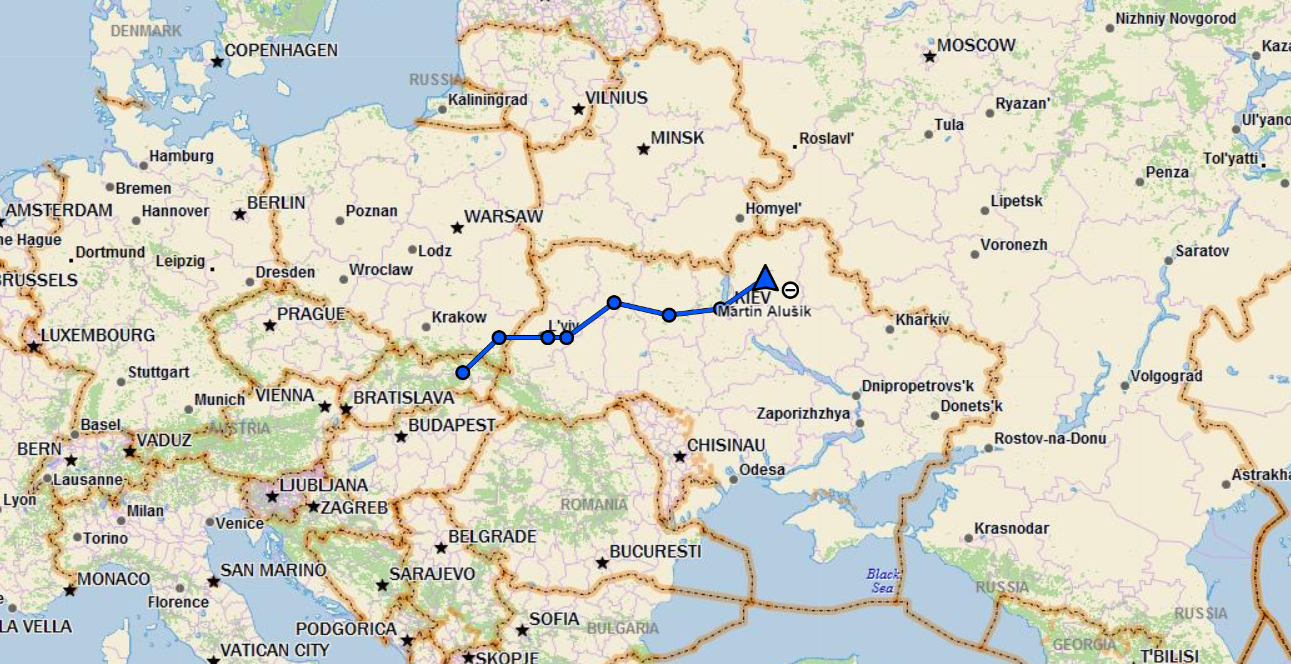 Read also…