Four Slovaks decided to go for the trip of their lives – they want to cross 9 time zones, 20 000 km from Bratislava to Magadan, on the motorbikes and without the accompanying vehicle. Will they succeed? Watch their trip on-line.
Jozef Heuger writes.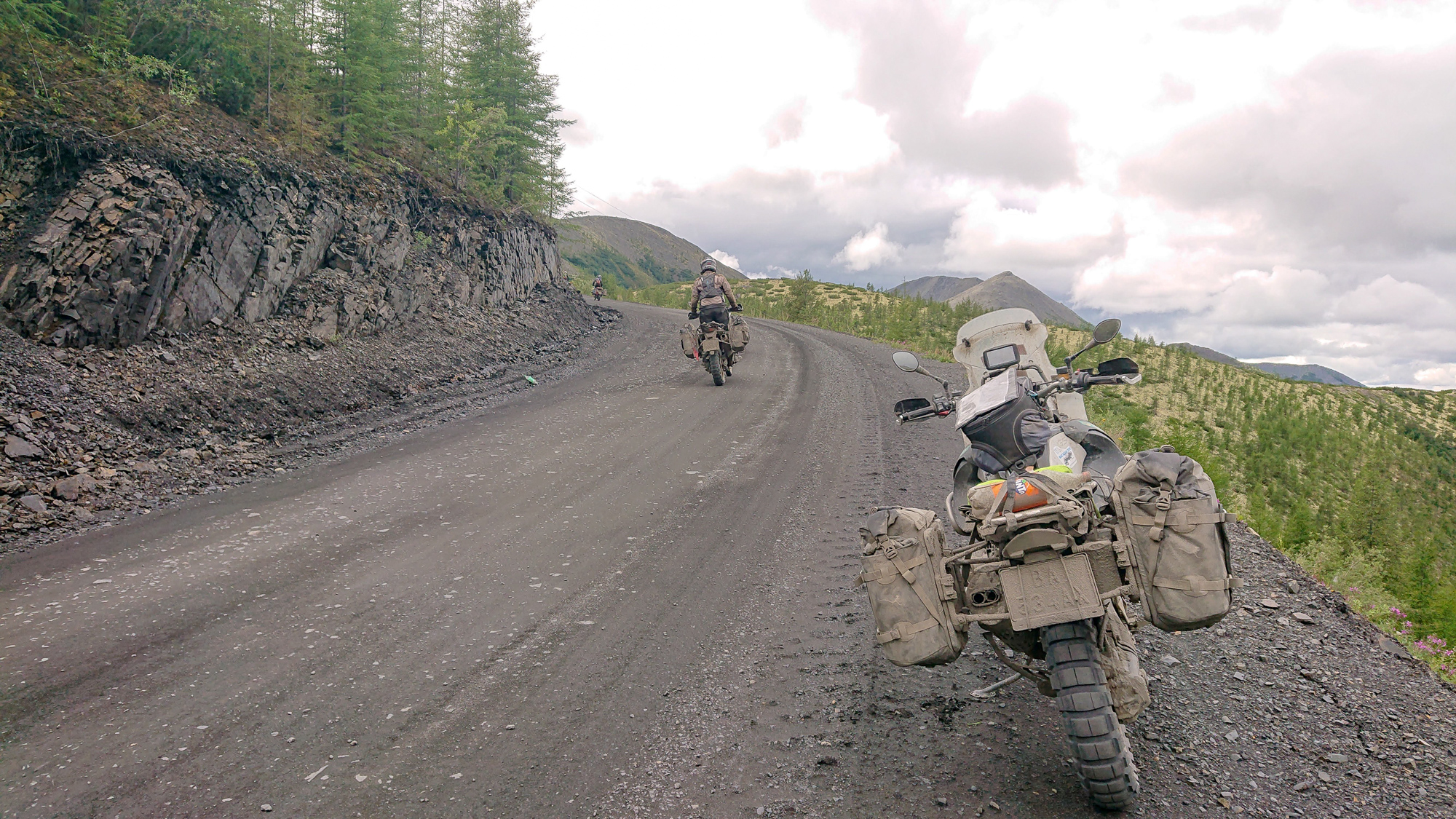 2nd August 2018, Thursday
Route: Susuman – Ust-Omčug
Celkovo prejdených km: 13 450
We can continue from Susuman in two ways. To follow the main federal road or go 40 kilometres back and take so called Tinkovska road. This one goes through two mountain crossings and offer beautiful views. Information gained from the locals are favourable: the cars normally go there. We decide to go back and try it.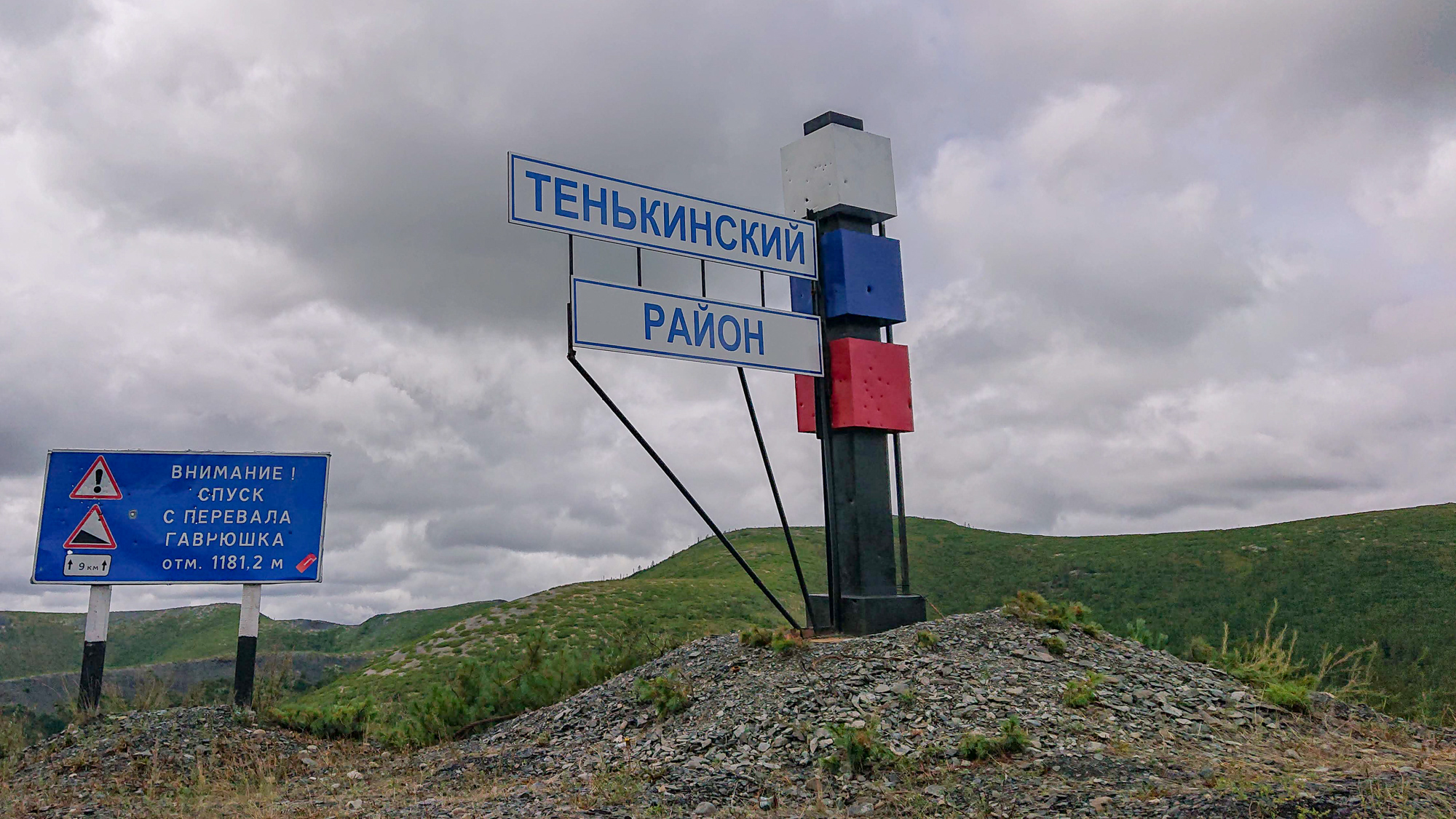 The first kilometres show that this was a good decision. The countryside is amazingly beautiful and the sun heats our painful bodies. Stony surface is ideal for our motorbikes and I enjoy the ride like in the competition. I turn off all the traction controls, ABS and others systems limiting these moments and I wear my tyres like I should make the last 500 kilometres to Magadan on completely soft tyres.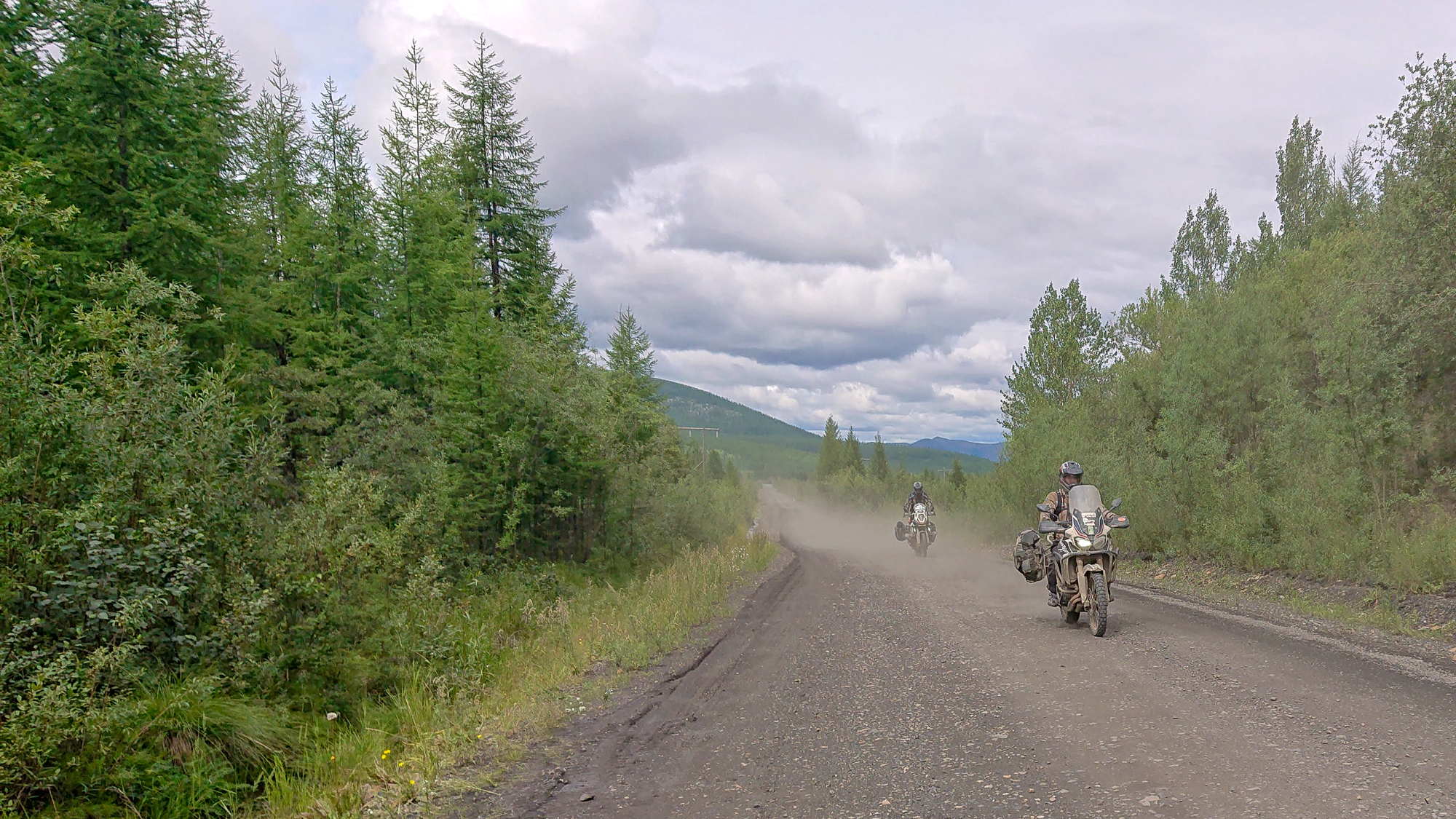 On the top of one of the mountain crossing Marty got a puncture. Total score for now: me vs. Marty is 3:2. The weather in the mountains is unpredictable, it looks like it will rain. We try to fix the puncture. A car with couple inside stops by and ask us if we need help. This question and willingness is very normal in this country. People help each other. While we are fixing we talk. Before they leave, they give us home-made tomatoes and cucumbers. It is not necessary to pack because immediately when they disappeared we ate it all. We use the same way to fix the puncture and we continue. We are very thankful for the decision to go this way. It feels like reward for yesterday´s terrible road. It´s beautiful here…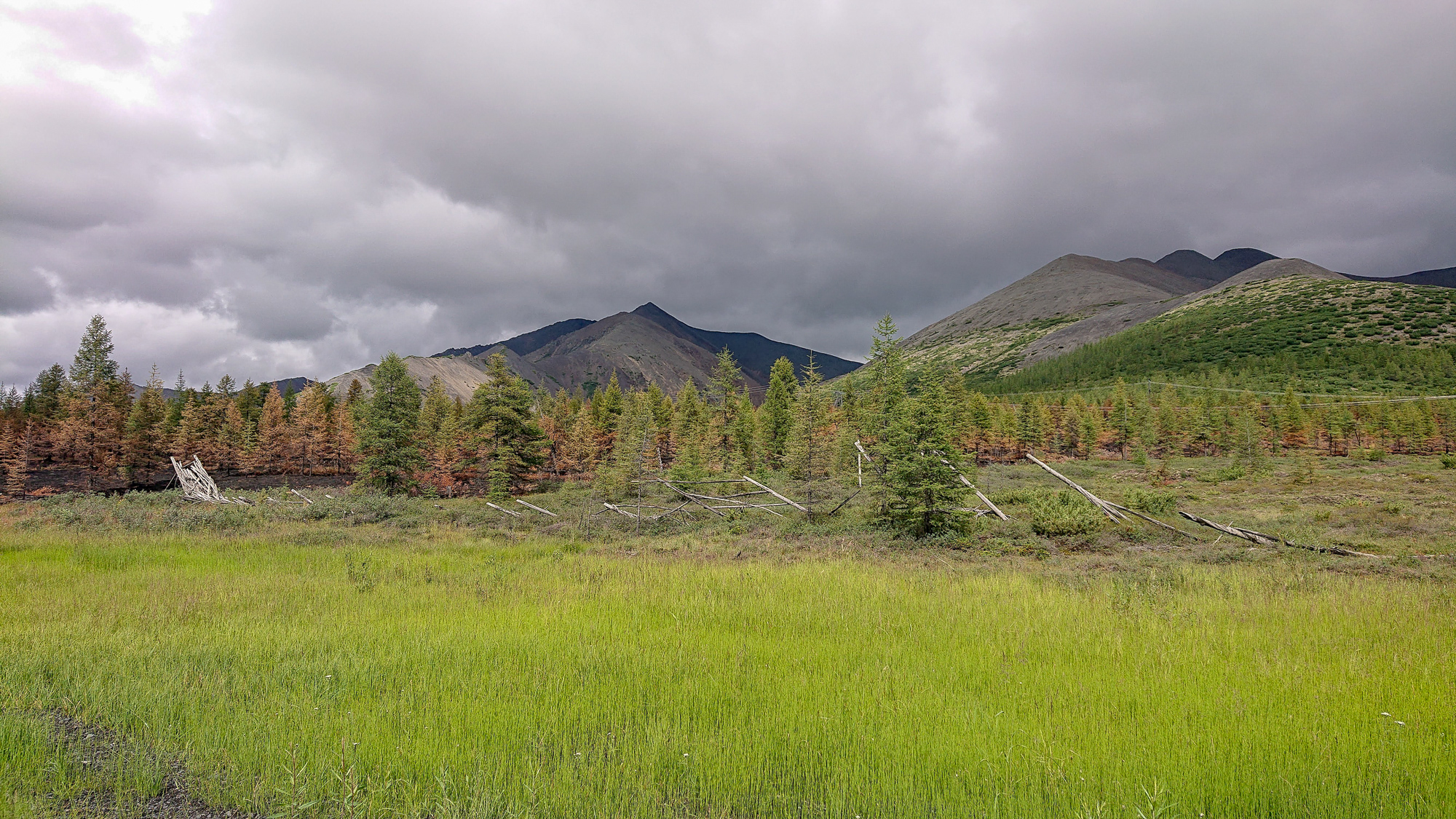 There is one hotel is Ust-Omchug. Two locals help us to find it because they can see we got lost. They take us right to the entrance. Bad luck, it´s full. We explain that we have tents and we can sleep on the field or square. They suggest to sleep in the local park. On the way to cookshop they show the best place for sleeping. They pay attention to us like we are their family.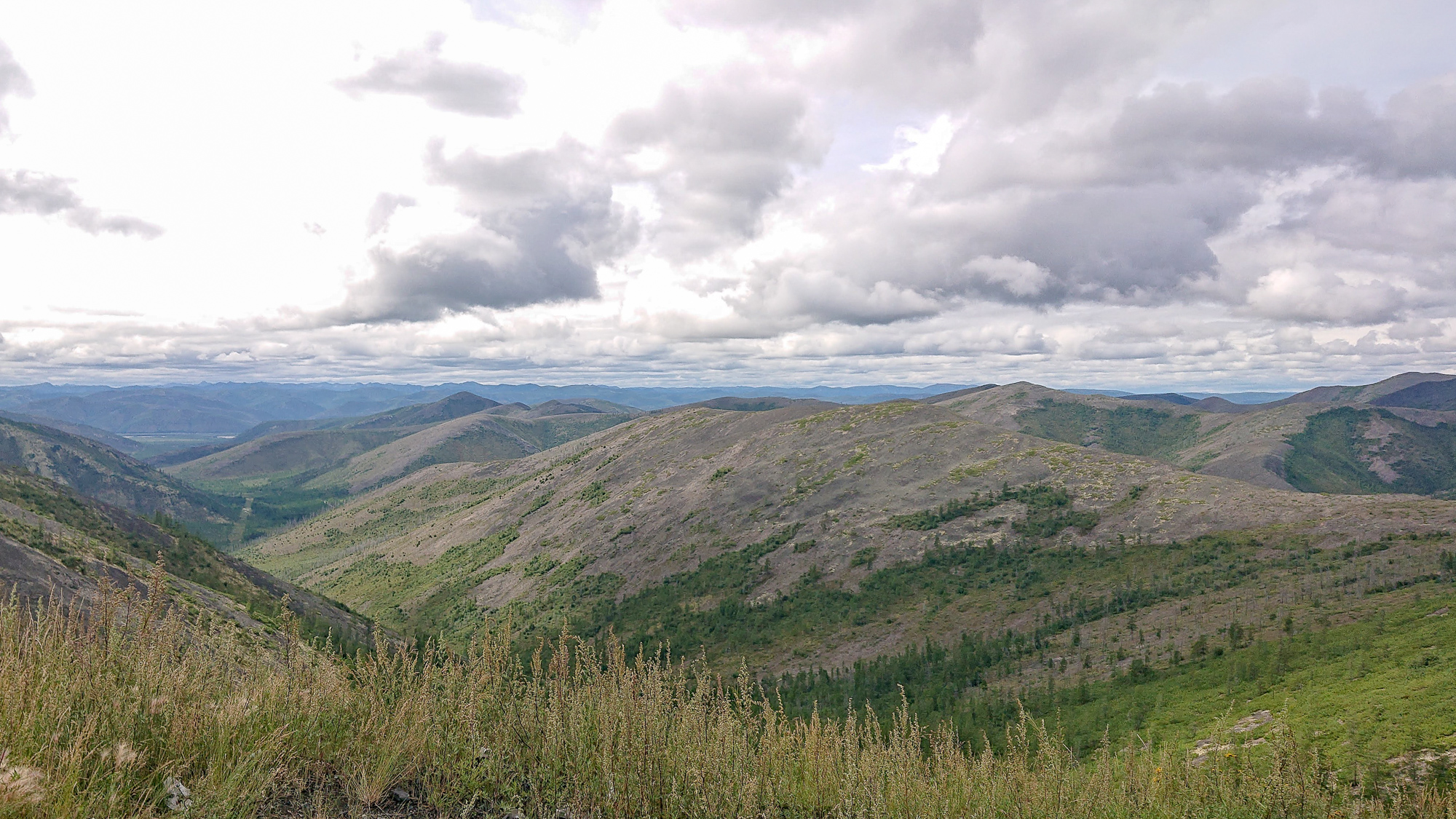 We go to the park after the dinner and we set up the tents. It started to rain. Marty shows he is willing to drink something and to be honest I feel the same way. Paťo and Milan don't want to join us, they stay in the tents. We go back to the cookshop hoping they will at least have a beer. They do! We buy three litres of beer and drink at the table. It is getting dark outside so we decide to get back to guys. Our mood is awesome and our heads are very light. We do not want to sleep, we put the music loud so the disco can start. All favourite Russian songs can be heard in park and between the tents. Guys do not really support our moments of fun, only Miňonka gets out of the tents to have something little to drink and only because he has to wee. We dance, drink and talk about life. We get back to tents completely soaked knowing we have to put the wet clothes on tomorrow. We don't mind at all. The spontaneousness of that evening is beautiful, all the rest is not important. Marty, thank you for this evening.
3rd August 2018, Friday
Route: Ust-Omčuk – Magadan
Total km: 13 717
Putting on the wet clothes is not that pleasant as we thought during the gala evening. I clench my teeth and I only think to get to Magadan today. Today it is the fifth week that we are on the road. Today it is the fifth week that we are on the road.
After fifty kilometres the score of the punctures between Marty and me gets on 3:3. I do not remember where it happened. Nothing serious, we glue and continue. We are quite worried about Marty´s clutch. It has been more than few days that the clutch does not cooperate with Marty but it is different now. More serious. We stop in the hill and take pictures.
I wait for him to go, just to make sure. I would have been waiting there until today. The clutch is not working, it is impossible to get the motorbike to move in the hill. Oil underneath the motorbike and oily piston mean a disaster. I try to do the impossible, to dismantle the bottom piston. The inside of the piston is completely destroyed. I try to put it all back together and I add oil we have. This mission was not successful. As we are thinking how to continue, a truck with electricians with hydraulic hand pass by.
I am thinking a lot. While analysing, Kamaz (the truck) disappears behind the hill. If we get the motorbike to move downhill there is nowhere to turn around and we cannot push it uphill. I send Paťo to stop those guys. Do not come back without them! We can only hope that they will be willing to come back, get the motorbike on the car and take it to the civilization. Paťo comes back after a while with good news. They will help us. We are 125 kilometres away from Magadan and 45 kilometres away from asphalt. We just need to get to the asphalt road.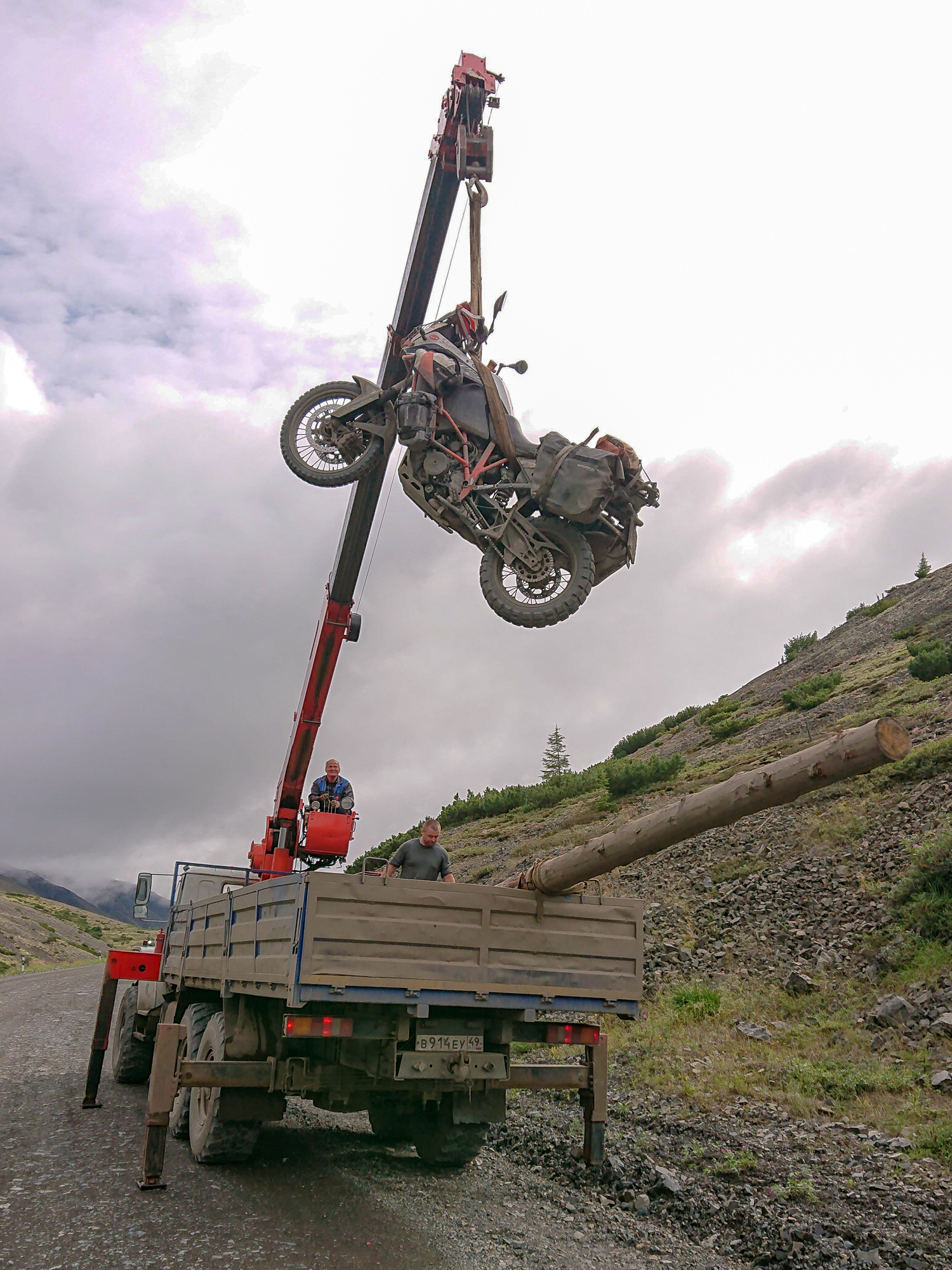 We effectively pit the motorbike on the truck and Marty goes like a sir in the cab. The rest of us is ahead on the motorbikes. We enter the city of Palatky and we park in front of the first restaurant. Marty sends us coordinates where is he because those electricians are still working and have to go. I and Milan come to see him and try to decide what to do. We will push you. Let´s get something to eat and we will get to our destination… We push him, sit on our motorbikes and we go behind him. Marty goes about 300 kilometres and stops. Throwing his helmet into the bushes means problem. Big problem. Blown back cylinder and the day light broken destroy the last hope to get to Magadan on his own. This is the moment of absolute desperation.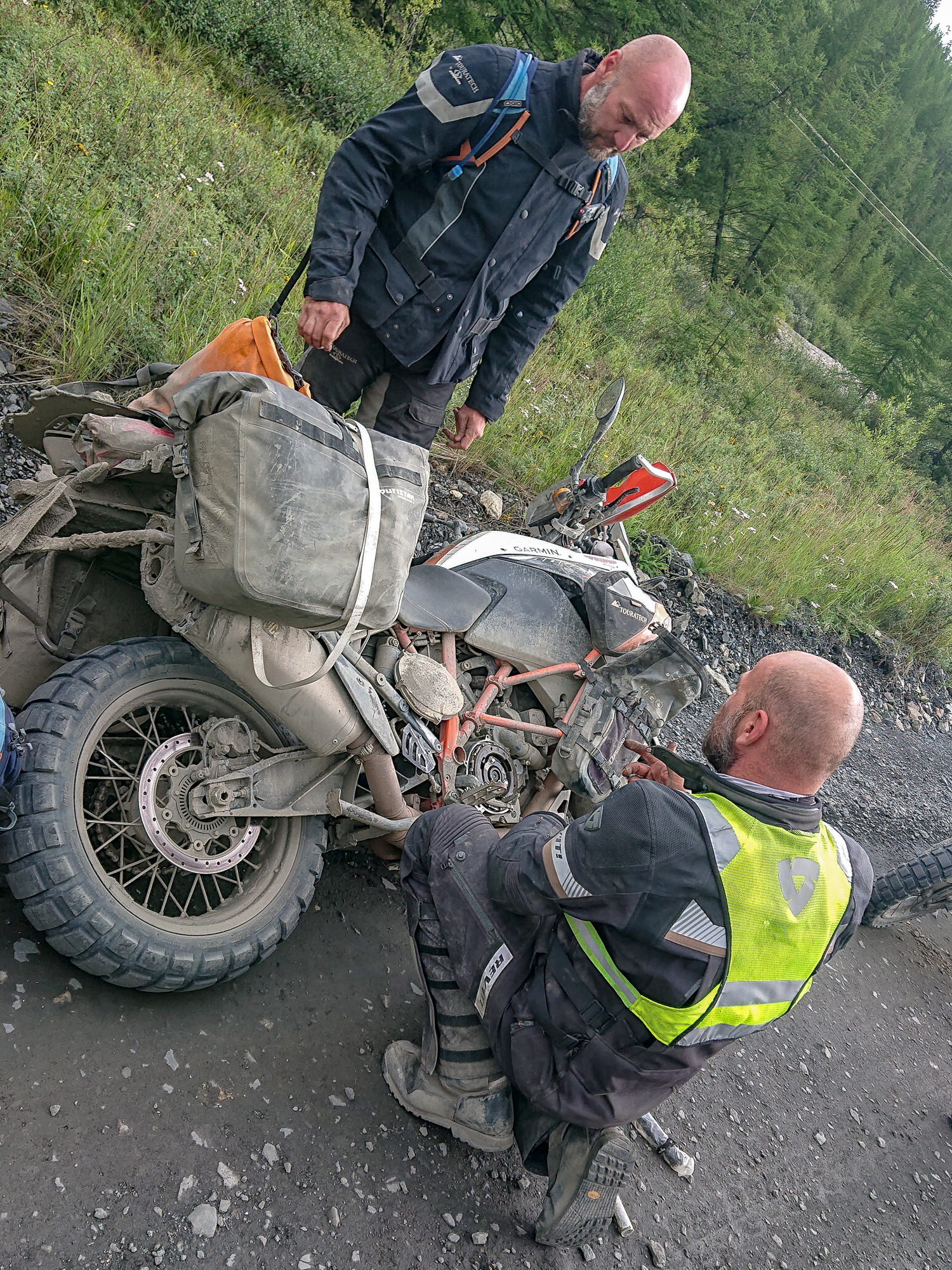 We did 14 366 kilometres to finish now? No way man! Marty kills me with question: Will you pull me? Bloody hell, of course I will! We lived together, we die together! One is in front of us, one is behind us, indication lights are on and we continue like presidential convoy. One and a half hours with one smoking break after 40 kilometres and suddenly we are here. The board with Magadan on it makes us cry. We are here. We are in Magadan. We did 14 446 kilometres, 5 weeks on the road, across the biggest country in the world. We hug the board like mother would hug her child, we hug and thank each other. We made it. Although we are only half way through, we are very emotional because we reached our top. The real one, not the one in the base camp. We do not finish our trip here though. At least, Marty and I still believe in it…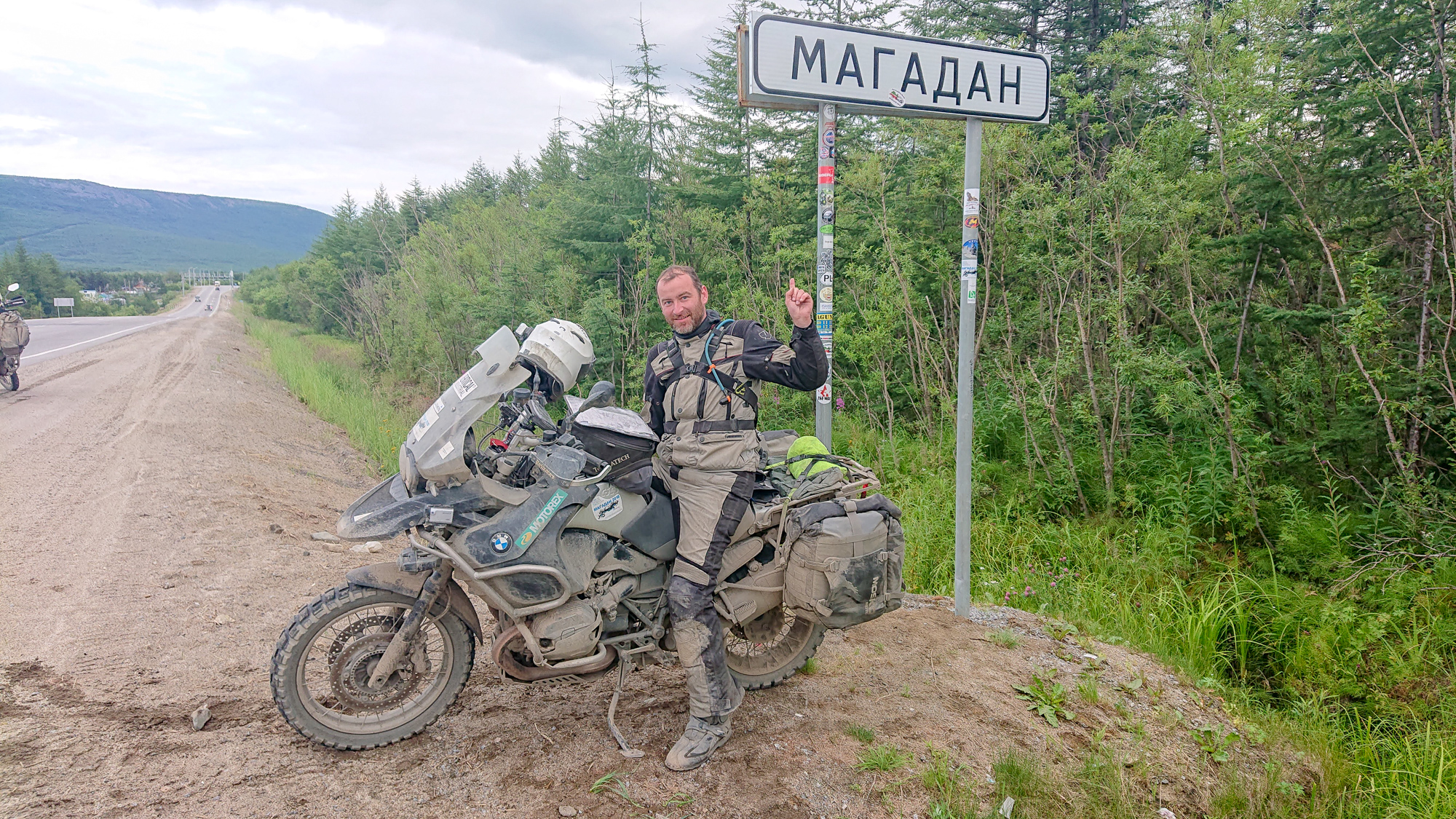 One main street leads to the city, first descenting then ascending. This is absolutely insignificant while there is one motorbike pulling the other one in quite thick traffic. Marty pules the breaks downhill, I pull him uphill. But to go uphill when you have to stop on the traffic lights, that's another thing.
We go continuously when I suddenly see the red traffic light on the hill. I try to keep our twins in move and I hope the light will change to green. Or a little bit orange at least. We can go on the first gear but we cannot stop. The green light is not in our favour, I see the situation and I tell to Marty though walkie-talkie: Let´s go, even on red light, if I stop I will f**k my clutch. His answer twists my wrist and we fly through the standing cars and cross road. Our two other motorbikes do not get it at all but they join us. We believe that a rope between two motorbikes explains it enough. A good rider rides on red light as well! There are still few traffic light uphill so we continue in our ignorant ride. Up to the horizon.
Standing in front of one traffic light on flatland, right next to the hotel, we notice a good dressed man staring at us. When he sees we take the turn to the hotel he follows us. Other man, in the same age, is already standing in front of the hotel. We move. To the left after the traffic light, left again after 50 metres and we are in front of the hotel. One works in radio and want us to come for an interview tomorrow morning and the other one called Sergei comes to us because he can see the rope and the problem. That was the moment he became our temporary father, guardian angel and friend until the rest of our lives. Tomorrow he makes us appointment with the local mechanic and he takes us for dinner to a very nice restaurant. We explains everything, he recommends food, vodka and other beverages. No one has tried such a good fish so far!  It is true!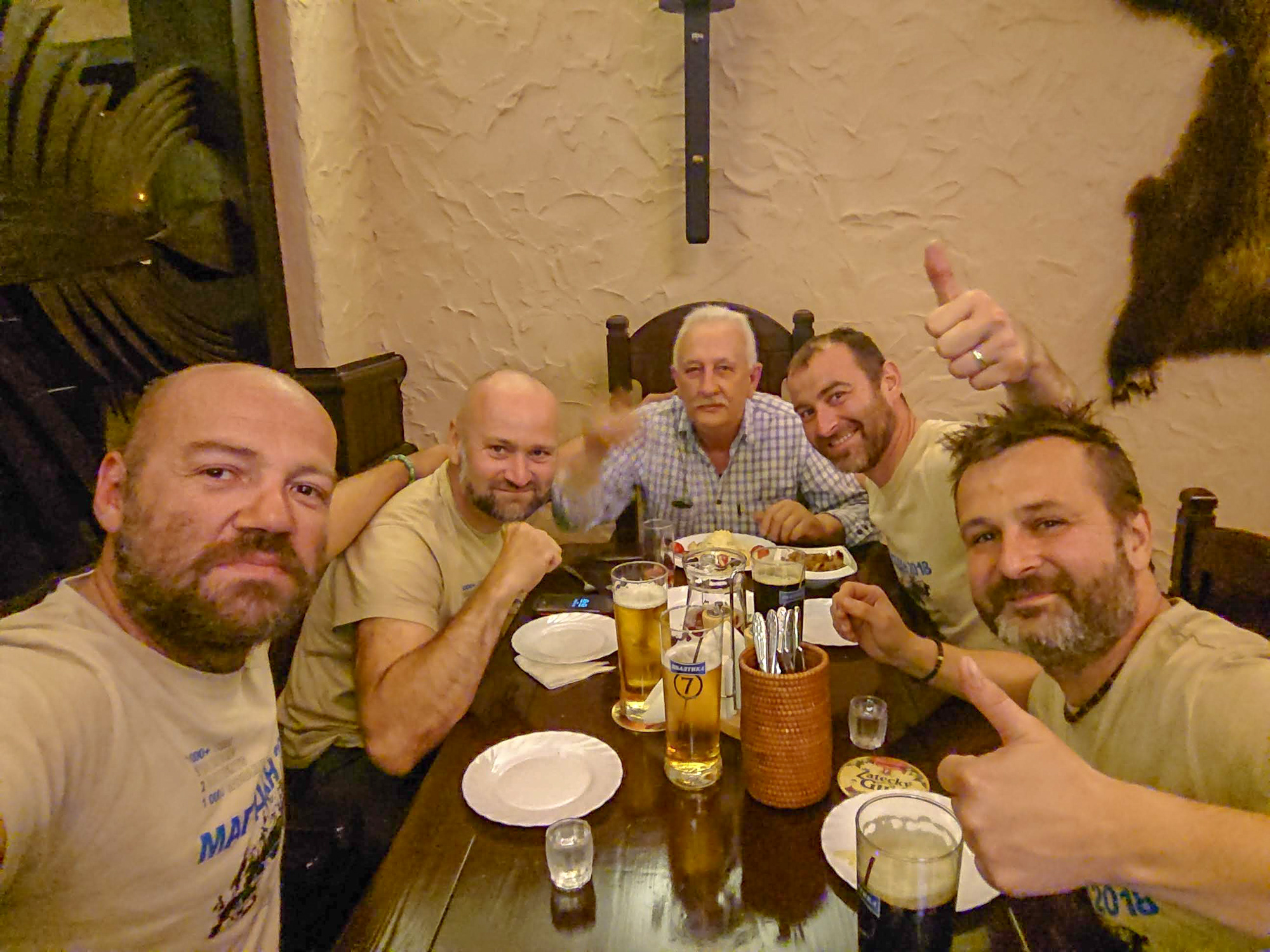 Everything is perfect, we feel very good with him. We tried to avoid the talks about politics during the whole trip. This is slightly different this evening but in the end Sergei told us one big truth: You have freedom in Europe but we have liberty in Russia. It is difficult to add more…
Route, we've made during this trip
Read also…