Saturday the 1st of July 2017; the date for our latest trip. This time round our group consisted of five motorbikes and with two females warming our backs as passengers. We had planned this journey back in January and I had discussed it with a Bulgarian colleague of mine, he had a look at our route and told us where to go and what was worth seeing. I have to say his advice was excellent.
The weather forecast looked promising and we started our trip as usual with a group photo. This time we were dressed a bit unusual though, in our waterproof gear, looking a lot like teletubbies. For today we had planned just a short journey, approximately 600km. We wanted to cross Hungary and get to Romania. Not a huge distance and we had done a lot more in a single day in the past.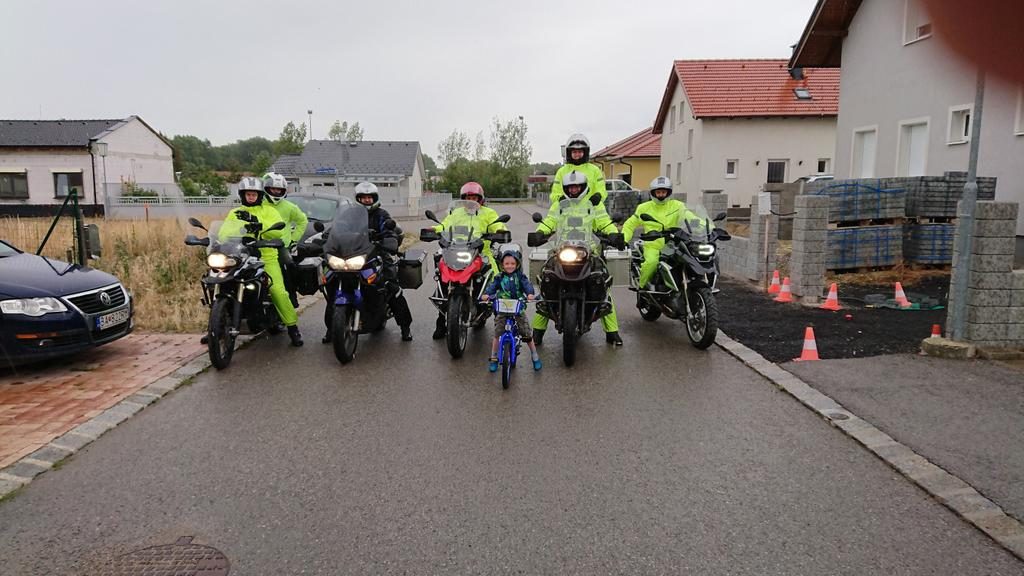 The plan was to stop for a night in Romania outside the city of Timisoara. After taking a look at the forecast and seeing the light showers were threatening to get much stronger, we decided to end our tedious day journey on the boring Hungarian highway in the town of Bocsa.
We left the highway somewhere around this place and got on to the local roads. For some reason I thought I had read somewhere that motorbikes had to buy a toll sticker when crossing the borders. I was wrong of course, I must have been really tired.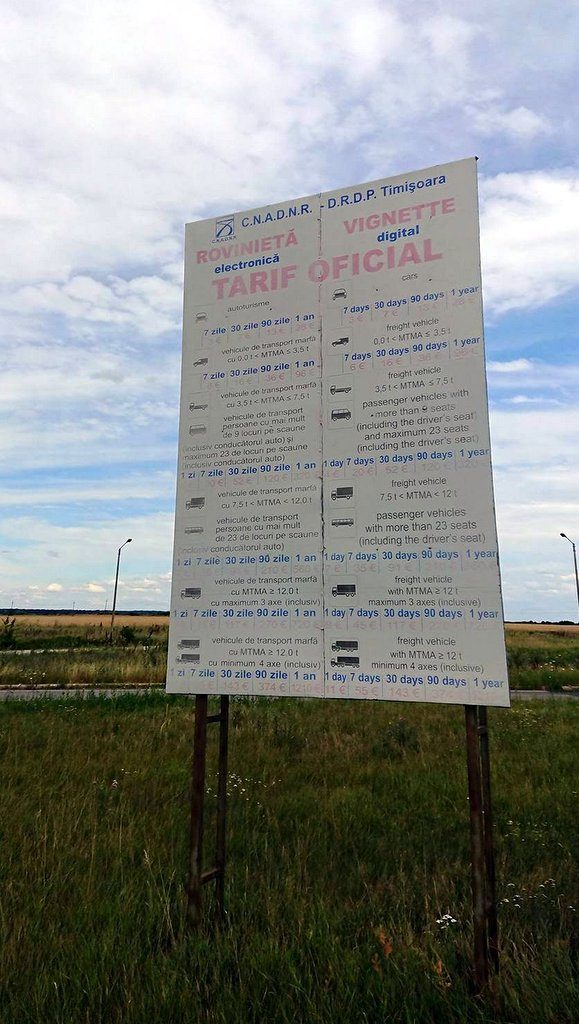 Our accommodation was really nice. We stayed in the hotel and restaurant Talia. We tried to talk to locals using a weird combination of Italian and Romanian, but in the end we just used rudimentary hand signals as it seemed the easier way of getting the point across. At 10 euros per person per night it was a great deal, and we also liked the idea of our bikes being parked in the local warehouse overnight. While we were parking our bikes the girls got some rest in the hotel lobby.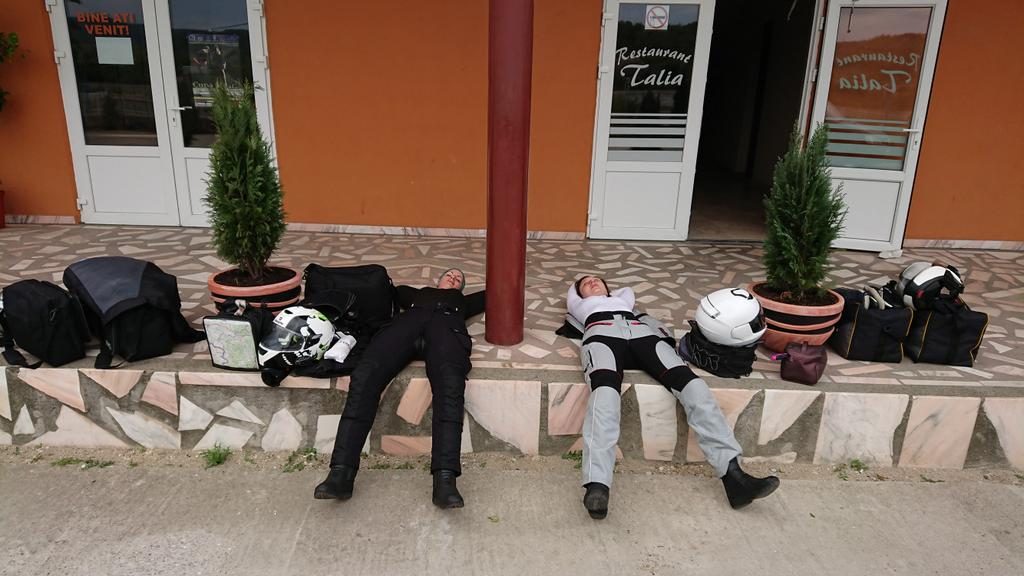 For dinner we had a home cooked meal; a not very large schnitzel with French fries and local beer. We had the hotel terrace to ourselves since we were the only clients there that night.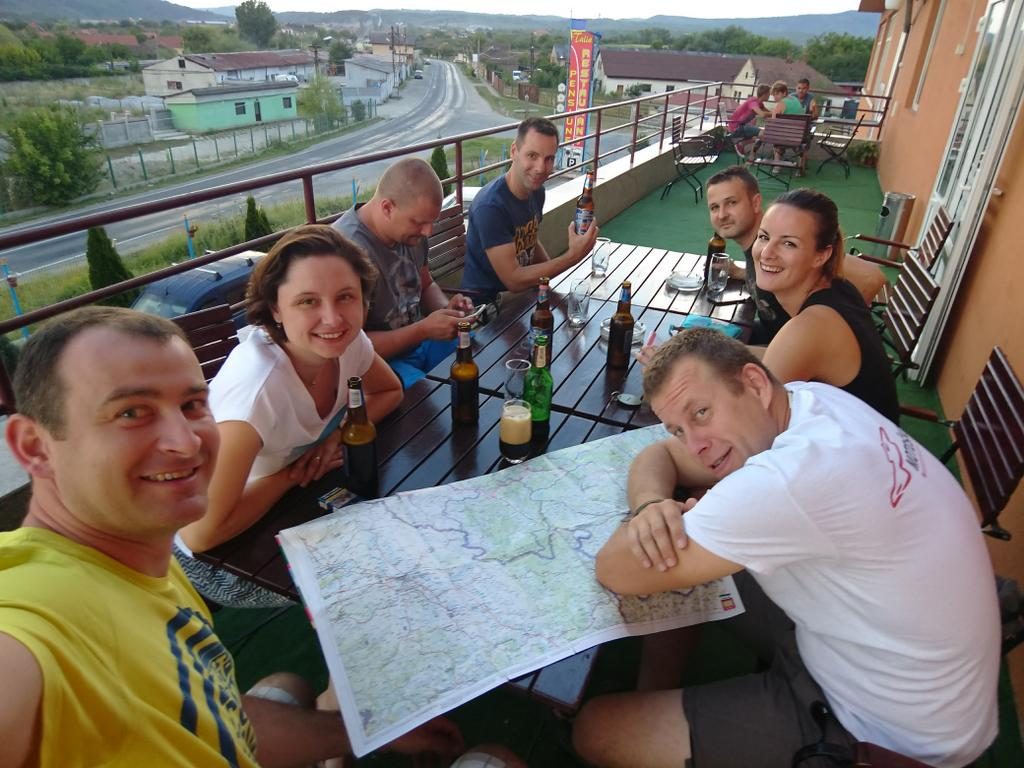 I had to explain to my friend Palo how the typical morning schedule on our moto trips normally go, as he had to mentioned having breakfast at 9am. We changed his clock to Romanian time (1 hour more than in Slovakia) and at that point he started to finally get it. In the end he put a breakfast reminder in his phone for 8am with a view to leaving at 9. The route for the day: https://goo.gl/maps/wrbPYrF4Mur
Sunday 2.7.2017
Our breakfast was typically Romanian, after which we got our bikes out of the makeshift garage which the hotel owner was obviously very proud of. At 9 am we started on our way to Calafat near the Romania/Bulgaria border. The last time I was here was 20 years ago aboard a bus full of Slovakian holidaymakers, on their way to a long awaited holiday on the Greek resort of Parália. Things were different back then; it wasn´t so easy to get to Greece, and instead of a 2 to 3 hour journey on a plane, you had to spend two nights (or 36 hours) on a bus (without breaks at nice petrol stations with clean toilets). I was looking forward to seeing Paralia again. There is no ferry anymore as they have built a bridge instead and I was very excited to see it.
Having spent a lot of time on a flat Hungarian highway, the Carpathians with their hills and turnings were a welcomed change. We tried to get through the town of Resita but we got stuck in the middle of a crowd, as we had come during the day of some kind of local fair or competition. That meant a bit of a detour in the hot weather. One of the nice local policemen explained to us where exactly to go (proving people should really get rid of the old prejudices). We turned around and headed towards Lupac, Clocotici and Bigar Waterfall. You need to follow the signs when you try to park otherwise you won´t be able to get anywhere near the waterfalls. I know what I´m talking about; we tried to do it our way and learnt the lesson the hard way. The parking lot was quite full but it was pretty easy to fit our bikes in the gaps between the cars. From the parking lot to the waterfalls, the cave and the riverhead it was approximately 300 m. The entrance fee is 1 euro and you can easily spend 2 hours there.
There are stalls with refreshments near the parking lot so you can relax and have something to drink or eat. We had a nice coffee and slightly hungry we carried on with our journey. We wanted to see a bit more of Romania before we entered Bulgaria, so we headed through some more Carpathian hills towards a small commune called Coronini. We ate our lunch on the banks of Danube and if we had wanted we could have had a swim with a beautiful view of the ruins of the fortress Golubac. It took us ages to finish our lunch but as it was very nice there we didn´t really mind.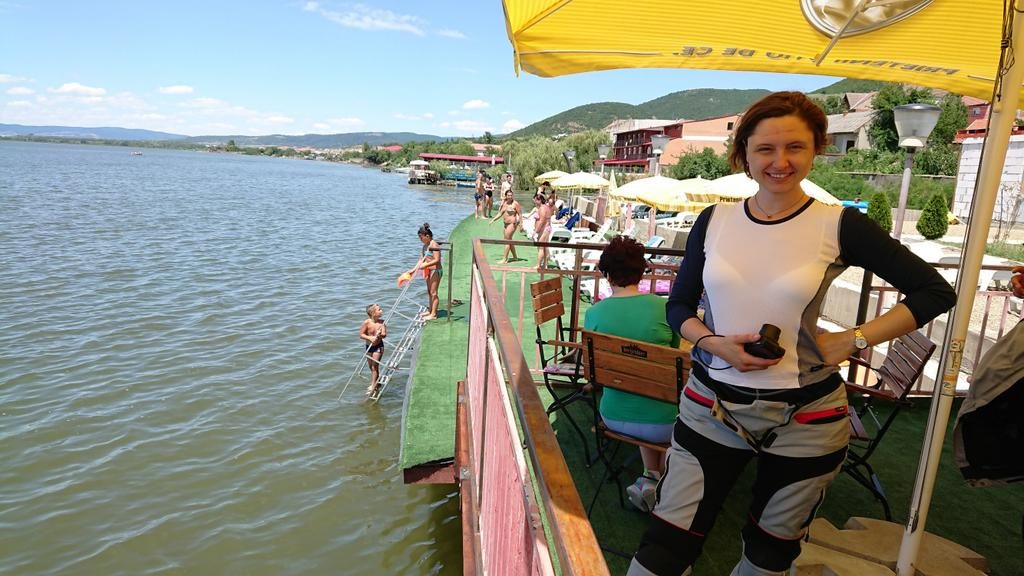 At this point it started to get really cloudy and it was threatening to rain, this time our premonition were correct and not long after we left we had to get out our waterproof gear. It was pouring with rain when we stopped near the Cazanele Mici, the 42,9m tall and 31,6 m wide rock sculpture of Dacebalus, the last king of Dacia. This monument was made by 12 sculptors who worked on it for 10 years (1994-2004). You can see it from the bridge you need to cross along the way; situated opposite Tabula Traiana which was created in 105BC as a monument to celebrate Emperor Trajan's victory over Decebalus, after which Dacia became a part of the Roman Empire.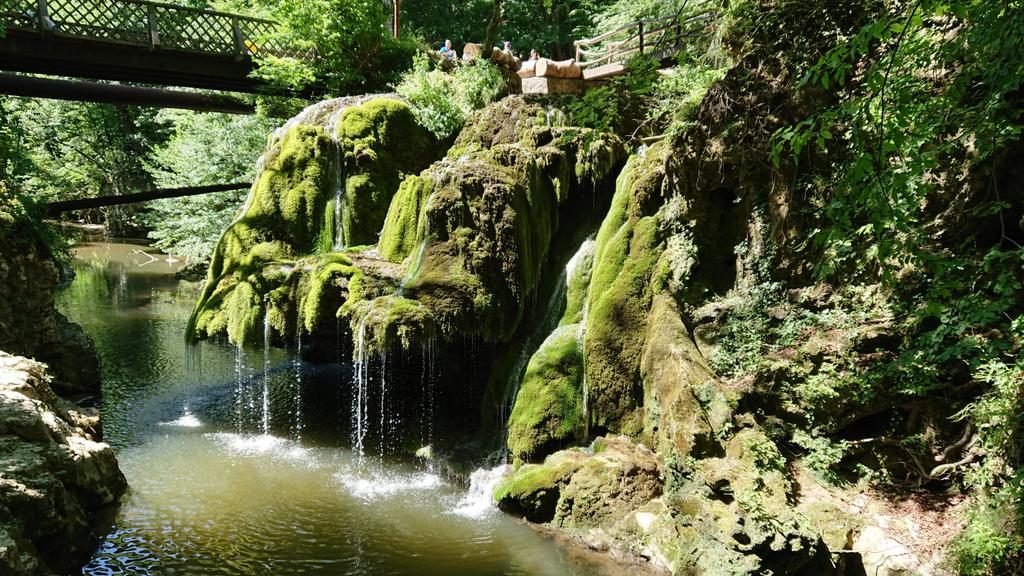 After a rainy visit we headed towards Calafat/Vidin. We passed Iron Gates 1 which is also the border with Serbia. This place is very well guarded not just because it is a border, but because it is also a hydroelectric power station. In 1972 when it was finished, the Iron Gates was the biggest hydroelectric power station in the world. Taking photographs and stopping was strictly prohibited in this area. There were a lot of people making sure nobody was breaking rules so I decided not to push my luck this time.
We had got to the boring part of our journey and there was nothing to see along the way. Near the Hinova I noticed the sign saying "Fore de Fier 2" (Iron Gates 2) and I had a great idea to go there and have a look. I wasn´t worried about the route back as I fully trusted my GPS. Unfortunately, it turned out to be a bit of a problem. The GPS couldn´t find the right route so we ended up going to Serbia. We really didn´t plan this and some of us didn´t even have our passports with us. In the end we got back to our original route (This explains the little illogical diversion from the route of the day, which you can see on my map).
In the hope of finding some accommodation we headed towards Calafat and the sun was already set when we finally found somewhere to rest for the night. It is hard to say whether we were lucky or not to find one in town. Booking.com wasn't much help so we used Google maps. On the way to Calafat a car took us over and wouldn´t leave us the whole way. I knew from experience that it was a "client catcher" and he led us to the local truck driver's inn. The price for a room was increasing with every sentence uttered and the moment he said that the restaurant was closed we decided to carry on our search. After all this we found a little hotel in the centre of Calafat where the owner told us with a big smile on his face that the hotel was completely full, he then proceeded to try to explain to us how to get to the next one. We didn´t really get what he was saying so we pulled out our phones and found out that the next possible stop was just around the corner. We got to the hotel Panoramic, negotiated the price for a night and started to unpack. It was 9pm and it was starting to rain. The rain was getting stronger with every minute and the hotel staff tried to convince us that the restaurant was closed despite the fact that the opening hours said it was open until 11pm.
On our way downstairs we met a guy who everybody called "diretore" and we asked him to tell us where the nearest restaurant was, it was like a magic. He turned us around and directed us to the upstairs restaurant. Now I don´t have to tell you how happy the restaurant staff were to see us. They cooked something up really fast, something lukewarm with a few French fries. We drank a few beers with our dinner and decided to have some more afterwards, but because we are nice people and we didn´t want to bother the staff any longer than necessary, we paid and left the restaurant before 11pm. We then ate pizza and drank a few more beers in town and before turning in. The forecast for the following day wasn´t great; Rain followed by even more rain. The next day we were supposed to do 420km. Daily route: https://goo.gl/maps/WY9ot1jwXy32
Monday 3.7.2017
Rain, rain and more rain. The forecast for that day was clear but that didn't mean it was going to be a dry day. It was already raining a bit when we left the hotel and by the time we left the town it was pouring down. When we came to the borders we noticed a line of lorries waiting to cross so we asked a custom officer whether the border crossing was rideable. We really didn´t want to stand here on a bridge and get totally soaked.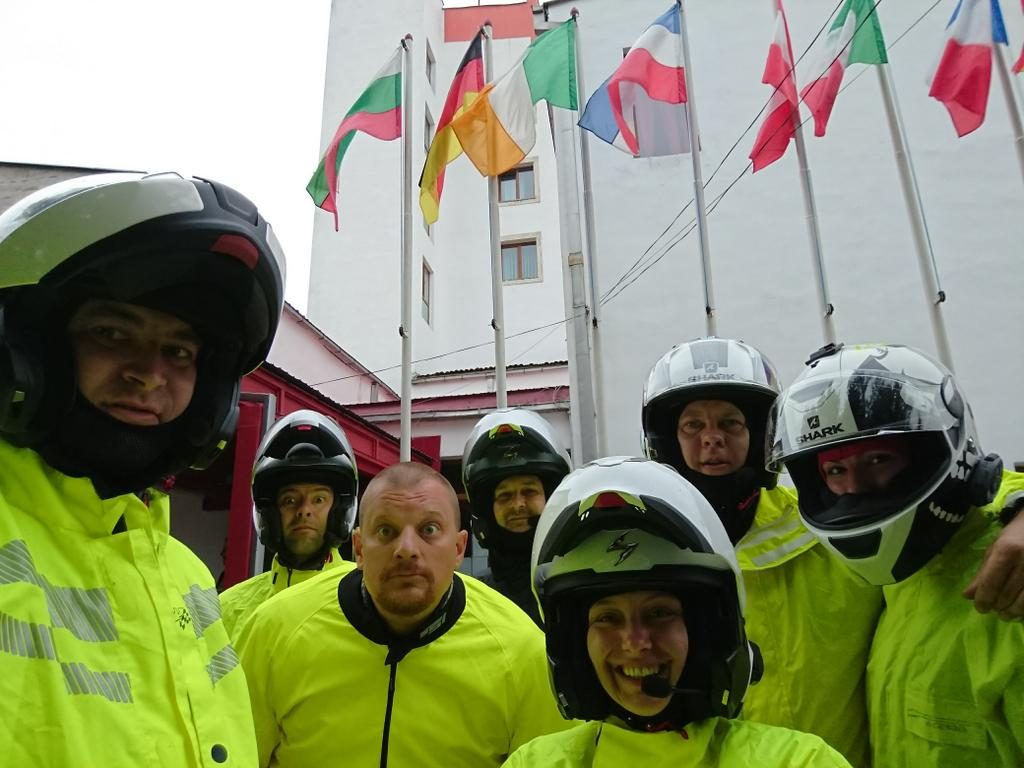 He couldn´t see any problem and told us "Everything (was) rideable, no problem". His response was very confident but unfortunately not all that accurate. We could see all the lorries on the bridge so we stopped, as we couldn´t exactly pass by them. Some of us went to the front of the line to find out what the problem was and it wasn´t as bad as it could be. The bridge was supposed to open in an hour, or we could pass now if we were able to get our bikes to the front of the queue: we couldn´t. Lorries were blocking the entire road so we returned a few meters in opposite direction seeking some shelter under the closest overpass. We got there just to find out that one of the lorry drivers had just parked up there. We went to ask him to move his lorry a little so we could hide there as well. The response from this Slovakian lorry driver really surprised us; no. What could we do? We just hid wherever we found some space and waited. Having eventually crossed the bridge and boarders we headed towards Vidin and stopped at the nearest gas station. At that time we had done exactly 13.8 km. We were standing at that gas station for over an hour but the rain wouldn´t ease. We wanted to get to the town Belogradchik at least. After another down pour we made it to the next gas station and we had done another 34 km. Only 22km left to Belogradchik. Well, that day we were proceeding a bit slower than usually. Never mind, it was definitely worth it.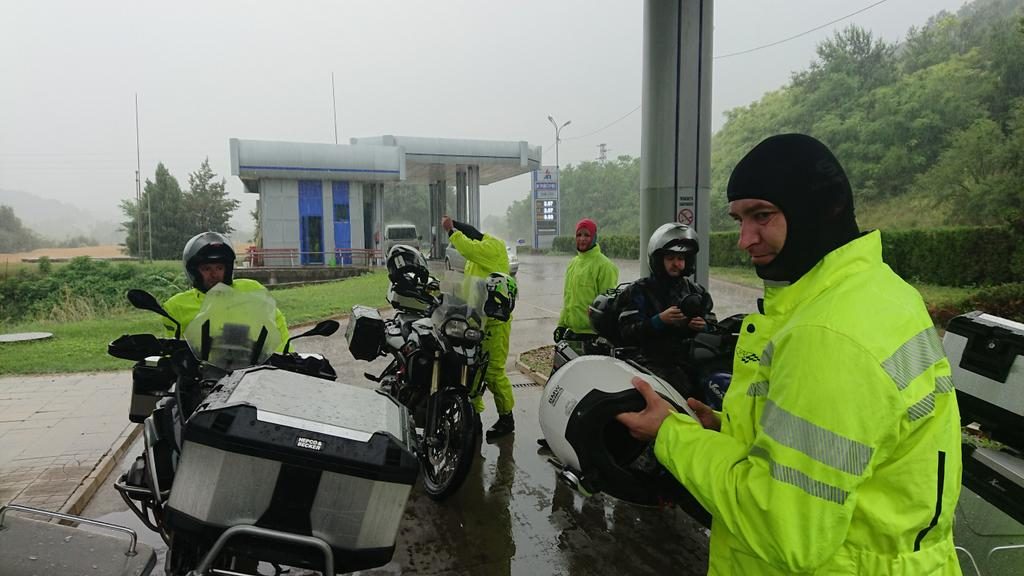 We got to Belogradchik before noon and immediately went to see the town fortification. The view from the castle was amazing, similar to all Adršpach-Teplice Rocks in the Czech Republic but unfortunately, it started to rain again. We decided to find some accommodation for the night and this time we chose a four star hotel. 50 euros per couple per night was more than we were accustomed to paying but the weather was horrible and we were soaked to the bone.
The hotel was fantastic until Palo wrote us that they had found bedbugs in their room. They changed room and we quickly checked ours; it was completely fine. We had lunch and dinner at the same restaurant across the street from our hotel as the food was great. After we came back from lunch, Zuzka found a bedbug on the wall so we changed our room as well. We tried to find out the reason for so many bedbugs and we decided that they probably came from the swallows´ nests which were attached to almost every window sill. We slept with the lights on and relied on our belief that bedbugs are afraid of light. Hotel cleanliness was not a very Bulgarian quality. The water was cold and the Jacuzzi threw out less bubbles than a sparkling water.
Daily route: https://goo.gl/maps/LA43bwRsGBC2
Tuesday 4.7.2017
Breakfast at the hotel wasn´t great. We called for the manager and complained about the bedbugs and demanded he come up with a solution to which his solution was not to charge us for our stay. The weather was finally clear. After three wet days it was a very pleasant and welcome change. That day we wanted to visit a monastery and the waterfalls near the town of Etropol, the town of Koprivshtitsa and to get as close as possible to Troyan.
Due to the horrible weather the day before we had a bit of a delay, but we had decided not to rush. We were using the back roads and heading towards Vratsa, the roads were quite nice but there were no gas stations to fill up at. We stopped in front of a hill while two people went up to see what the road was like. They reported back that it was 10 km on dirt through the wilderness so we decided not to join them. We had two passengers riding with us and one rider who didn´t have any experience driving on gravel. We decided to meet up in the town of Vratsa situated behind the hill. To this day I regret I didn´t have enough fuel to join them up on that hill.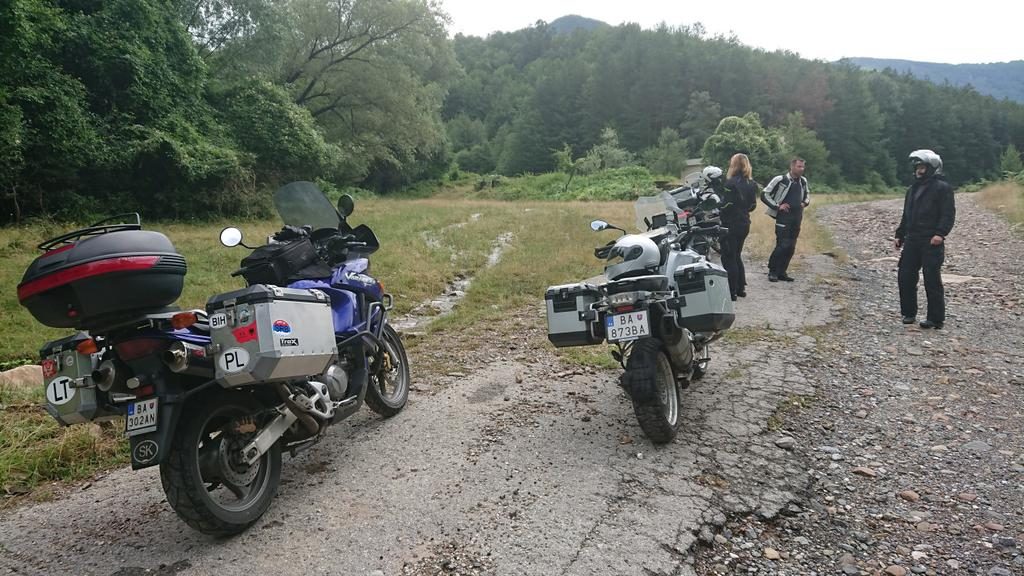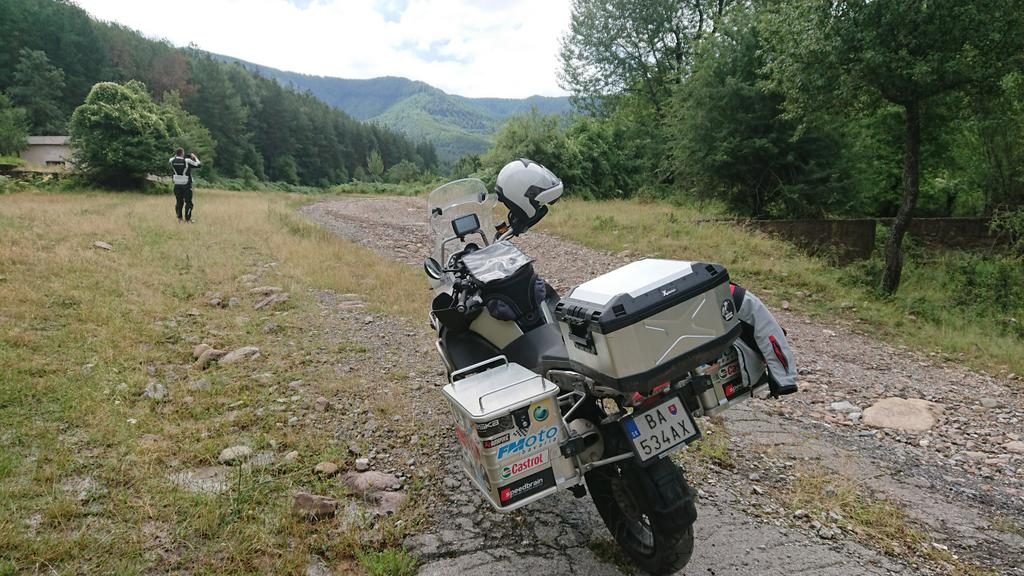 We had a little break in Vratsa, ate some biscuits, drank coffee from a vending machine and carried on as we didn´t want to lose another 3 hours eating in a restaurant. We headed towards the town of Etropole where we wanted to visit its monastery and waterfalls. To find the monastery was easy enough, but to find the one sign telling us were the waterfalls were took us a while. I was pleasantly surprised by the waterfalls. There was something magical about them being hidden in the middle of a forest.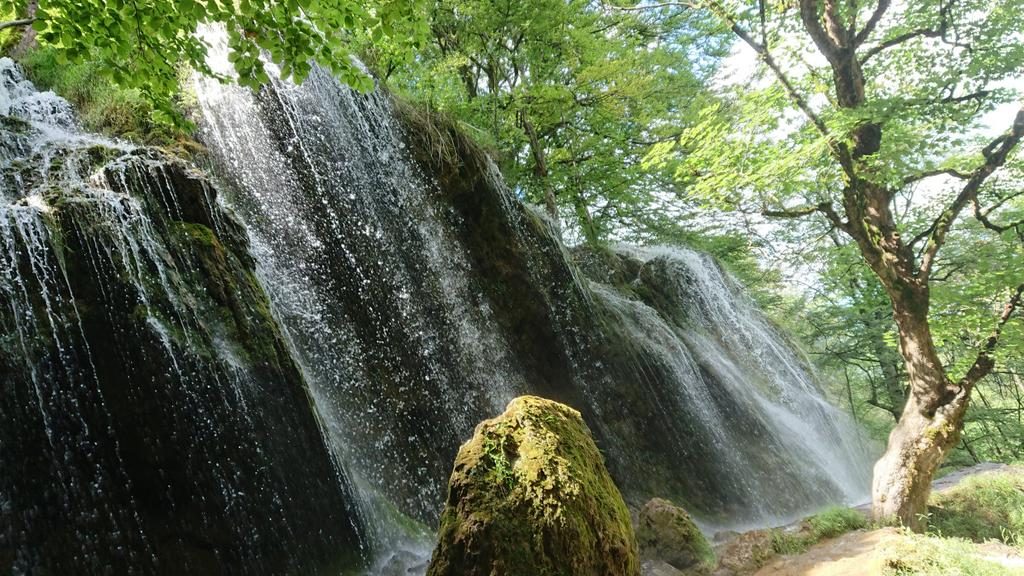 The Orthodox Church was a gratefully received shelter from the sun. It was established in the 12th century and come to prominence in the 16th and 17th century during the time of Ottoman Empire, when it was the considered the most important literary centre of the empire.
We left Etropole and headed towards Koprivshtitsa. On our way to Zlatitsa we got to the road numbered 37, full of nice turnings and bends. It was here where we experienced fatigue and a fall, two actually, for the first time (it was already 3pm and we hadn´t had any lunch yet). Palo´s trunk fell off when he came off on one of the bends covered in gravel, we stood his bike up, Palo calmed down and we carried on. I must have been really tired because after few meters it was my turn to come off. That´s what happens when you try to break with your front break at a low speed. I skidded and Zuzka (my passenger) experienced flying off the bike from the back between the trunks. Fortunately she landed on both legs and after that we decided to take a 15 minute break.
The road to Panagyurishte was very nice. In Panagyurishte we found a little shop and a pub where we had a coffee, a coke and some cheesy fries. We were getting seriously tired now and found a nice guest house called "Guest House Cenovi", situated in Koprivshtitsa, on Booking.com.
When we got there we rang the landlady who was very nice but a little confused. She kept repeating that they were expecting us and it took her 10 minutes to realise that our reservation was for today, not tomorrow, and that we were waiting outside the house.
Fortunately, the landlady offered to do some cooking so we didn´t have to go out to look for a restaurant again. The homemade kabapčeta was very filling, but we had our second helpings anyway. After dinner we were drinking the local wine and beer called Zagorka while planning our next day's route. Daily route 329km: https://goo.gl/maps/jVEmHBqMiyr
Wednesday 5.7.2017
As a goodbye gift the girls received fresh flowers from our landlady, what a nice thing to do. When we got to our bikes I found a stowaway on mine, and as he couldn´t show me a valid ticket, I had to send him away. We had just passed through the town of Koprivshtitsa and our main destination that day was the monument called the Arch of Freedom.
The road to Karnare was approximately 40km of flat land and then it started… a 24km long climb, full of turnings on a road of reasonable quality. We admired the beautiful view and took some amazing photos. There are plenty of Bulgarian monuments in this area and that day we visited three of them.
We went through Troyan and carried on to the Botev peak. It wasn't the greatest of experiences as we had two passengers, fully loaded bikes, inexperienced riders and we had to cope with all that on a badly pot-holed road. We turned towards Shipka. The road to Gabrova is narrow, flat and very boring. After all that, the road up to Shipka felt like a reward; beautifully wide and fast with long bends and a stunning view. But even here we discovered at least 3 canyon sized pot-holes which were best to avoid (I didn´t manage it with one of them).
At the top we realized that we could see the historical peak of Buzludzha. Another "monster" of the day. It was already 5pm but we decided to go and see it anyway. An extra 50 km, 25 of which were bends. If you ever find yourself in this part of Bulgaria, don´t miss these two concrete reminders of the past and demonstrations of the power of party-liners and an utter waste of money. I must say though, this memorial was originally built as a reminder of the battle between the Bulgarian rebels and the forces of the Ottoman Empire in 1868. At the moment it´s prohibited to enter this monument because it´s badly ruined. We learnt that they used TNT explosion to flatten and lower the top of the hill by 9 meters to make it a suitable building area.
At the top we realized that we could see the historical peak of Buzludzha. Another "monster" of the day. It was already 5pm but we decided to go and see it anyway. An extra 50 km, 25 of which were bends. If you ever find yourself in this part of Bulgaria, don´t miss these two concrete reminders of the past and demonstrations of the power of party-liners and an utter waste of money. I must say though, this memorial was originally built as a reminder of the battle between the Bulgarian rebels and the forces of the Ottoman Empire in 1868. At the moment it´s prohibited to enter this monument because it´s badly ruined. We learnt that they used TNT explosion to flatten and lower the top of the hill by 9 meters to make it a suitable building area.
Thursday 6.7.2017
Once again we experienced the Balkan style breakfast; no service, no buffet and horrible coffee. I don´t really know what they actually eat for breakfast in Bulgaria.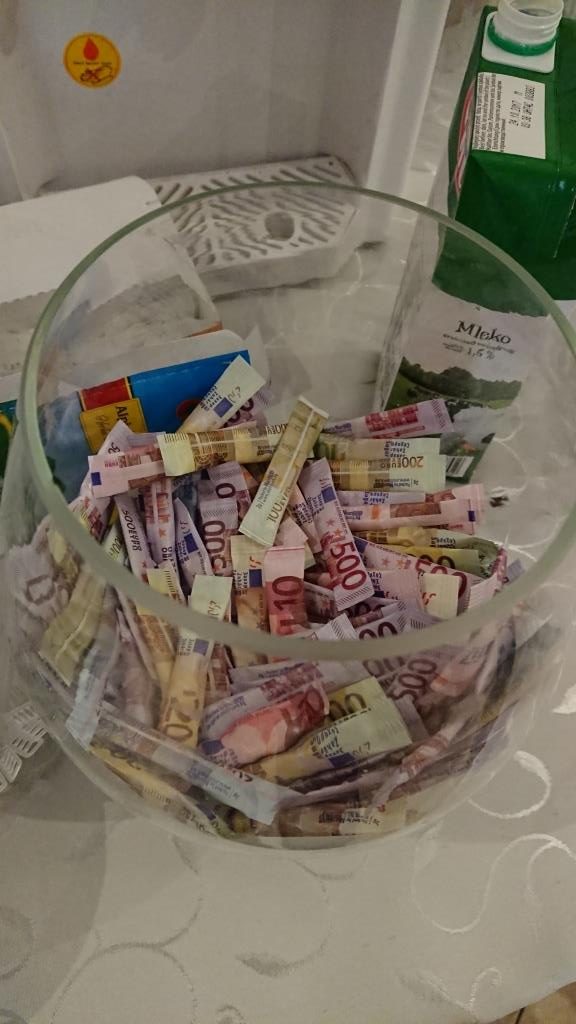 In the morning the same two people returned to Shipok to have bit more fun on their bikes and the rest of us slowly carried on to Devetashka cave. On the way we stopped for a little refreshment in the small village of Devetaki not far from the cave. This shop offered a little bit of time travelling to the eighties; Russian ice-cream, an old lady behind the counter and chairs from the seventies. The only glitch in this matrix was the air-conditioning.
We were very surprised to meet an English woman here. She had got bored of western life and moved here 8 years ago. She buys and rebuilds houses here and sells them to English people or other westerners who want to emigrate to this part of the world. Another lady asked us whether she could have a photo with one of our bikes and of course we agreed. After that she brought us some biscuits to thank us for being so nice to her. Both of these encounters were lovely and quaint.
We were in no rush since our two friends hadn´t caught up with us yet so we decided to go and see the cave. It was boiling outside so to go and hide inside the cave in the shade seemed like a great idea. The cave was huge and really impressive and even more so when we read a little about it. It was inhabited as far back as 70,000 BC. You can find up to 15 different species of bats here where huge part of the cave is closed between the end of May and the end of July, as approximately 10,000 bats brings up and feed their young here. Roughly 35,000 bats hibernate in this cave over the winter. Another interesting fact about the cave being that a scene in the film "The Expendables 2" was shot here.
We cooled down in the cave and didn´t really want to go back out into the boiling weather. Only 200 meters between the cave and the parking lot and we were sweating buckets again. We headed towards Oryahovo and had approximately 128km to go. It wasn´t the most exciting road we´ve ever taken. I went to see the border crossing from 20 years ago again and in the village Pordim  we saw the old Bulgarian plane, the TU-134. We took some photos and later went back to have a better look.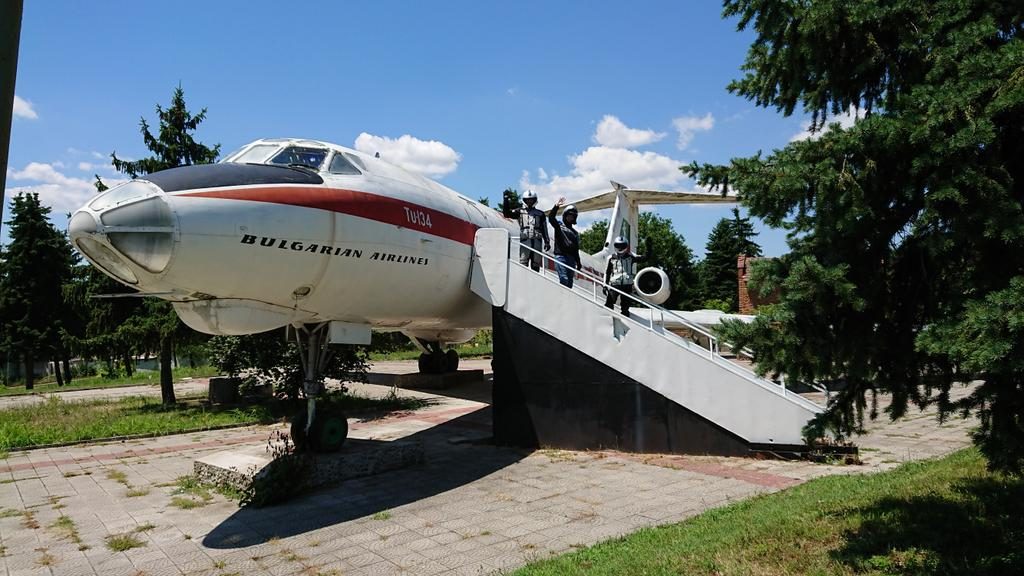 Oryahovo doesn´t have a bridge, if you want to get to the other side you need to go by ferry. We tried to figure out the time table, the time table on the internet said that because of the low levels of Danube the last ferry left at 4pm. One of the waitresses called her friend just to make sure for us but he confirmed that the last ferry would indeed leave at 4pm. We were still waiting for our friends to catch up with us. They said they would be at the border on time. We wolfed down our meals and hurried to the border. The behaviour of the customs officers improved. We bought ferry tickets and waited for them to load our bikes. After a few minutes we got off on the other side in Romania. On our way we noticed a snake in Danube. He probably decided to go shopping in Bulgaria. He obviously didn´t have his passport with him because he was really fast. That fast that I didn´t even managed to take a picture of him.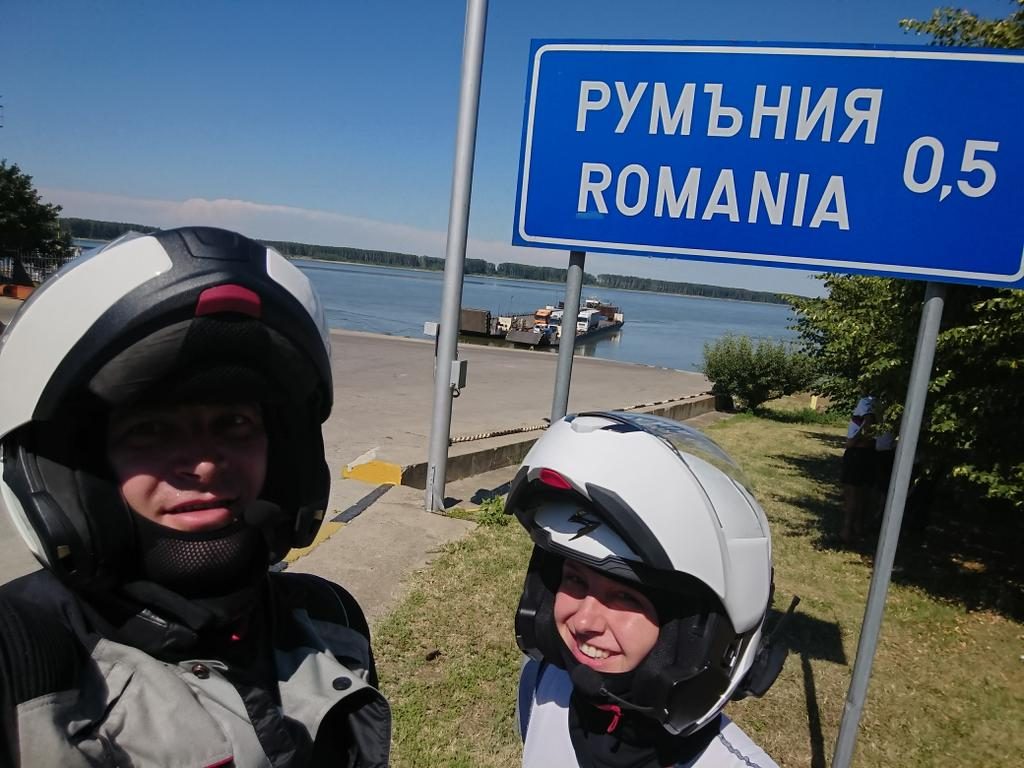 The Southern side of Romania was very boring and it seemed full of lorries being loaded with watermelons, which were probably immediately delivered to stores. We headed towards Transalpina to make our journey home bit more exciting. From Oryahovo it was approximately 200km. We ended up in Novaci. We stopped in front of a little cottage marked as a guest house. The landlady lured us in with the promise of 10euro per night per person. After we unloaded, she decided all of sudden that we had to pay 10euro extra because we were a group and she gave us one extra room. That made my tired passenger really angry and she told the landlady what she thought of the situation. It was a real avalanche of Slovakian words but it worked. The scared little landlady took a few steps back and agreed to the original price.
We tried to arrange breakfast for the next morning and though she couldn´t tell us what to expect, she knew exactly how much she wanted for it; 4 euro 20 per person. That's quite expensive for this region but we thought that she probably wanted to make up for those 10 euros she'd lost out on. Even her neighbour who also ran the guest house next door told her off for jumping prices like that.
We had dinner in the local pizzeria, an approximately 2km walk from our accommodation. It was Palo´s name day, but the landlady didn´t have any alcohol on premises so she went home to get a bottle. We were pleasantly surprised when she didn´t charge us for it. Daily route 395km: https://goo.gl/maps/yRdBJB4ViYP2
Friday 7.7.2017
The breakfast were amazing and the landlady put everything she had on the table.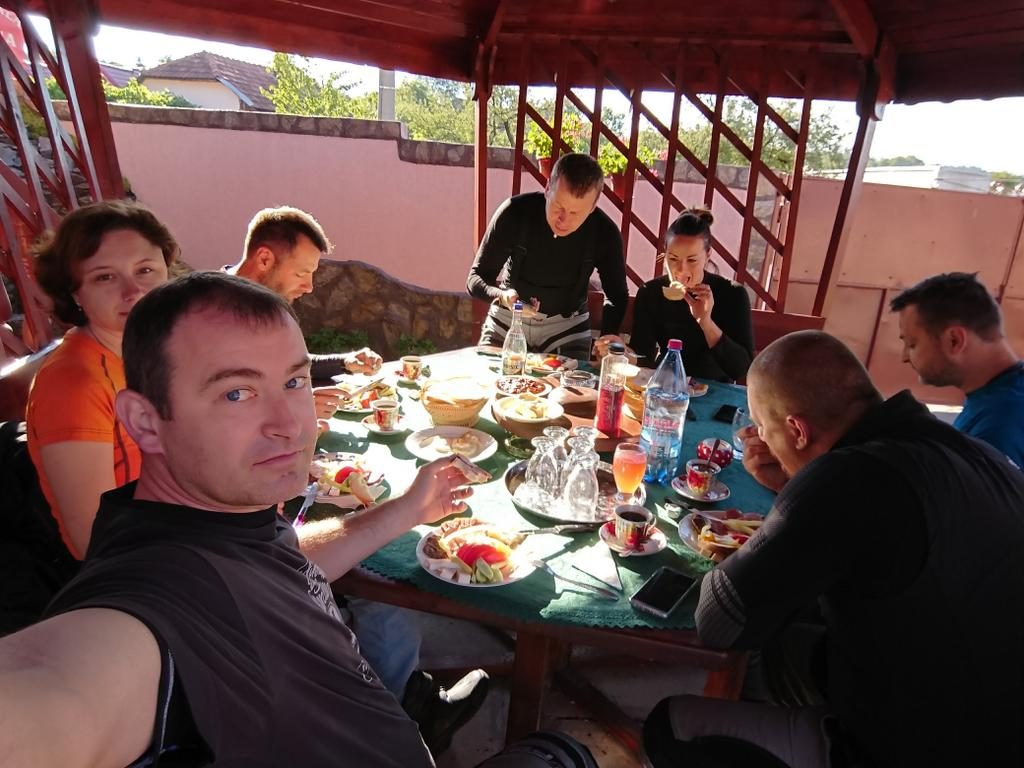 Our two lone riders felt the need to cross Tranfagarasan so they left us in the middle of Transalpina and went on their own way. The rest of us carried on from the south to the north through the whole Transalpina. On our way we realized that we had enough time to go and see Salina Turda. The Transalpina didn´t disappoint me as the weather was nice and I really enjoyed my fourth crossing.
Salina Turda is the place I had had my eye on for some time now, but in the past we had either forgot about it or we weren't anywhere near it. This diversion was definitely worth it. We visited a salt mine that had been turned into a museum. It´s very difficult to describe, the mine is 108 meters deep and you can find almost everything here; a carousel, a kids playground, a mini-golf range and temperatures of around 11-12°C. Due to the microclimate within the mine, the section of it which serves as a museum is also used as a wellness spar. You can go 13 stories down into the mine, it´s up to you whether you want to use lift or take the stairs. In the oldest part of the mine where the salt was extracted from between 1690 and 1880 you can find a little 8 meters deep lake. You can do some rowing here if you feel up to it. The concentration of salt in the lake is 260g/l; really salty. Make sure you have some Romanian money with you since you have to pay for all the activities down there and they don't accept euros.
That was the last place I was really looking forward to, from here onwards was just the same old road home. We went through Albac just to enjoy some more forests and hills and we got caught in the pouring rain again. It didn´t last long but it left us with a lake of water on the road.
We found accommodation in a small guest house called Casa Cristalina & Dumy. A very nice new building with lovely owners, parking right in front of the house, and breakfast in the restaurant next door, where we also had a dinner in the form of a buffet consisting entirely of local food. They had a bigger group dining there that evening so they gave us the option to join them, and it was a great idea. Our lone rider friends took a different route so they didn´t manage to catch up with us. Daily route 320km: https://goo.gl/maps/MZm9Z79upZQ2
Saturday 8.7.2017
The next day we started our journey immediately after breakfast and it was promising to be another boiling hot day. We located our lone rider friends and found out that one of them had a punctured tire. They still had to do at least 800km but couldn´t start their journey before lunch.
We took the shortest route and were stopping almost every hour and half to get some drinks, stretch our legs and relieve our aching butts. We got home at around 7pm, and our lone rider friends at around 11pm. Daily route 595km: https://goo.gl/maps/3NvX4d75spr
That was the end of our trip. We brought back lots of nice memories. We experienced a lot of water, boiling weather and a bit of cold, 3000km, some falls but we definitely made some amazing memories and after 5 years I had ridden again with my back warmer.