2nd July 2018, Monday
Route: Niekde za Kyjevom – Kursk
Total km: 1 944
We all realize the fact of today – we enter Russia. Following the dynamics of the journey, we reached the borders at 11 AM. Ukrainian line leaves us in 10 minutes including smoking break behind caravan out of the sight of camera with local soldiers in heavy armour. Russian line that's completely different story.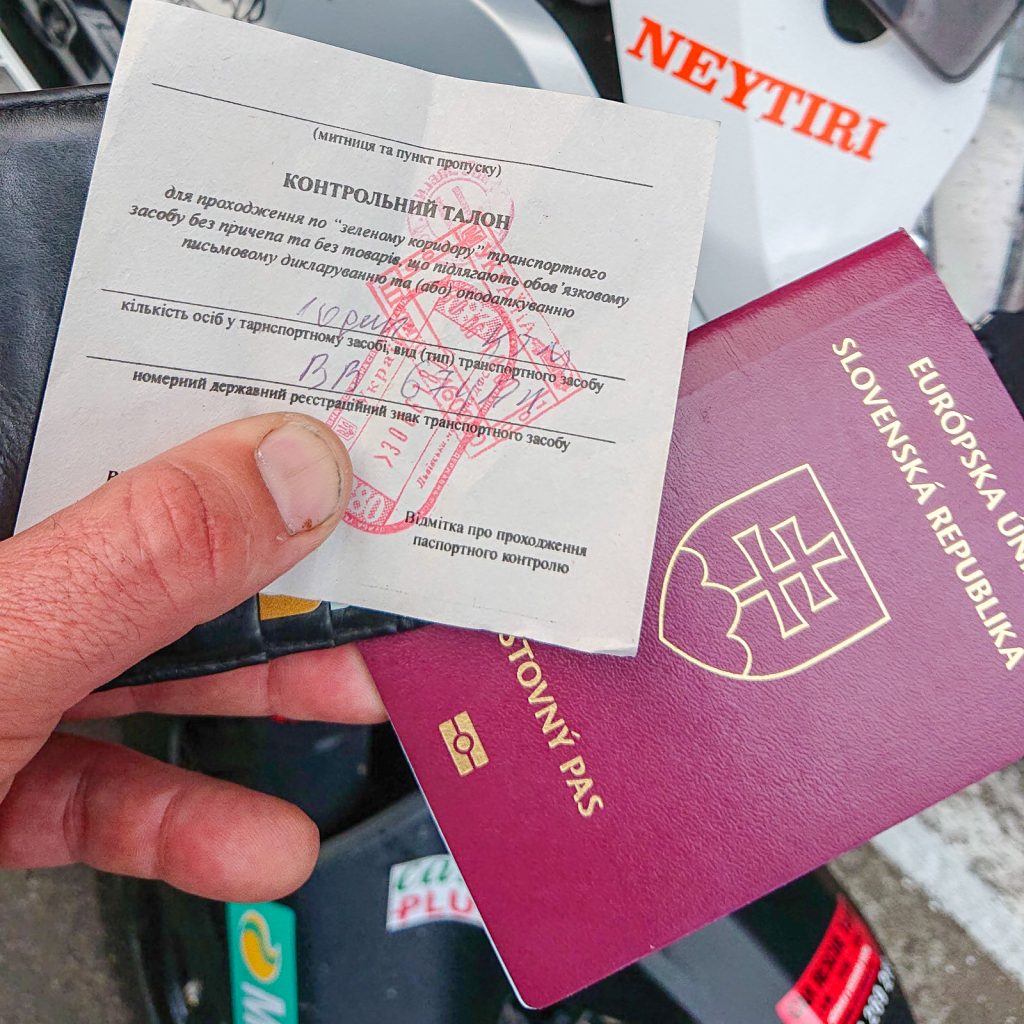 Everything happens more or less in calm way but it takes lot of time. They have methods and time for everything. On the first ramp maľčik (boy in Russian) gives us immigration form to fill in. Nothing difficult. Firstly they check our passports and then customs officer called us under the roof to check the motorbikes. When he wanted to start to check our baggage he realized that there must be 2 people so he left for the commissioner. A short lady with sharp face comes after a while. She is very similar to the malicious commissioner from Madagascar movie.
Customs officer shows up his strength with his voice and he gives an order to unpack. Does he mean tank rucksack or the little roll lying on the big one? Everything! I make face like "sure, no problem" and I open the side bags so that he can look inside. Unpack! Everything out. I mean… you must be kidding right? There's no possibility to pack it all back and I will not drive with Tesco bags on my handlebars. He stays his ground and I have to unpack everything. He controls it all, asking what is it. When he sees our medical staff he does not understand if we are providers for field hospital or drug addicted.
Found small saw and axe are within the limits but big firecrackers make him turn pale. My argument "because of the bears" does not work and he takes them. Paťo gives his ones voluntarily. That idiot did not found mines, Marty forgot them at home and in the end all this scene costs the customs officer a lot of time so he has to call his other colleague, the good one. He only slightly checks the bags and he sends him away. I think that it was our conversation about football when Marty told his straight away that football is only for gays and his reaction was "ja ľubľu futbal" (I love football)… Well, love is love.
After all this we moved the motorbikes by 10 meters and we hope that they only check all the documentation and we can kiss Russian ground very soon. We were wrong. Paťo´s motorbike is officially written on the mane of the company and without necessary documents translated to Russian. That means complications. The original printed by Slovak Post Office does not convince our commissioner. She must have all the necessary documents if she gets inspection from Moscow. Paťo, called since then "Patrik Problematik" (the ones that causes problems) stays on the phone and gives orders. After one hour she receives the documents, translated by Google Translate, by e-mail, she completes our forms and she wishes us nice journey. After four hours we leave barricaded area and we enter desired Russia. One Polish man joins us, he crossed the borders just after we did.
The nature has not changed, the largeness of shallow relief is charming but the fact that we are in the biggest country in the world is multiplying our feelings. Before 6 PM we are smoking when suddenly HD Ultra Glide with 150 kg man stops next to us. Leather vest and not exactly small knife on his belt shows authority. Mask on his face shows only eyes that give us warm welcome. He started to ask us questions and after we told him we were hungry he recommends restaurant. Keep straight on two roundabouts and you will eat in the first valley. The fact that fat people are kind and nice is very true in his case although his look was deterrent.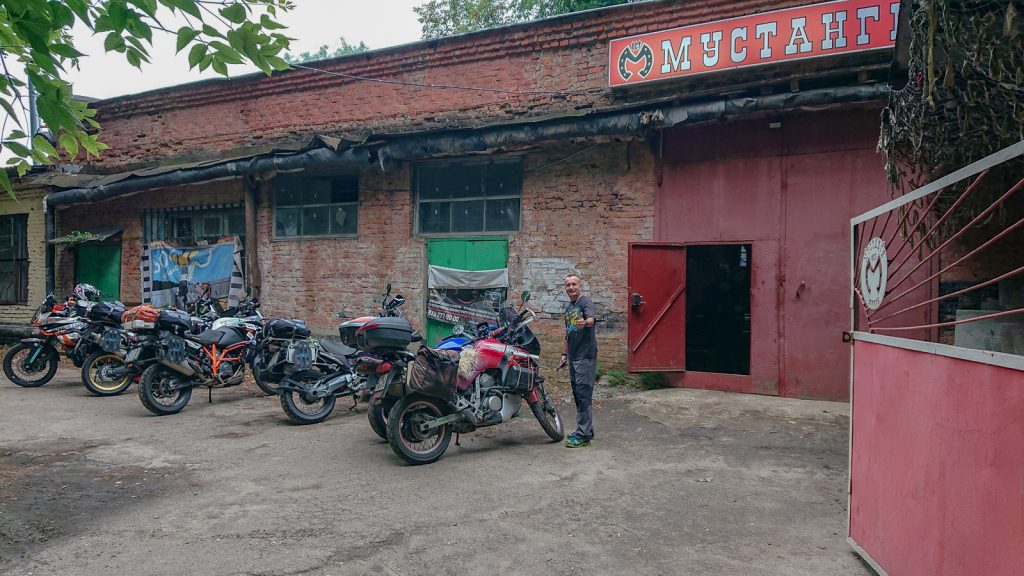 We park outside the restaurant. Suddenly another guy comes, with only one third of weight of his predecessor and on very old motorbike without number plate. He starts to talk to us. Our tired faces must have bee interesting for this sympathetic and modest biker called "Saldat" and he invites us to eat and sleep to his motoclub. Me and Marty destroyed Milan´s idea about finishing the day in very fast way. Not even an argument that we have to find a bank, buy SIM cards do not convince the member of local Mustangs and he offers solution. This offer cannot be denied and the host takes us to Kursk´s center.
We went to exchange office and after 300 meters we enter not very nice zone. When host stops in front of one very old factory building, I am suddenly not sure if we made the right decision. After opening the doors we understand the strength and greatness of this opportunity. We got the chance to enjoy what we never experienced before!
We discovered that they have little birthday party that night and we are invited. We quench our thirst with first beer, we unpack, walk and take pictures. Our faces show true happiness.
This gala party start slowly, locals come sporadically to the club. Everyone is very kind and there is no falsity. One could cut their honesty and kindness. With "Igogo" we drink stakans, we gave signed Slovak flag, pin badge and trip sticker to the birthday guy. Me and Marty had a bath in nearby river and we are ready for other fight. Common dinner in one big table was full of energy and we felt like home.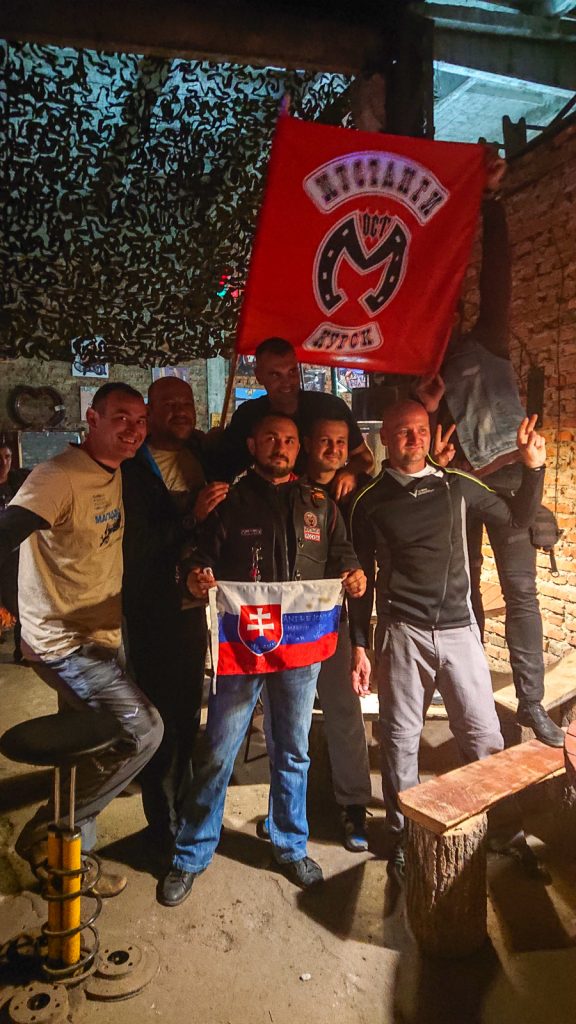 It is difficult to repeat all the evening but it´s not necessary. All (that was not drown by alcohol) stayed in our heads and hearts. These simple people opened their hearts to us and they offered us to look into their souls. We received it with humility and respect. Our farewell the other day confirms the kind character of the whole evening. We only have to thank them.
3rd July 2018, Tuesday
Route: Kursk – Gribanovskiy
Total km: 2 536
I'm not gonna lie. The morning was very difficult. Our eyes are aching and our level of energy is below zero. There is no time to relax or get sober. Around nine o'clock we put our hands on the handlebars and "Archaeologist" takes us out of time to the first bistro to get some soup and coffee. The goal is Prochorovka city and museum about the biggest tank battle in the history during WWII. All would be ok if the helmet has better airing because to breathe the exhaled causes etching of soft foam lining.
We enter Prochorovka after good quality and fast ride. We still park like zombies. The whole "park" and exhibition can be seen from the road. We stop and run between the tanks, artillery guns and howitzer. Sun get us into funny mood. A guy who owns a fast food talks to us and invites us to his stone restaurant that is approximately 1 km away. Very nice person but personally I think he is way too boaster. In every sentence he talks about himself and his life successes. We have lunch after one hour of drinking tea because the communication with the waitress is bad and our head still do not work.
The hangover is gone and we enjoy the ride on excellent, fast and never-ending flat lands. I do not even know why we went for so long, arounfd8 PM we stopped to refill and we decided to sleep in the nearest motel. After five kilometres I notice warning about the pressure in the back wheel. I keep looking at it but the pressure lower and lower. I stop our convoy and let´s glue. Sheet metal in the size of 3 cm is a problem. The hole is flat, 1 cm long and it is not suitable to be glued. But we did it somehow and in 10 minutes we are back on the road.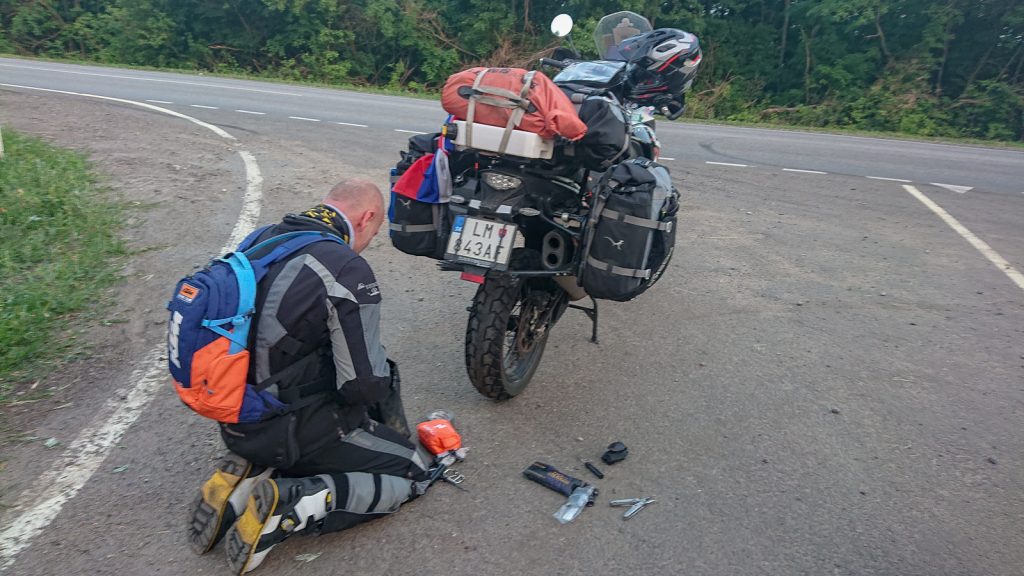 It got dark and the cars disappeared. Me and Marty go almost 150 km/h sometimes. LED lamp turned on gets the oncoming very nervous. We are on alert because of the sings of wild animals. Paťo´s phrase "you drive like idiots between the deer" makes the ride better because we stop thinking of possible danger. It is 10:15 PM when we turn to Oasis of happiness, motel situated right next to the road, where the owner is a middle aged man. In happy mood we stop the engines and finish the ride during this never-ending day.
4th July 2018, Wednesday
Route: Gribanovskiy – Volgograd
Total km: 2 974
Oasis does not offer breakfast. We pack everything in the morning and we leave at 9 AM as usual. I am getting ill. I have running nose like little Tibetan boy. Guys gave me a lot of medicine hoping they will not have to watch the products from my running nose.
In petrol station we have a manager meal – meal of the champions – hot dog. We make our stomachs full and we continue. The traffic is heavy, a lot of cars and trucks. the ride is boring, with forests from both sides and only sometimes we get view to surrounding and never-ending area. Flat land. But in the way that we go up 3 meters. Reason? We leave the asphalt road to pebbly shoulder that is 5 cm shorter and when we overtake back to asphalt. We train off-road.
After 220 km we have the same situation as yesterday. The intelligent technique informs about puncture. Small break again, gluing and small consultation abut what to do next. The character of the hole does not allow its perfect sealing so we have to visit a tyre service. We are lucky and after a while we find perfect combination – tyre-service and restaurant. First we have coffee and then we will see. I check the glue with my saliva and the bubble confirms that this tyre definitely needs special repair. I do not wan to, but I have to….I take the wheel off. When the guy from tyre service sees the wheel, he sends us back to the restaurant coy it is going to take at least four hours to repair. We fight with this decision because of time loss but any half-solution will mean even bigger time loss and we have to think of security as well. We receive his solution to cure in hot way and start to rest. Everyone is resting in his own way, so I have a little time to write. After some time, few coffees and fags we cannot believe it. There is no sign of puncture on the rubber. The guy made it in a way that all the engineers in Matador in Púchov city would have to look for the place of repair. Perfect!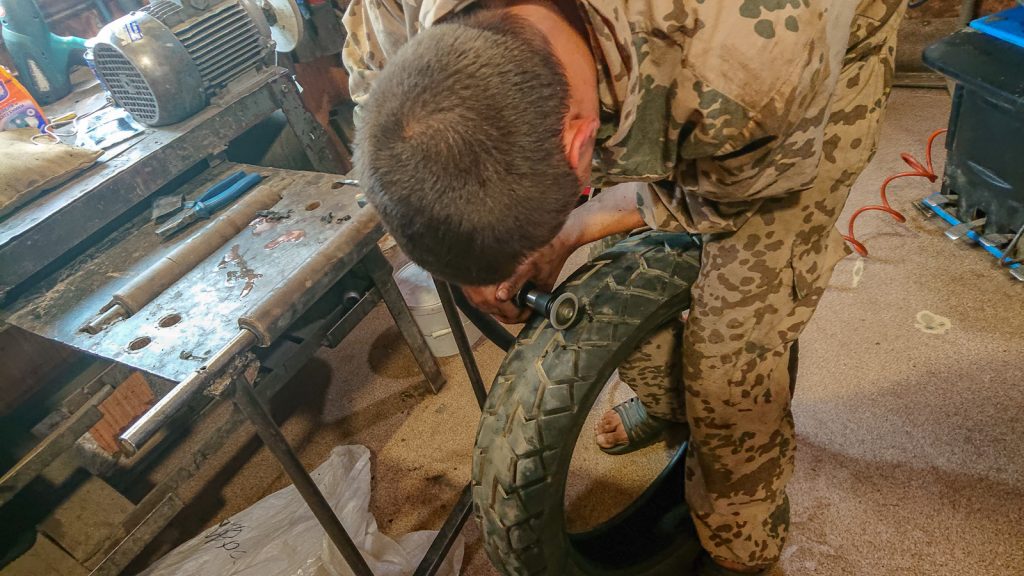 We continue to Volgograd although it is quite late already. 33 degrees make us to boil in our own juices. The entrance to the city is never-ending and between the cars we desire to see Mamayev Kurgan. One of the 10 biggest statues in the world. One can see its magnificence from distance. We park completely soaked and we walk through park to its base. Statue is built on the only hill, approximately 100 meters above its surroundings. This place was strategically very important during the war. Both sides fought a lot for it. Almost 35 000 soldiers were killed. We can find that in the symbolic of the statue. We saw similar statue in Kiev but this one is different. It is elegant, beautiful, sensitive and exciting at the same time. It is not only big monster without deeper meaning. Her posture is dynamic and determined. Realizing the history of this city creates the atmosphere. It is beautiful piece of art on a bloody and revent place. The whole area is very well maintained and you can find guardians in every corner. You can only walk on pathways. My jacket thrown on the grass while taking a picture means their immediate movement and admonishment. That hill is like a idol for them.
Overloaded with feeling we leave to see another interesting place. It is Pavlov´s House in the city centre, near by the river Volga. It is still in the same condition after the WWII. Very important events happened in this house.
Quite tired we started to look for accommodation outside of the city. First try was not successful, the second one was. Hotel with restaurant has free spaces so we decide to take this one. So far this is the worst and the most expensive hotel. Welcome to the big city. At 11 PM I ate the worst borshch in my life, a little bit of meat, salat and 300 g of Marlenka for desert. Good night.
5th July 2018, Thursday
Route: Volgograd – Tolyatti
Total km: 3 754
The restaurants opened 24/7 so we leave the stinky rooms to get some breakfast. The offer is very poor and when we see the standard, we do not know what to think. The sausages are the best they have but when the lady puts them on the plate in their plastic foil and puts them to microwave I feel like in ISS module on orbit. Yeast pastry with marmalade filling and tea must be enough.
Marty´s day ha come…..a guy on the petrol station wants a picture of motorbike. Marty, very proud of himself, gives a pose when that guy tells him, he is not very photogenic and he invites Miňonka for the picture. Yes, we are in Wonderland.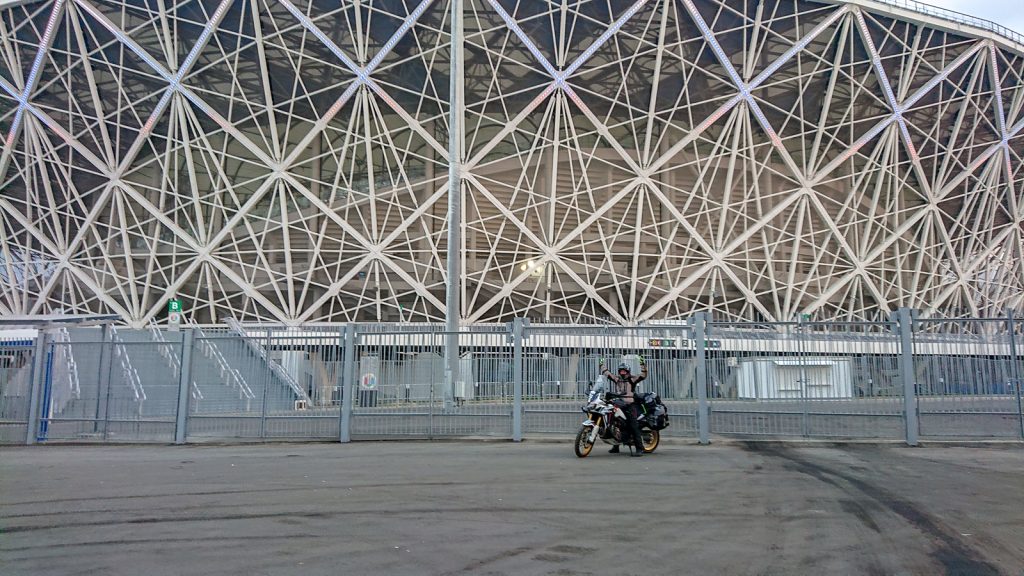 There´s nothing interesting planned for today, except Milan´s plan of doing 700 km. He must have been after difficult meeting when he created the road plan because after the party with Mustangs he hurries up to continue. The countryside is more beautiful and fast and good quality roads enable to make this plan possible. He stops when he can see the BBQ smoke and his nose is turning all over his head. The lunch is delicious, we eat in gazebo everything they bring because you are never sure when the chief will stop again. The perception of the team members varies, Paťo who does not smoke, takes all the breaks in different way. He said he could have gone on scooter because we stop, drink coffee and smoke on every petrol station.
Leaving after the lunch the son of the host makes a video with us. I stop, take the trip sticker and give it to him. He runs away very happy. Child´s joy is always honest. We finish this racing day in Tolyatti city in very nice and new hotel. There is Technical museum and submarine you can enter. Plus they make Lada cars in this city. But I will tell you more tomorrow.
Route that we've made during "this article"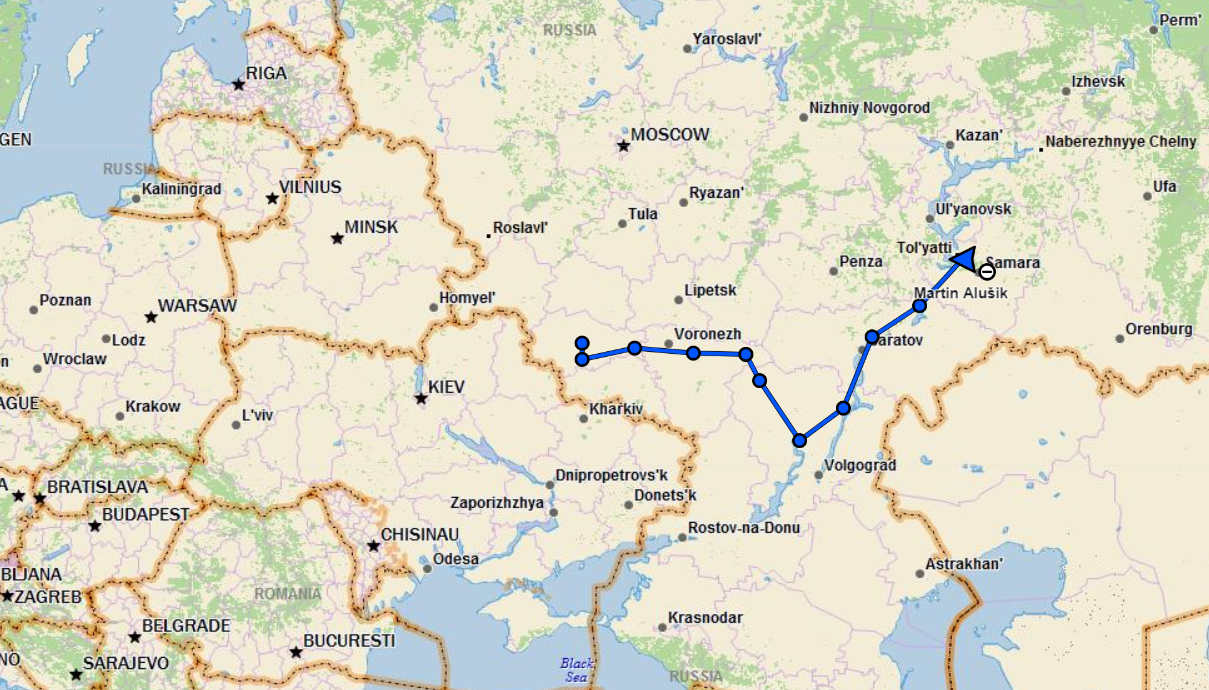 Read also…