We  plan this trip for the summer with a clear idea of how it should be – dry, warm weather, sun and many happy kilometres. I can´t wait to have my head in my helmet again. I´m looking forward to it as much as a snowman looks forward to winter. Our journey starts on the 9th of August 2014.
This year we decided to go to Albania. When I tell people where we´re going, some of them react the same way as they did when I told them I was going to Romania. It seems like we´re just not able to get rid of our prejudices when it comes to some countries. As usual, their fears are absolutely unfounded. In the end of the day, it´s three of us going and I´m sure this trip will be just a pure delight.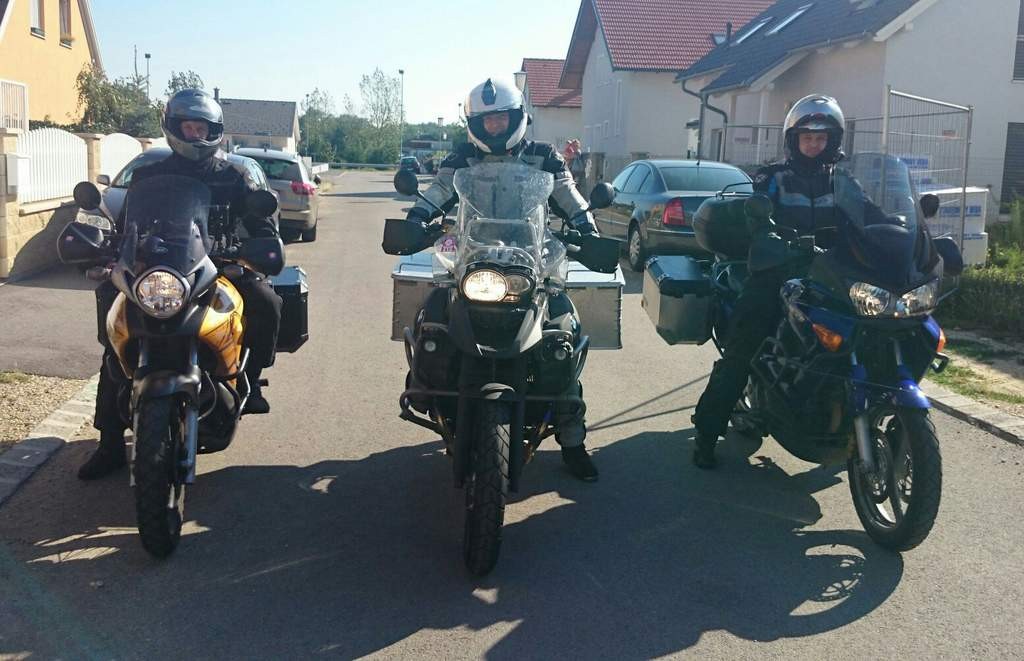 The "Iron butt" award
We want to get through the country of never ending corn fields as fast as possible. After buying our toll stickers, we are taking the M1 towards Budapest and then we are going south on the M5 towards Mohacs. We get to the back road number 7 and pass through Croatian town of Osijek.  After tens of kilometres on the Hungarian highway we all deserved the "iron butt" award. I´m lucky to have a big bike since I can sit on the back seat from time to time and pretend that I am only a guest passenger. The only thing I'm missing is autopilot.
Road number 7 leads us to the borders with Bosnia and Herzegovina near Slavonski Samac. We aim on getting as close to Sarajevo as possible, that would be around 750km. But if we can´t do that, we will be more than happy to spend night in Zenica (640km). One of my fellow-travellers has a friend (Enes) living in Zenica, they want to see each other so we agree to stop there. We´ve done more than enough kilometres today and our butts can vouch for it. The only thing we want now is some good food, beer and a comfortable bed. It doesn´t take long and we´re sorting out some accommodation and plans for the evening. The hotel International is some sort of time travel machine, but there isn´t much to think about; the hotel is situated in the centre of Zenica and our bikes are parked in an underground garage so we´re just going to stay here. After a refreshing shower we change and meet Enes who is already waiting for us. He takes us to a small family run restaurant. It´s an amazing experience. The restaurant consist more or less of few plastic tables and chairs, but the food is amazing. It was only later that I realized that I didn´t even take any photos of the night. Since that fateful night, the local drink kokta (similar to Slovakian Kofola) has become our faithful companion on every journey through the former Yugoslavian countries.
We talked to Enest about the conflict that arose when the former state of Yugoslavia was divided, and about the remaining tensions between temperamental religious groups. Even in 2014, you can still hear about kidnappings and murders happening in some regions. It´s really interesting to hear the opinion from somebody who experienced it all and still lives in the same area.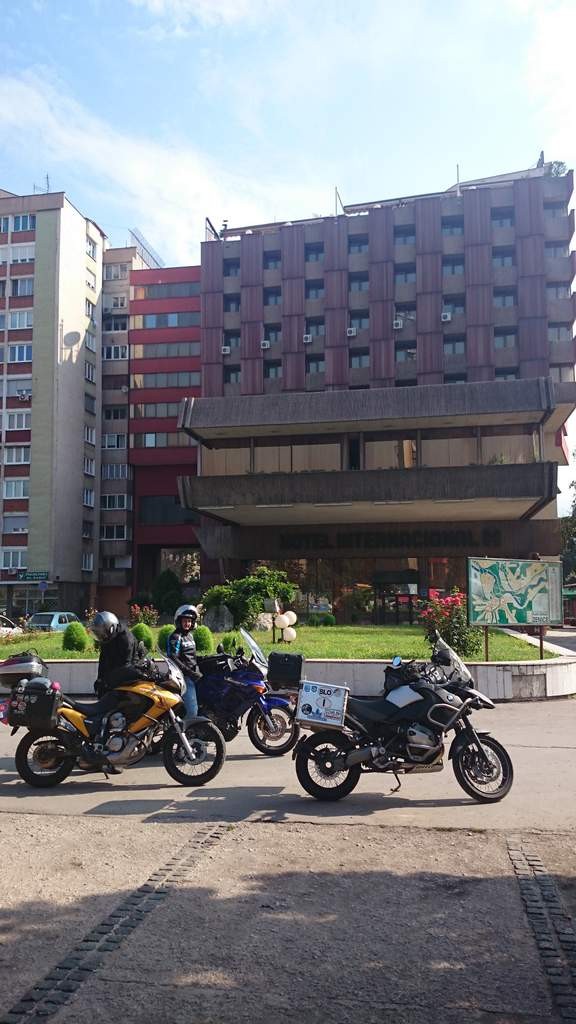 A bit 1984 but also 10 000 BC?
Despite the few beers that cultivated in a postponed bedtime, we wake up quite refreshed and are straight  into a lecture on how it used to be in hotels long, long ago, in times not many people remember anymore. The waiter is a boss here and if he is busy, you can wait for your breakfast for a long while. In the end we are able to order coffee and later we ordered expresso. A bit catastrophic but we handle everything with a smile. No point in complaining and spoiling our holiday. In the end of the day, we are here for an experience and we are getting one alright. The only thing reminding us that we hadn't actually travelled back in time and found ourselves in 1984, was the computer dating from 1999 and an option to pay with credit card.
We get on our bikes and head towards Visoko to see the ancient pyramids, which are allegedly older than those in Egypt.  We get there in less than half an hour. Getting to the pyramids turns out a bit tricky, but in the end they are here, overlooking the town. Due to the traffic ban and the scorching weather we didn´t go to the very top, plus we didn´t fancy climbing the steep slope in our bike gear. It wasn´t only the steepness of the slope which made us reconsider the climb but also the thick vegetation which has grown there for past 12,000 years. The pyramid is about 220 meters tall, approximately one third taller than the Cheops pyramid. More pyramids have been discovered here in the past few years but some scientists dispute these findings.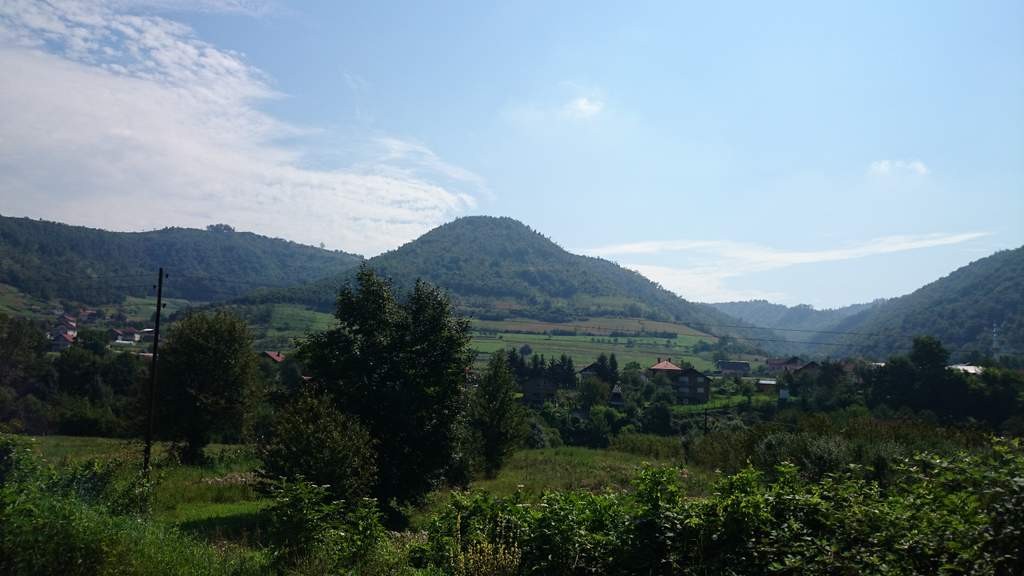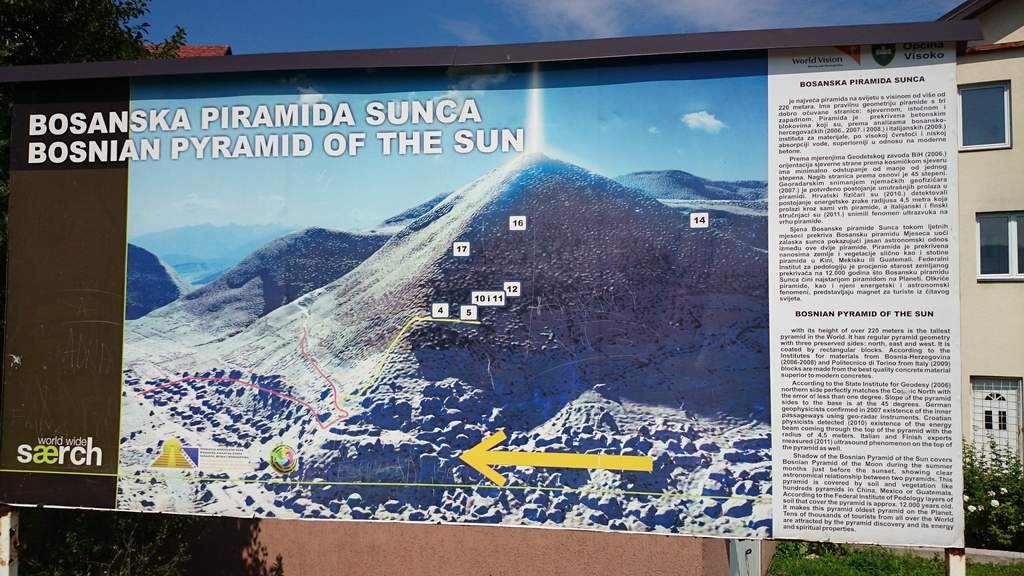 We are back on our bikes heading towards Sarajevo. When we get there we leave our bikes on a private parking lot. I feel bit anxious as soon as we get changed and leave our bike gear in the trunks. I have to admit nothing bad happened and nobody touched our things, or helmets. I consider 15 euros for three parking spaces a very good deal, when you take into consideration that we spent approximately 3 hours in the city.
We walked towards Gazi Husrev-beg Mosque. It was a really lovely walk with an even more pleasant lunch in the old part of Sarajevo. We stopped on the bridge where Gavrilo Princip assassinated Archduke Franz Ferdinand of Austria and initiated the beginning of WW I. It´s nice to see how past and present blend in this place.
I remember this city because of the Winter Olympic Games, which is probably the first one I remember as a child. I was taken aback by the setting of the main stadium; it was placed right next to the cemetery, which at that time, I found it very disrespectful towards all sportsmen.
I was thinking about going to see the bob sledge tracks but I saw the photos on the internet and they were in terrible condition, so we decided not to waste our precious time. We jumped on our bikes and carried on to Montenegro. We planned to cross borders and find some accommodation. It was approx. 120km to Plužine, which is not too much considering we only did 75km so far.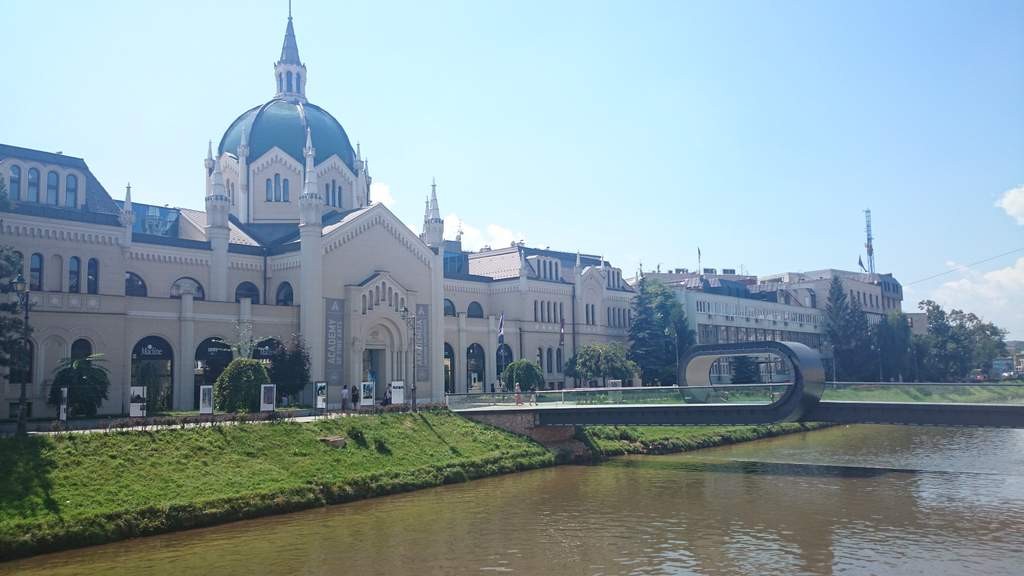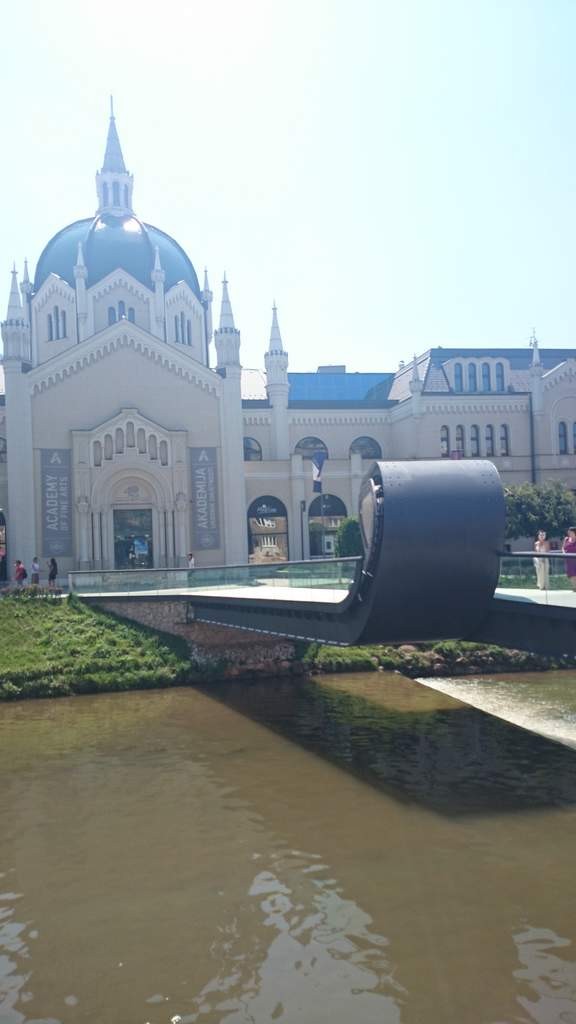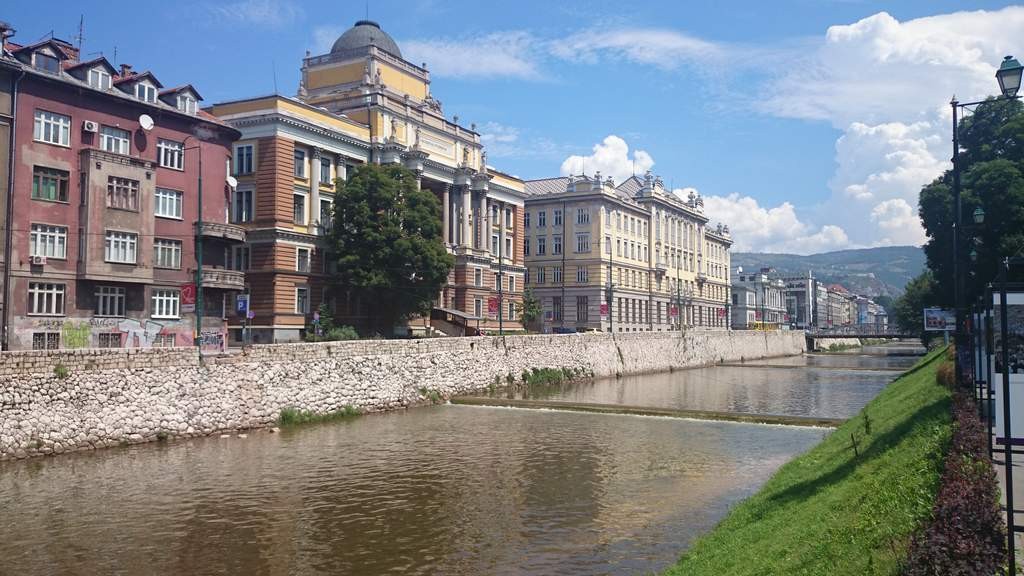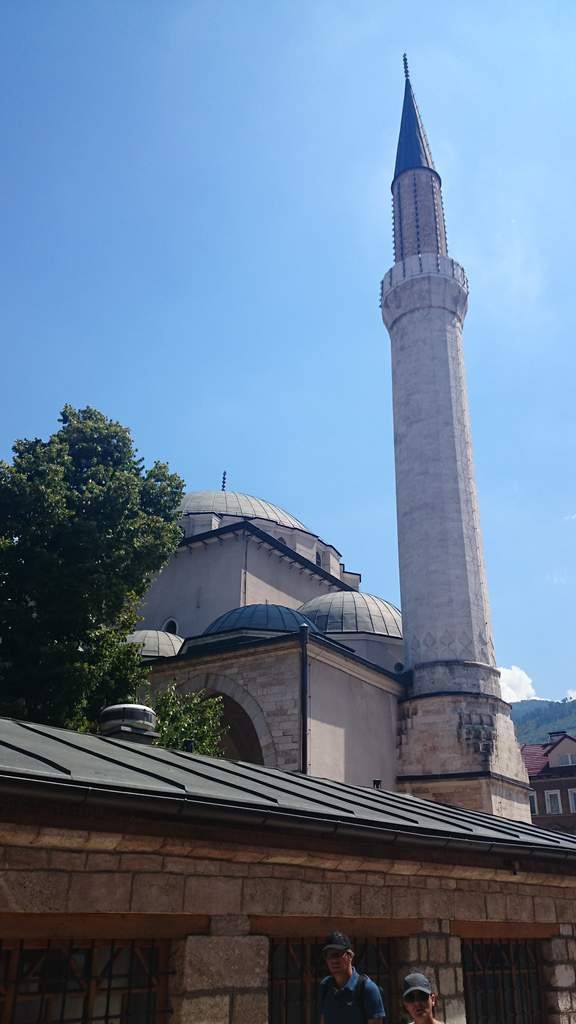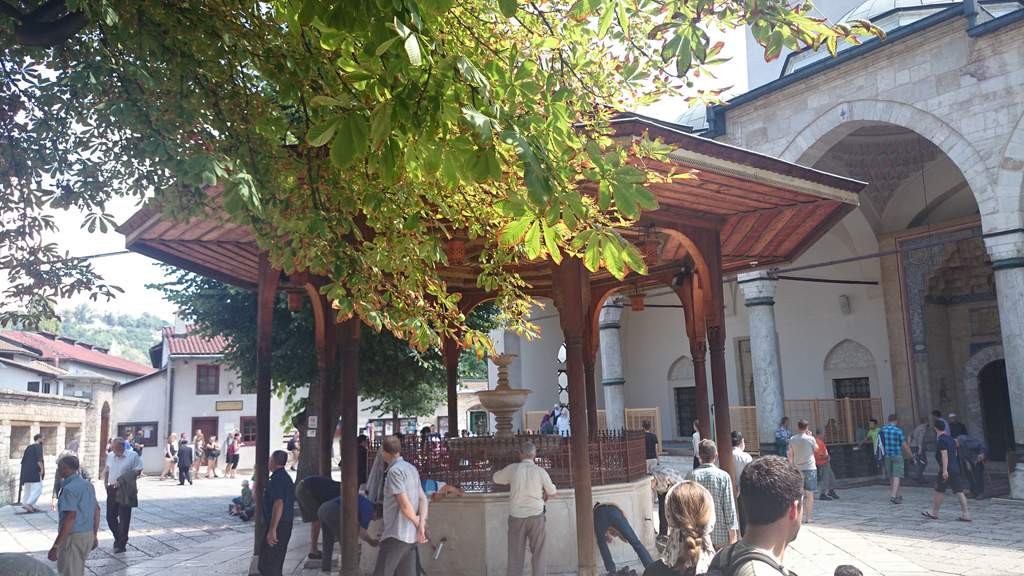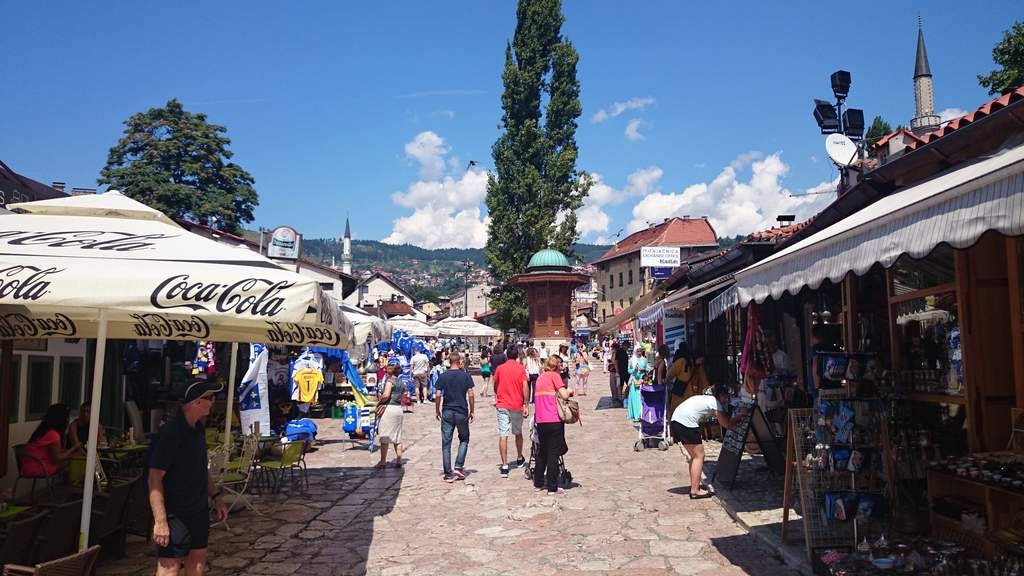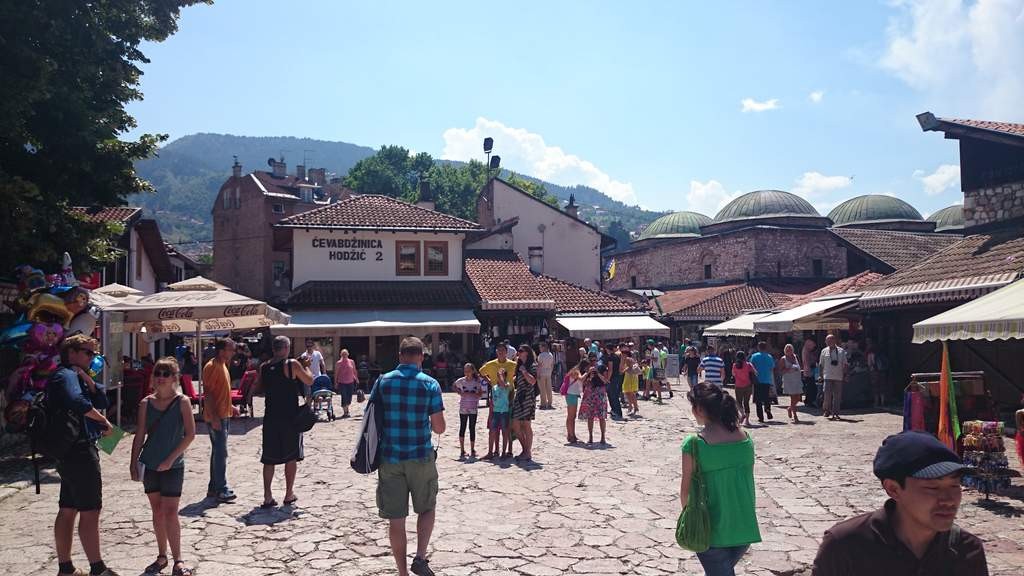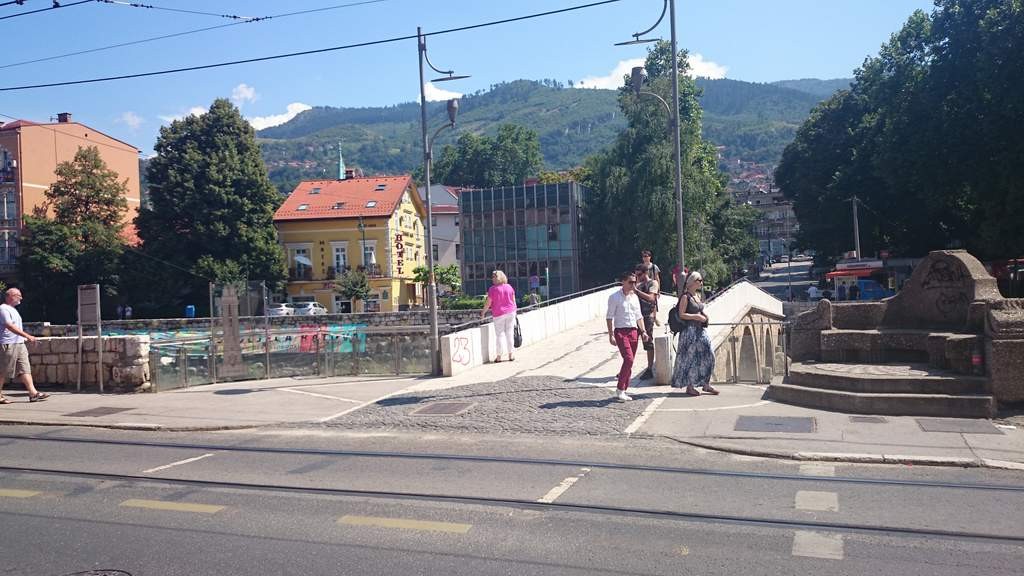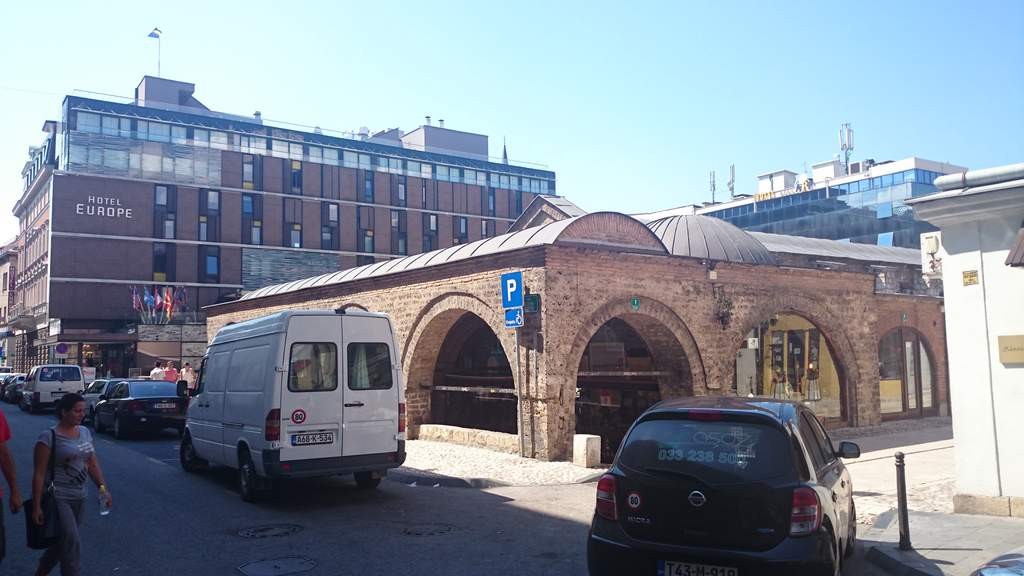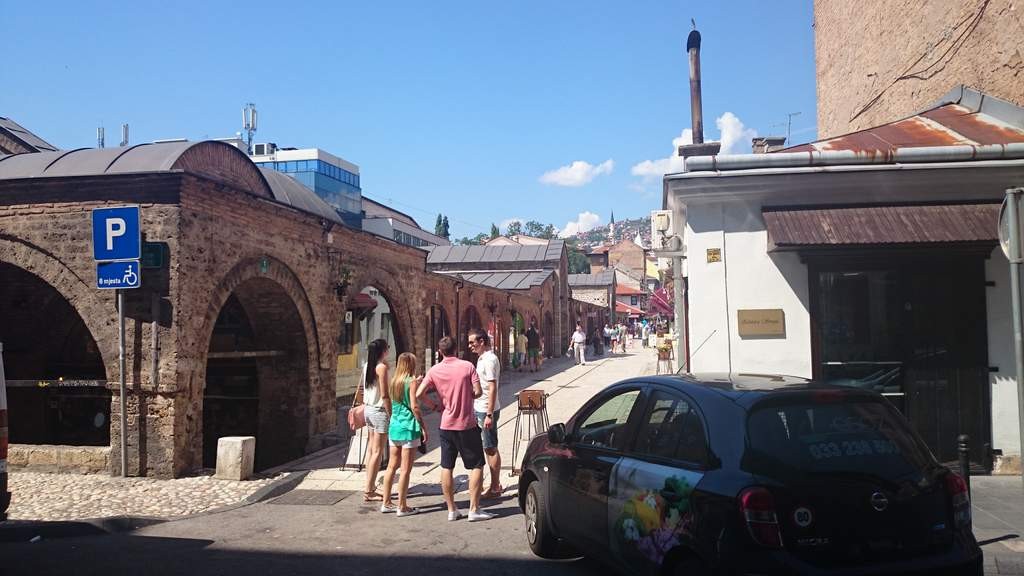 The Border control was amazing. It reminded us of how we used to travel before the Schengen Agreement. Long queues of "smiling" custom officers. But since it was quite late afternoon by then, it wasn´t too bad. We reached river Piva at 7:30pm and we got to the lake Piva in no time. We started to look for some accommodation there which wasn´t that easy. In the end, we managed to find a small room with a shared toilet. But for 30 euros for 3 people, who cares. We had dinner in Zvonovo and started to plan the next day.
We woke up in the morning and started our day as early as 8 pm. We decided to get some breakfast on the way which lead to the decision to go to Durmitor. The turning into Durmitor looks bit ominous, you ride towards some kind of hole or cave, which seems half buried under soil and stones.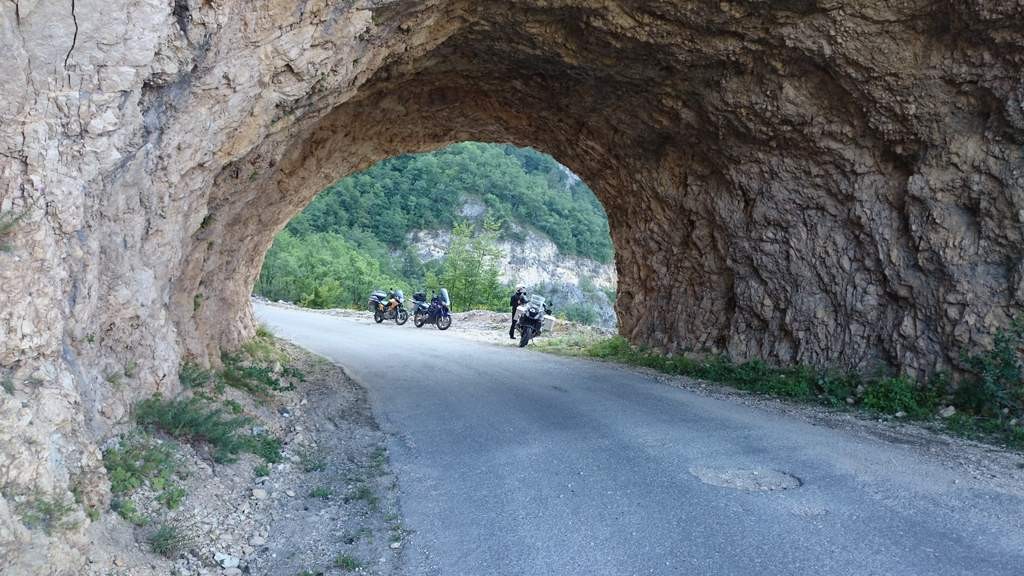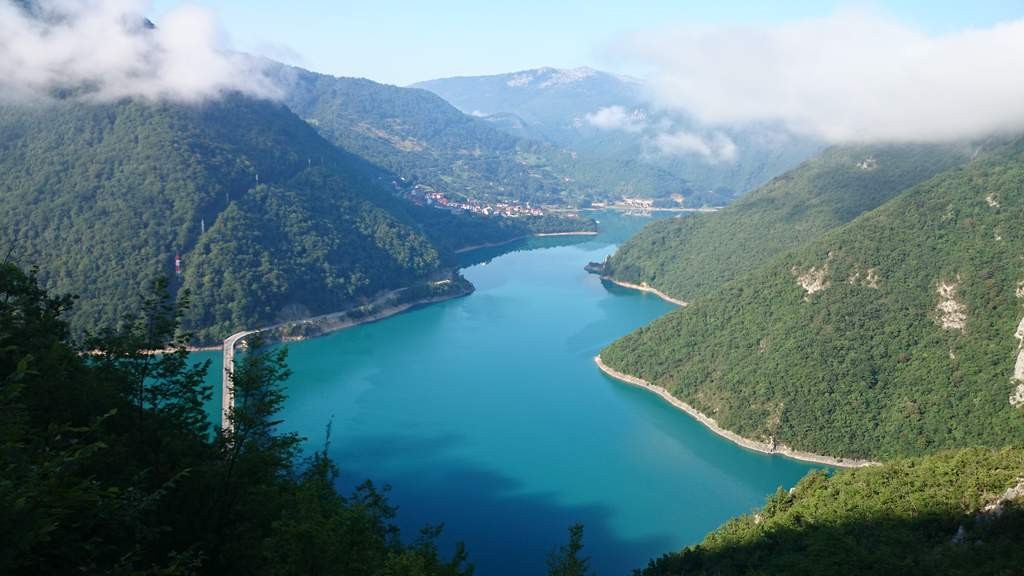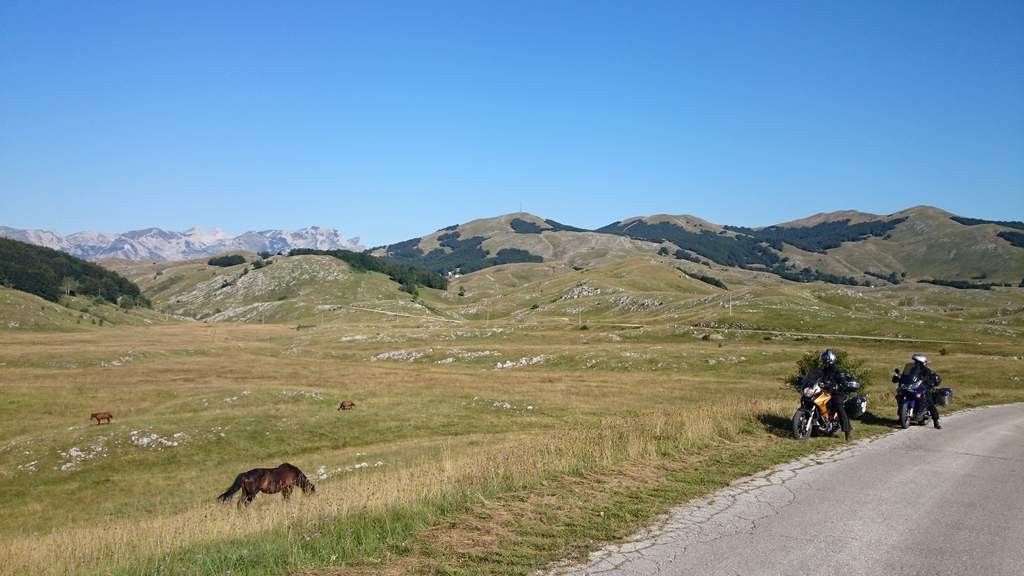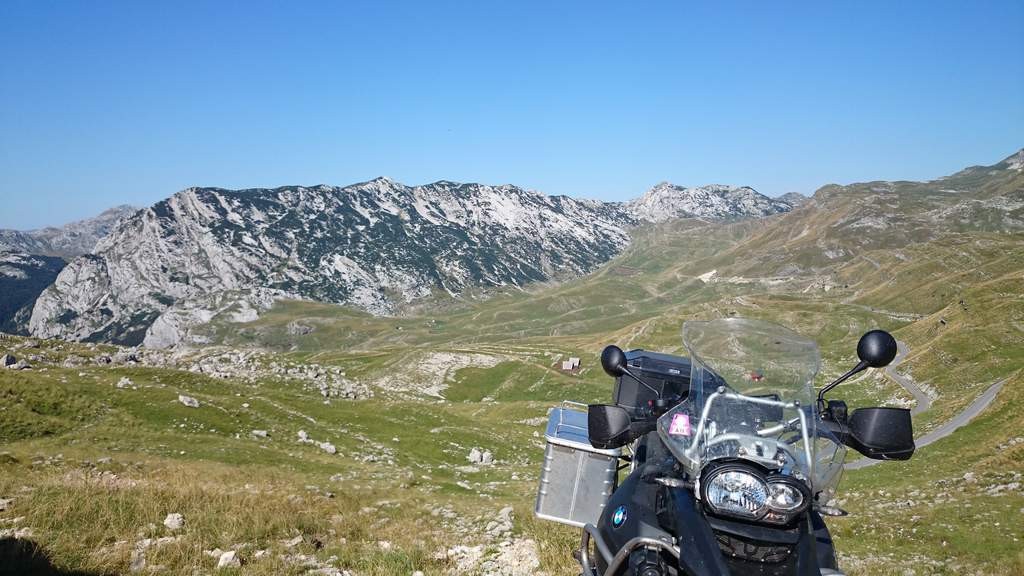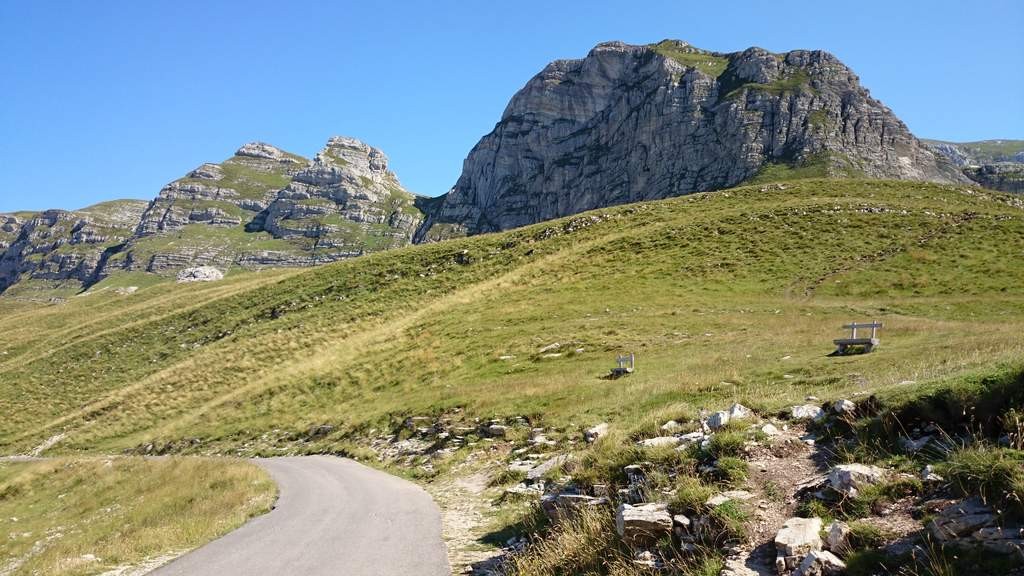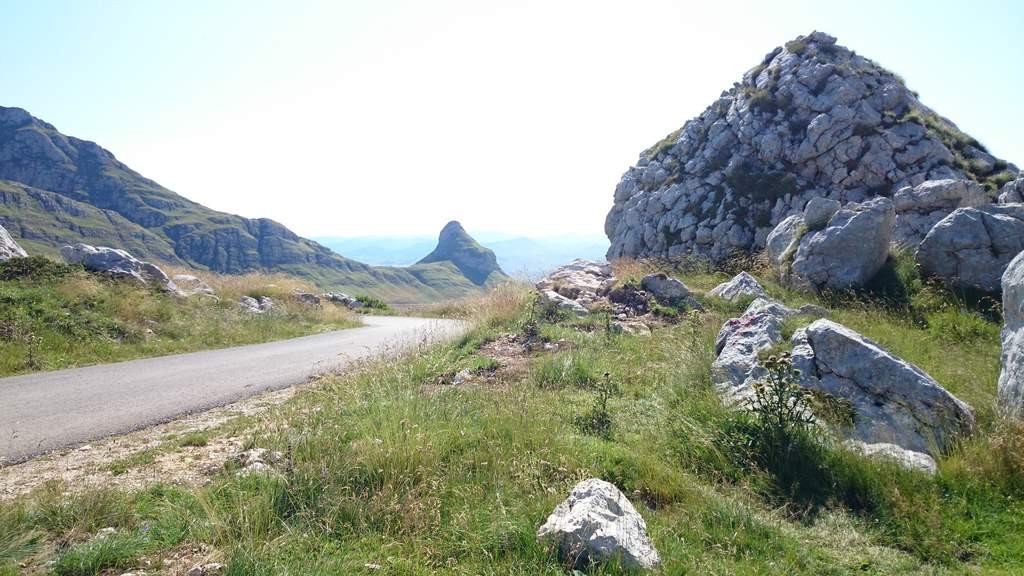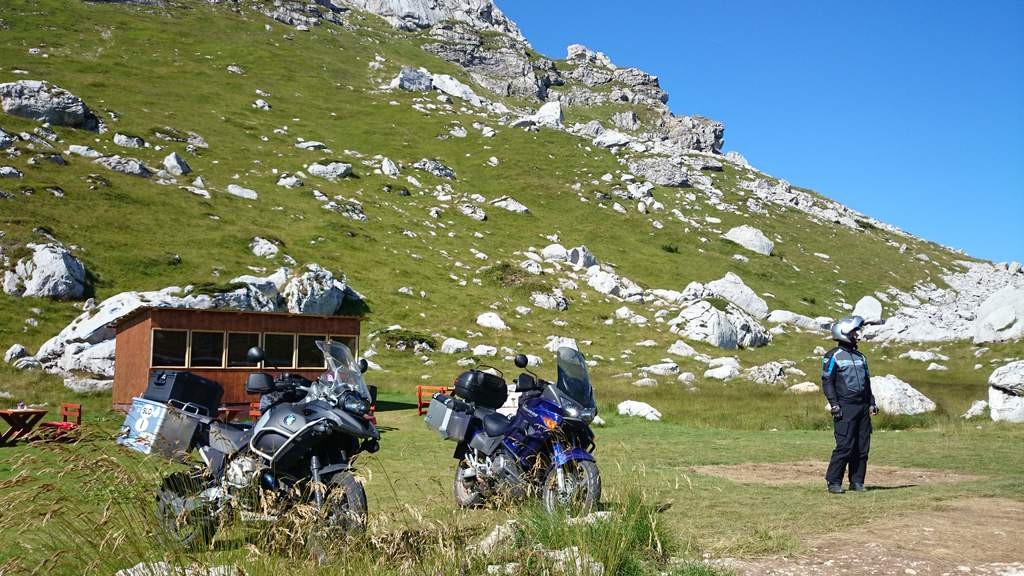 Never mind the first impression, the ride on the road P14 is absolutely amazing. At first you have to go up by serpentine roads and then you ride on tableland. The countryside and wilderness around us reminded me of Norway. It´s only about 47km but I can assure you that you will stop a few times. We found a small little restaurant and had some brunch. Ham bagels and coffee at 10:30am.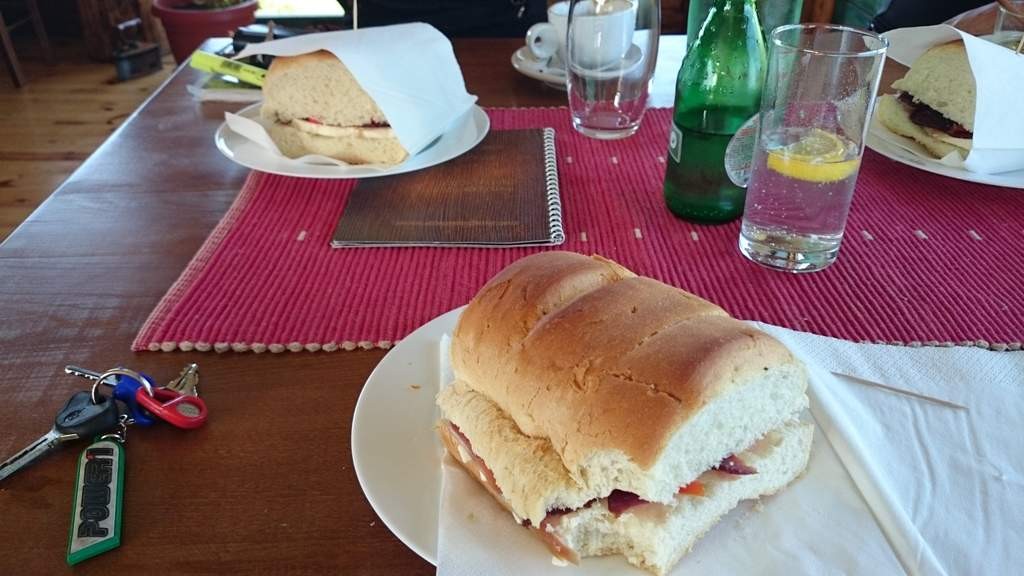 We carried on through Žbaljak to the river Tare and the bridge Durdevica. This 365 meter long bridge was built between 1938 and 1940 while this area was still part of the Kingdom of Yugoslavia. At the time this bridge was considered the biggest concrete construction for automobile transport in Europe. During the 2nd World War, only a few months after it was finished, local guerrillas blew the middle arch of the bridge to stop the advancing Italian army. It was the Italian army that had the bridge under control during the war. The damage was repaired in 1946 soon after the war ended. The bridge has a nice view of the local attraction; a Zip Line going above the canyon of the river Tara, at that time the longest one in the world.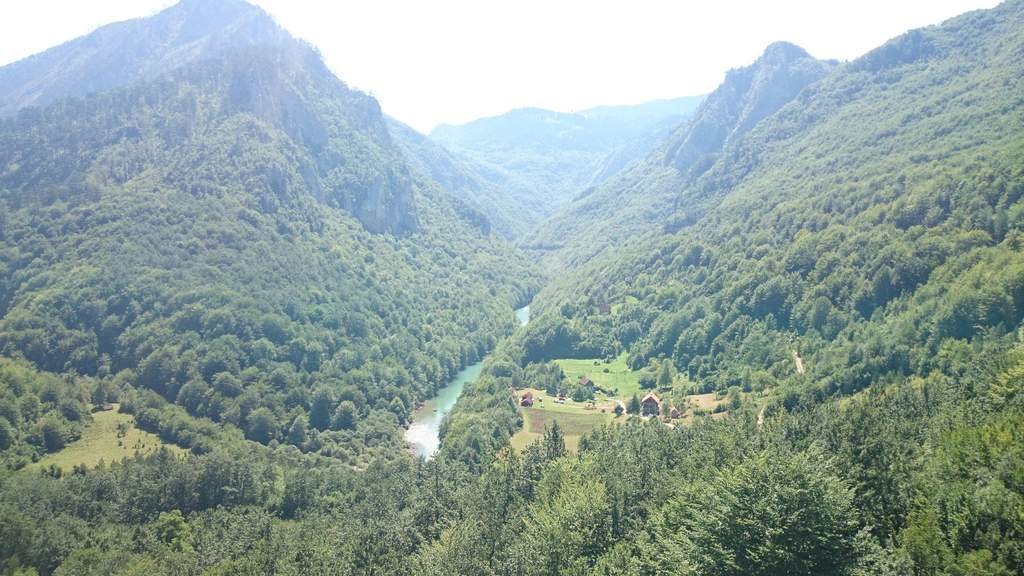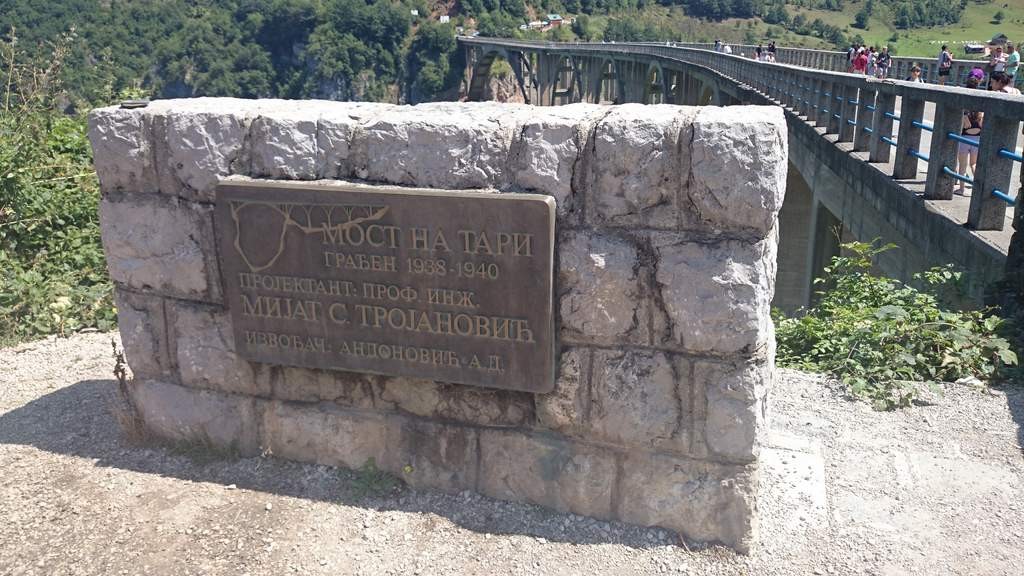 After this beautiful ride we carried on towards Mojkovac. We wanted to get to Albania. It was about 177km, app. 3h ride, to the Albanian town of Koplik. Half way to Koplik we stopped at Morača Monastery. Morača Monastery belongs to the Serbian Orthodox Church and was established in 1252 A.D.. The Surrounding of this monastery are well kept and beautiful. Nowadays Morača Monastery is an important Montenegrin historical and religious monument which is full of tourists all year round.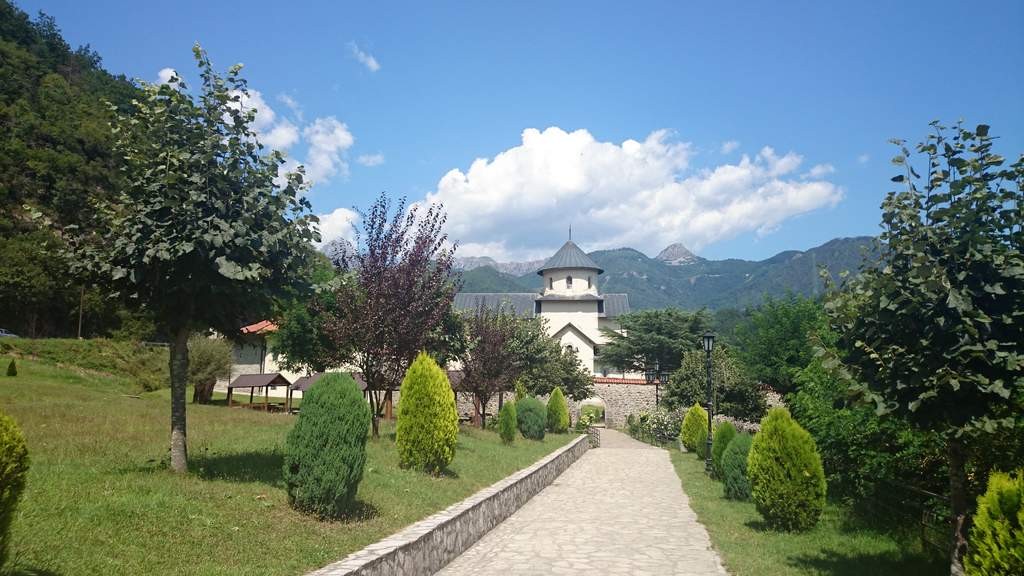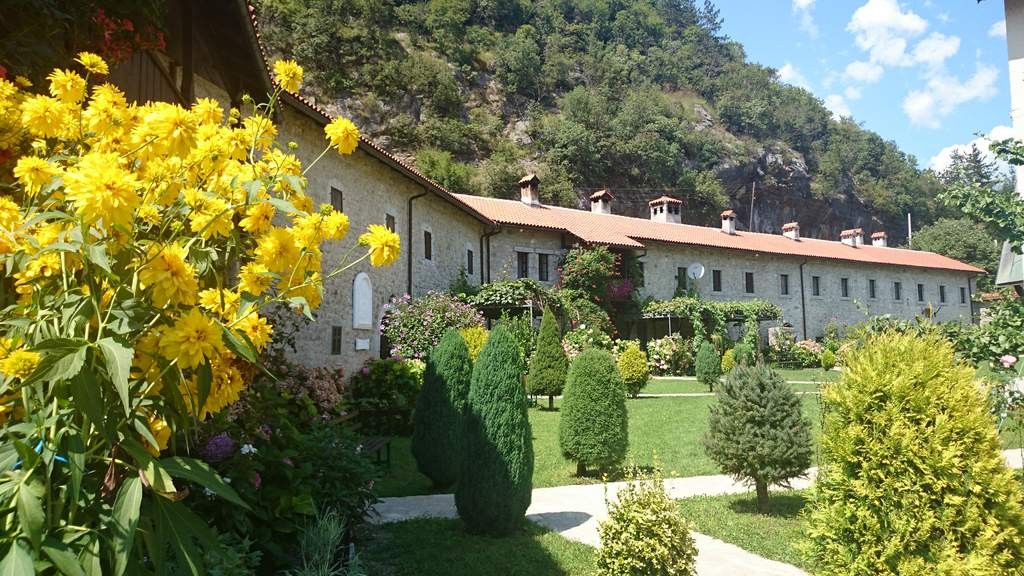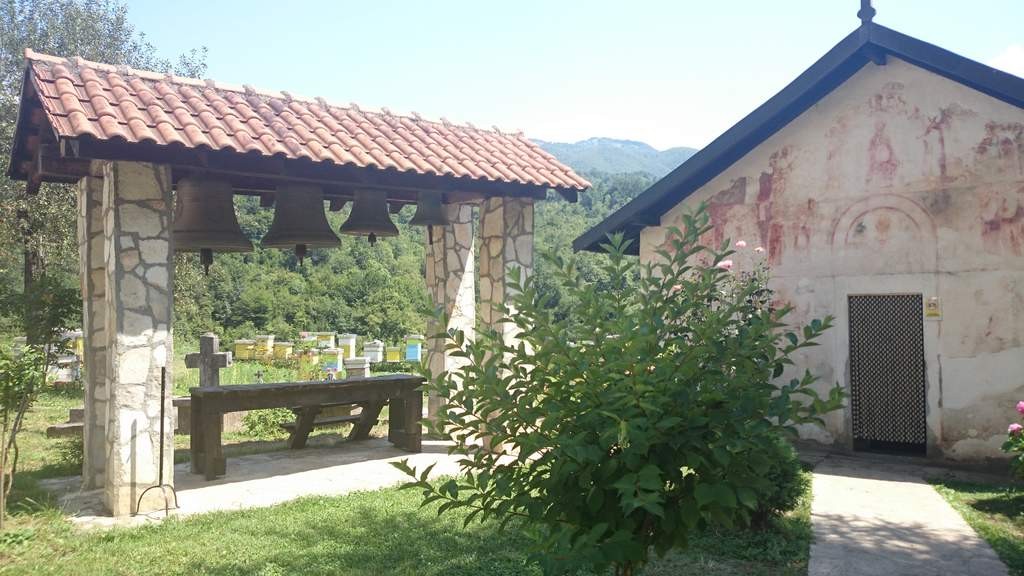 We rerouted a bit and decided to visit Ostrog Monastery. This building is bit younger than Morača. It was built in the 17th century. The Monastery is situated against an almost vertical background, high up in the large rocks, it is a popular pilgrimage place for many Serbians. This place is very busy in the summer and visitors have to wait in long queues to get in. We came during mass so we couldn´t get in and we didn´t have time to wait since it was already 6pm. Having considered the time, amount of people and the stuffy weather, we decided to carry on to our final destination; Koplik.
By the time we got to Koplik and found some accommodation it was already the evening. I´m sure you won´t know this hotel since its name was missing the last word "Inn". The Hotel Holiday. Having ridden through the town earlier we didn´t even bother to go there in the evening. We dumped our stuff in our rooms and went downstairs to taste the local beer. This accommodation was bit more expensive at 50 euros including breakfast and a nice room with air condition which was working, I would say, too well.
If we didn´t want to freeze to death we had to turn it off. We also had no idea that the hotel restaurant would want to show off the strength of their aircon as well. Sometimes I find fans much more suitable and the thing is we all woke up the next morning with a cold, cough and sore throats.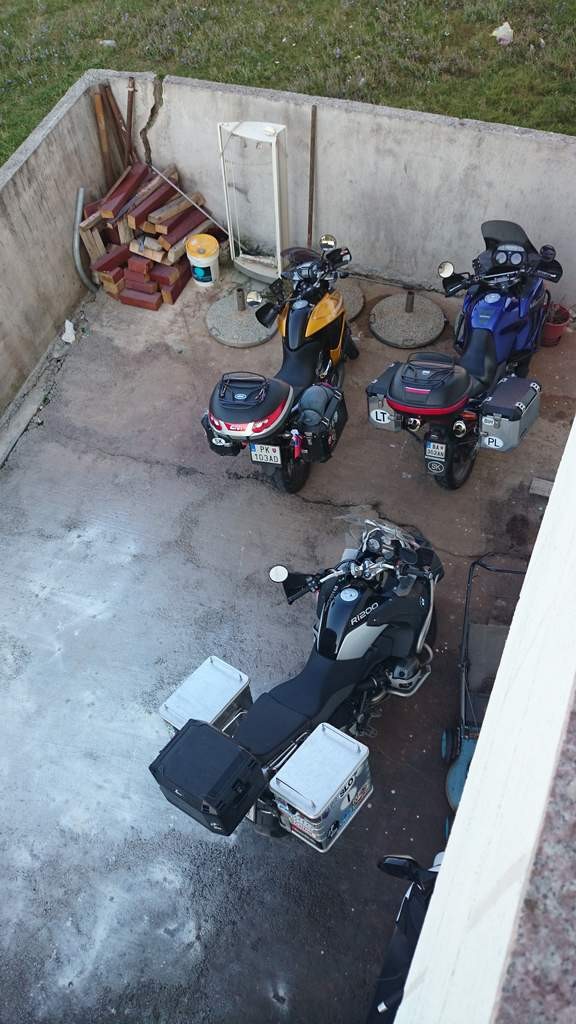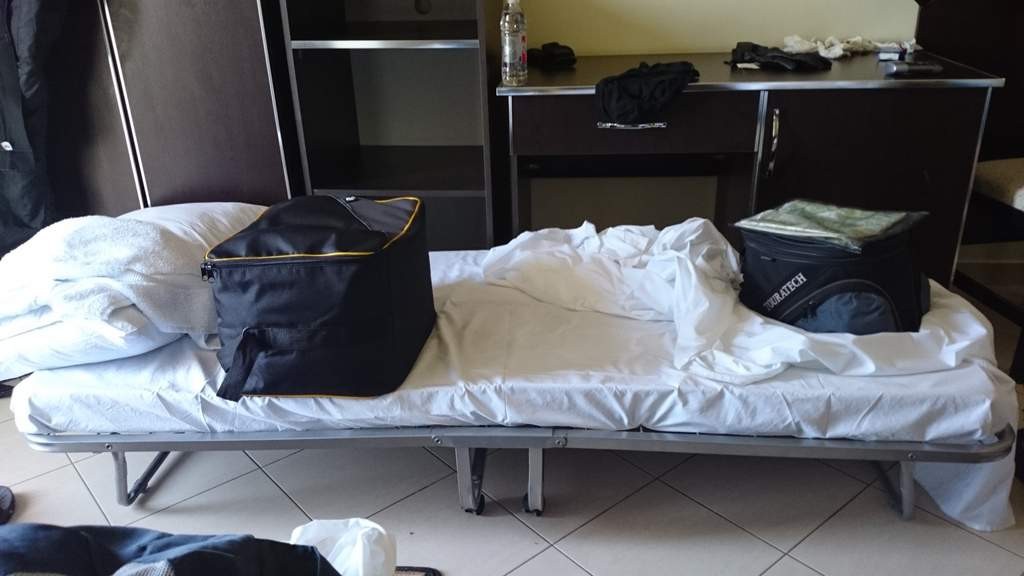 We didn´t pick Koplik as our destination by accident. We wanted to be as close as possible to Theth National Park. When we were still at home, I planned to do Theth and another ride nearby. I couldn´t see the reason why we wouldn´t manage it in one day.
Finally Albania -followed straight away by trial by fire
First thing in the morning we go to town and after a few wrong turns we finally got out. We are heading towards Teth, it is the first route of the day. 140 km (at the moment even google maps tell you it´s a five hours ride, but when we were planning it in 2014 google was saying 1 hour 45 minutes) Maybe it learnt from our mobile data. We stopped in one of the last little towns before entering the mountains to top up our water supplies. I can tell you now, that it was one of the best decisions we´ve ever made. At the end of the day, we were planning on going for a two hour ride. It has been boiling since we left home and we didn´t want to underestimate the importance of drinking enough water in this kind of weather.
After first 41km we started having our first doubts. I have to say that I had checked all the recommendations for this journey before we started, so I told myself that everything was fine and that they were only maintaining the road, since we´ve just done about 6km on really badly dug up road. We even saw machinery and later on we found brand new tarmac.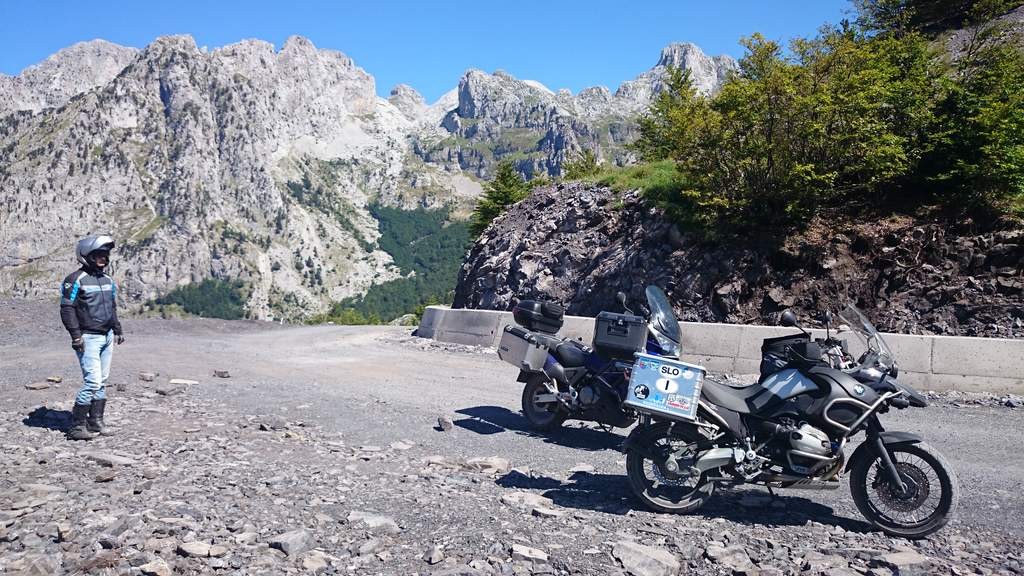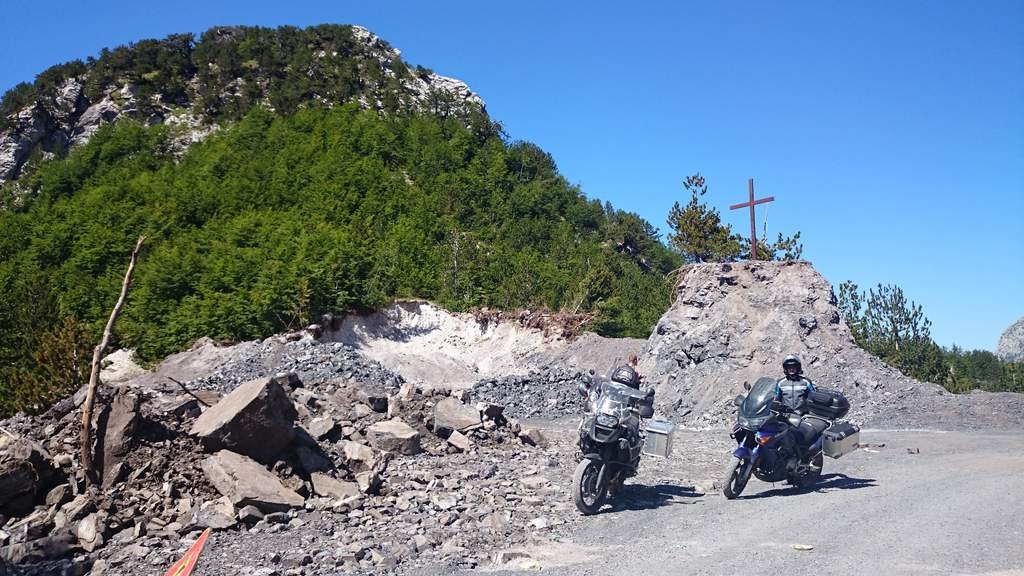 This is where the fun begins. It was 11am and this was our view.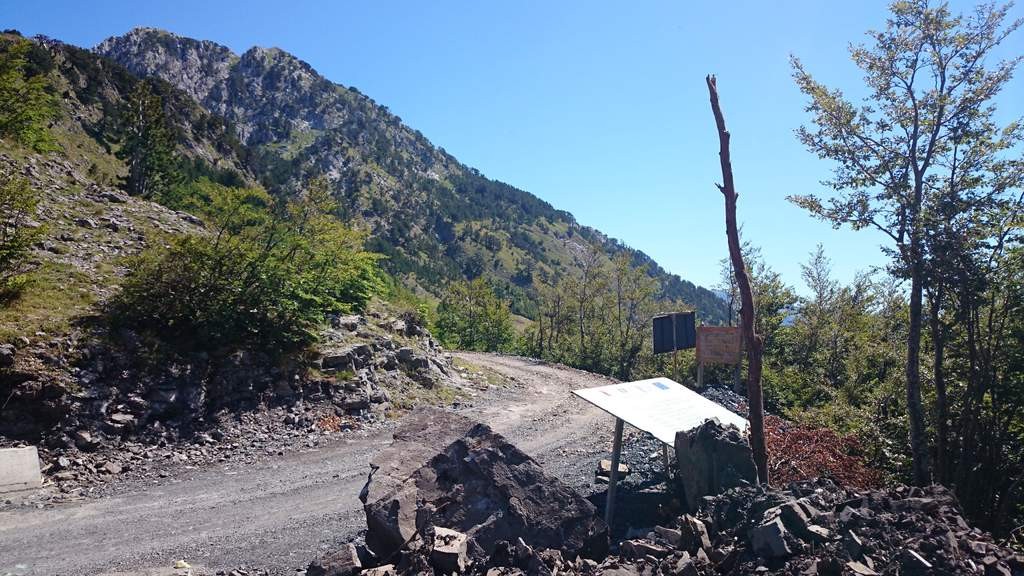 We´ve got here after 17km and approximately an hour long ride, so far this wasn´t fun at all. Lots of descending serpentine roads covered with a thick bed of gravel. Our bikes were sliding from one side of the road to the other and we were doing the same. We had to dodge a few cars and more than once we had to break all the way while taking the turn and then get off our bikes and help whoever needed to be pushed out of the gravel. My bike was facing down, wheel buried deep in gravel. I couldn´t go any further and I couldn´t turn either. I wasn´t able to use my side stand at all. I don´t have to tell you that one can´t push the 300kg bugger (I´m talking about the bike here) up the slope while trying to keep balance, hold the hand break etc. But now I´m thinking, maybe Chuck Norris would manage it with one hand behind his back.
The next stop was the breaking point and we decided not to turn around but carry on. We were certain that we had already passed through the worst of it. The road ahead of us looked like a mere Dakar special. Only after few kilometres did we realized that we would have to go back because the road we were looking at wasn´t the right one, it was a dead end. Actually, it wasn´t, but we would have to ford the river to be able to carry on. You can´t mess up with one´s comfort really. None of us really wanted to have a little splash in the cold river despite the fact that it was 30 degrees outside. Once we were on the right road, I got the feeling we were on some kind of mountain arterial road. Lots of tourists and walkers but no cars at all. 28 km later we got to the small bridge where a group of boys were gaily jumping into the freezing cold water.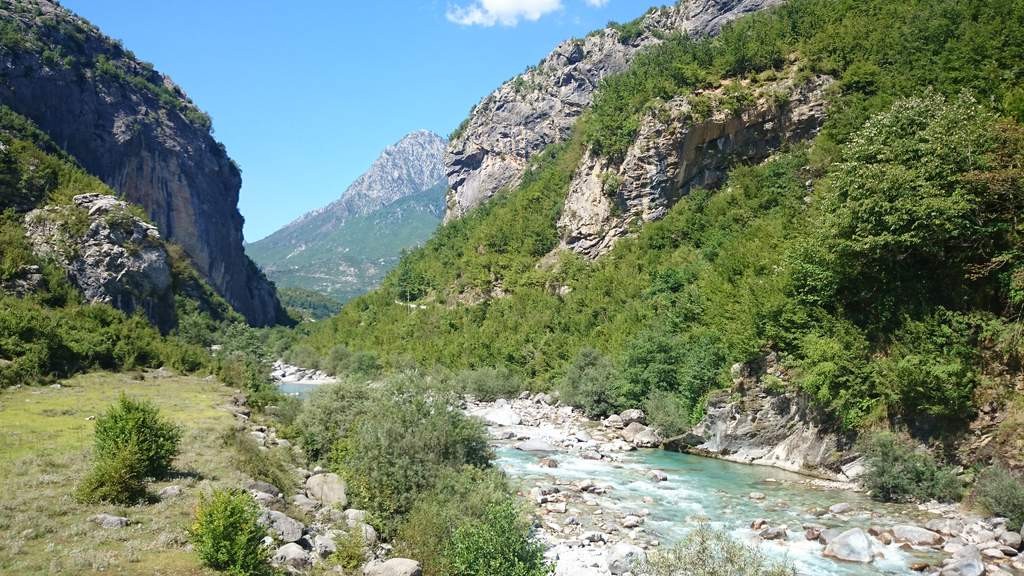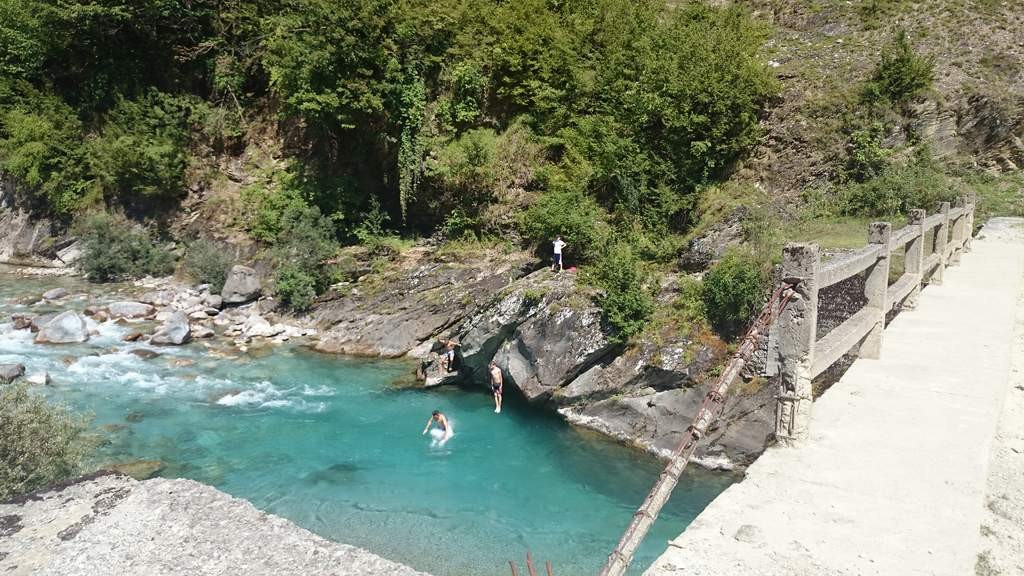 We decided it was a good sign as at least, now we knew we weren´t lost to the world, and that other people lived here. We posed the same question to whoever we found, we asked them whether this was a right way to Kir. Most of them responded with a blank expression and a shrug.
We got this far and then it all went astray. We were a whole 2300 meters from the bridge and we all were at the verge of a mental breakdown. Each of us dealt with it in our own way. A few times we had to pick up Paťo´s bike. If he ran into a big hole his main stand got caught and his engine turned off, which always ended up with him falling down. I didn´t envy them at all. Ivo rode on really wild legs without ABS. They did every climb on their gearbox since it really wasn´t doable on a second transmission (for the first time in my life, and hopefully not the last, I truly appreciated having an enduro gearbox and short first transmission). At this point we´ve already done 86 km from Koplik and it was 15:39 and approximately 35 degrees outside. And if that wasn´t enough, we´ve decided to hold our bikes on downhill turnings. We´ve only had few fitness bars for lunch since there was nowhere to eat out on the road. It was approximately 28,4 km to the nearest tarmac from this point but that time we had no idea.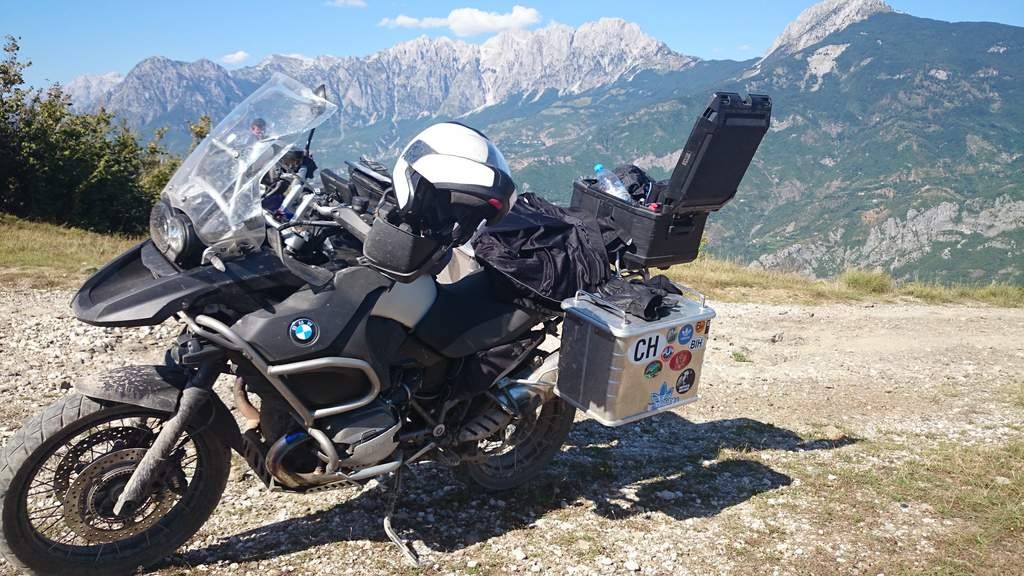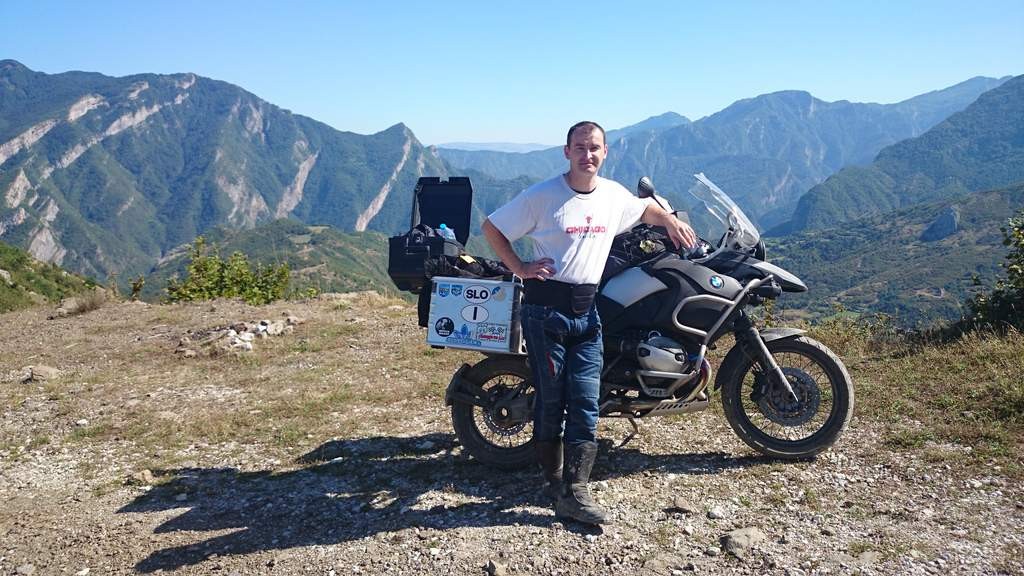 We considered it a good sign when a big van appeared in front of us. We were actually wondering whether it would be possible, and how much it would cost to get a driver to take us and our bikes to the nearest tarmac. Later on we had an even better idea; how much could it be to get us away from here with a helicopter? This kind of idea tells you a lot about my mental state at that time.
Oh, I would almost forget about our Kir. 13 km later we actually found it. Three old cottages and one church. From Kir it was only 13 more kilometres. This part of the road was bit better. We were met by three big lorries and a car full of nuns which missed us just by few centimetres, and I actually think they just caught my friend´s trunk.
The end of our journey was just fabulous. It shows you how fatigue can influence your vison and thinking. In front of me I saw Ivo who crossed quite a big puddle which he couldn´t get around. My thinking was: whatever, I´ve done 80km, I´m going to do these 20m and if not they would just pick me up and pull me out. We´ve all crossed the puddle without any problems but I still couldn´t understand why Ivo stopped and why he has been smiling at me. Only when I overrun him, put my foot and stand down on tarmac, it came to me. Finally there was the end to our torture. I haven´t seen the tarmac I was just standing on. After those terrible 80km I just couldn´t see further than 10m ahead of my bike.
Just so you understand how bad it was, here is few photos of the local road and I´m adding a few videos as well. For us, who do not normally ride enduro, let alone on big bikes, it was a truly mental experience. Every time we mention it now, we have to have a laugh. We are laughing now but we really didn´t laugh then 🙂
We´ve rode to the closest restaurant (15km) faster than light. That´s how it felt at least after those previous torturous kilometres. We´ve had a good dinner and a good laugh.
We checked in into the Bar Restorant Hotel Marina (50 euros) at 21:00 and we started to plan our route for the next day. Never mind, it was supposed to be done this afternoon, in the end of the day we are very flexible travellers 🙂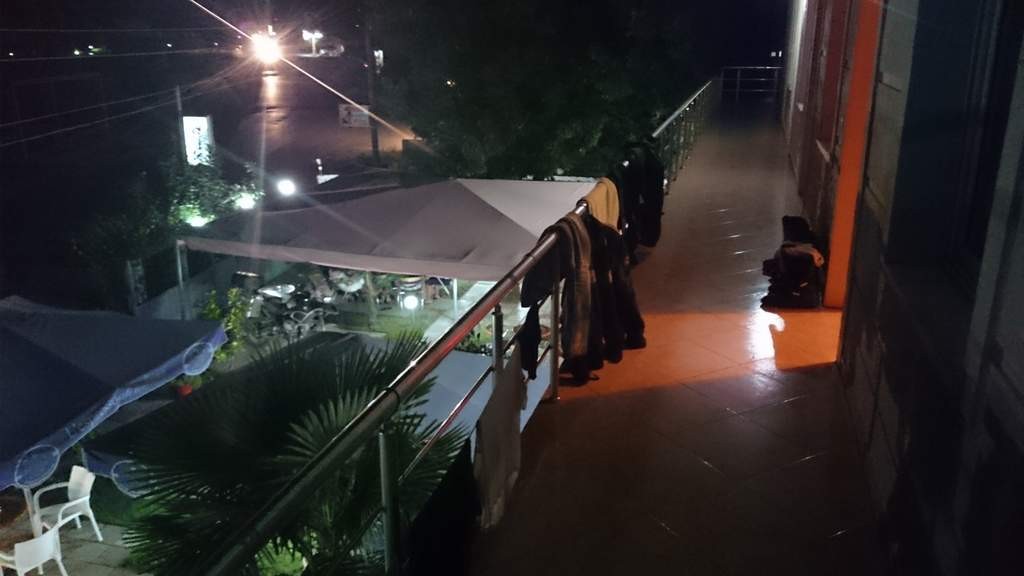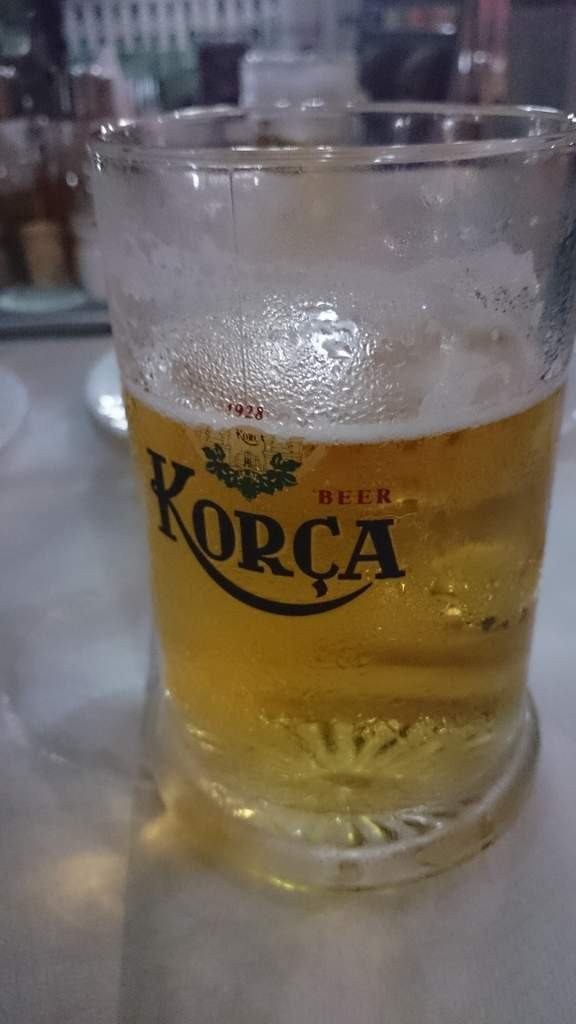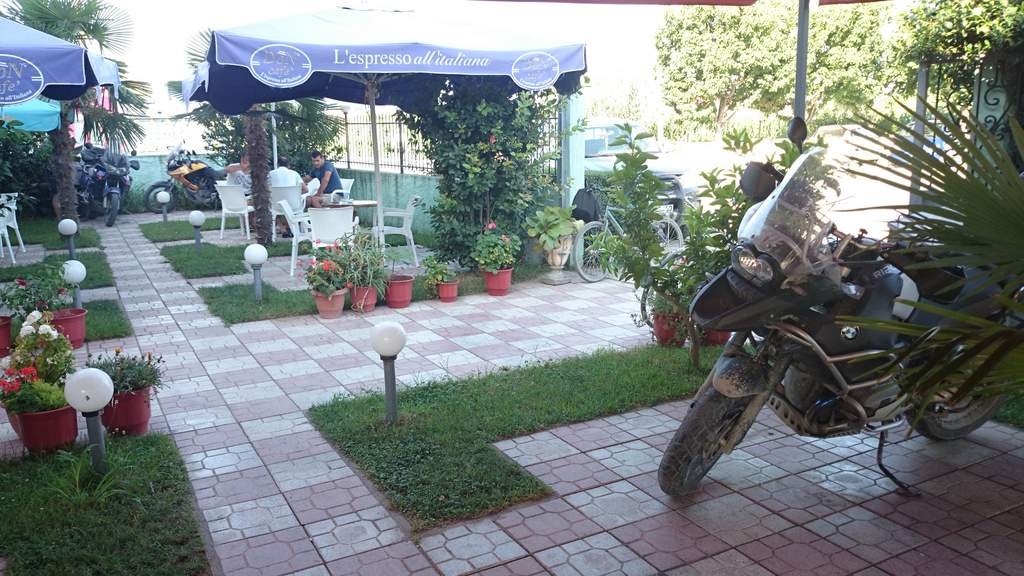 Albania, trial by fire 2, alias head roasted in helmet
Breakfast was really nice, including a local cheese and homemade jam served by the waiter and owner in the form of one person who spoke fluent English.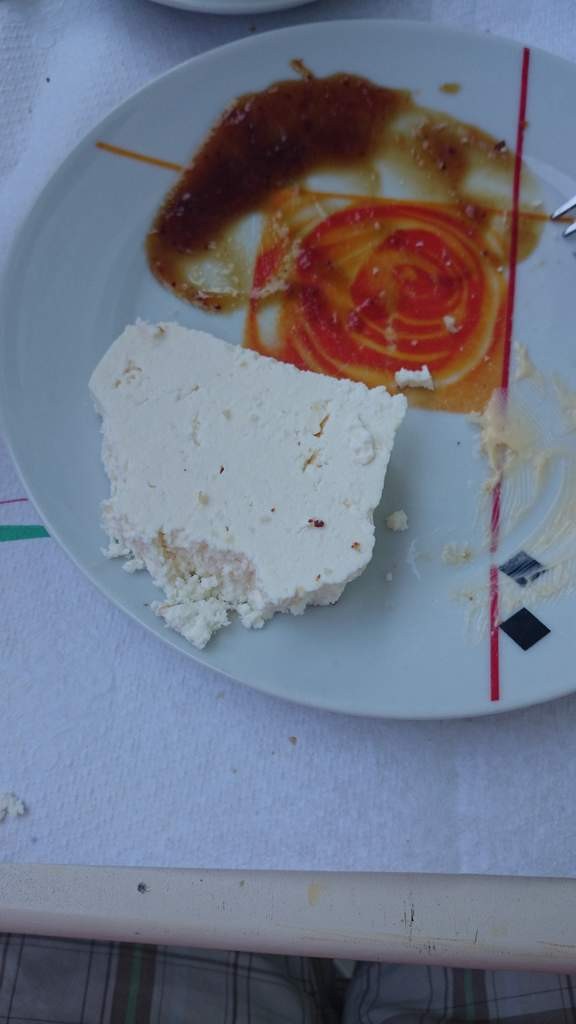 We´ve started our pre-planned route; around the lake Drin and then back to the mountains and the Fierza Reservoir. Some crazy people have apparently done this route straight through the mountains, having experienced yesterday's journey we didn´t even consider this as an option. It was a truly beautiful road, a lovely view of the mountains, hills and the lake. The only thing bothering us was the uninterrupted merciless heat.
We had a lunch in the hotel Alpin. We didn´t expect the owner having little private zoo there; two bears, few deer and many other animals. Later we passed the Albanian Hoover Dam.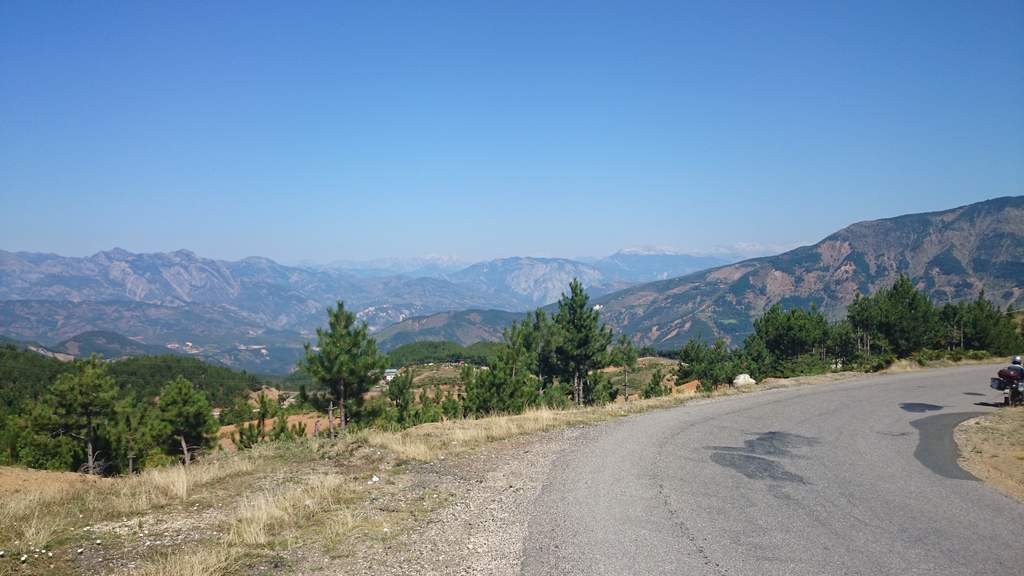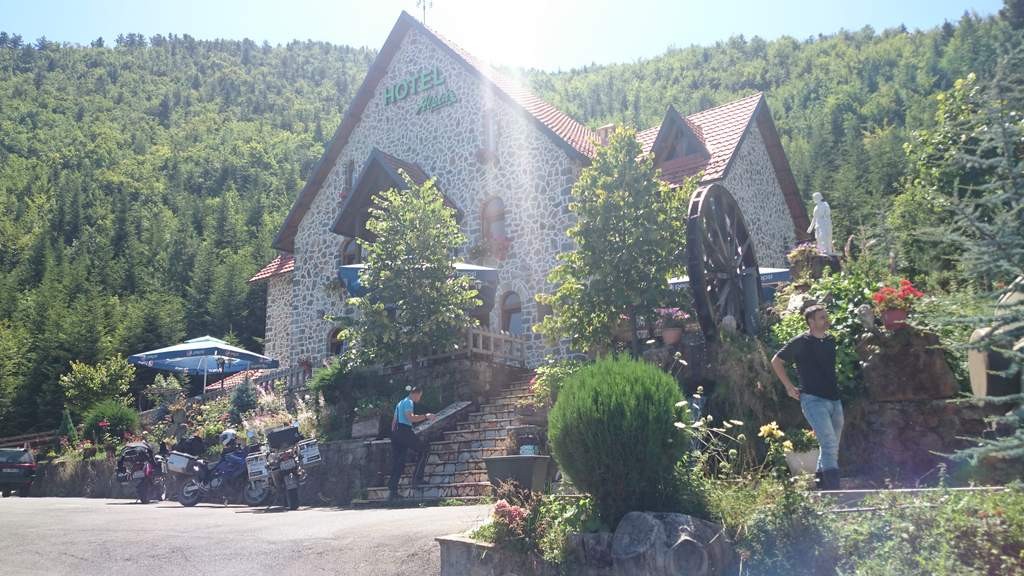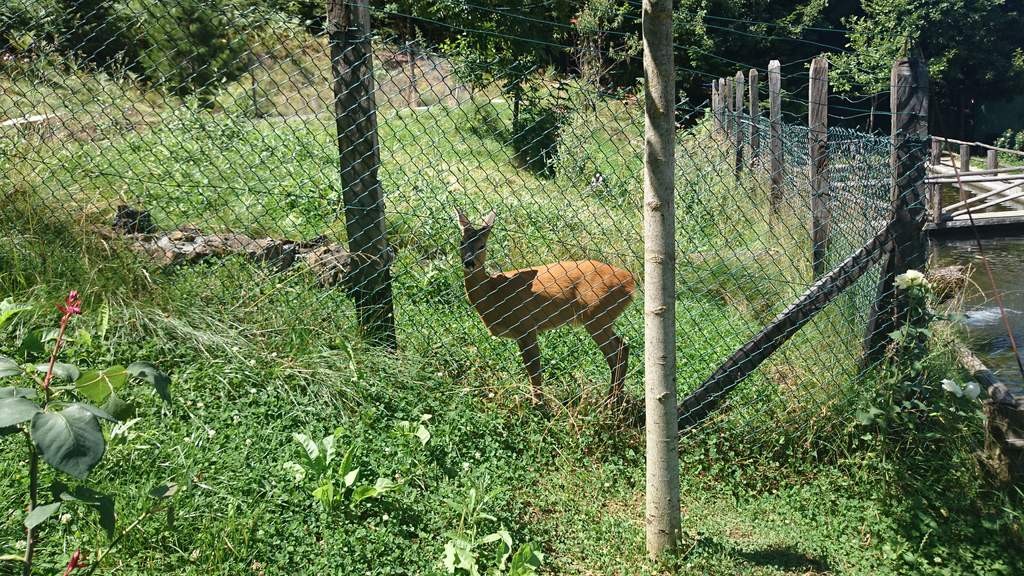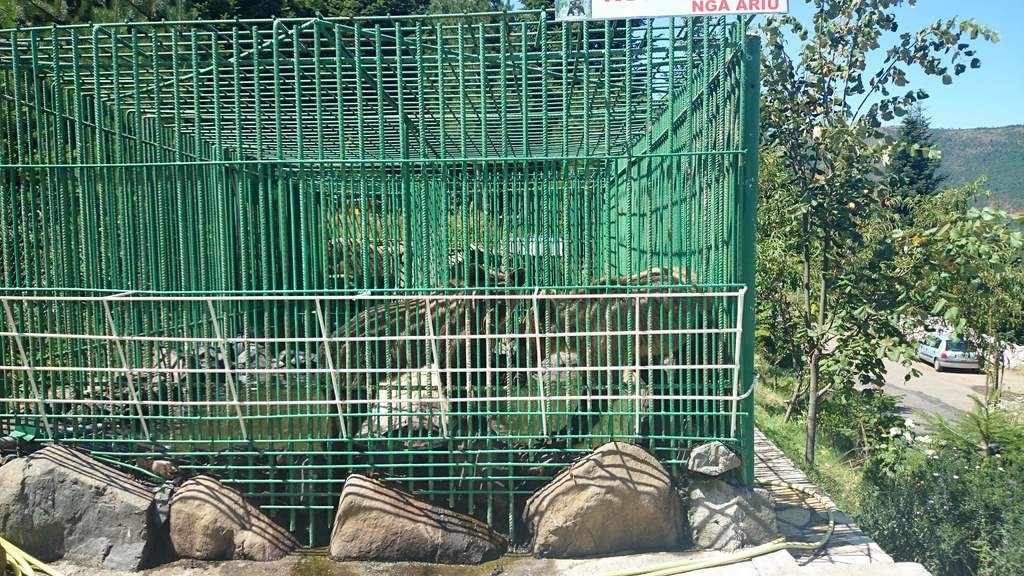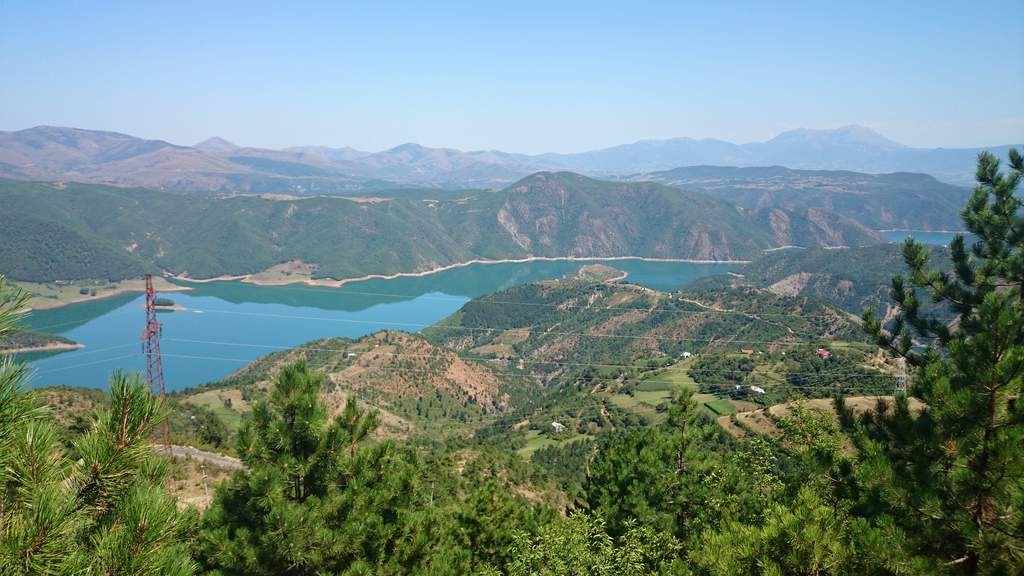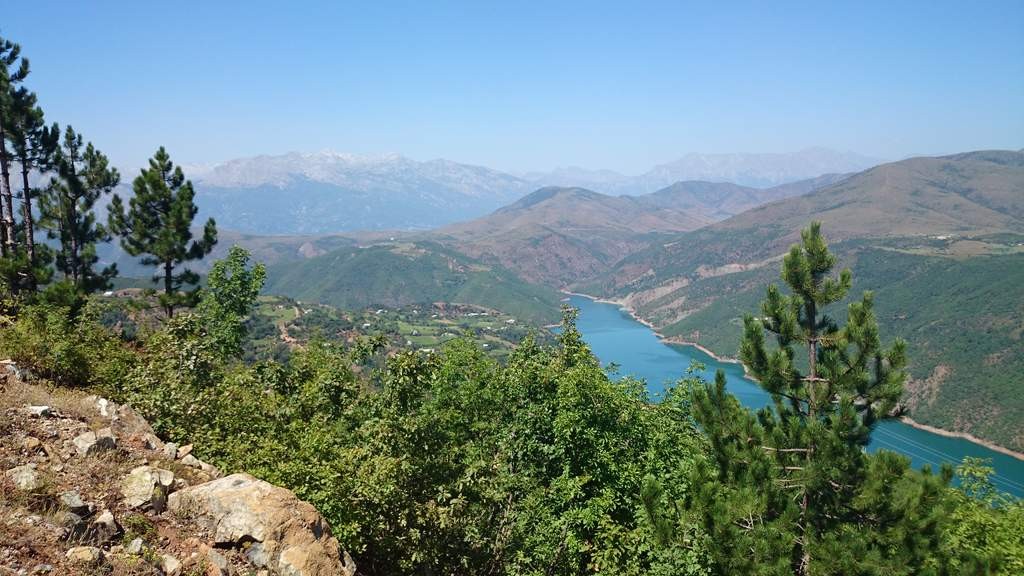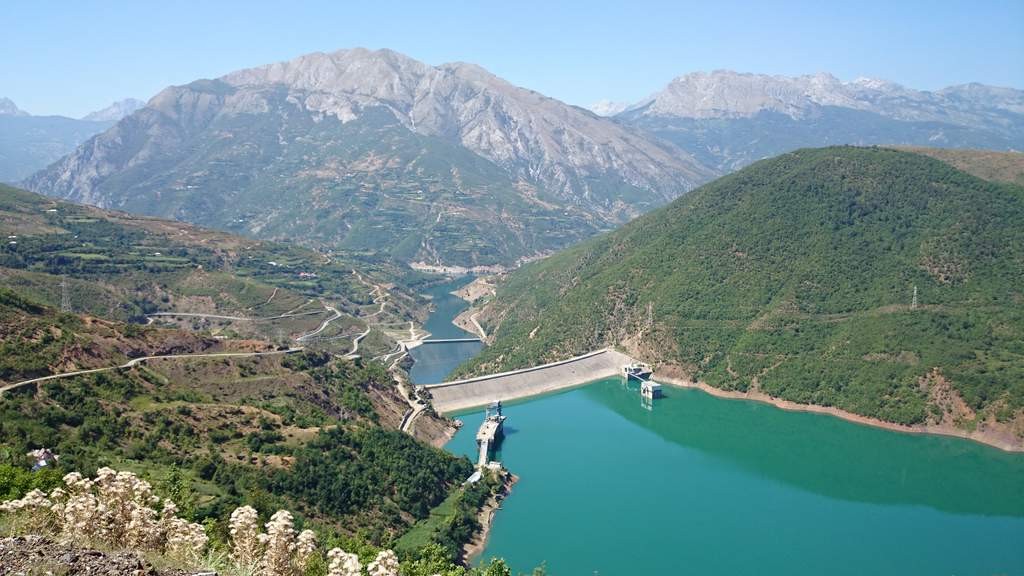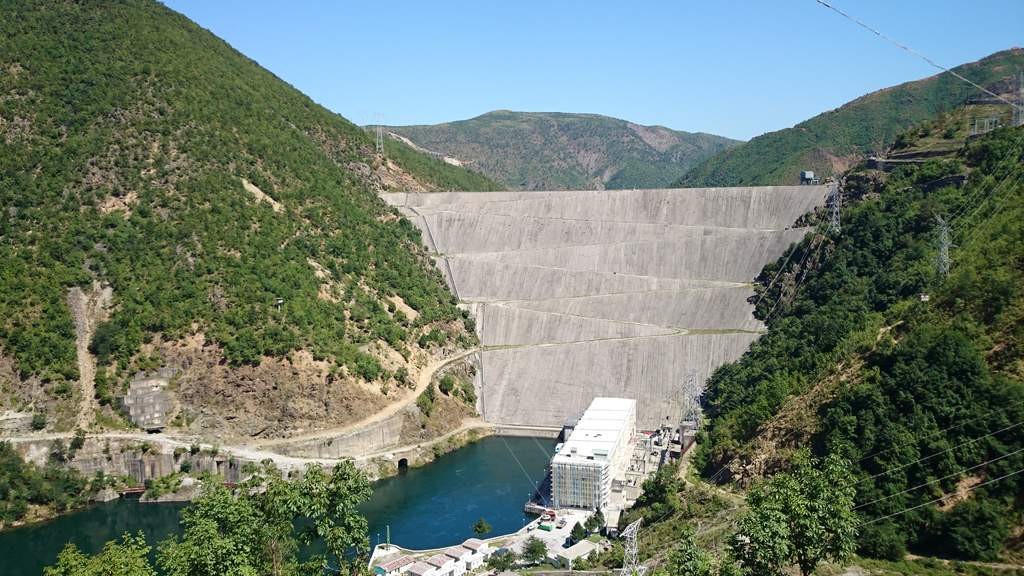 The roads were in quite a good condition. You could see the signs of repairs here and there, but after yesterday´s grid and stone it was actually great pleasure to ride on a road like this. At around 1pm the heat started to be unbearable. At 14:23 it was already 38 degrees. An unzipped jacket and standing up on the bike didn´t really help anymore. We had to stop quite often and look for some shade. In a country without trees, shade was almost a miracle, so when we finally found some we stopped and drank and drank and drank. It was water at this time. We behaved very ecologically though and didn´t really pee that much. Our kidneys had a brief encounter with some of that water only about late evening, when the temperature dropped to a nice 28 – 30 degrees.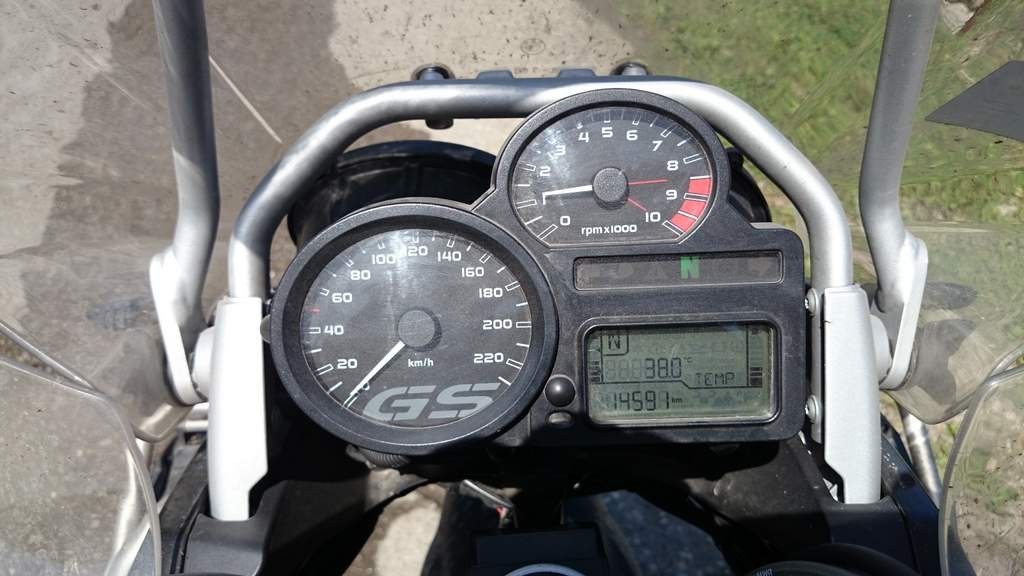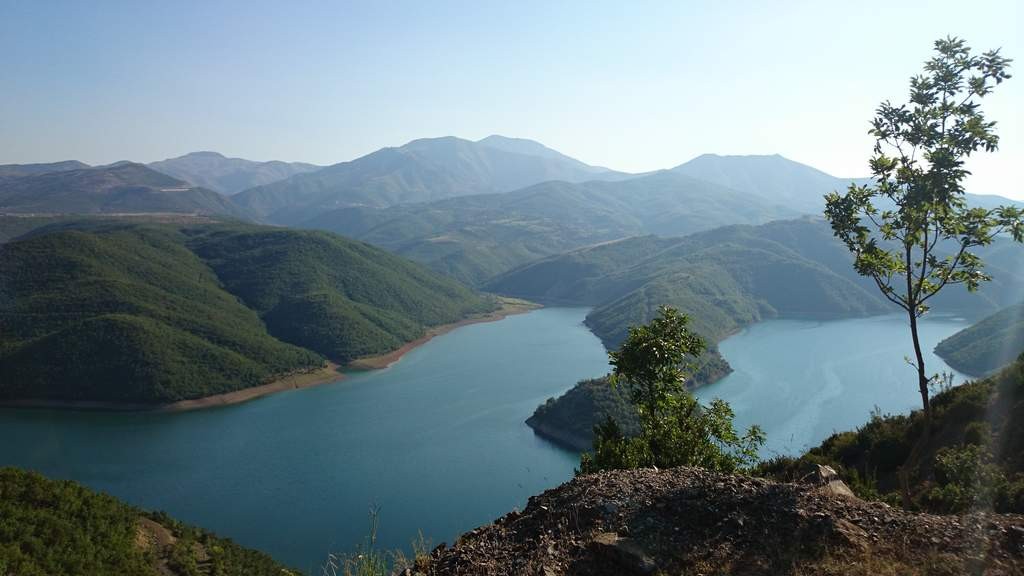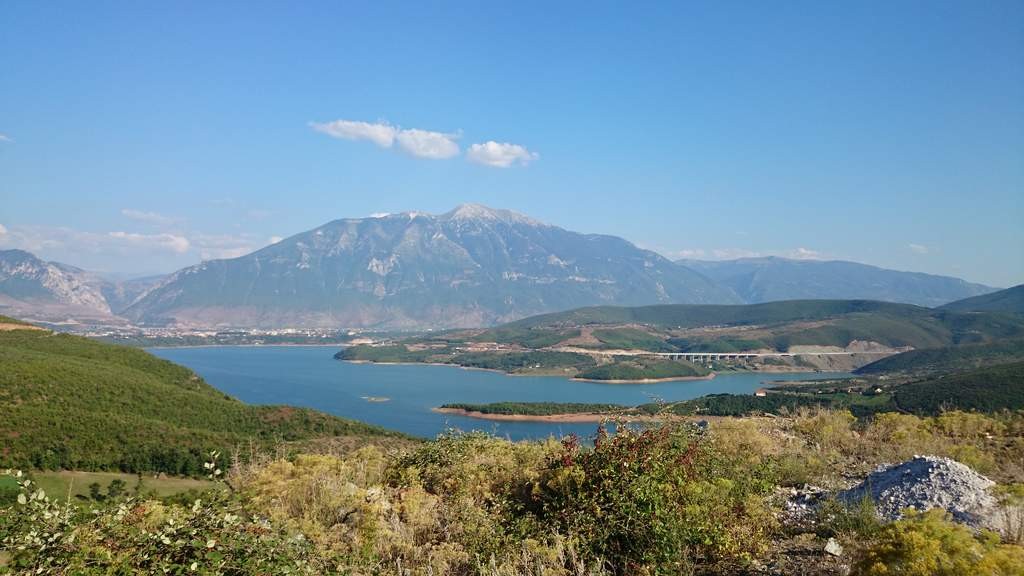 We got to the end of the lake and ended in city Kukes just before 6pm. There we decided to get on the highway and head to the coastal town of Lezhe.
Our first few minutes on the highway tasted like cows. Why cows? Just imagine that you hear your friend saying "watch out, there are cows on the road", at first, you don´t really think you should watch out for real cows. "What the hell would real cows be doing on the highway?!" Well, crossing it, obviously.
We´ve started to look out for some accommodation for the night. Who would think it would be this difficult at the peak of the season? At the end we found some on the beach. Signs directed us towards a place we assumed nothing could be built anymore. The driveway was totally battered but cars went there anyway. We weren't really impressed by the pack of angry dogs that welcomed us, but the accommodation in Hotel Brilant was actually really nice. A lovely dinner and a well-deserved rest. We did some swimming in the sea (those who know me also know that I don´t do this very often, but this was very nice. The sea was warm and most importantly wet.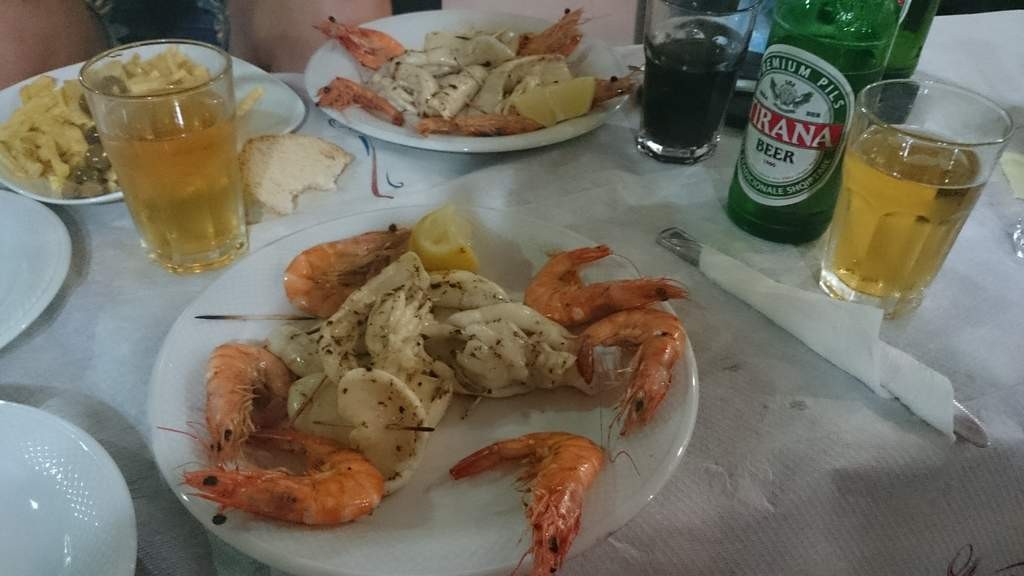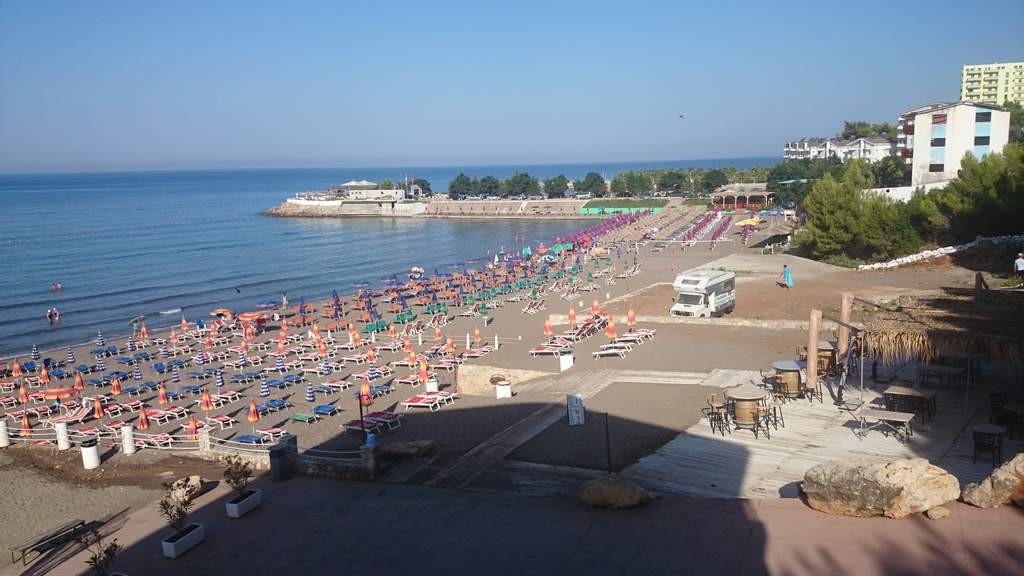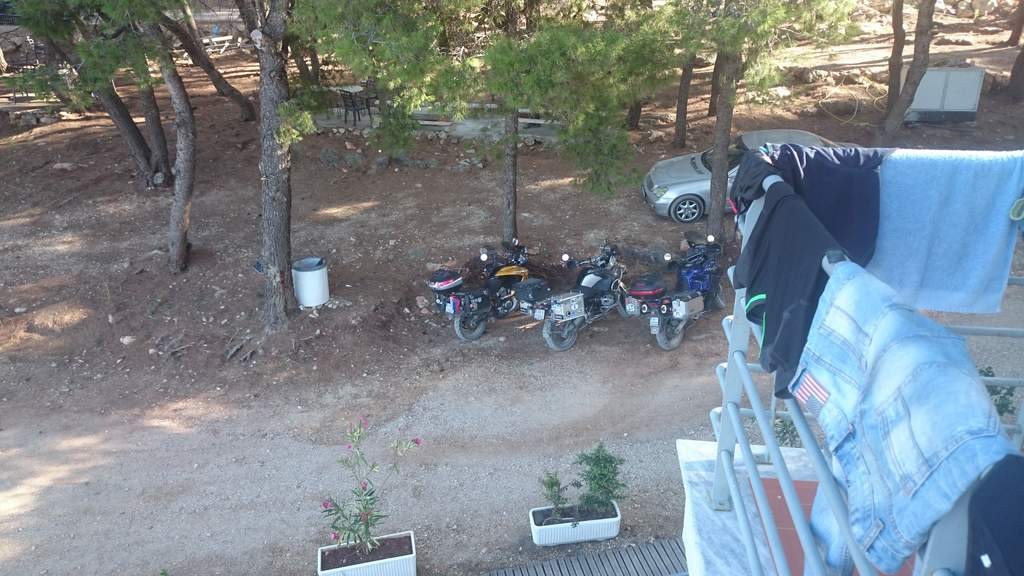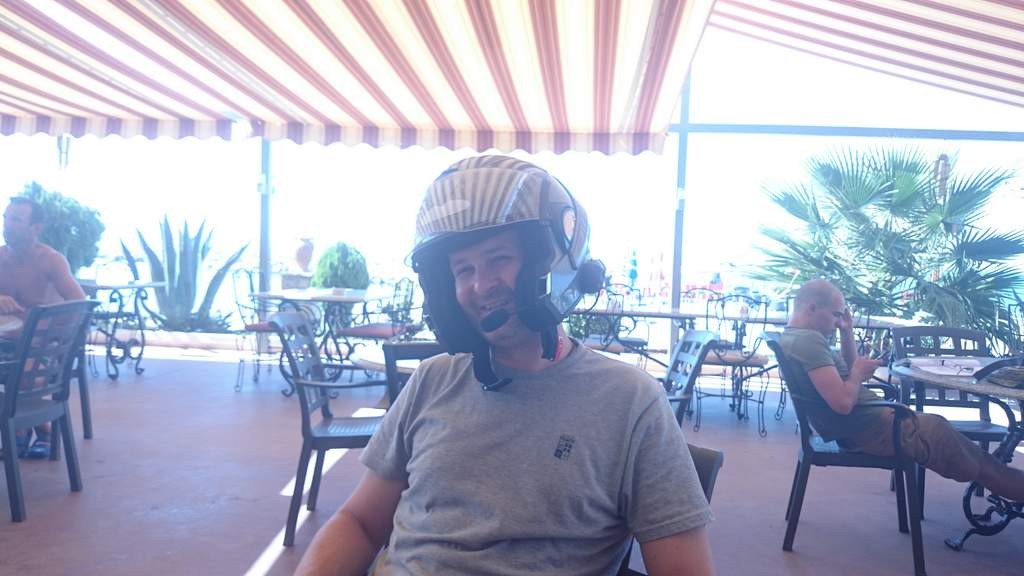 Lack of enthusiasm and fatigue are also elements of our trips
In the morning, nobody really wanted to get back on their bike. The previous two days were really tiring. We left the hotel at around 11am. We knew we had to start heading back home. We didn´t have time for Tirana or other parts of Albania anymore. So we have started our journey back home.
The plan was to stop somewhere near the Bay of Kotor in the evening. We didn´t want to head back directly but we didn´t really want to follow the costal road either. We stopped in Sveti Stefan, a little village situated on the small island connected to the mainland by a narrow isthmus. It takes its namesake from the church situated at the highest point of the island. In the sixties this island became one of the most popular and luxurious holiday destinations in the region.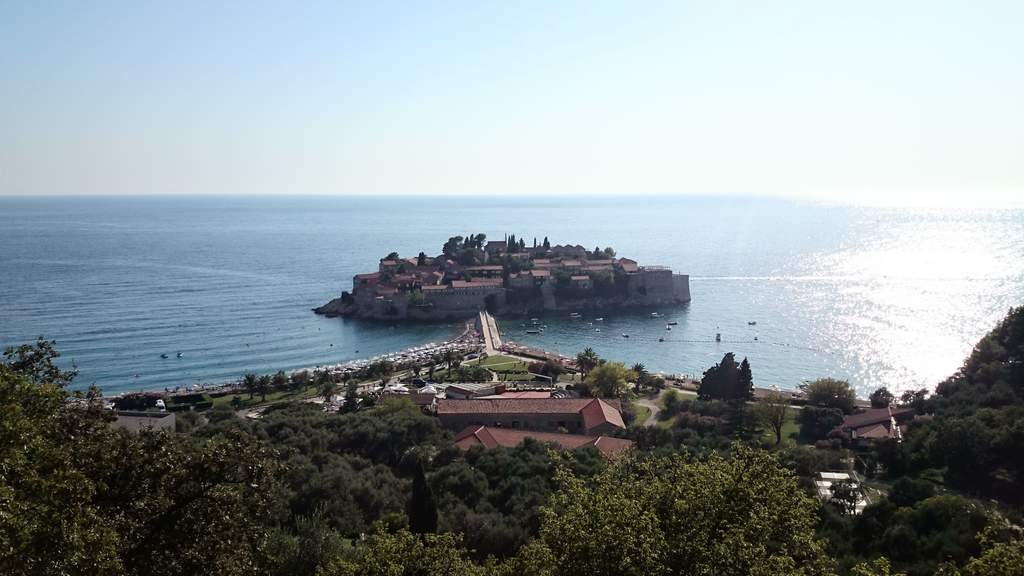 In Budva we turned right and headed inland. We wanted to go through Lovcen National Park so we turned towards Cetinje. We wanted to ride to Kotor on those crazy zigzag roads we could see from the town. The view from there is really amazing from whichever part of the road you find yourself. We were entering Kotor at sunset, yet it was quite difficult to get an opportunity to take photos.
We found accommodation in a small house. The owner was in someway connected with Slovakia and the Czech Republic. In the morning we were offered tea and coffee J But again, we had to search for this accommodation a bit longer than we would out of summer season. The house was near the sea, so if we wanted we could go for a little swim. We had a dinner in lovely restaurant called Stari Mlini; it was way too romantic for bikers J but we really couldn´t find anything else.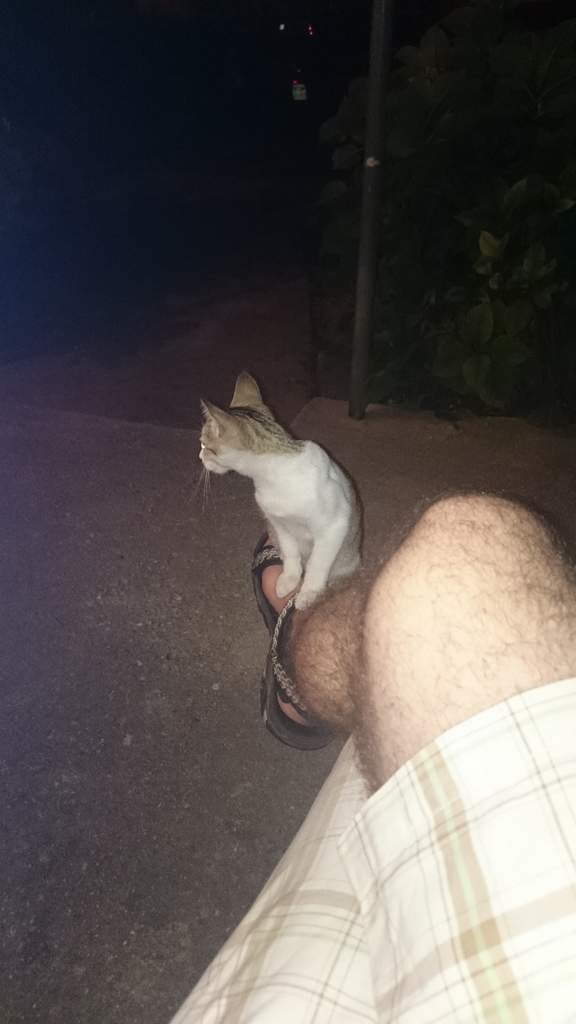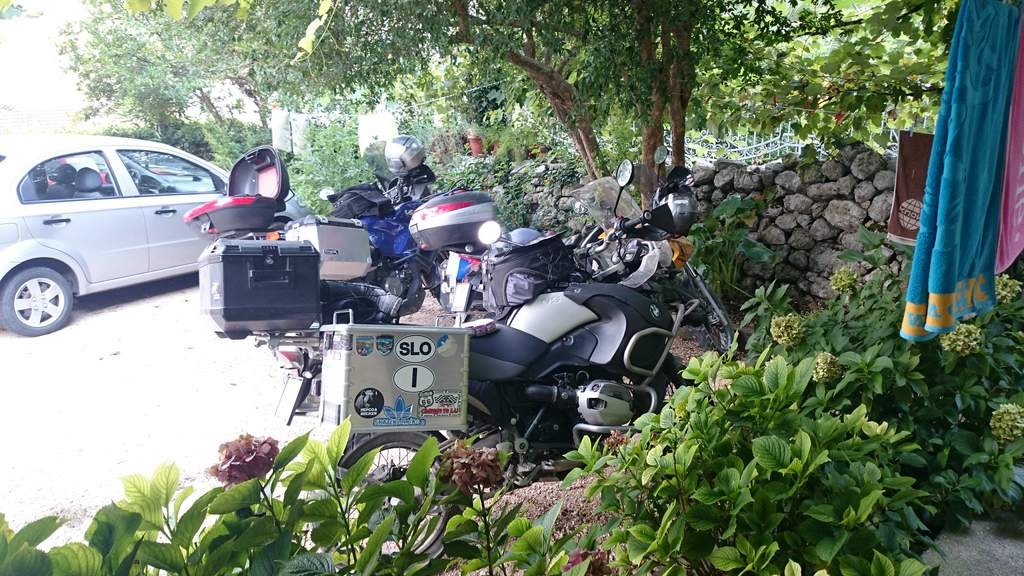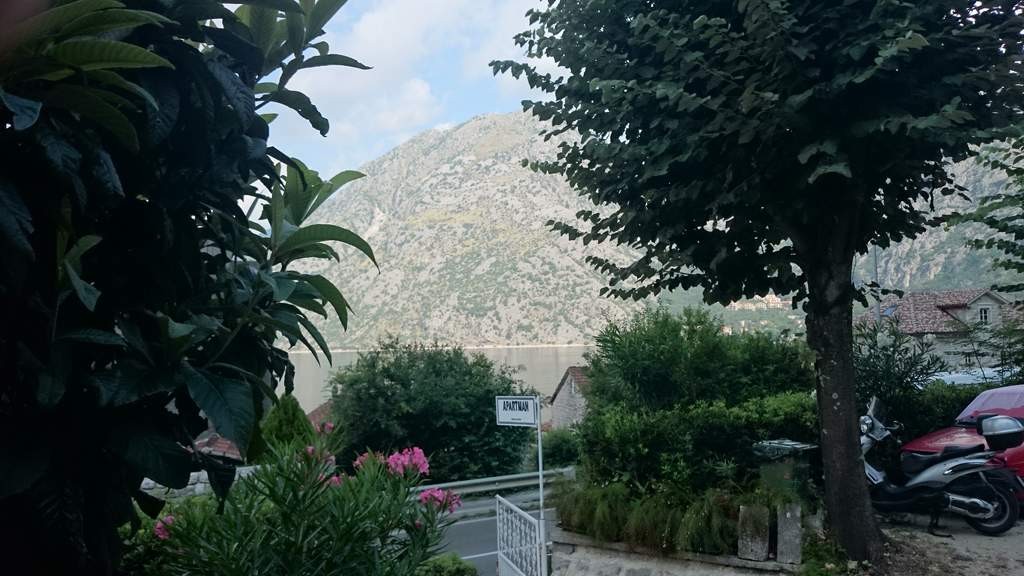 Our dear Durmitor on the way back and lovely shower in the end
The next day we decided that it would be interesting to go through Durmitor again, but this time from a different direction. That´s how we came up with this route, which we also did in the end. Above Risan we chose the road with the most bends, which was fun. Lots of crazy jumps and at one point one side of the road was actually missing! Sometimes we came across brushes and little trees growing in the middle of the road. I´m sure it´s so neglected due to the war (we came across few empty houses) and also because of the new road with several tunnels which made this town more accessible. We were wandering through these little side roads as much as we could, and then we headed towards the town of Niksic that we´d seen before. Before you enter the town you get the chance to enjoy a beautiful view at the Slansko Lake.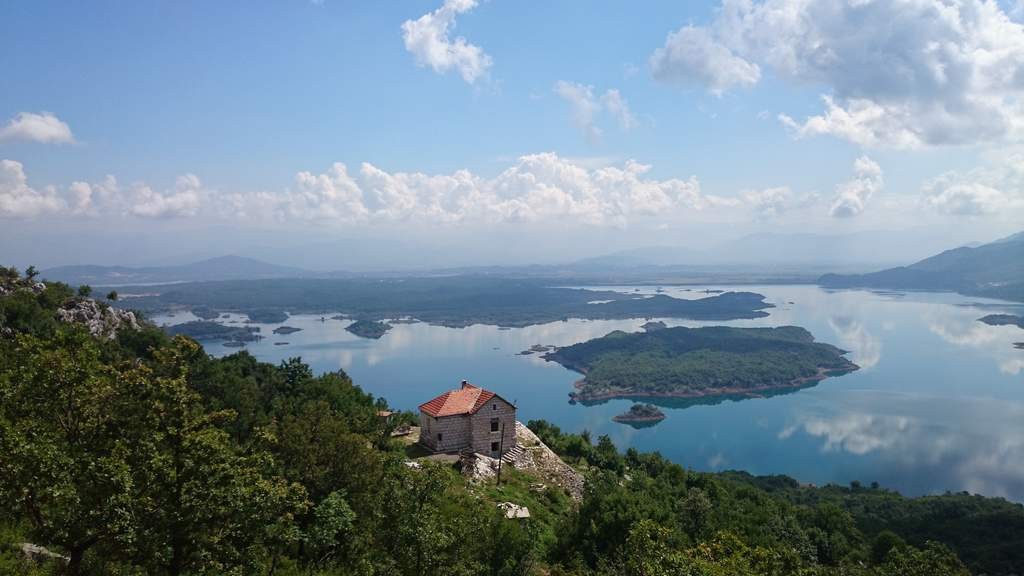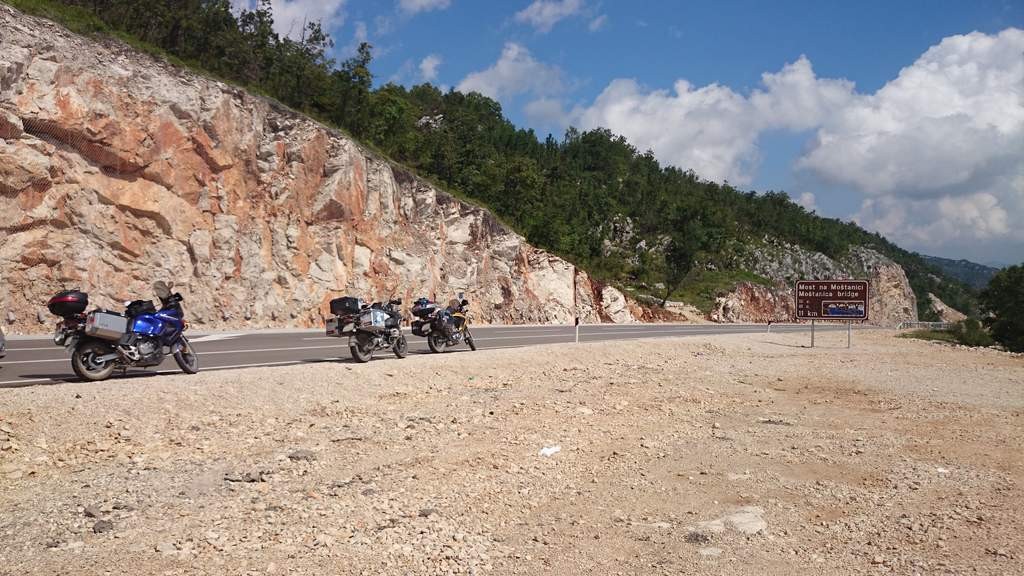 We had lunch before we hit Durmitor in a little shepherd's hut called Jatar. Jatar is situated
300 – 400m from the main road. It serves very nice food but be careful with the door handle when you go to the toilet; I almost locked myself inside. J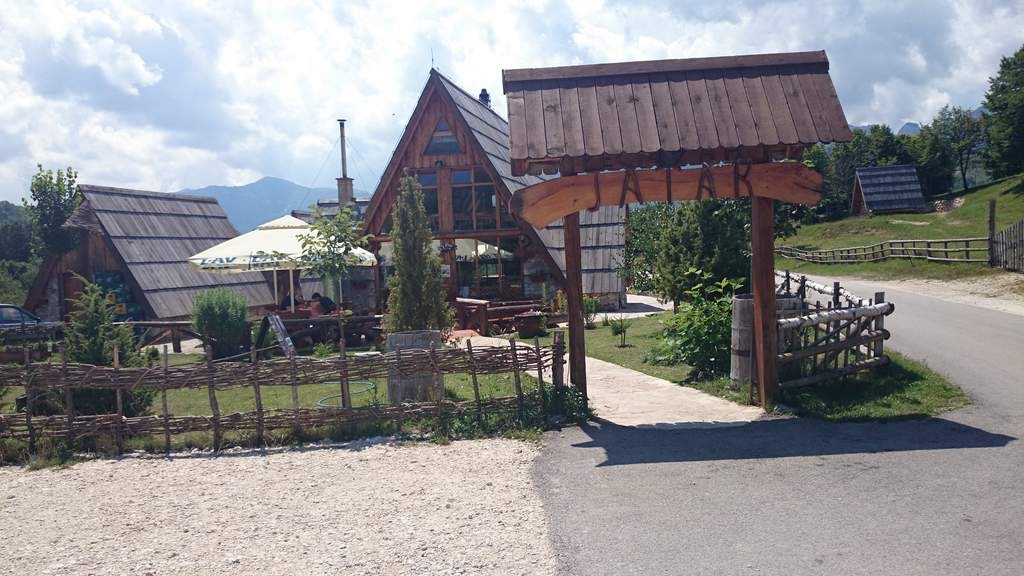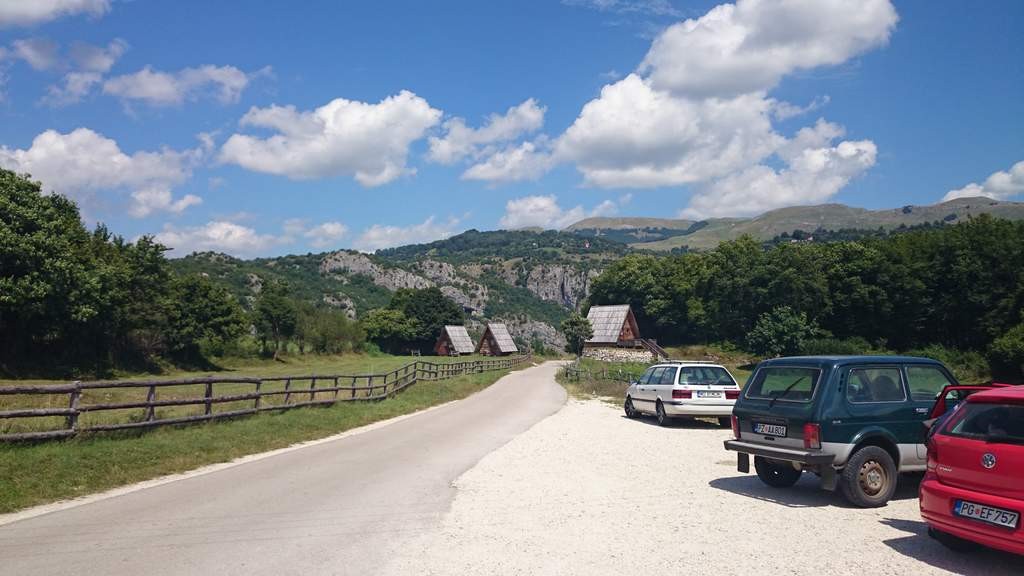 We were crossing Durmitor at around 13:00 and enjoyed a very nice ride. Mostly because we knew what to expect this time. We enjoyed the ride despite the fact that we were threaten by rain and in the end we had to pull out the waterproof gear.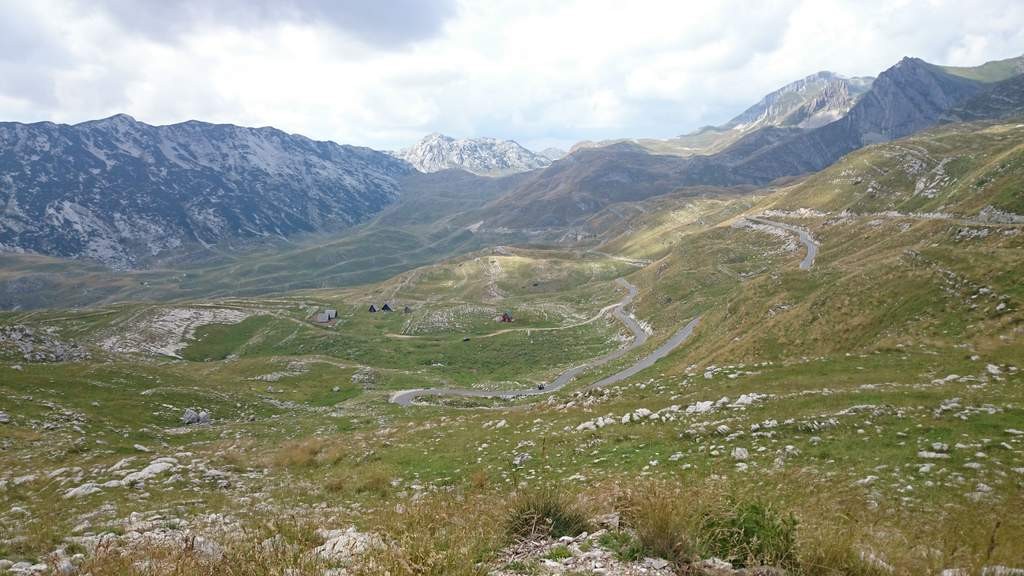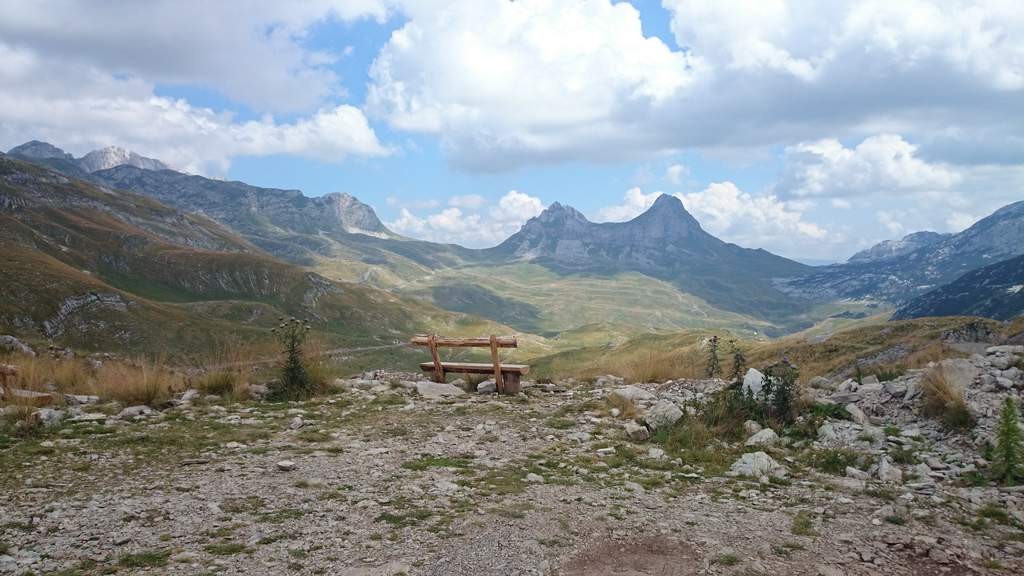 After Durmitor we came back to the Lake Piva and had a look at it during the day.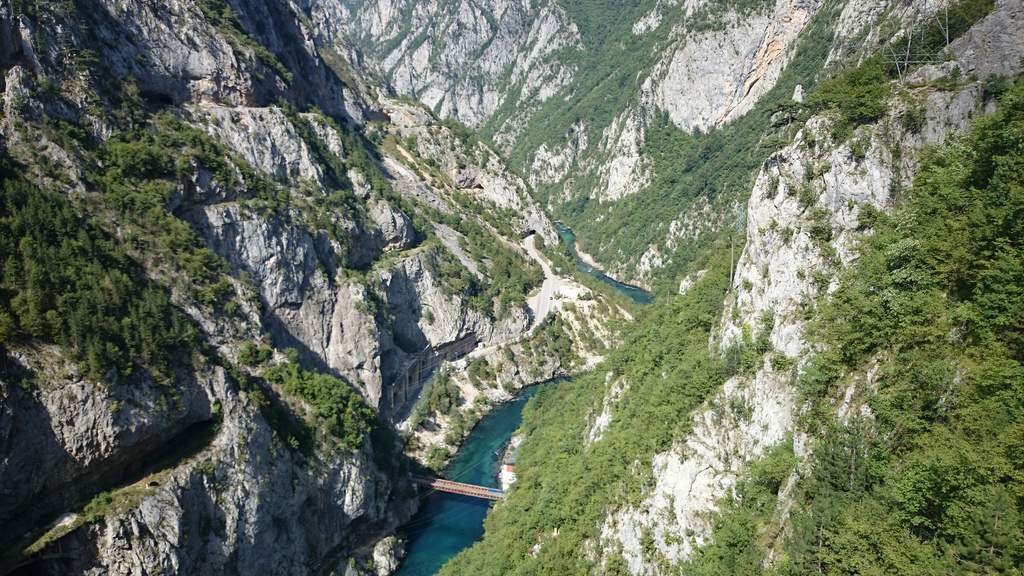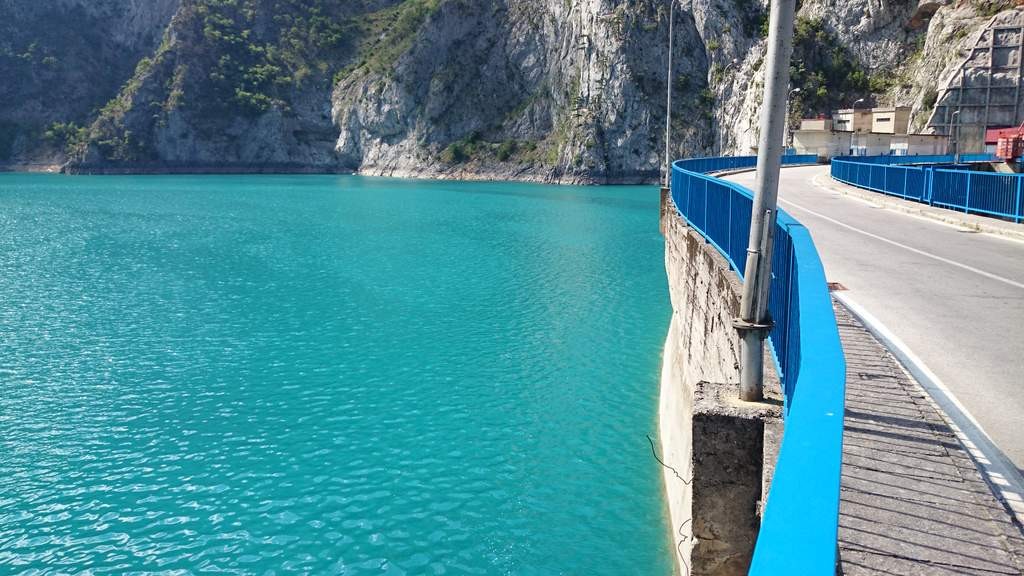 We came to the borders. It was a Friday afternoon and it was very hot, but the queue was moving quite fast. Do you remember those queues? It definitely refreshed our memories. I have to say that all the checks were really quick and just a plain formality. It was Friday and now we could actually see the road so we were going quite quickly. Ideally we wanted to end the day somewhere near Belgrade and from there to go straight home.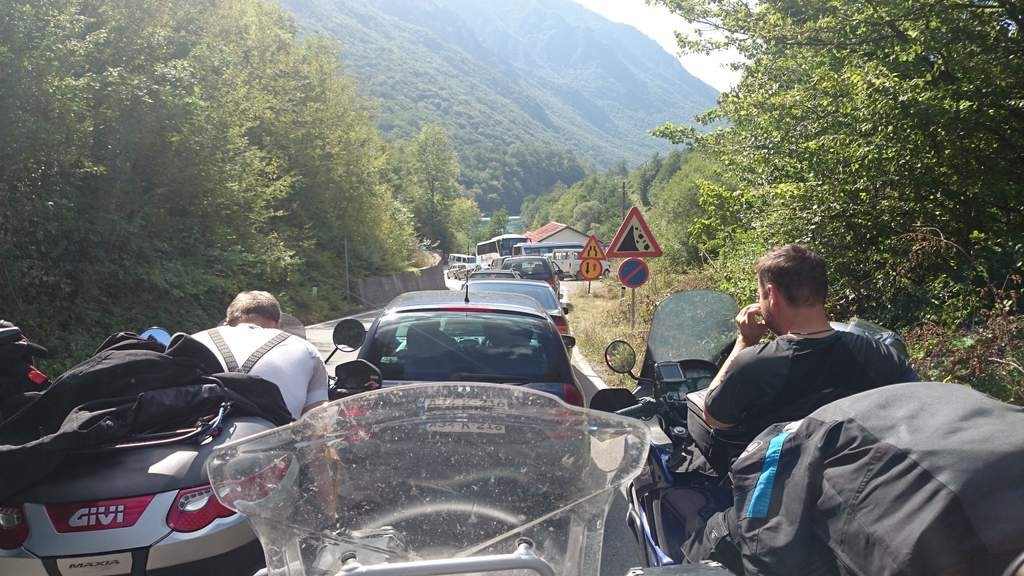 We ended up somewhere, not entirely voluntarily I must say. We almost didn´t noticed that we were crossing the borders between Bosnia, Herzegovina and Serbia. We were crossing the border in Vardiste. On our way to Belgrade we were intensely watching the movement of the clouds above us. I said to the boys: "It won´t catch up with us." I shouldn´t have said that. It caught up with us much faster that I thought it would, and it wasn´t just a regular rain but a proper downpour. I haven´t had so much water poured over me for a long long time. By the time we turned and got back to the hotel we had considered before, we were completely drenched. We parked under the shelter which was transformed into a waterfall. It had good drainage but there isn´t enough drainage in the world that would be able to actually cope with such an amount of water. During the night we left all our clothes to dry, and we would carry on with our journey in the morning.
We wanted this to be our last day but we had no idea what awaited us on the road so we added one extra day (Sunday) just in case. To get home we had to do another 750km with a little break in Belgrade, which was 200km away. So we took a little walk and had something to eat in a McDonald´s. We didn´t really take any photos as our minds were already back at home, but then we had to face 3 little complications. First of all, I was running out of petrol and the first petrol station we came across didn´t have any either. I must tell you that this wasn´t some kind of lost petrol station at the end of the world. It was proper highway petrol station on the main road to Hungary. The next one was 50km away so we started to go a bit slower J, just in case.  The second complication came 4km before the Hungarian border. Traffic was building up due to the border checks, and a huge amount of holidaymakers has already started before we reached the MOL petrol station. It was 32 – 34 degrees outside and the moment you stopped you felt you were transported into a sauna. Having filled our tanks with petrol and with a lower adrenalin level, we started to make our way to the front of the queue. Our estimated waiting time was about an hour, the locals were telling us 3-4 hours was more realistic, so we decided to cut the cue and ride the shoulder lane, just to save our mental health. It was a relief just to get out of the petrol station. Just before the border we noticed that the traffic was managed by some traffic policemen. First of all we were worried that we would quite rightfully be told off for our rudeness and lack of patience. In the end we didn´t get told off at all, on the contrary, we were shown to the fastest cue before we boiled alive in our gear. All said and done we were finished with all the border checks in under 30 minutes. The nice policewoman didn´t even want us to take our balaclavas off, and the border control officer just waved his hand at us and that was it.
Last time we were pushing our luck was on the M5 just before Budapest, where we came across an accident and decided to go around it through the shoulder lane. It goes without saying that the whole time we were watching out for rescue vehicles so we could let them pass.
At about 21:30 on the 16th of August I was finally at home. Our trip started and ended with the "iron butt" award. I didn´t use to write down the exact spending and mileage back then, but I can tell you that we spend around 240 euros for food and accommodation and that we did around 3,280km in 8 days.
Photos were taken by smartphone Sony Xperia Z1 Compact.