26th July 2018, Thursday
Route: Nižnij Bestjach – Chandyga
Total km: 12 560
Today we enter the feared off-road part of Kolyma Road. Its starts here and finishes after 1964 km in Magadan. We are fresh, relaxed but despite of this I do not fell joy or happiness. I am actually very worried. Our faces, movements and silence during packing say it all. This is the day. The day of fight. We were all thinking a lot about this moment.
We are tense enough and the taxi driver´s sentence: go tomorrow morning, does not help at all. The road is still muddy. We try not to think of that and we start the bikes.
Marty´s invitation to make a circle helps us a lot. He calls us to get together, we hug each other and we wish each other only the best for the next days. We are very emotional when we sit on the motorbikes.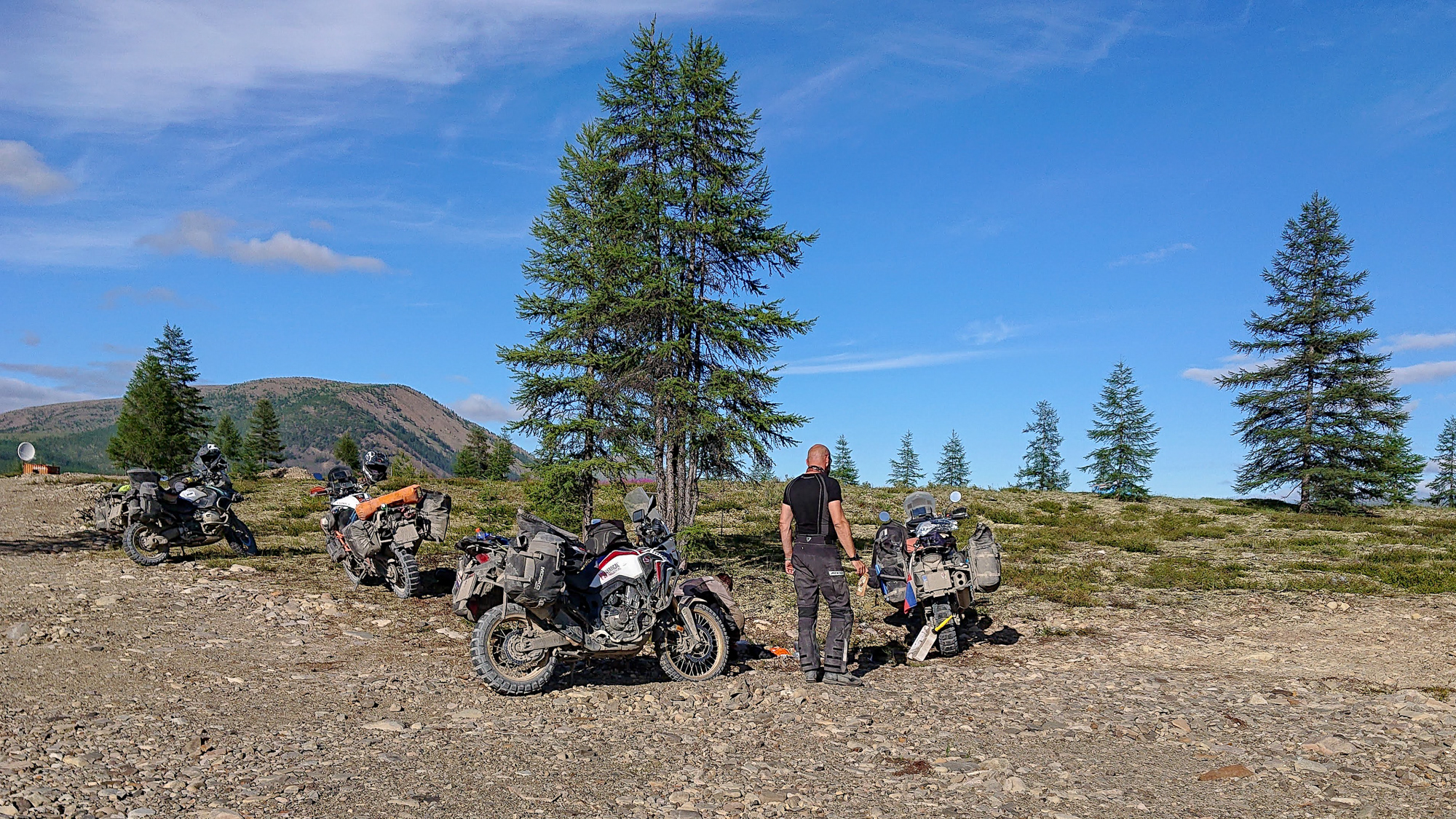 The drive is awesome. I feel that we deserve it. I push the accelerator to 110 km/h and I scream from joy. I am not naive though and I know that it is not gonna be like this the whole ride. What was wet yesterday is half dry today. The surface is perfect, without any dust and slipping. I stop a lot to take pictures. The country is beautiful, sunny, the air is clean from rain. The best conditions to take pictures.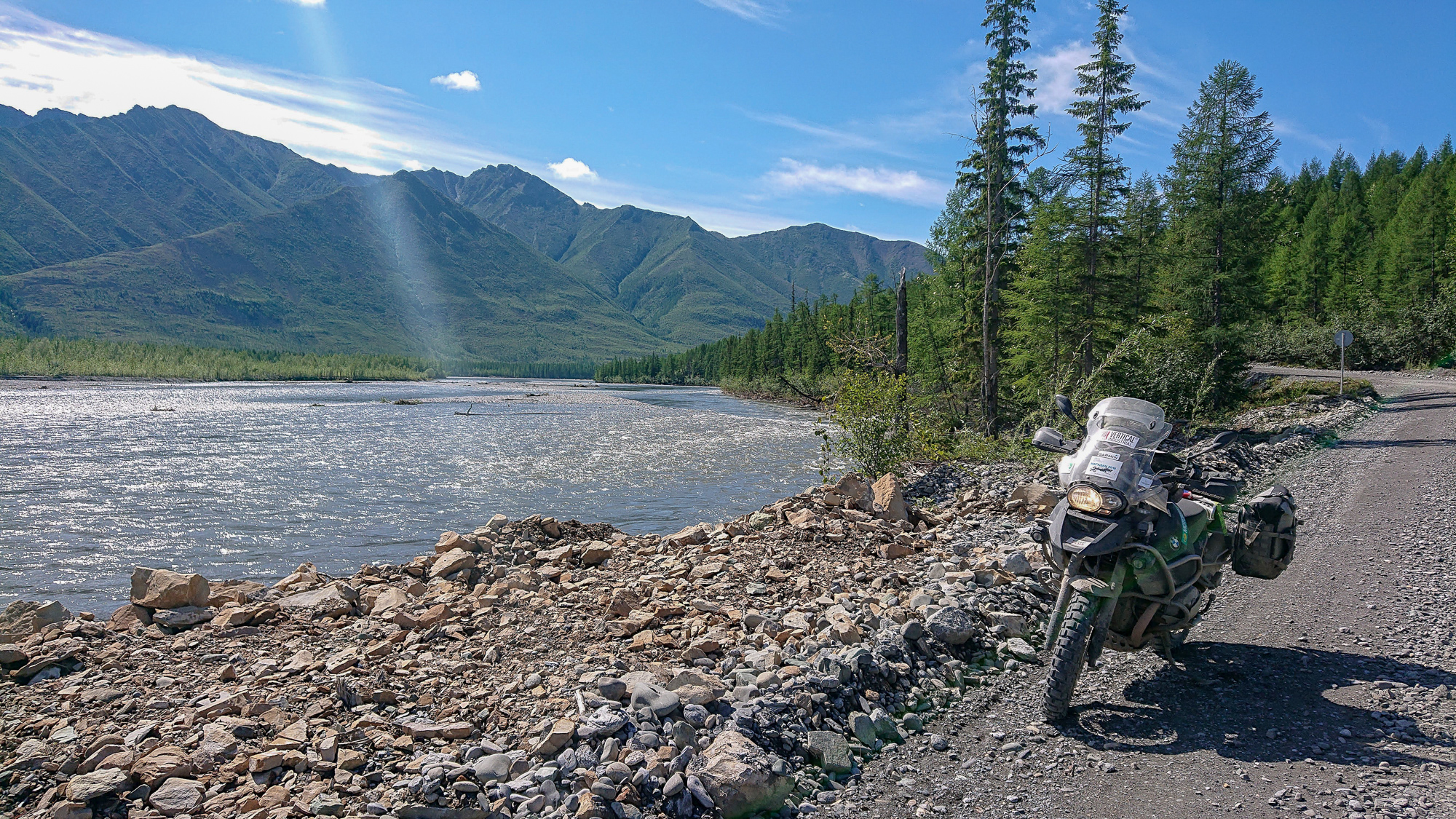 About lunch time we pass through the hardest part of the day. Here, not exactly dry mud, shows up its ability to kick you off the motorbike. I go little too fast to soft edge of the road while trying to void a truck. The motorbike ripples like Shakira´s bum and I suddenly find myself lying in the mud next to it. I put my head up and I stare on rolling wheels next to me. Just a quick control, everything seems to be ok. I pulled my eyes out while I try to lift the bike up. I learnt a lesson for the next days.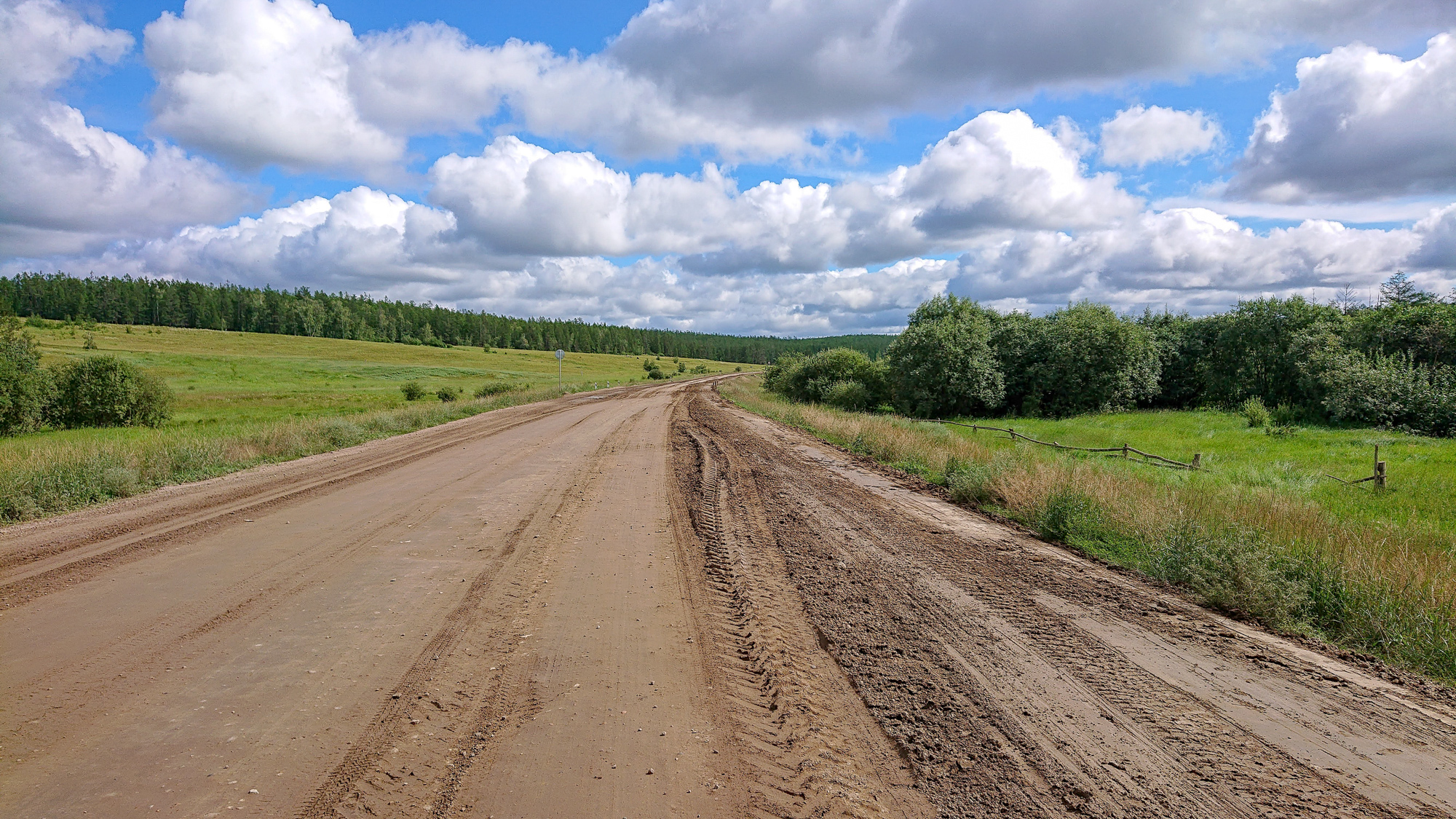 It might be quite masochist and without respect for people who do not drive this type of terrain but for me the optimum speed is 90 km/h. To go slower means to be constantly fighting with mud and that increases the risk of slipping. When doing 90 km/h the wheels are in ideal slide, like humid toilet paper while one is… you know what.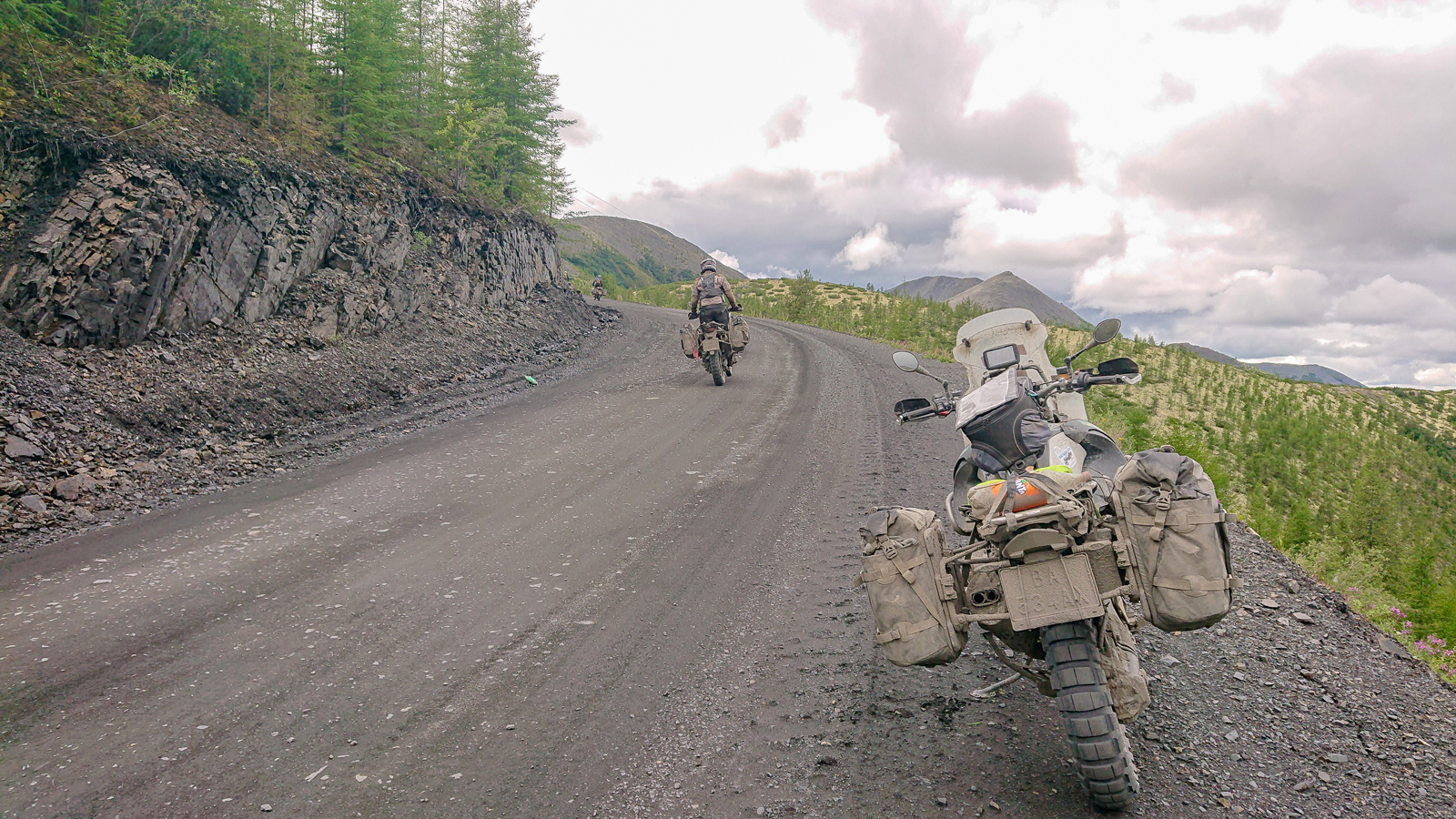 We cannot really enjoy the lunch thanks to grumpy truck driver. Young guy sitting next to us probably felt the need to tell us few things. Questions like: Why are you going there? Do you want to die here? Who will take care of your families when you die here? We try to ignore his monologue but I think that each of us answers these questions individually. After the lunch we continue without mud and quite fast. We stop by the river shore. The ferryboat wait just for us. We get in and we are nicely surprised by this nice coincidence. We have an hour to relax. The sunset makes beautiful atmosphere.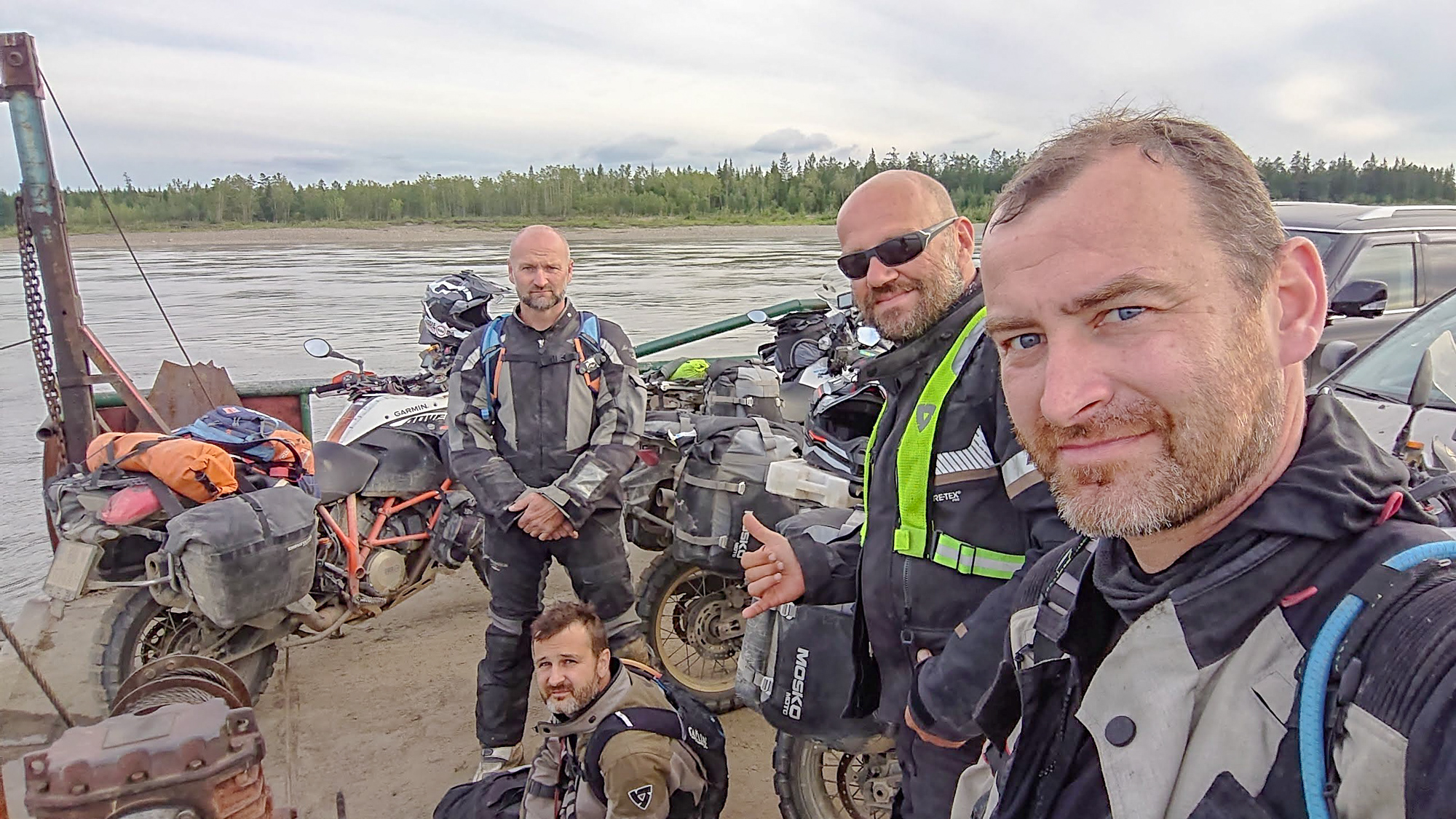 We come to Chandygy quite late. The town does not offer that much. While filling up the tanks, one couple stops next to us. We have no idea where to sleep so they take us to hotel. Everything is or really full or they do not want us. The last and the thirds option is school dormitory. Thanks to very insisting lady we finally have accommodation. Dormitory room with four beds is luxury for us. Cold water mouldy shower and if you do not put flip-flops on, mould on you feet. That all is included in the price. We take it. It is a pitty that it´s school holiday. It could be a lot of fun here. There are only ladies after 70 years old who think that we are students and that they can give us orders. Do not smack the door, smoke behind the corner, etc… We run to get some food to local cookery. I would give a medal to the chef. The food was actually delicious.
27th July 2018, Friday
Route: Chandyga – Kjubeme
Total km: 12 902
I wake up in the night. Marty´s bed is empty, without the duvet and mattress. He explained in the morning why he slept under the stairs. The bed were in really bad condition, very thin and they made lot of noise. Marty´s morning mood is on freezing point. When the lady a the reception opens her mouth I am more than sure that he spent the night with her. Both of them are aggressive, the lady is suddenly allergic to everything and my answer to the question if we took of the bed linen is slamming the door.
I am not worried about Marty, he will be ok but I feel sorry for the lady. The road gets more narrow, the surrounding forests get bigger and the scenery is more beautiful. The weather is fine so the ride is perfect. Each of us enjoys the rhythm. We have to stop because of Marty´s puncture. We used the same things ass on mine, we finished it with nail. Perfect combination.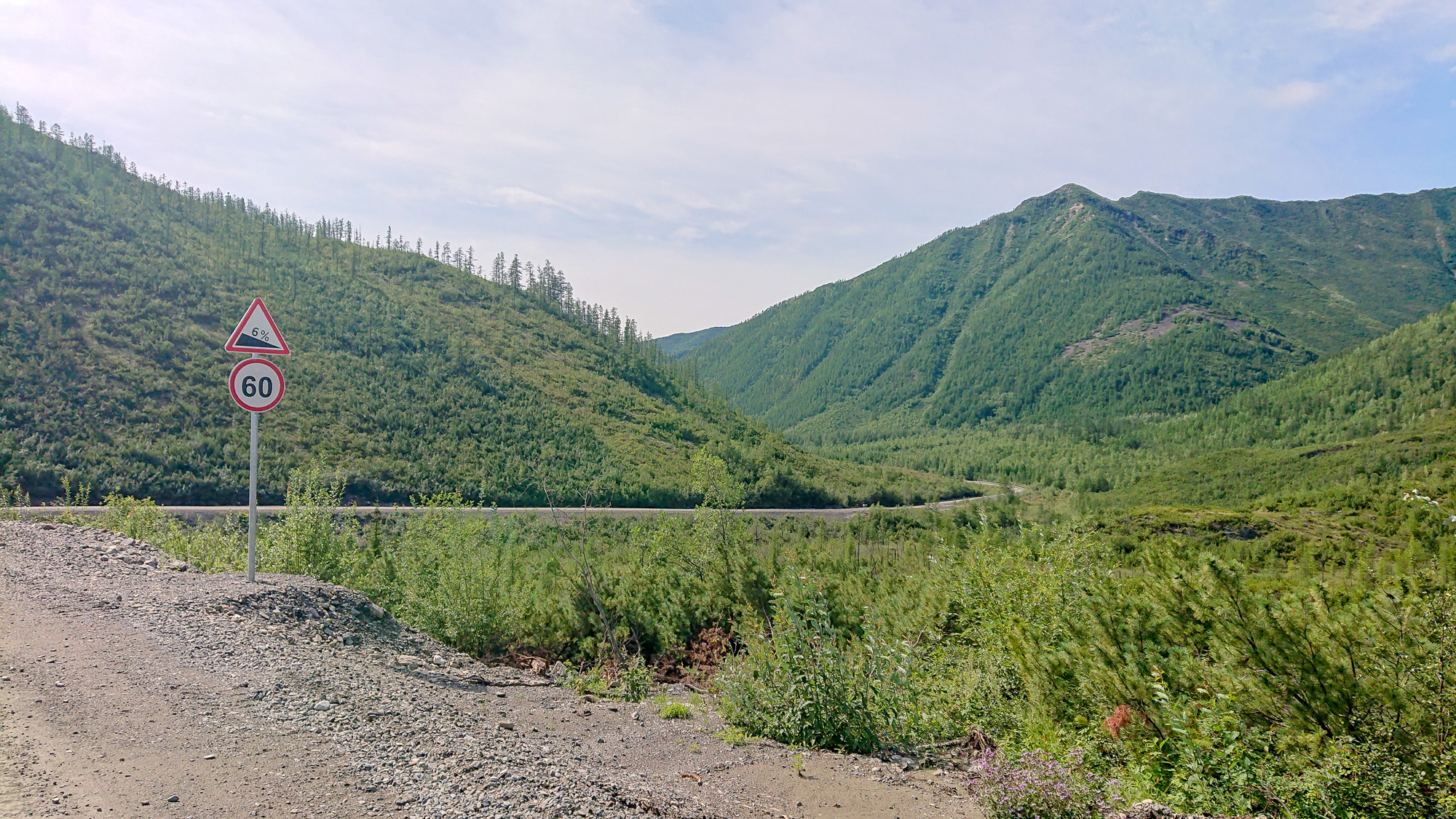 We drive on the part of rad which does not remind the old Kolyma Road. It is more like a highway. Double-lined road with shoulders has nothing to do with the Road of Bones. It is built next to the old one and its remains sometimes remind its difficulty.
We somehow forget about the hunger that becomes unbearable in one moment. I see beautiful lake next to the road so we stop there. I set up the cooker and we cook soups with beef can. It´s sunny and warm and coffee and cigarette make these moments unforgettable. It´s beautiful here. When we are leaving a guy comes out from little cottage and he asks us if we are not afraid of bears. Because one was running around his cottage yesterday. Oh! Goodbyyyyyye and we almost fly from there.
We come to Kjubeme, town where is the last petrol station before the old road, at 6 PM. Cistern is pumping petrol and the guy that looks like Large from Adams family tells us, that we have to wait at least two hours to fill up the tanks. We do not have any. Our plan to get to Tomtor stops here.
Just to show you how this beautiful place looks like: there are two stands under little roof, petrol station attendant´s booth is full of stickers from bikers, two little booths to rent (taken already), coffee bar "Kuba" and rubbish dump. Plus the attendant, bar manager and young waitress that has no clue that Slovakia exists. Eto vsjo. (In Russian: that´s all).
Next to the river we set up the tents. We are attacked by thousands and thousands of mosquitoes. Two dogs running around should guarantee that the bears will not come. We hope. In the bar with very unique advertising poster with beach and swans we have dinner and we plan other days. I suddenly see old man that seems like from a fairy tail. I ask him if I can take a picture with him. When we say that we are from Slovakia, he tells us many stories from his life and he invites us to his house tomorrow. He lives 45 km from here. It is a house next to the road in the mountains. We will understand when we will pass by. The night is calm, the morning a bit rainy…
28th July 2018, Saturday
Route: Kjubeme – Tomtor
Total km: 13 075
We wake up 7:30 AM. We pack wet tents, we have breakfast and coffee "in Kuba". We can go with two directions from here. With new Kolyma (federal road) or with old Kolyma that has not been used for the last 10 years and it already a part of forest. After approximately 160 km we reach Tomtor city where the road is quite passable. From there it is only a part of old road. That is our dream! We are going to try it!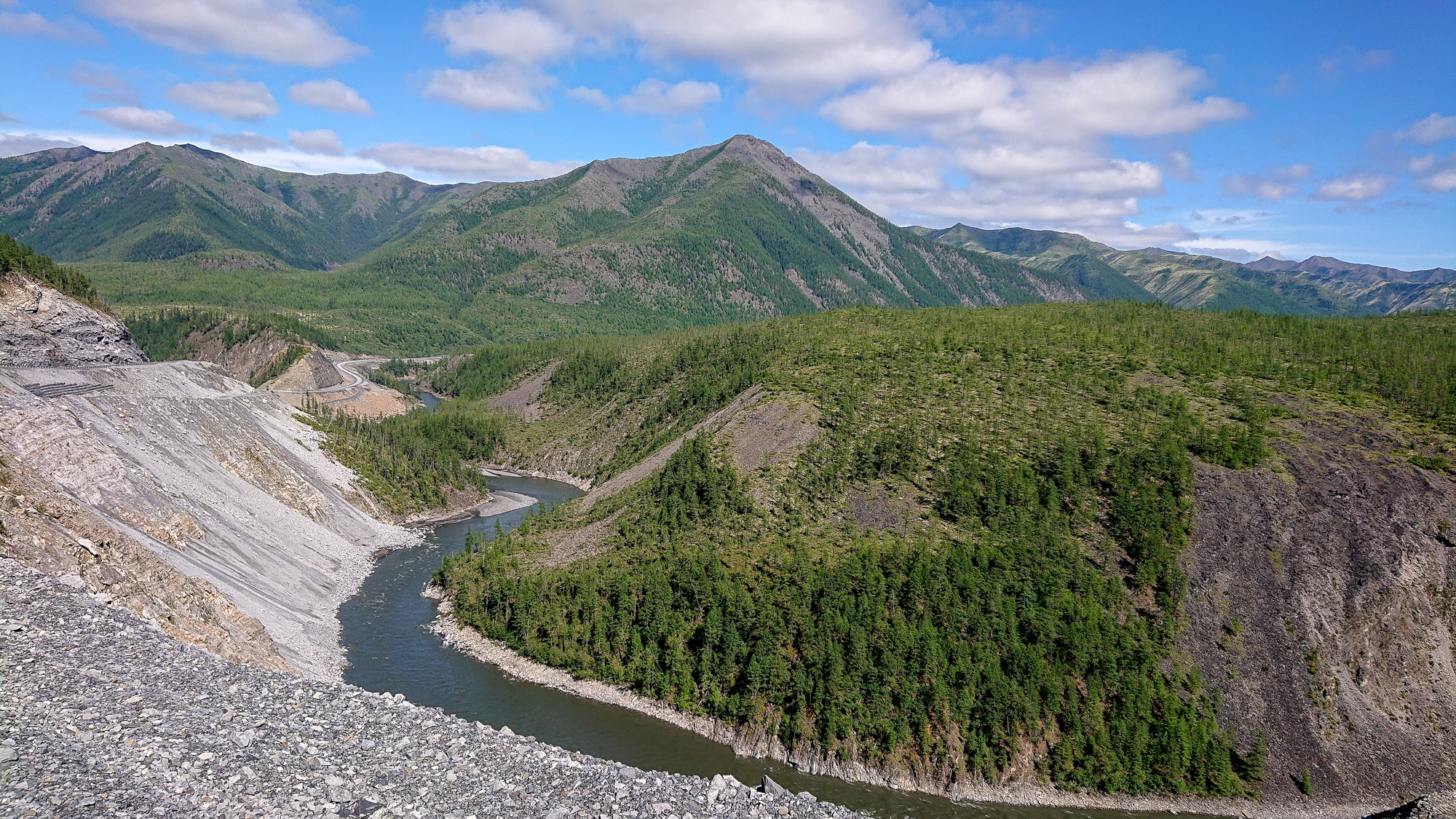 Kjubeme was settled village before but now all you can find are only ruins.
There is a family from Moscow camping after the bridge. Couple with the woman´s mother. Set up Land Cruiser and they waving at us makes us to come closer. They gives us valuable advices. They went through the old road three times already and that we do not have to be scared. We can help each other and they are convinced that we can make it.
This helped us a lot mentally and we keep going on comfortable pebble gravel. The night rain prepared us a drive without dust. We pass by several streams. The one on the 45th kilometre, in front of the house of the old man, is the deepest one but we can cross without any problems. We stop in front of the entrance, we honk and we wait for the response. He came out as he promised. He waves at us and invites us for tea. This little house is set in the middle of three hectares of land and it can be seen that this person lives with modesty. Everything is everywhere. Wood here, asbestos board over there, rubbish, mess, dirt. The entrance hall and kitchen show the highest level of mess. When he starts to tell us his life story we do not listen to anything else. We fell so small there.
This 77 year-old man spent 36 years in the prison. For murder. His friend, to whom he offered to stay in his house, started to shag his wife. He just killed him. His wife spent all the possession on alcohol so he lives on the edge of the society. Someone sees him as a legend, someone as a weirdo and others have a lot of respect for him. Someone shot off his right hand when he got into a fight. Again because of woman. He was operated somewhere on the east of Slovakia.
Despite of all this he tell us very wise things that make us to think about our lives. He reads from the Bible, he is very nice and hospitable. You can see his whole life on his wrinkled face. When we leave, we do not judge him but we realize how above-standard our lives are. He let us to see…he made us to think. And I am very grateful for that.
We come to Tomtor around 3 PM. We are very happy because this town is very special as well. Tomtor is the coldest settled town in the northern hemisphere. The lowest temperature here was -71,2 degrees! In winter the temperature is minus 56-65 degrees. Unimaginable. They do not have running water, no dwells. We are still within the permafrost. Only rain water. They cook and drink it.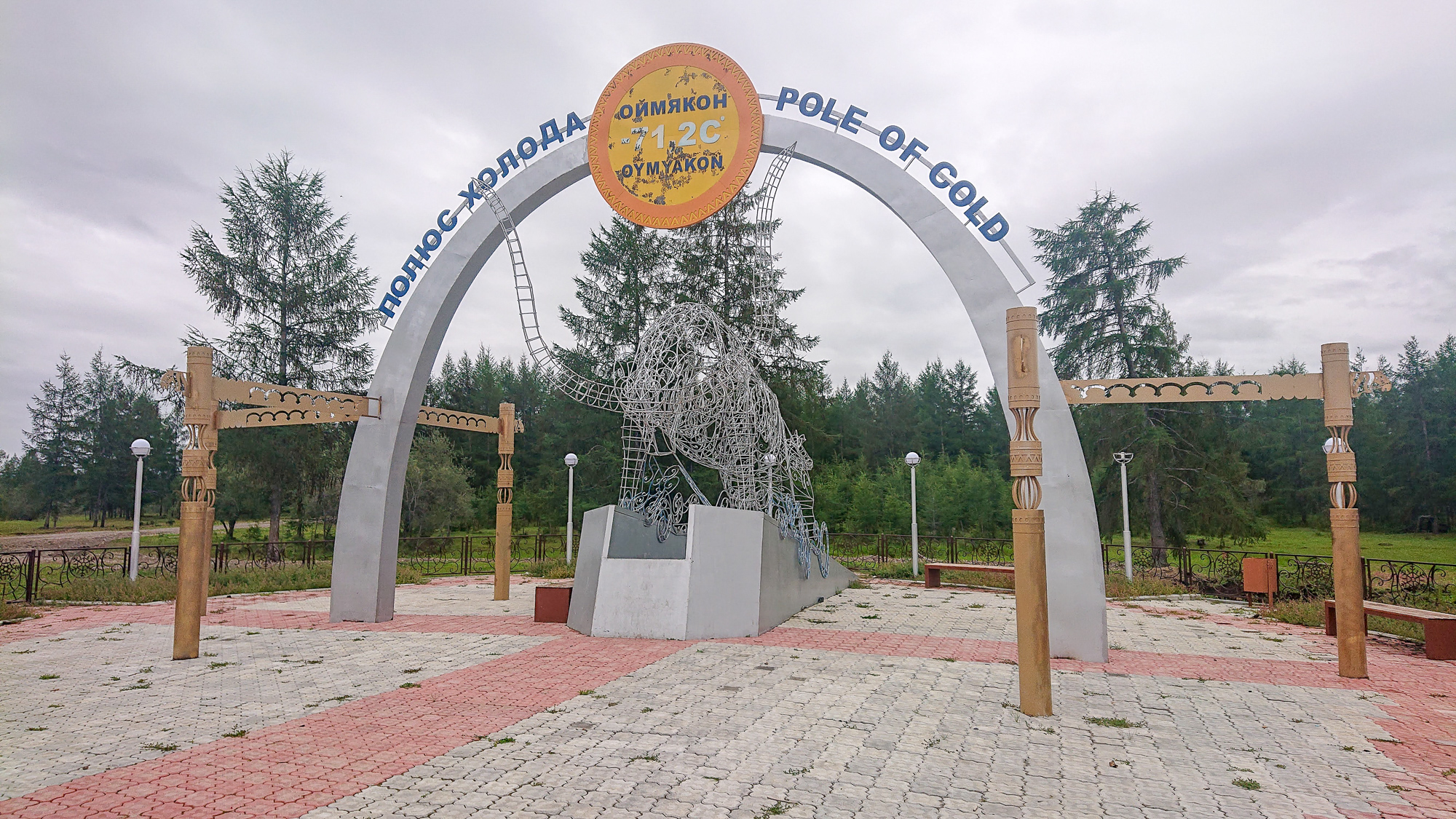 In the shop on the main square the ladies heat up yeast dumpling with meat and we think what to do next. The rain is coming and that´s not a good sign. The old Kolyma is passable only in good weather and with huge amount of luck. The opinions differ and when we voted, it was 2:2 so we did not move anywhere. We buy food for three days anyway. The final verdict will be said tomorrow morning according to the weather.
There is one accommodation in Tomtor. Lady called Zuzana with her son-in-law offer rooms to rent. The price is 3000 roubles (43 euros). It is way too expensive but we have no other choice. We need our clothes and things to get dry so we can afford this luxury. There is sauna as well. Only the time will show if this decision was the right one. At 8 PM I start to look for something to eat. I only have cereal bar. I am tired and disappointed anyway. Suddenly the lady calls us for dinner. A table full of food cheers us up. So that you can imagine our joy I will describe what happened.
Lady Zuzana is a awesome person. She is very kind and very caring woman who takes care of us like we are her sons who came back from the army. The table is full of home-made food. Meat with beans, pancakes, jam, syrup, horse milk, cottage cheese, yoghurt, cakes and cream! We eat the cream like nutella. I hope this fantasy will never end. I am so full that I have to roll to bed.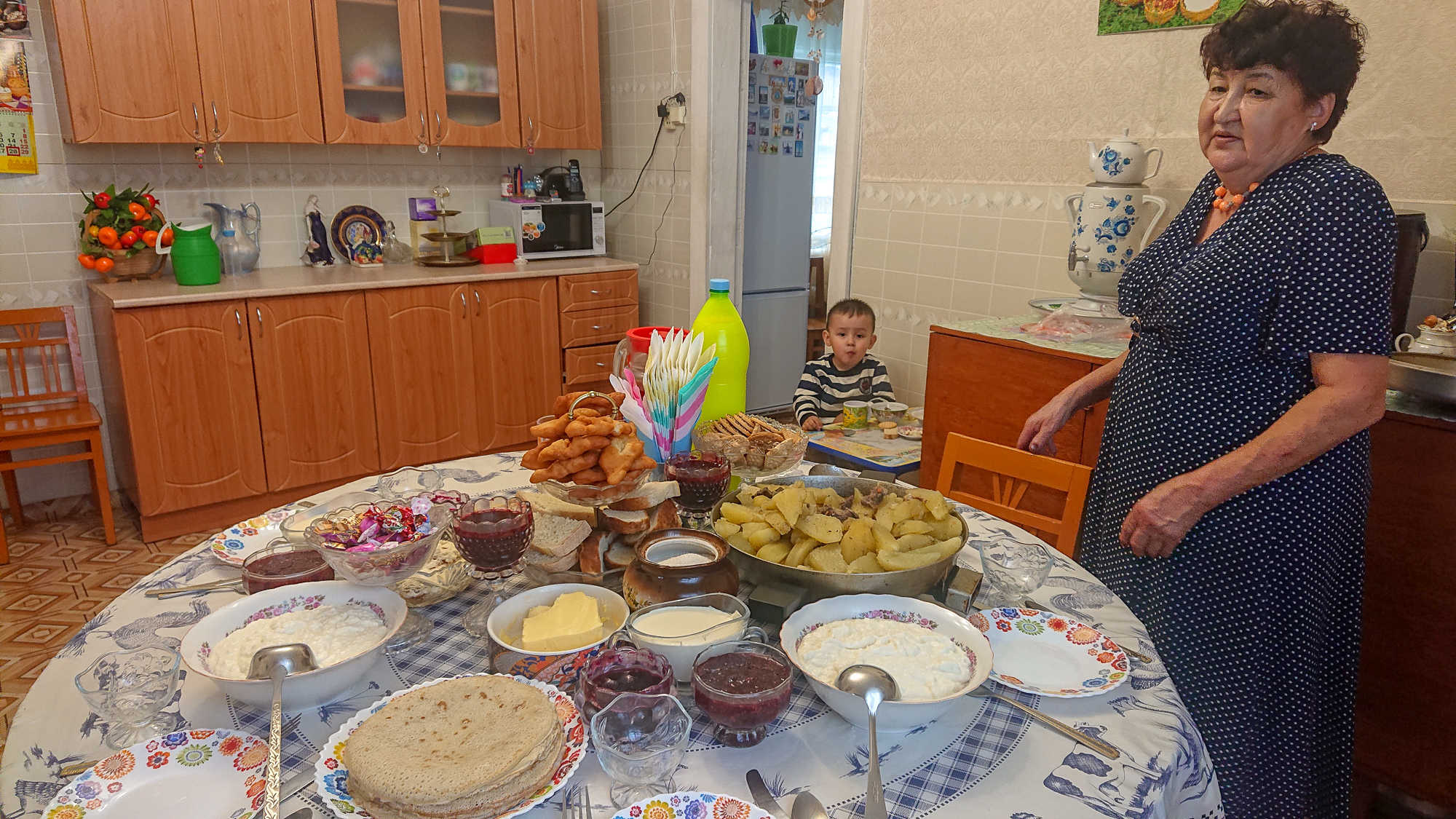 I want to come back to one thing that happened today. Sitting on the square in Tomtor and thinking what to do we spoke to local policeman. About life but mainly about the old road. We ask him if someone drives through. He answers: Why would someone drive through? There is no road. We asked why someone local does not make something like travel agency and provide the old road as a cool adventure trip for good money. He answers with calm and humility: money is not everything…- In that moment I realized that these people have great life despite of the location and conditions they live in…
29th July 2018, Sunday
Route: Tomtor – Ojmjakon – Tomtor
Total km: UAZíkom (Buchanka)
The alarm clock is set up on 5 AM. Well, Milan´s is. We rely on his responsibility. Me and Marty are convinced that he will come and wake us up like a Pioneer chief. If he doesn´t come it means that we stay. He didn´t. Well, he did, as always between seven and eight AM. In case he does not come he sends a video via Messenger…. Bob and Bobek – Wake up and exercise! (Fairy-tale). He is such an idiot 🙂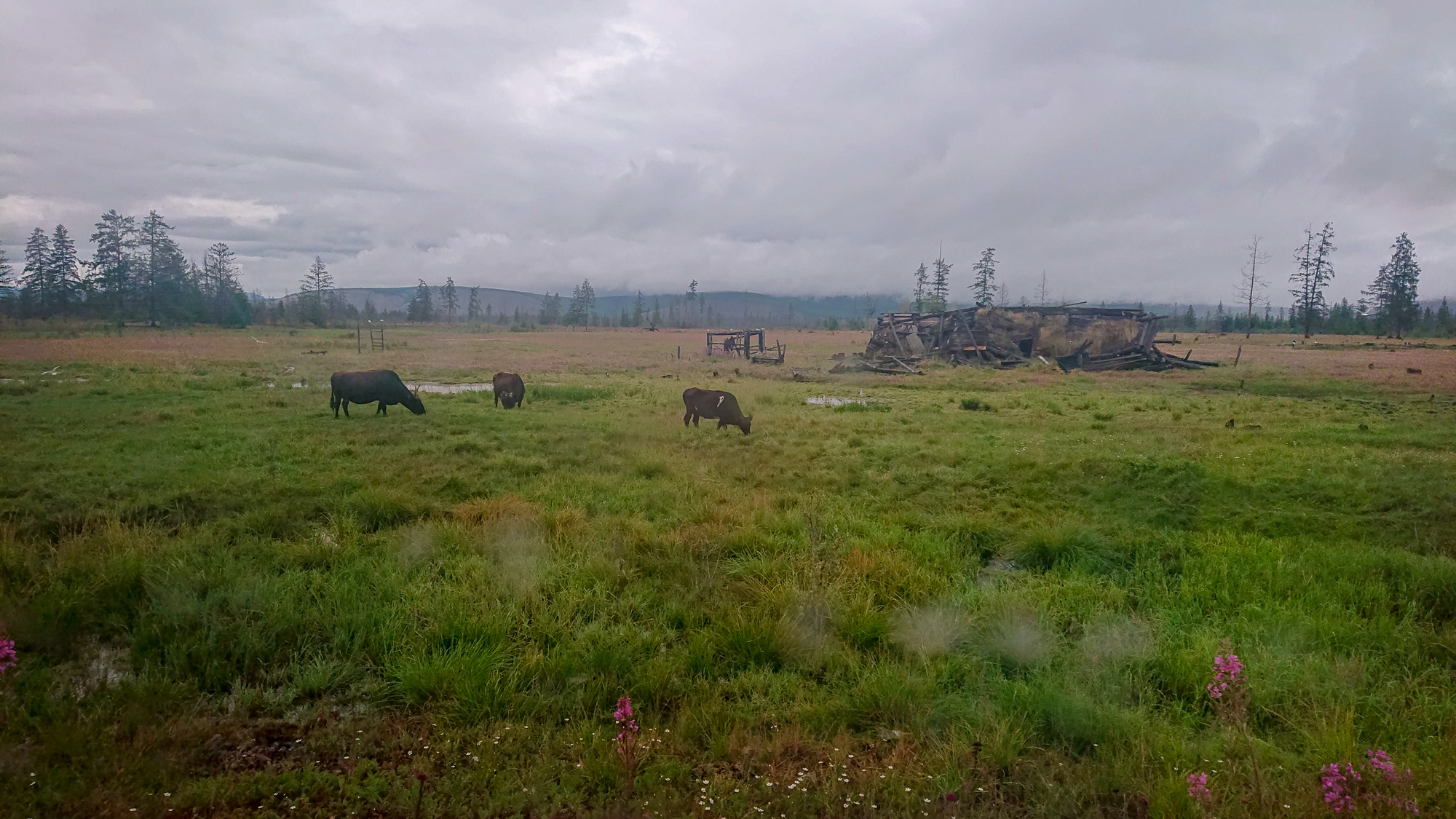 It is raining so we have to stay. It does not make sense to think about the old road because it has been raining all night long. The water in the streams is getting bigger, the fords become impassable and the road will be a big muddy mess. After very rich breakfast we ask Alexej if he takes us for a trip to Ojmjakon. It is 80 km all together. Money is money and suddenly we are sitting in the car.
I am going through the worst moments of this trip. I look out of the window and I can see beautiful scenery. I am fighting with the thoughts that we should have gone yesterday. Not to look for negative things and how is it not possible but maybe try to say at least once how it is possible. I missed this so much yesterday. The fighting spirit.
Since our first meeting we knew that we have different driving experience but we will make it. We will help each other. But each of us will have to give out the maximum. It will be difficult, painful, exhausting but there is no other way hoe to do it. Unfortunately where there is no will, there is no way.  I feel so much determination and energy for this that I want to explode. I am telling guys about the movie "A Journey to the Beginning of Time". They were four as well. And do you know why the succeeded? Because they believed and they were not scared…. "Who is afraid of death, dies every day."
Ojmjakon is 40 km away to the north from Tomtor. The population is approximately 800 people and the only interesting thing is the meteorological station and totem marking "the pole of the cold". Apart from that, there is only ugly blue and red 3D board with "I love Ojmjakon". Such a disgust! My feeling are saved by two guys on bicycles and the authenticity of wooden village. Very disappointed we come back to Zuzana´s. The table was ready again for our hungry bellies. No one takes care of the price because with full pension and such care it is not important.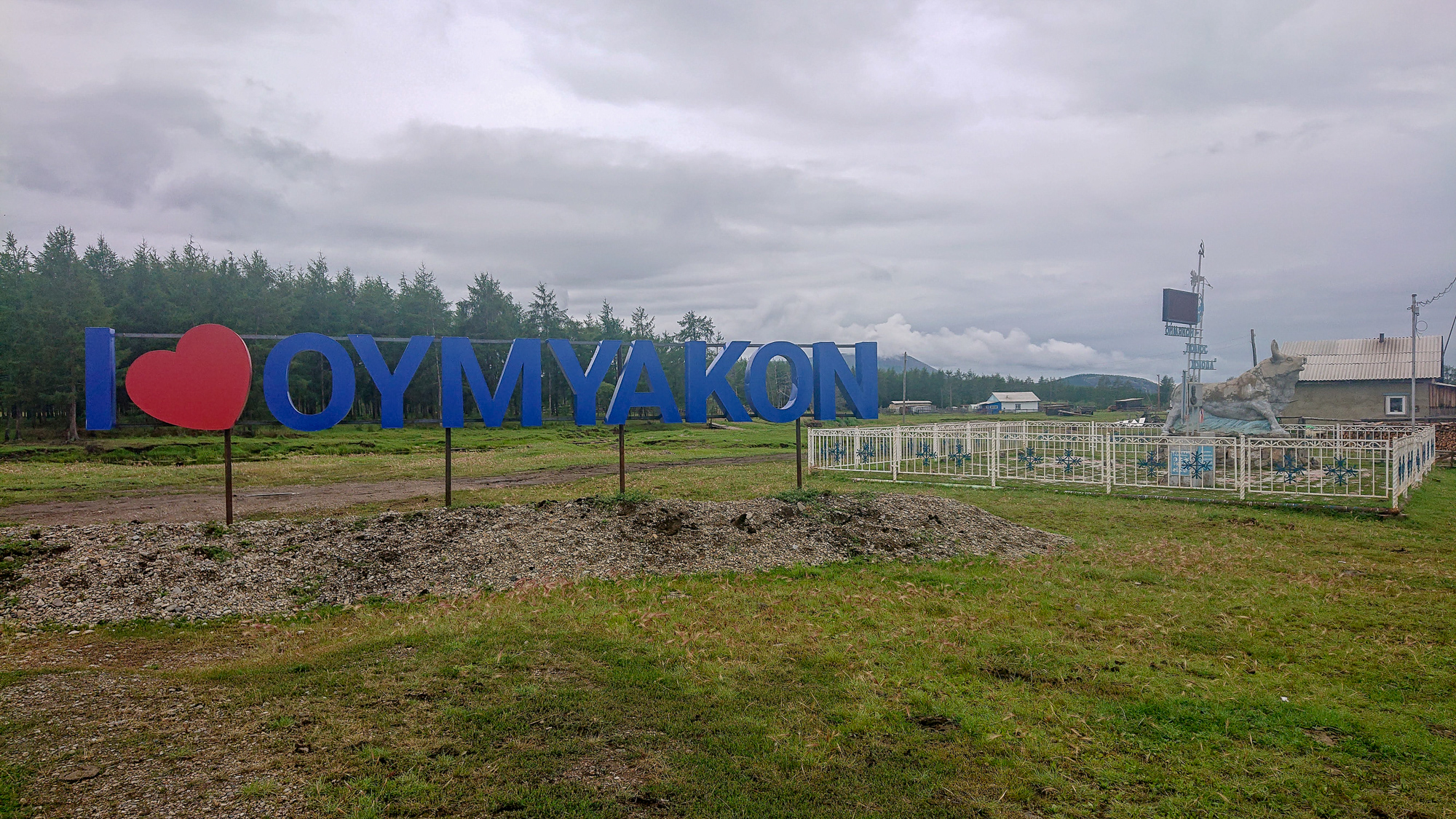 In the afternoon Alexej takes us to ice hole which is former drift that was used like a fridge for local food. Today it is a ice kingdom with statues from ice. Very beautiful. Better than the one in Yakutia Republic.
Because the plan to continue with old road is not possible, we at least go behind the town to have a look at it. It is 20 km to the first bridge. From there it is 260 km of the unknown and hard work. The bridge is old, beautiful, half broken but still passable. Well… Maybe next time. But it has to be within the next 5 years because I do not think that the bridge can handle more.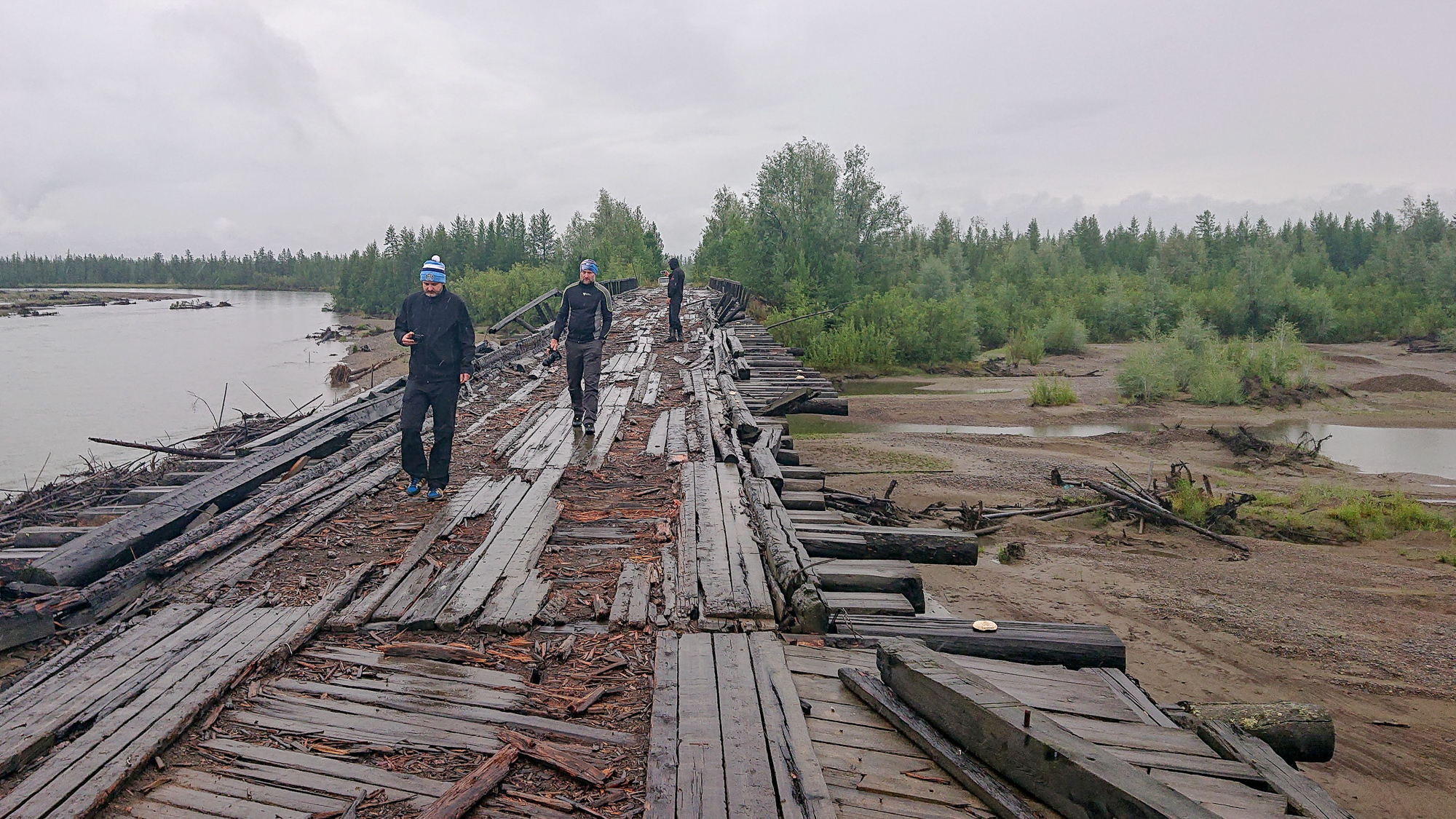 The decision is taken in the evening. We will go to Magadan with the new (federal) road. From there Milan and Paťo will fly home and me and Marty will continue according to the plan. If the weather allows it, we will try the old road from the other side, then to Skovorodino city, we will take train to Moscow and from there 2000 km to our homeland. We will see what the life brings us.
Route that we've made during "this article"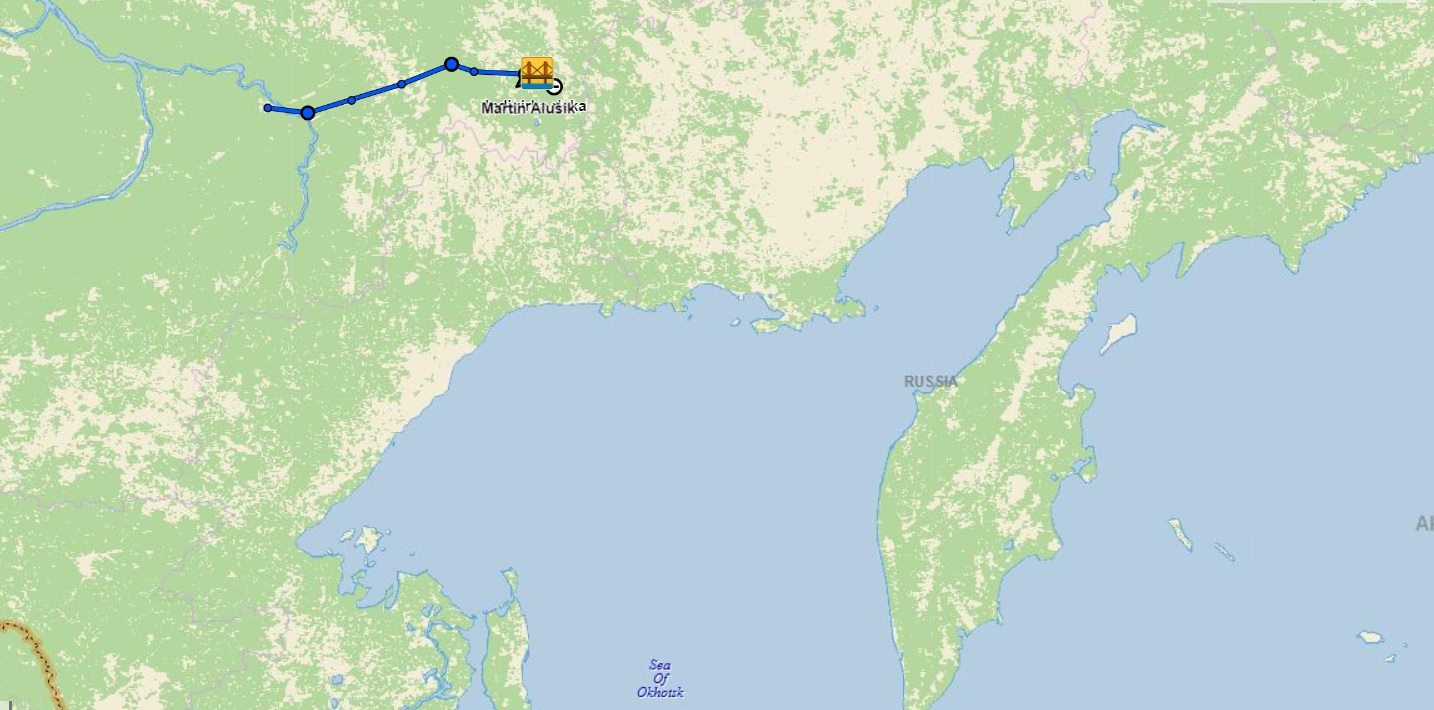 Read also…