30th July 2018, Monday
Route: Tomtor – Kyubeme
Total km: 13 239
It is constantly raining. We pack the things and leave. I think about how we should have stayed and wait for the weather. I am so angry with the whole world. I go to the front because I need to be alone. You could see my anger in my ride, I drive fast and my thoughts like "I could drive gravel in Yugoslavia" make me aggressive. I just cannot deal with the fact that we left the old road. I don´t know. Maybe we could have passed and maybe not. Maybe we would have to turn around because of the last flooded river and maybe we would have to make a raft. Well, we cannot know it now because we haven´t even tried it. We have been travelling one month to get under "the mountain" and we just turned away from it. I do not mind failure, I do mind not to even try.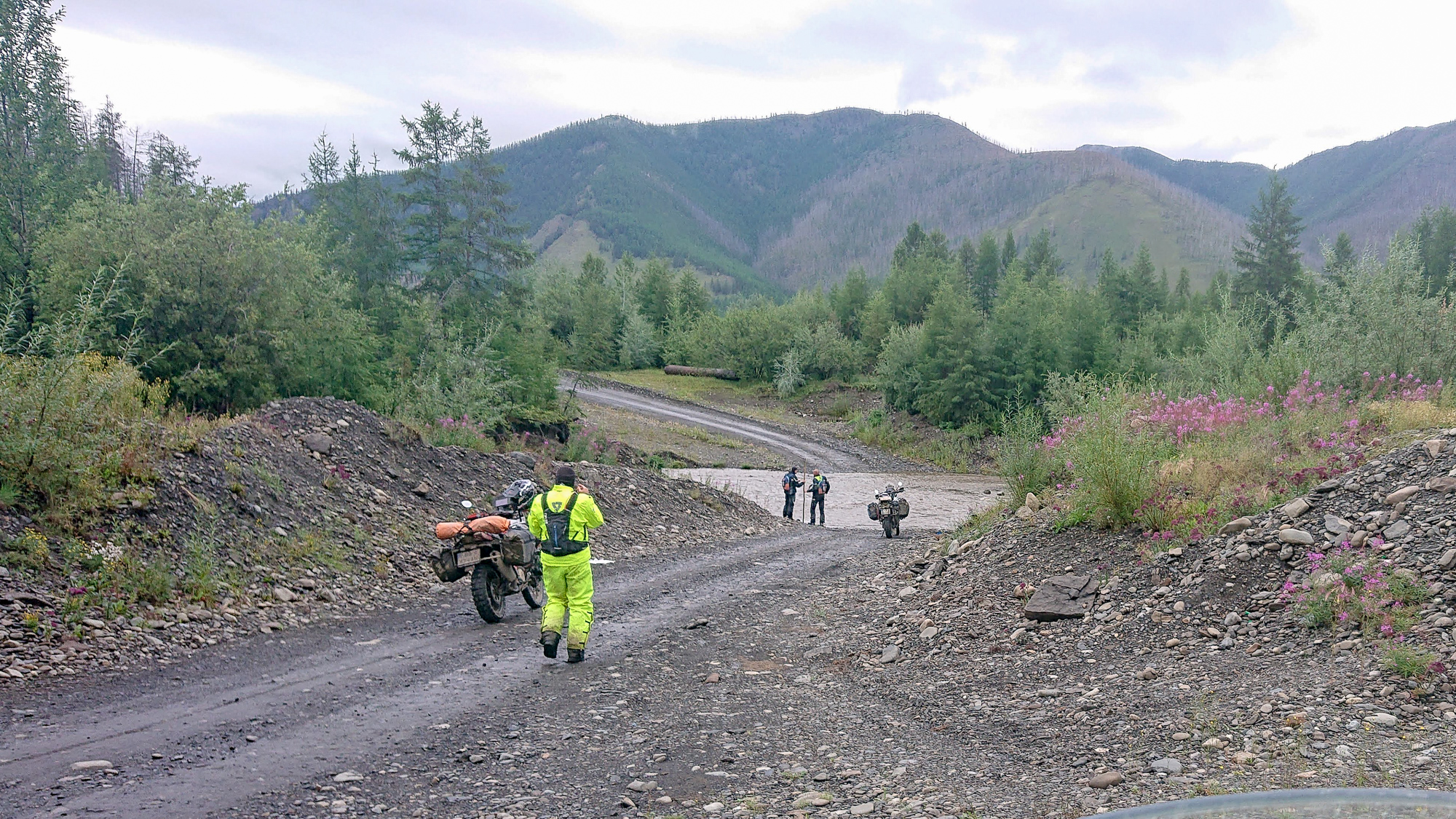 Few kilometres after the old man´s house, Buchanka stops me. A guy from it tells me that we won´t be able to cross the river. The nearest river took all the surrounding streams and became impassable. We will try and think. The river next to the old man´s house was three metres wide and 30 cm deep. Today it is 15 metres wide and 80 cm deep river with extremely fast flow. We are looking for stick to measure how deep it is. Marty is soaking wet so he goes first. After five metres and helping himself with the stick he turns around a asks: What now? How shall I go back? the flow is so strong that he struggles to stand on his feet. He somehow turns around and makes few steps and he throw himself into the water. This will not be possible! We are thinking for a while more, I try it too to see how far can I go but my fear of water does not let me that far as Marty is. Rope bridge gives us a little bit of hope but it is so narrow and slippery that for sure we would finish in the river.
Old man Nikolay comes out as well. He recognizes the conditions and tells us that here the time is not important and he invited us for other tea. We do not want to go back to that mess but we have no other choice. It is more than clear that we will not pass without help or we have to wait until the water level decreases. We stand under the roof all nervous and we think what to do. The best option is to wait for some truck and let it to cross the river. To be honest, this is not very frequent road in Russia.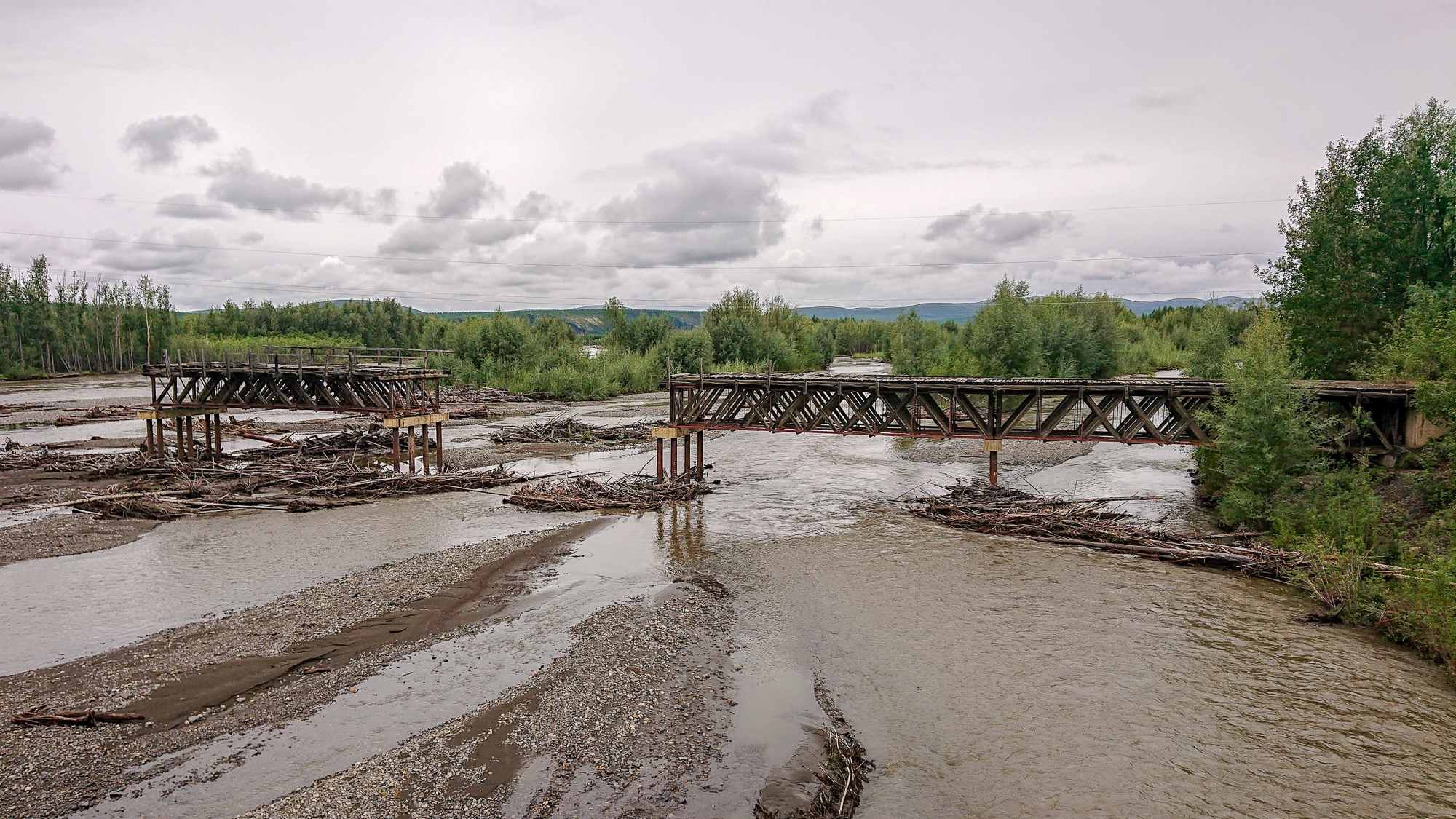 We can hear an engine after like one hour. We stand by the river so he cannot just pass by. Toyota with 7 seats stops. We explain to that guy to enter the river bed to create a barrage so that we can pass under the car with the motorbikes. He doesn´t give a shit, he cannot stop there, he has to go with run-up. Well, thanks a lot.
We are disappointed with his attitude but very surprised when we watch him for a while. We puts on high fishing boot, takes a stick and makes 2-3 steps. He puts the stick like metres from the shore and with his very professional guide eye (there were Japanese scientists with TV crew) he evaluates the situation and suddenly he reverses. He is gonna try it. The first gear – 200 km/h into the river bed, the car suddenly flies and then drops and drown. The sweet guy let Toyota to have some water. Nice. Karma is a bitch…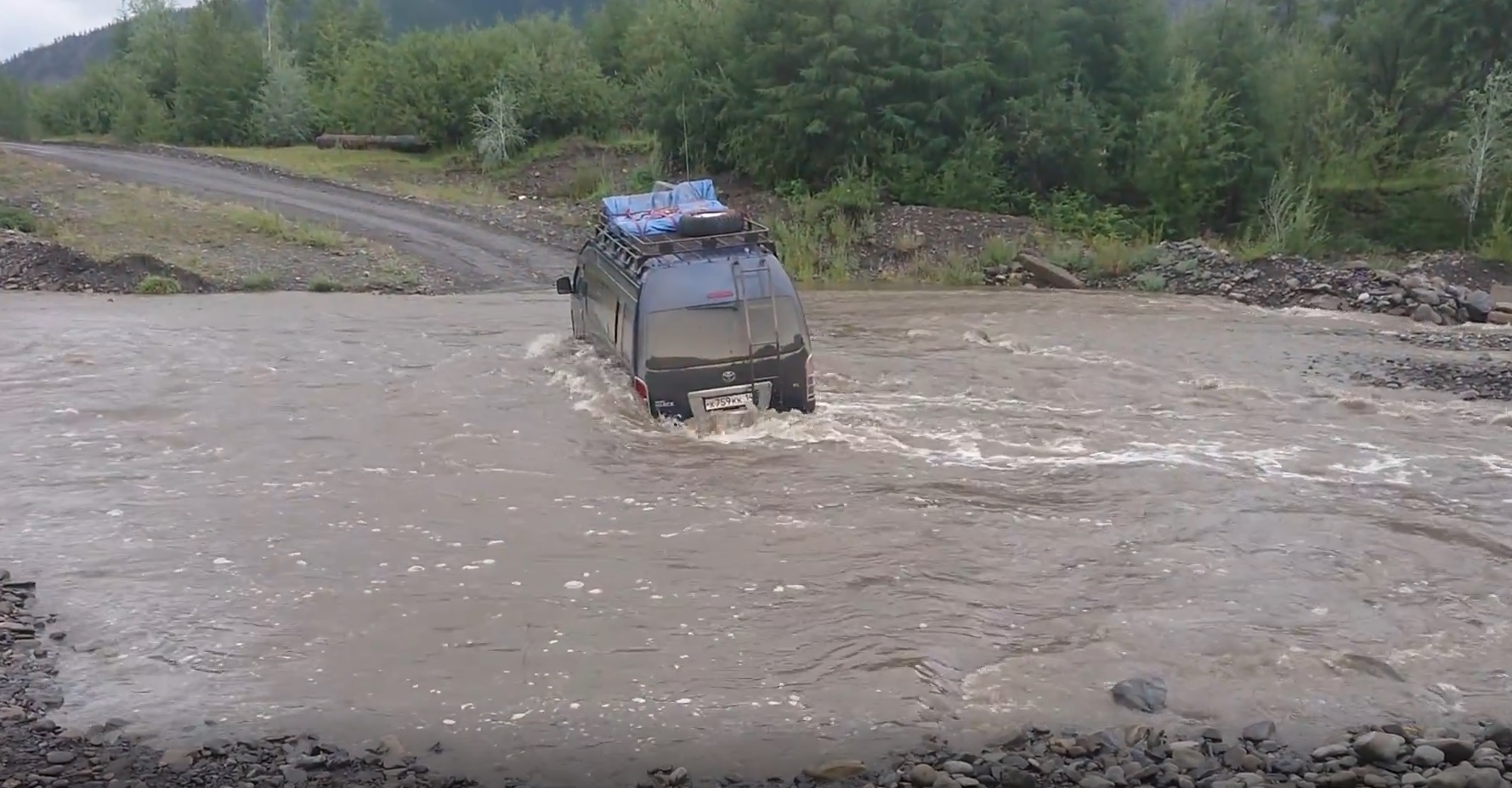 After a while we can see how they try to get out from the water. Firstly it is them then all the technology. The helmsman runs across the shore and searches for help with satellite mobile phone. Two Kamazs will come in an hour to get them out. Hurrah! We believe that they will help us as well. And they did come…but they didn´t help us. They took the car out of water but because they were full of construction material they couldn't help us. Well, they could but did not want to. They will be back tomorrow and empty.
Suddenly the same Toyota come, let´s call her White. This one does not even stop and goes with 200 km/h into the doom. The story is the same. White stays in the river but one meter further and full of water. Well, White is 4WD. We stand on the road and pinch each other to make sure we are not dreaming. After that we understood why he didn´t stop to check the conditions. There is a guy in the car that had fight yesterday and he needs to go to hospital. The guy´s head was like a search meteorological balloon and his eyes were only narrow interstice.
The situation is : on the other shore there are two immobile cars, group of scientists, TV crew and whole family carrying a dying young man into the hospital. Well… Not carrying. We do not know if this is funny or sad but we are ok with this whole situation because it means that someone has to come to get the White out of water.
There is nothing happening in the river for very long hours. We cook the lunch and talk to Nikolay. It is still drizzling. We would love to set up the tents and have rest but we don´t do that. What if a car passes by and help us? We just create something like a roof, set up fire and try to get dry.
At 7 PM, nine hours since we came, two policemen, two investigators and truck(!!!) come. First the take out White and the truck take the policemen to our side. They have to investigate the night fight. One guy died there.
We were so happy when the truck driver said: Let´s do this!. The motorbikes were on the other side within 30 minutes. We carry other thing on the above mentioned bridge. We said goodbye to everyone and after ten hours we move over to Kjubeme city to petrol station. It is 10:30 pm when we park outside the Kuba bar.
Milan has an idea to try to ask the owner if we could sleep on the floor in the restaurant. It is still drizzling, we are tires and the amount of mosquitoes around is just ridiculous. The owner agrees but we have to wait until they close. After the dinner it seems like a good plan but when I see what time is it I change my mind. Me and Marty do not want to wait. We are going to set up the tent and sleep. Every minutes is very worthy and I do not have to tell you that we would have to wake up according to opening hours. If someone wakes me up before 8 am it will be the last thing he/she will do in his/her life.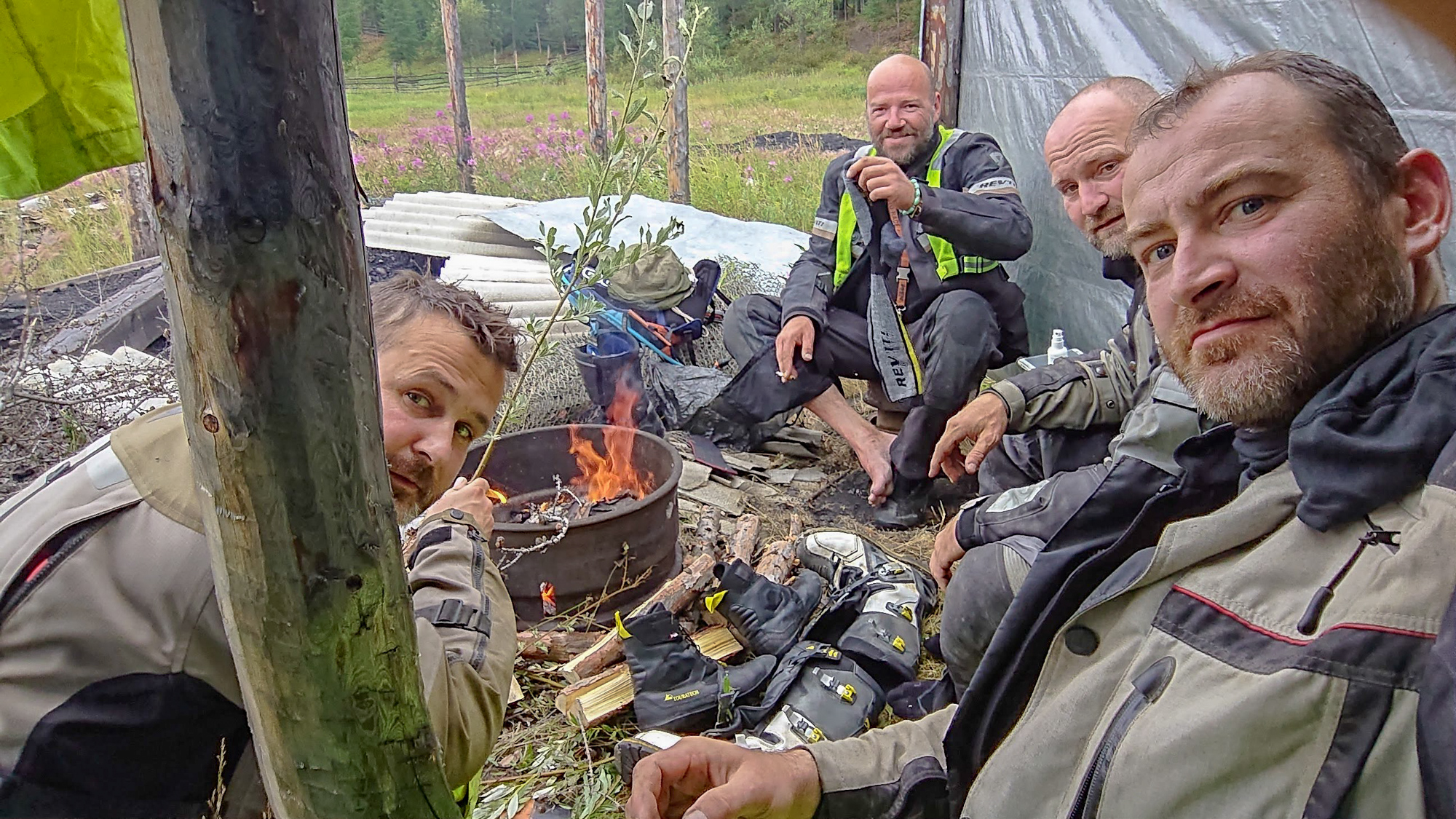 31st July 2018, Tuesday
Route: Kyubeme – Ust Nera
Total km: 13 492
It has been raining all night long, it only stopped in the morning for a while. That is the moment when we have to get out of sleeping bags and pack. Maťo and me pack the wet tents and go through the muddy courtyard to see the guys to the restaurant. They are very satisfied, ready for breakfast. They rested a lot on the floor and in the heat. We do not complain either. Sleep in nature while listening to the rain… this is priceless.
The rain stops. We are full of energy and good food so we can start the day number 31. Of our trip. I take picture of this place and reach the guys. After 2 kilometres of drive I suddenly feel something in the back tyre, and my control panel says it is a puncture. We didn´t move on that far. I stay on the hill which is not a good place, I get off the motorbike and while the engine is on I put the first gear in and I try to move up the hill. 300m. Marty feels sorry for me when he can see my leg one year after that horrible fracture I had and he changes me. I am very grateful for that.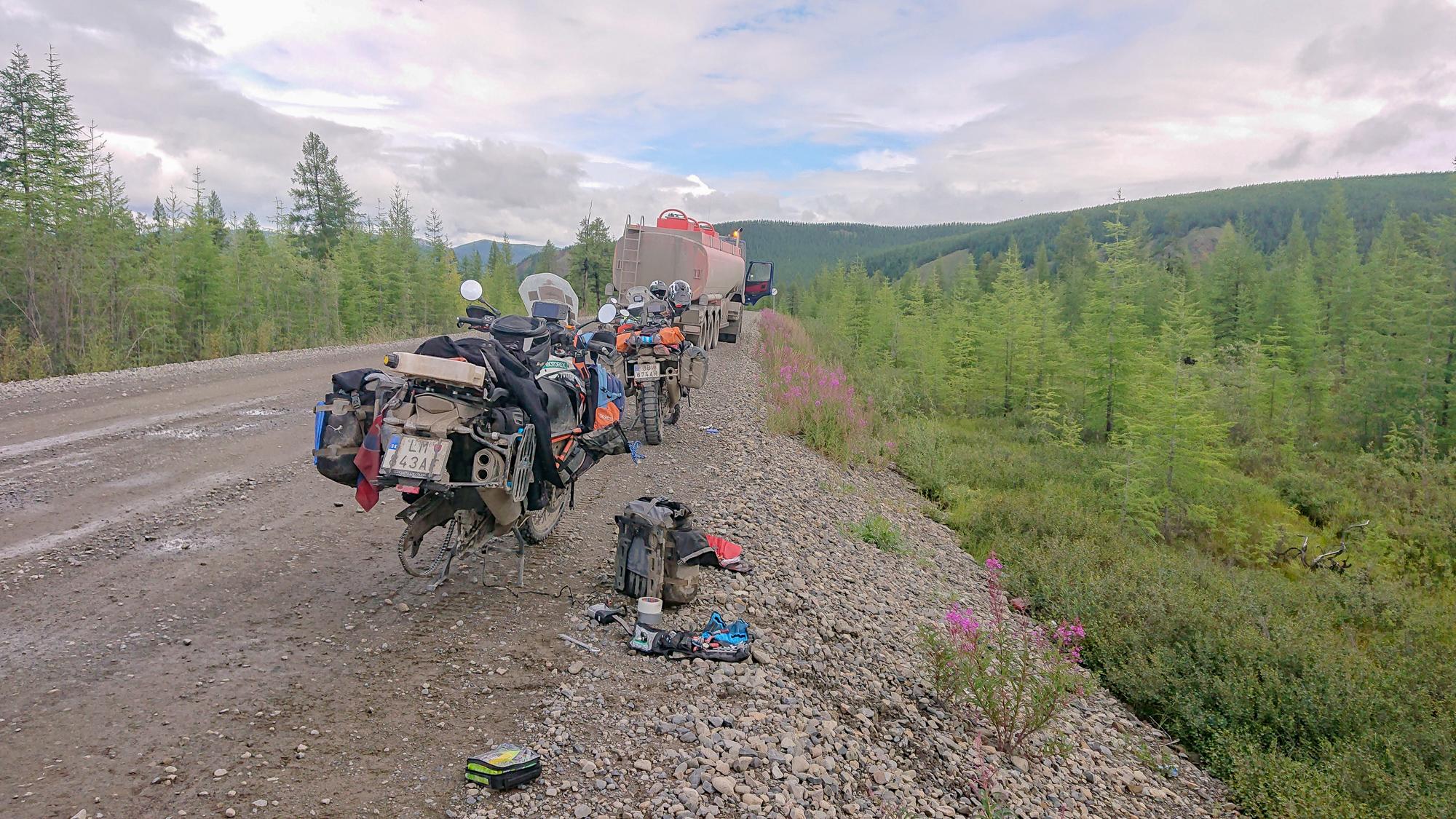 Immediate flat tyre says that this is not a small hole. Well, I have to glue the outside part and attach inner tube. A cistern truck driver stops next to us and asks if we need help. We are more or less fine and we do not want to bother him. This truck driver, like an uncle from Liptov (one region of Slovakia) is awesome. He sets up a box with supplies. He makes coffee and gives 5 packs of fags to guys. While repairing the tyre we talk a lot. With his compressor we fill in the tyre with air and we continue. We are in a country where people help each other, where they take care. We should think about it because our European thinking is quite fucked up. Thank you.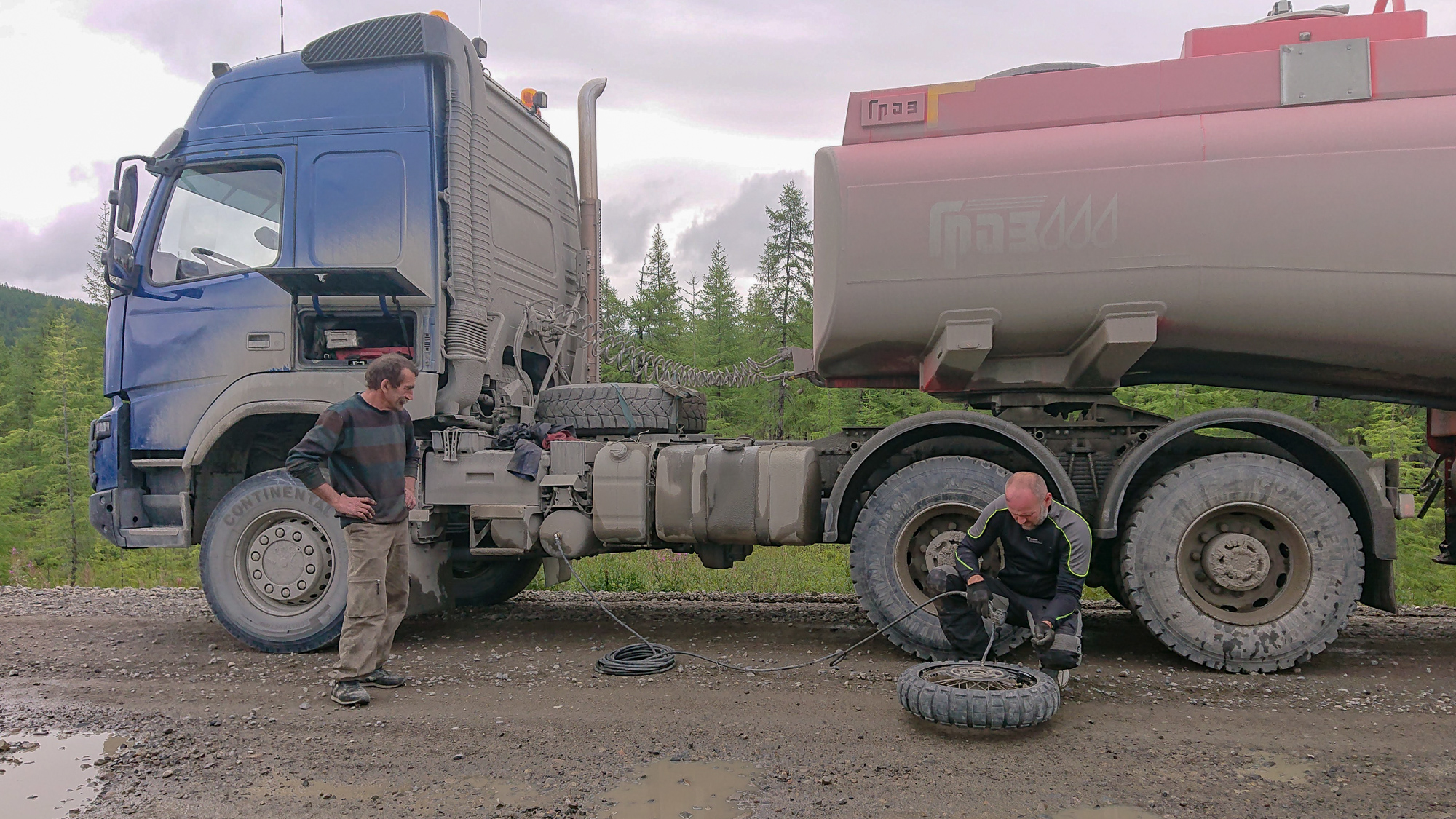 Today we just bugger around. Our goal is Ust-Nera city, 250 km. Boring.
We slowly climb up the mountains, the contour line road is funny and it offers beautiful views into valleys and on beautiful mountains. It´s beautiful here! This city is ugly, shabby and without any interest about its appearance. Buildings, shabby houses, and the space between houses looks like rubbish dump.
Entering the centre of the city we can see 8 hands waving at us. Our Romanian friends with two other bikers call us. We are happy to see them again. Honest hugs and laugh are the best evidence. We talk about our experience quite loudly and the locals stop by and ask as well.
Two biker, or better said three (one is running on the bridge and try to solve the problem with clutch) tell us how they crossed Old Kolyma Road. We gain valuable information and we shake the heads. They went 3 days and they slept 2 times for three hours. They just kept going. 280km! They managed to do it 15 days ago. They give us hope and determination. We say goodbye after two hours and we hide the tears.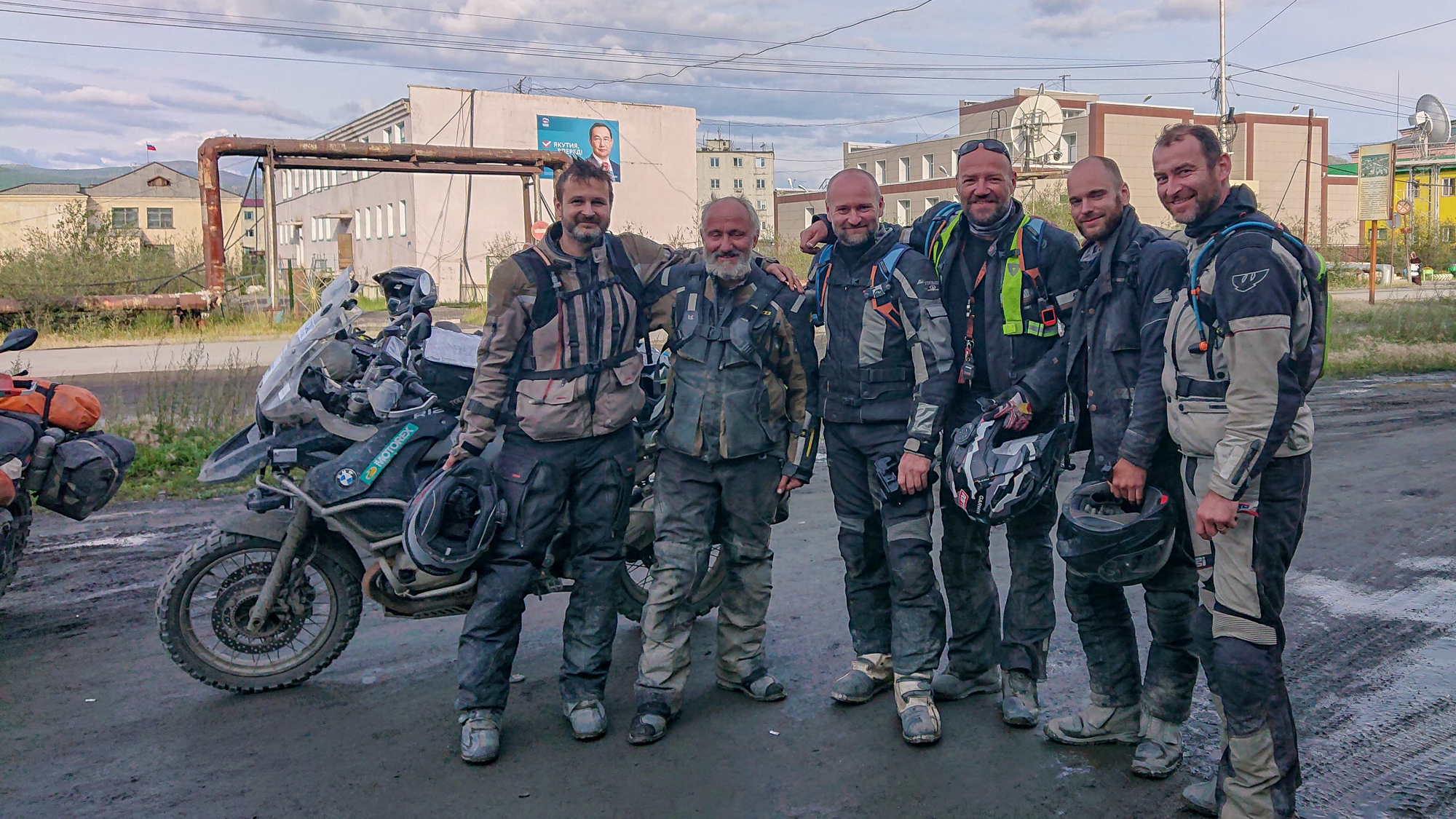 They recommend local accommodation, they say it is a shit but we won´t find anything else here. It is full but the guy calls someone and tries to find us something. We have no problem to sleep in the tents but we really need shower. A guy comes after a while. He rents a flat. We takes us to block of flats that is very similar to those in Lunik (blocks of flats where Gypsies live in the east of Slovakia). The flat is clean and has everything we need. He parks his super shiny Toyota behind our motorbikes. I think that he is some kind of local boss. He takes the bikes under his control. There is a fight for bath with jets and the boiler has to heat up a lot of water. We are enjoying.
1st August 2018, Wednesday
Route: Ust-Nera – Susuman
Total km: 13 912
We stop after the city to fill up the tanks. We have the longest part of the road without filling ahead of us. Guys fill up plastic bottles with petrol and fix them on the motorbikes.
Truck drivers invites us to have coffee. They heat the water on very small cooker. It takes a while so we are talking. Coffee is important but the contact with people is even more important. They show us a picture of bear on the exact place where we fixed my tyre yesterday. This is their area and we are the intruders.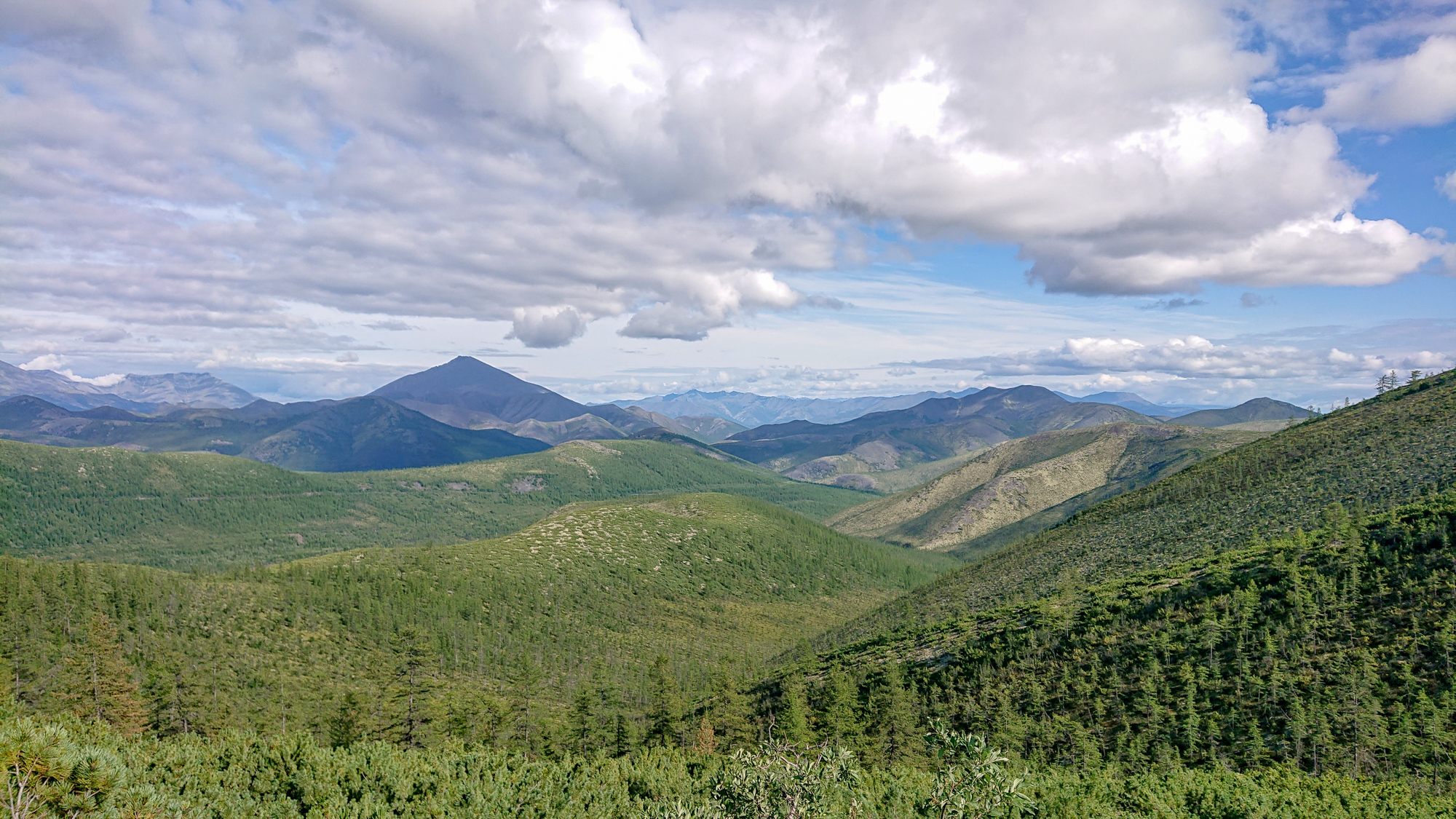 We say goodbye and continue. I am the last one. After five kilometres I can see how Paťo loses his petrol bottles. The ground soaks one and I take the other one. We stop, re-pack and continue. Marty lost both of his somewhere, we have no idea where. Great. Thanks God that Miňonka on GS is a small tanker and we rely on him. If there is a problem we will suck it out.
It is quite cold, 8 degrees helps us not to sweat. The road is slippery and dangerous. We feel that today it is not gonna be about joyful riding. This will be a hard work. We still have to be very careful because the surfaces change. If I think for a moment that now it will be ok, suddenly the surface changes and you have to react properly. This is an ideal road to try the tyres. On 400 kilometres there are that many different types of surface, that are needed for tyre selection into its most optimal category. Ours are the most inappropriate for mud. We can see it on parameters in the end of the day. 400 km in ten hours, 400 km in constant skid.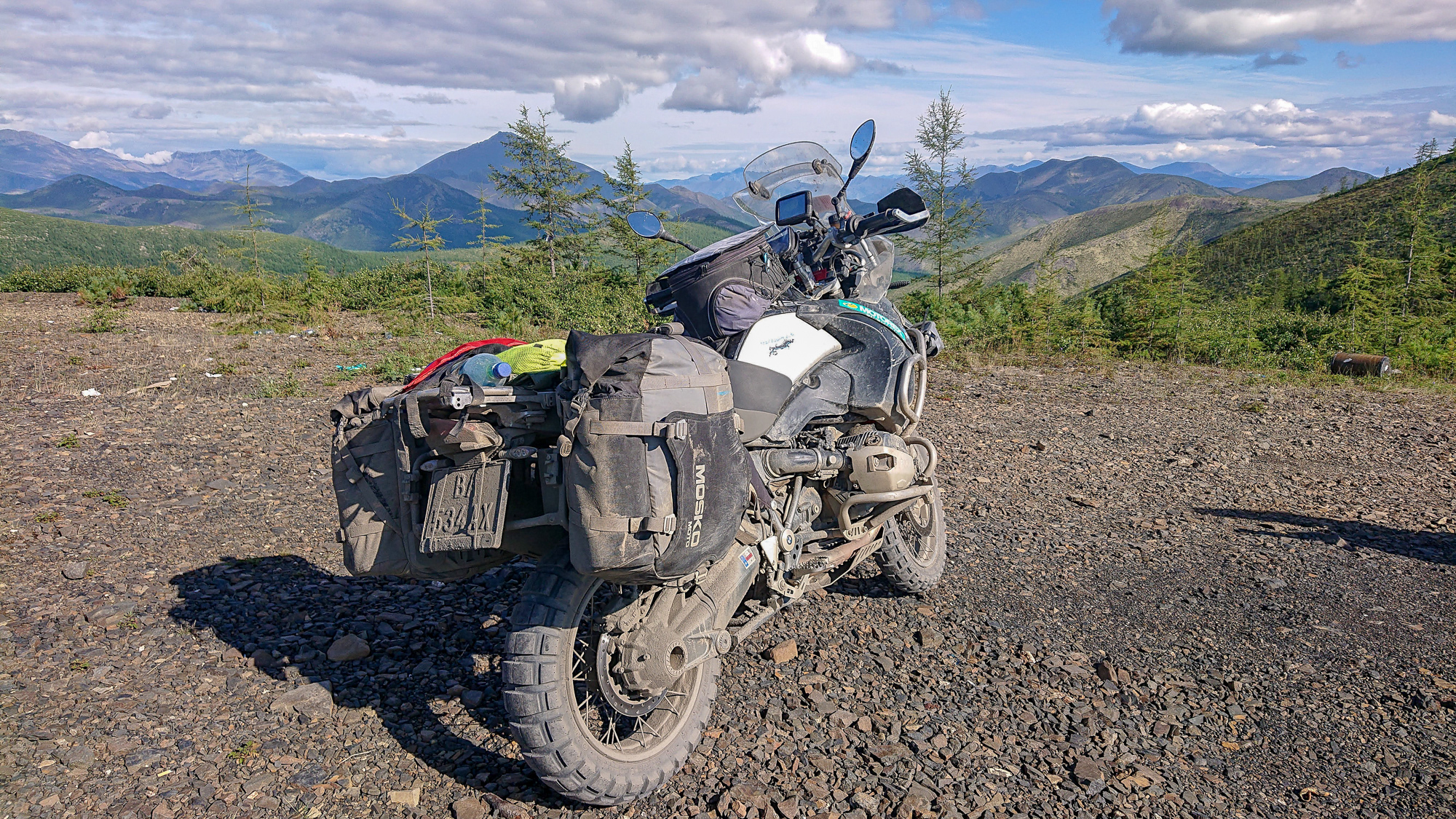 On one flat land I can see a movement. I can see huge brown and moving mass. A moose as big as two deers runs the other way into the forest. Thanks! He hits the electric line with his antlers and he breaks a pole. I have heard that mooses are more dangerous than bears. I cannot imagine the consequences of this meeting.
We pass by dead city Kadykchan. We come into the centre after a lot of puddles. The atmosphere is the same as in any other dead city and the gloomy weather only makes it stronger. Ruins of buildings and old factory give us goose bumps. We walk between the blocks of flats and the ruins of old wooden houses. Boards with street names tell us about the life here. In one window there is a flower pot is dry flower like someone forgot to water it.
I imagine the joy and babbling of kids on the shabby playground. But there is a cold silence everywhere. Marty and me enter into the former school. We can see the ruins of classes, toilets or library. Some books are still on the shelves, the rest is everywhere. Broken piano scares me.
In the flats you can see everything that a family needed, even the leftovers. It seems like someone finished life here with magical wand. Very scared we leave this city in silence…
You can read about the history of Kadychan here.
When we finally came to Susuman we feel that this was the most difficult day of the whole trip. The hotel is awesome. At the reception we warn the lady that our baggage is a little bit dirty. She says it does not matter and she gives us a room at the highest floor, in the end of the corridor. Well, we warned you. We will have to face the consequences. It is more than clear that she will not clean that. We realized that the next day. With the little strength we have left we take the muddy baggage into the rooms. We are enjoying beer! Finally! We have been without beer for one week. They do not sell alcohol in that area. Because of security reasons and protection of lives of others.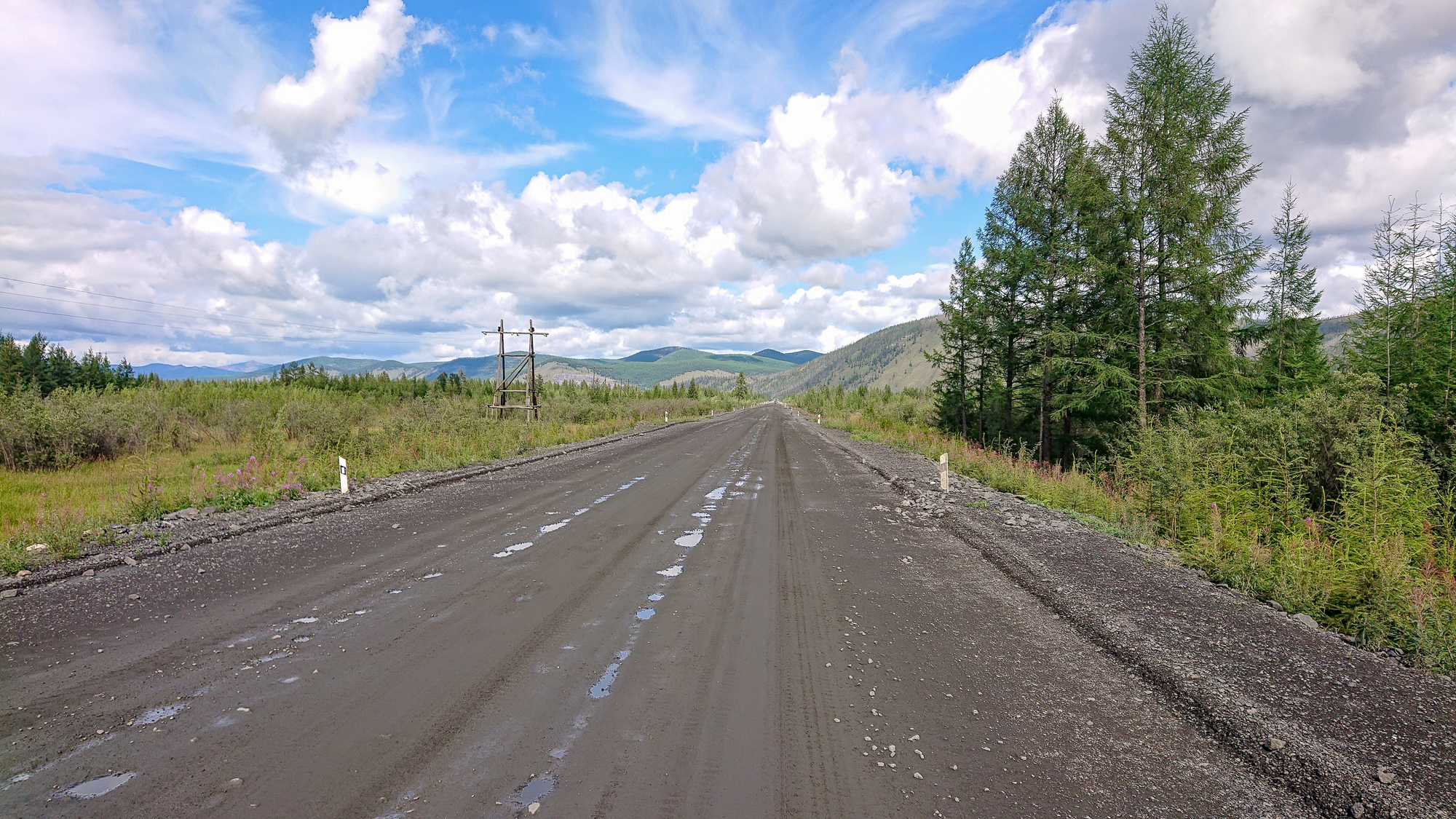 At 9:30 pm we enter the restaurant because we are starving. The old lady who was already at home with one leg still serves us. We feel sorry so we all order the same, we do not want to cause her many problems. waiting for the food we take yeast dumplings and lemonade from the other table. We eat like starved dogs, no shame! We all have thoughts running through our heads if we will make it do Magadan tomorrow. We will see.
Route, we've made during this trip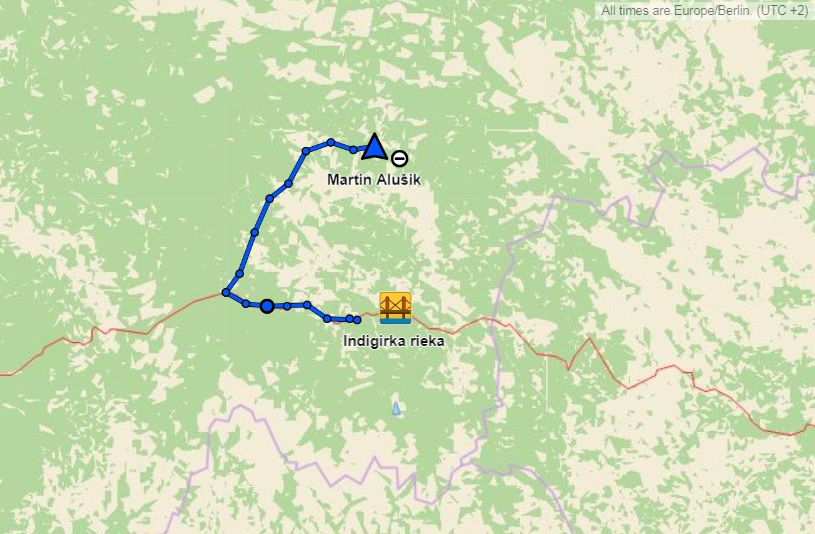 Read also…