Four Slovaks decided to go for the trip of their lives – they crossed 9 time zones, done almost 15 000 km from Bratislava do Magadan, without the accompanying vehicle. They succedded! How were the last days? What did they get from the trip?
Article by Jozef Heuger.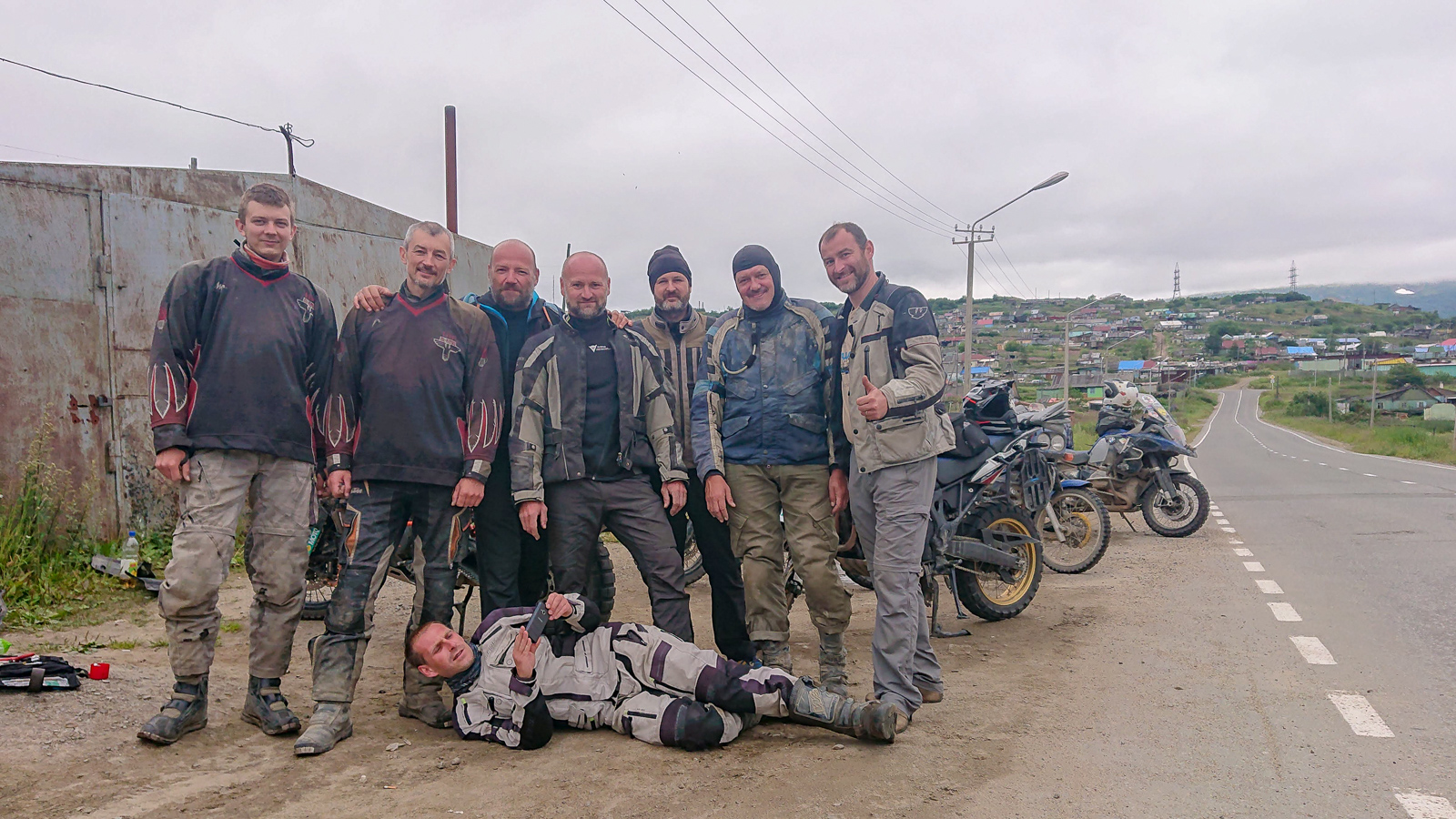 04th August 2018, Saturday
Route: Magadan
Total km: 13 912
36th day: We had way too much to drink yesterday. Not even a sponge can soak up that much. Today we feel terrible. Our heads are completely empty. We have to function only because of obligations that cannot wait. Paťo gives interview for radio. I do not understand how but he gives continuous interview in one of the hotel rooms for the last three hours. He had to confess absolutely anything even about the poo regularity. We go shopping to the supermarket nearby and when we get out we open the beer hoping it will help us. It does!
Sergey promised he will be here at 2 PM. He takes Marty to the mechanic to dismantle the cylinder. We need to know its condition, the condition of the engine, if we should keep planning the trip or not, if we can repair, order or wait or… Around three o´clock Marty says the last words: the engine is f… (You know what we want to say but we agreed that we will not scold in the articles). I bet you can sometimes feel that I struggle to express myself…well it is because of this reason.
After we receive the news that it´s over, the mood is on freezing point. Milan and Paťo will fly home because of the lack of time but me and Marty wanted to continue on the motorbikes. No rush, sleeping in the tent and nature, between the people. To feel the country with even more opened heart, to perceive its beauty, humanity and smell. Material smell. We believed and hoped. We kissed and caressed the motorbikes with the feeling – we can do that. Unfortunately it is not possible… Game over!
I used this phrase the last time in Bolivia in February, when I drowned the motorbike in the ford. Joy came after the despair because I was able to make it work. But here? I think we are done. Since this moment I am thinking of going back on my own. My head is a mess. I have to consider all the possibilities and problems. And I keep thinking. When I think that my head will explode, Marty comes to the room with weird information. Four bikers came and one of them is Slovak from Topoľčany city! Go back with them!!! Fucking heeeeeell!!! The heaven itself must have sent you man! I go down to reception and I meet Liter, Dvojliter, Mike and Kubo.
Kubo seems to be very similar to us, a normal man with heart, will, desire and courage to fulfil his dreams. He travels on his own. Without planning, on very old motorbike and without useless things. Just like that, through Russia and back home. I admire him. I am not that kind of person who treats a stranger like an old friend. I need more time and experience so that can let that person close to me. Exactly for that reason I do not pressure him and I do not try to re-organize his plans. I believe that we will drink something in the evening so that we could talk.
We explain them our situation with broken motorbike. Kubo gives us hope with his spoken truth: here they fix the things, they do not change them. We put him immediately into Sergey´s car and take him to mechanic so that he can see the cylinder. He is tired but willing and to be honest we didn't even give him other change than go with us. We enter the garage and we stare at the cylinder like a pedophile into a baby carriage. Unfortunately the result is the same. Cylinder is fucked. Or we will get other enine or we are finished. Sergey takes us for dinner because we are very sad, he buys us biscuits and says goodbye. He has his own program and we are only short distance from the hotel. We stop by the shop on the way back to buy some alcohol to drown our sorrows.
I am running out of time because on Tuesday we have to give the bikes to transport company and I have to decide. I receive advice from home: you should come back, who you left with. We spend the evening by the motorbikes and drinking. Guys are full of travelling and they tell us all the experience. The bar is the back part of Liter´s 990 motorbike. We can fit there all we need – beer, vodka and pumpkin seeds. We will need rake to get all the stubs in the morning.
Liter, Dvojliter and Mike are Russian from Samara city. The have been through a lot and the travel even more. Their attitude towards our problem is simple: stay calm and we will ask around. It is weekend anyway so if we want to move things we have to wait until Monday. They assure us that if it is necessary, even a stolen engine is a solution and our situation asks for it (I better do not want to know anything about it). We take the advice and some of us are drinking until three am. My feeling are very positive, it would be a strong experience to go with these guys. I have the whole day tomorrow to decide.
05th August 2018, Sunday
Route: Magadan
Total km: 13 912
37th day… The mornings of the drunk guys are very difficult…Sergey promised to take us for a city tour. He picks us up at ten am and he spends time with us. We don't know his past and his life but he takes care of us like we were his grand kids. He is like long-wished grandfather.
There is a bid monument above Magadan. It is not proud, it is emotional, heavy for feelings and compassionate. It shows the amount of prisoners that suffered and died in work camp in Kolyma region. It´s name is quite accurate : "The Mother of Sorrow." Although it is "only" a monument and it does not have that emotional power as in concentration camp, we still feel uneasily. Many brutal atrocities happened to people, their identities, on humanity here in the past. And one can feel that. The mood gets better when we see posing fox and beautiful view all over the city.
We move to the edge of the city, to the shore of Sea of Okhots, to steel statue of mammoth. We are still within the area of permafrost where until today we can find the most remains of this animal. The scenery after the city is a completely different story. High cliffs above the wide sea, its greenery with flowers and pebbly shores are just amazing. We are walking down on pebble gravel. It´s weekend so the beach is full of relaxing families. We just sit on the shore and stare to the distance. Sometimes we can see seal head.
Paťo loves fishes so Sergey is negotiating fishing with local fishermen. He put the high fisherman´s rubber boots on and he goes with one guy. The floats on the surface mean catch. They are trying to get the fresh fish. Paťo´s joy is spontaneous and sincere. It is a strong experience that he will not loose his whole life. These moments are even stronger because the place where we are right now is where the founders of the Magadan city touched the shore for the first time.
The rest of the day I am fighting with my thoughts and decisions. On one side there is the desire to come home on the motorbike, on the other there is the humility to accept the situation and fly home….I still have little bit of time to decide. My time runs out in the morning. Guys keep drinking during the evening with Russian friends. I cannot handle the amount of vodka and ber… it is way too much. I try to relax and write.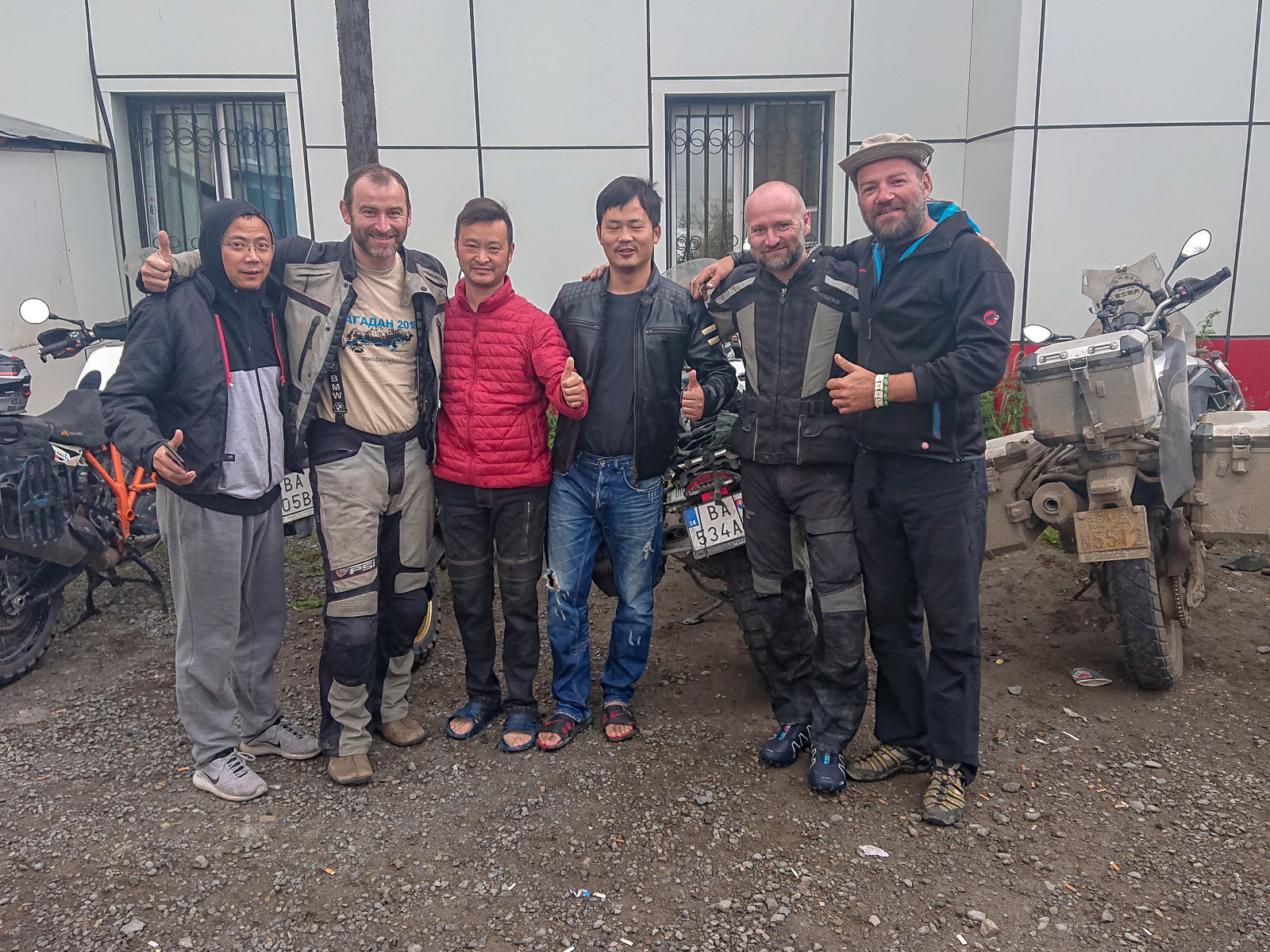 06th August 2018, Monday
Route: Magadan
Total km: 13 912
38th day: I cannot sleep the whole night, I need to take a decision. It is Monday, that Day, and me and Marty hope that we will find solution, that people we know will call us and say – we have an engine. People call but with bad news. There is no engine for 1190 motorbike. This information closes my circle and I decide. I know that boys would take me with them, but tis is not the plan. I have to accept that. Kubo has a plan to travel but I have already decided to spend the rest of the summer differently. It did not work this time but it doesn't matter. Everything is as it is supposed to be and we have to accept that. I will fly home with guys. I am trying not to think about it any more.
Miňonka and Marty go to transport company, Paťo is snoring and I am writing. The whole day goes so slow, the time does not pass and we do not feel like doing anything. We have to service the motorbikes. It is better to do it here than in Moscow. It´s not that serious. Just to clean the air filters and other basic things. I am curious myself how my tuning Rottweiler looks like. We go to garage. He still hasn't come so we started to dismantle the motorbikes in front of the garage. We have been waiting for him for two hours. We are guests so we cannot be angry him. We just hate doing nothing. Our heads are set up to go home, Milan takes care about the fly tickets.
The surface of sir pre-filter shows 80% of pollution. Its front part is completely into pieces but its back part enables the engine to breathe. I took this part off and I can see clean main filter. I am very happy that I could have seen that because I wanted to go home from Moscow with the same filter. We really do not need that.
Our friends say goodbye at 5 pm. Liter, Dvojliter, Majk and Kubo decided to spend the night by the Sea of Okhotsk. Our goodbye photo is my favourite. Sometimes it takes one moment, one sentence or one look fro the friendship to start. And sometimes the whole life is not enough. Liter, Dvojliter, Majk and Kubo… thank you for everything!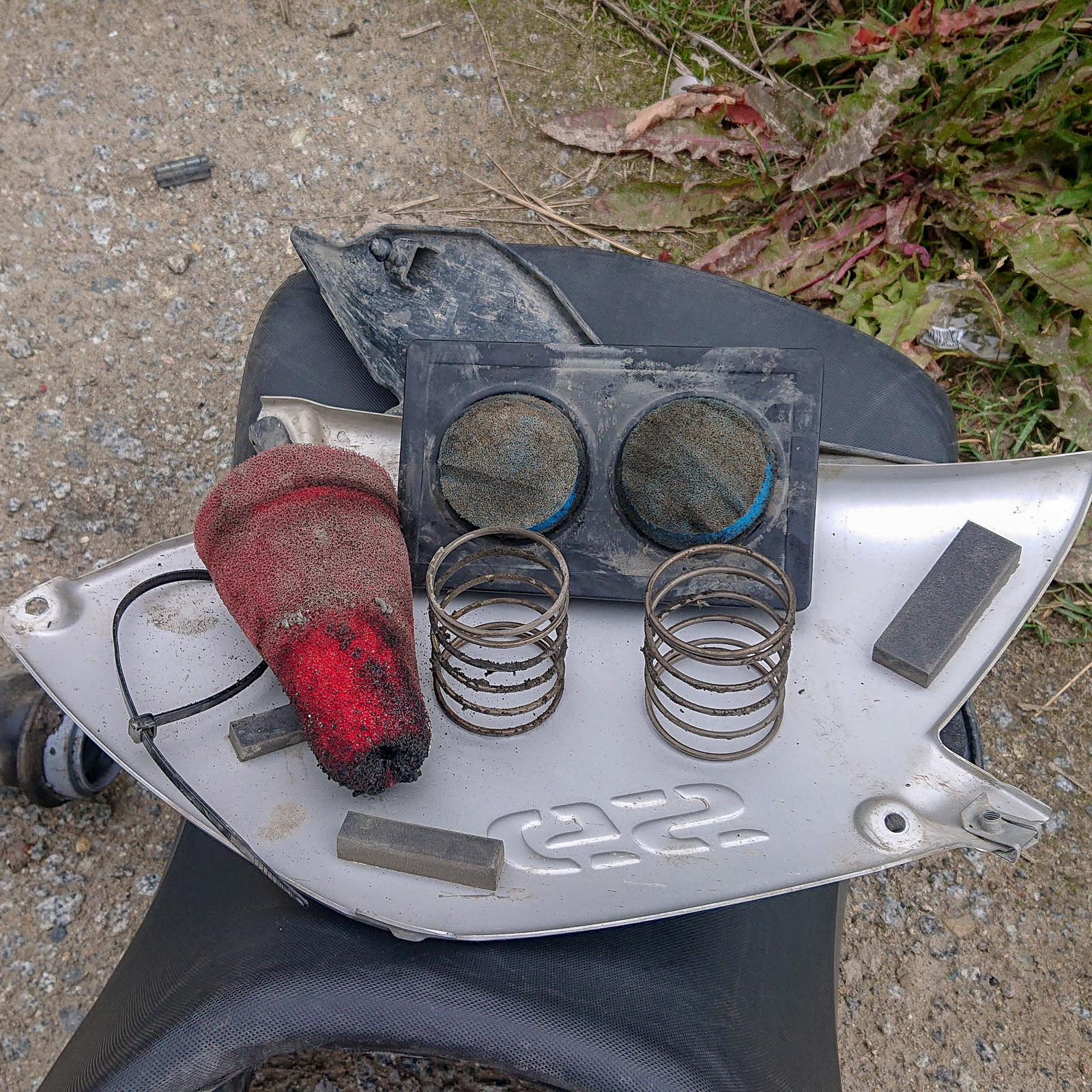 07th August 2018, Tuesday
Route: Magadan
Total km: 13 912
39th day: My head does not want to accept this. Am I going home tomorrow? I am expecting Marty´s question that came right after his "good morning"…so have you decided? I know he is very sorry for this whole situation and he thinks it´s partly his fault. He does not have to be sorry at all. The life decided to do it the other way, not him. I ensure him that I am not angry and I fly with them. We left together and we will come back together. I know he wouldn't feel ok if I go alone or with Kubo. He would feel very guilty if anything happens to me. And I do not want that to happen. So this is one the reasons why I decided to fly back.
The rest of the day we deal with packing our things and getting the motorbikes ready for transport. In the transport company we pack all four motorbikes into palette box. We have to take the front wheels off, disconnect the battery and fill in all the documents. This easy operation lasts for almost the whole day. We spend the rest of the day with buying souvenirs. We have goodbye dinner in the evening.
We meet in front of the hotel. Our group, Sergey, Aleksej and Jan. We take the first picture of this evening. I think there are many more to come. We walk through the town in the first restaurant. It is closed. Sergey calls two cabs that take us to other restaurant. This one is much "better" because those people care about us. They are nice, kind and willing to help in any moment. And they do it for good feeling, nothing else. The evening goes on. Good stuff on the plates, good stuff in the bottles and beer. We drink vodka like there is no tomorrow. I have never had such a good ram shashlik! We talk abut everything. As the end of the evening is coming we are basically running between the table full of vodka and outside to smoke. We have had such a awesome evening…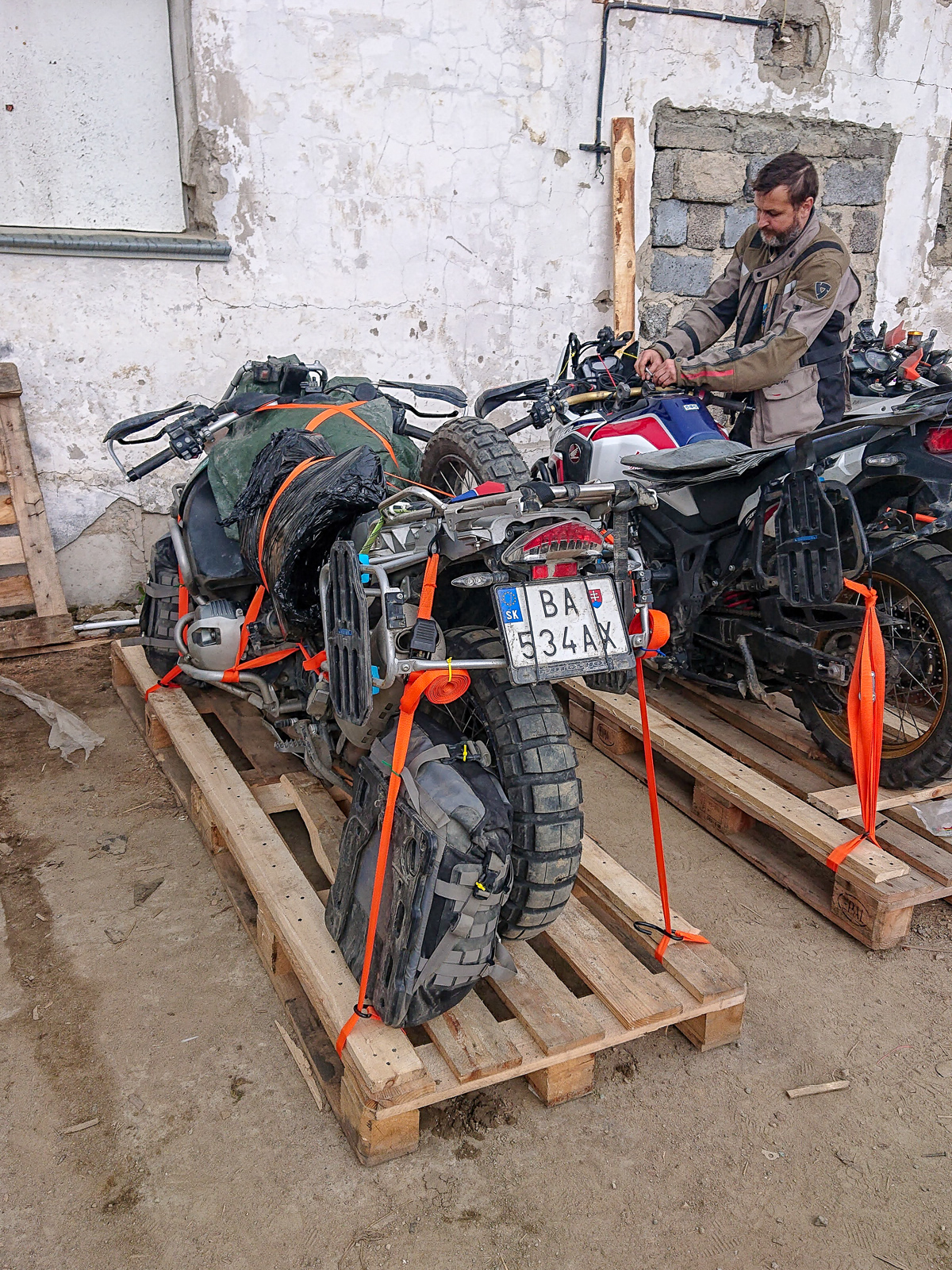 08th August 2018, Wednesday
Route: Magadan – Novosibirsk
40th day: We fly home today. Aleksej takes care of us since the early morning. He comes to hotel and so does Sergey. I do not understand how can they be so fit after yesterday´s evening. We are like zombies but they are as clean as a surgeon before providing heart transplant.
We have to say goodbye and thank Sergey. During the whole trip, he is the strongest human experience for me. He gave me lots of feelings, humanity, kindness, wisdom, truth and thoughts like no one in the last years. A guy that helped strangers. Maybe for his good feeling but I think he just did it like that. Everything he did for us was honest and commonplace from the first moment. Sergey you are exceptional person and I really do thank you for everything!
Aleksej takes us to the airport and he is unselfish and normal guy as well. He waits with us until we have the tickets in our hands, one last fag and we have to say goodbye. Unfortunately it is time to leave this magical place in the end of the world.
Goodbye Magadan!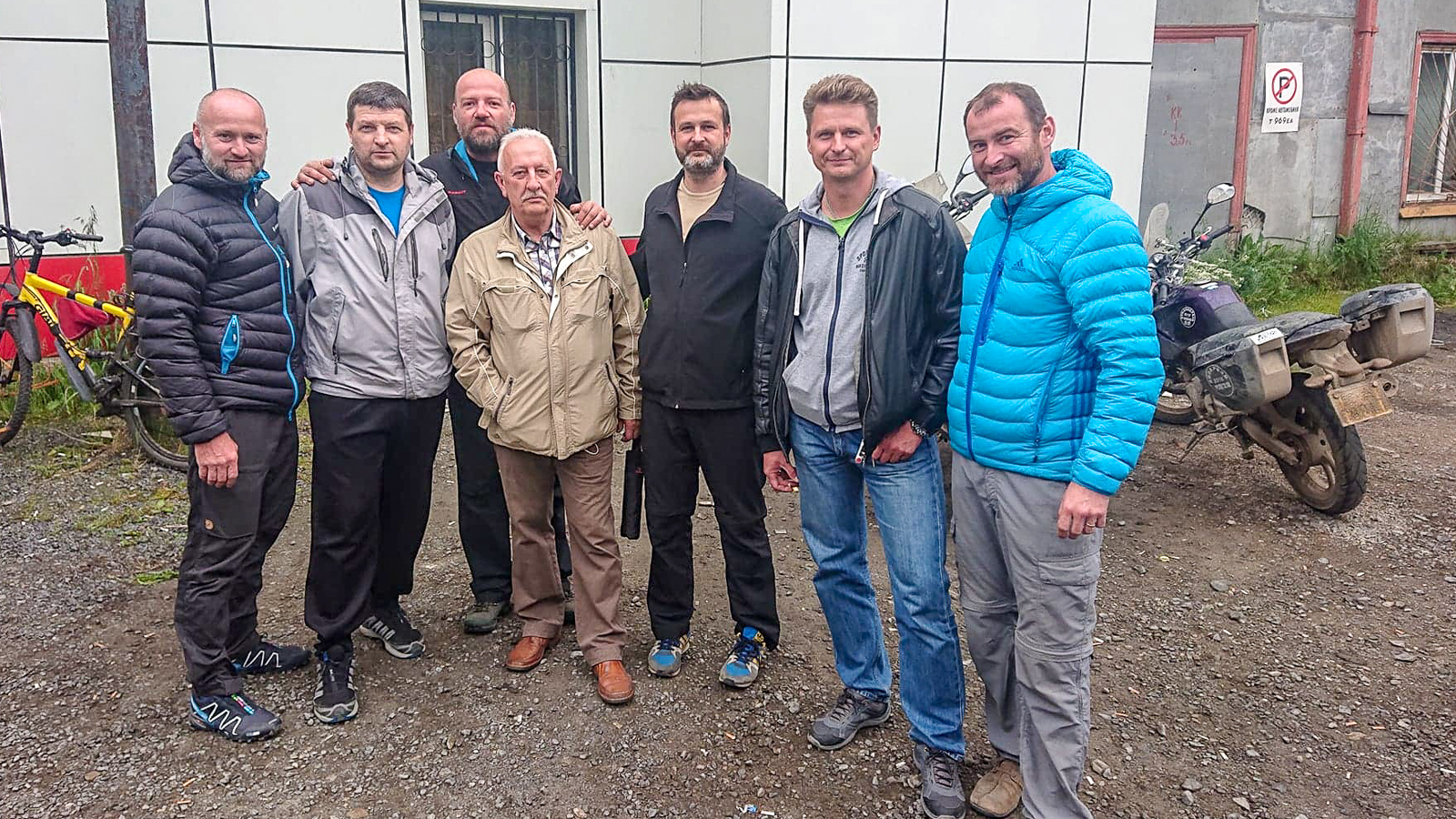 We have so much fun after we enter the plane. The flight attendant explains the safe instructions near us. She is kind, good looking and that makes me and Marty very funny. Well… At least we think we are funny. This girl who is trained to keep her poker face on, has suddenly problems not to burst into laugh while she moves her hands and shows emergency exits.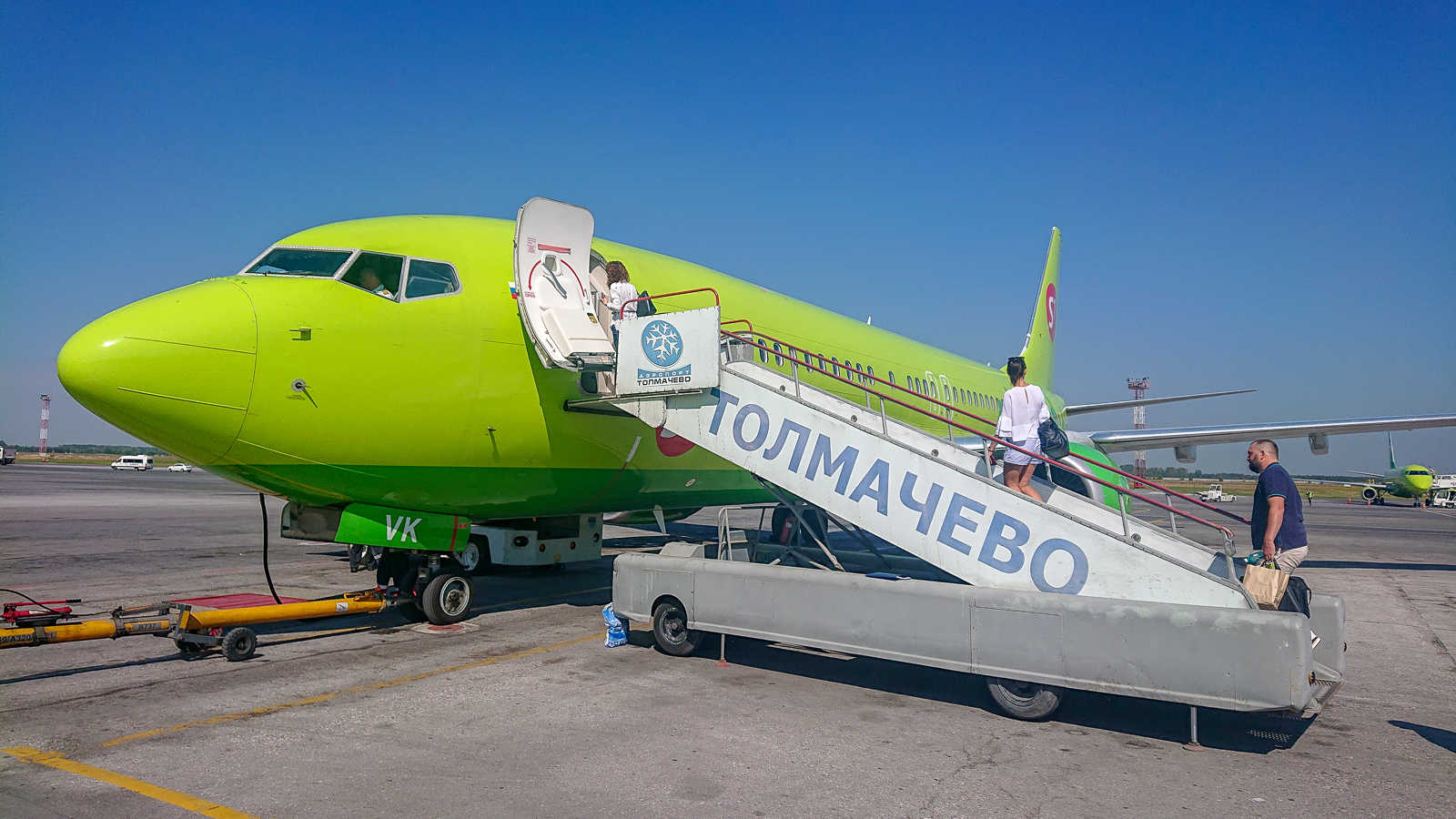 The flight itself was a disaster. I have young mother with little boy sitting behind me. He could be like 5 years old and he is the devil himself. I am trying to sleep during his constant crying. I gave one of my looks to the young and exhausted mother after I woke up several times because her son kicked my seat. She cannot handle this situation either so I better do not say anything. I feel sorry for her.
After seven hour long flight we landed in Novosibirsk. We get out of the plane and sit down into the grass in the park. We suddenly realize the change. After six weeks of calm and peace we are in the huge city and in the middle of stressed civilization. Me and Marty are sitting on the curb, smoking and we are about to explode because we are so nervous.
Where did we get? Where are we going? Why do people have to toot only because there is a woman driving or because it takes longer for someone to open the parking barrier?
We are disgusted and we take the first taxi to the hotel. We have 24 hours to catch the plane to Moscow. At the hotel we realzed that the taxi driver charged us much more! The usual price is 160 roubles and he took 800 roubles. My favourite phrase is "Live and let live" but this is to get a heart attack. Well… This is business. Someone will always try to take advantage of you.
We just walk through the city in the afternoon and we absorb our feelings. It is not easy and we are getting use to be back in civilization. We have lunch and coffee. We smoke a lot. We stop by young couple sitting on the bench in front of coffee shop. We ask them if they could call us a taxi. We are in very cosy part of the town and taxis do not come here. Plus we do not have a phone number. The guy calls us taxi and while talking to the girl we found out that she is a bartender. She brings us coffee and I have to tell you that this was one of the best ones I´ve ever had. I didn´t get hot cappuccino but ristreto. Amazing!
There are our Hungarian- romanian fiends in the hotel as well. We agreed to meet in the city and get drunk. They had technical issue with the far so we meet at the hotel in the evening. I wouldn´t say we got drunk. We are all very tired. We just talk about our trip, experience and memories while we drink beer. I give up as the first one. We fly to Moscow tomorrow and then to Vienna. We will be home tomorrow.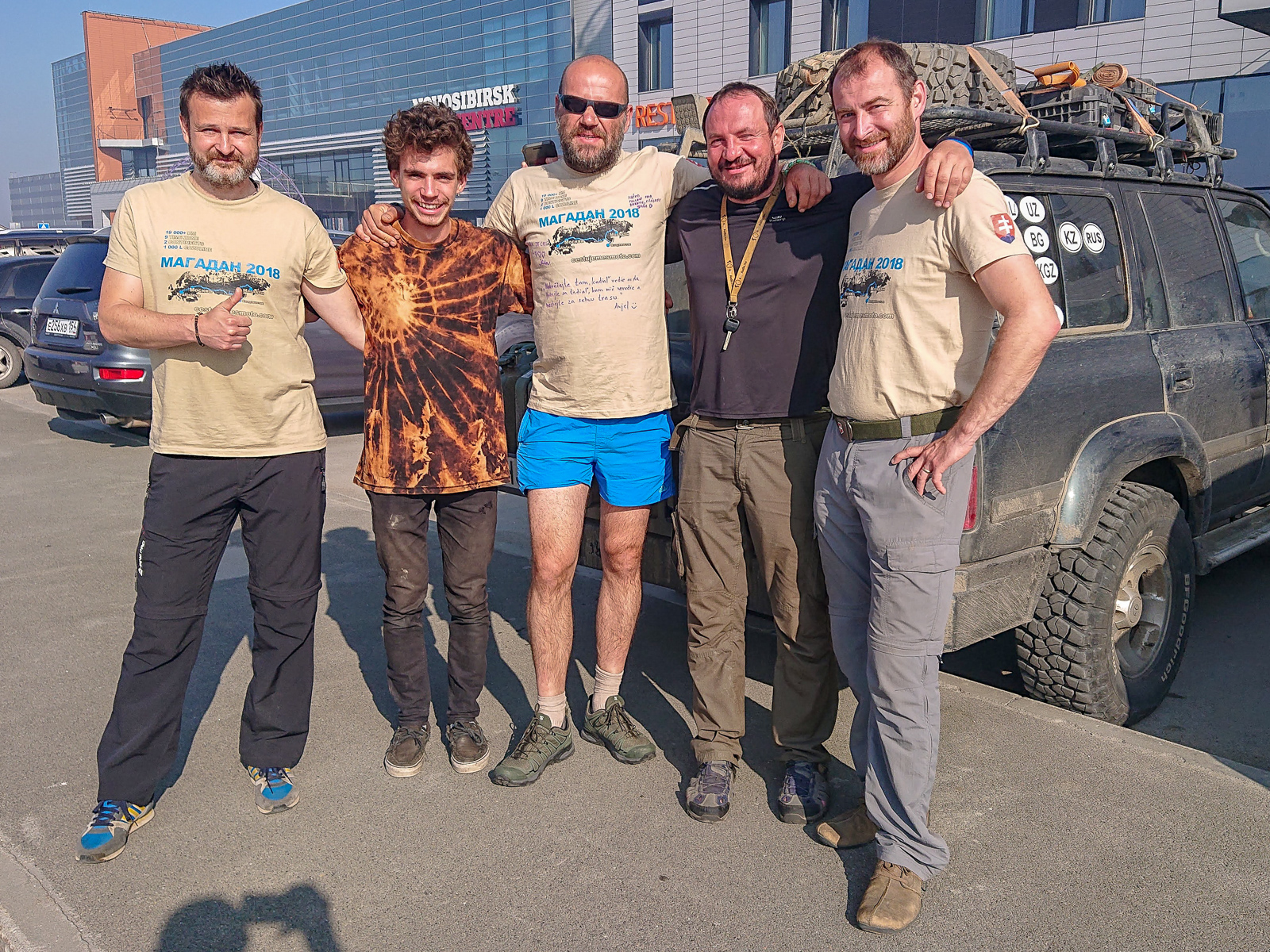 09th August 2018, Thursday
Flying route: Novosibirsk – Moscow – Vienna
41st day We say goodbye to our friends in the morning. Zsolty and David go home by car and we go to the airport. There is nothing to describe. We just move. Novosibirsk – Moscow ; Moscow – Vienna. We are all fed up with this "coming back thing". Someone is more, the other less. There are people waiting for us at the airport with a big board with the logo of the trip. The last picture, saying goodbye again and we enter the cars. Everyone goes different direction. We are from different places in Slovakia. We are home…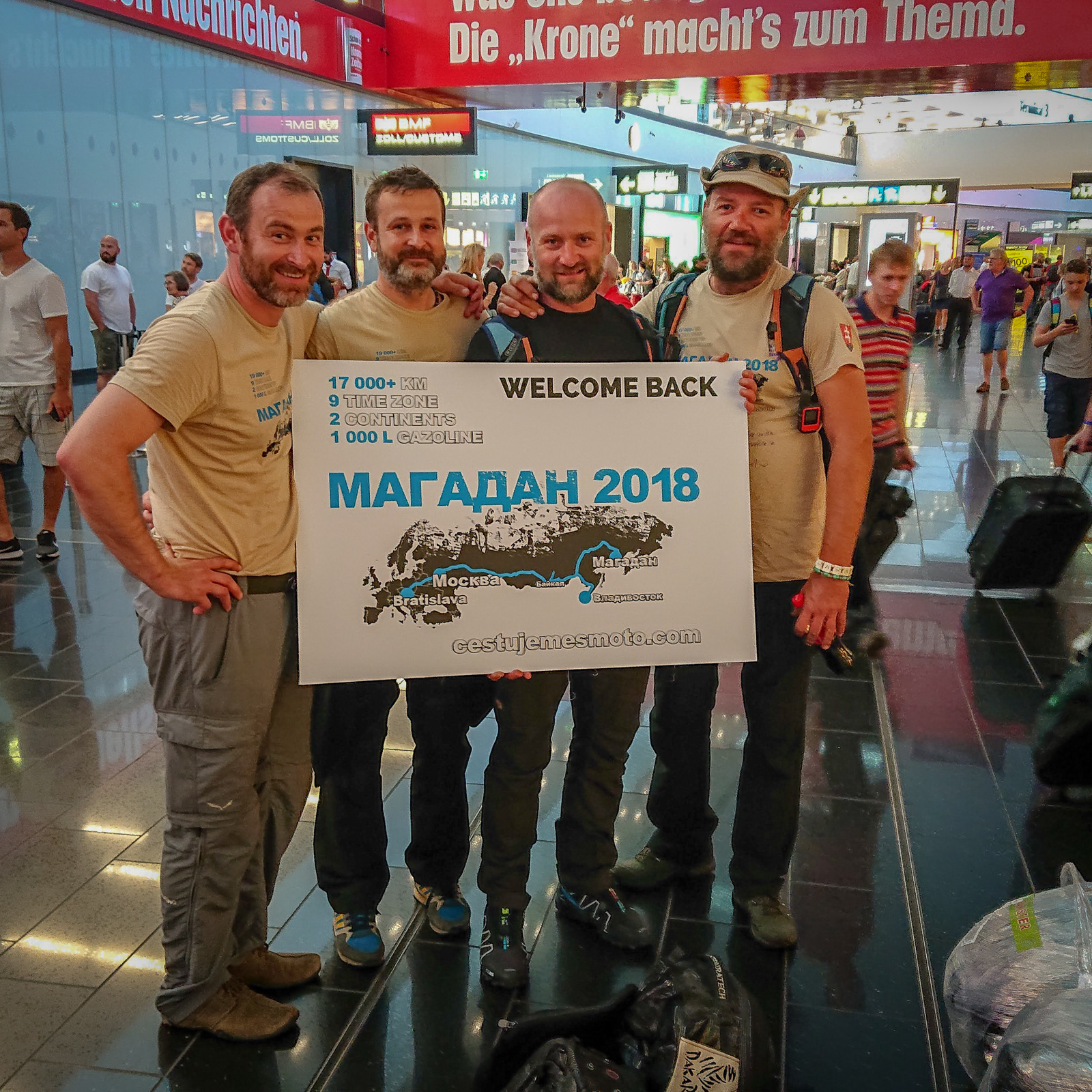 What to say in the end?
It is 5th October today. Almost two months after we came back home. I wasn't able to write because of lack of time but mainly because of my feelings. It is very difficult to describe them. They are amazingly beautiful and rich. Our trip through Russia was long, beautiful and edifying. I have always dreamed to do such a trip. This was one of the reasons why I asked the guys to take me with them. I believe they don't regret their decision and despite of all the "conflicting" moments I am very grateful.
If I would have written this immediately after the trip, it would be different. I do not mind what I say. I always express my opinion. This trip learnt me to see the life of other point of view. In more humble way. I am learning to be more humble and to change my snappishness for composure. Not to say everything straight away but to wait a bit and think of that first. To express my thoughts later by means of heart, brain and mouth. I hope I will get better soon.
Many people asked us if we got fed up with each other. . We did not! At the very beginning we said that if there are any problems or misunderstandings, we will just talk about it. We followed this rule and it worked. There were many differences but we almost always sorted it out before it became a real problem. To have a "clean table" is the base for successful trip of four people that do not know each other. Maybe you didn't know this but we seriously didn't know each other before we left. I saw Milan and Paťo like two times and I spent weekend with them before we left. Do you know what is the first sign that you are getting fed up? It is the unwillingness to do anything for the other person. We were willing. And that's the reason why we handled everything so good.
Maybe you could have seen my anger and despair in some moments of writing. Yes, there were moments when I would fight for my opinion and attitude to keep going. My head was about to explode. But after that I realized how different we are and that I cannot want from less experienced guys the same as from me and Maťo because we have long-time experience with driving in terrain.
You cannot want from the climber-beginner to reach the Mount Everest. And if I want, I can destroy it all. We are not like one is better and the other one is not. We are just different. Our goals were a bit different as well. Milan and Paťo were ok with getting to Madagan but Maťo and me wanted more. We didn't get more but despite of this fact we achieved a lot. We travelled through beautiful country with even more beautiful people, to Magadan. We were able to function as normal guys for six weeks, 24/7 and without fighting. What is more important: we were able to do so although we perceive the world in different ways.
I was like a zombie when I got home. I am not talking about a day or two… It took me two weeks (and I'm still not ok). I didn't want to communicate with people. My body was here in Slovakia but my head was still there. In Russia. The process of coming back to reality was very difficult and lengthy. It was not easy to accept the realized differences. I have to admit that I am not able to watch evening news any more. What for… They just tell us lies and misrepresented opinions not only about the Eastern world. The information they give us has no significance. You will not find anything nice and kind there. Look at the fairy tales that our kids watch. It is full of aggression, violence, fight and death. Fucked up world…we were shown the direction and chose badly.
If you want to travel then travel. Fulfill your dreams no matter what. Have your goals. You can travel in many different ways. Our trip was planned almost until the last minute and that is not good. To have a plan and to have a planned trip are two completely different values. Today I know that to go for a trip to Russia you need three things: visa, credit card and time. Money is relative but you really need a lot of time. Many of you called us "heroes" in the statuses that guys put in all of the social media. I do not like this name and I do not deserve it. I do not feel like a hero so I cannot accept that. I don't want to disparage our trip but it doesn't deserve such name.
People made similar trips in worse condition than we, went through more difficult moments and spent much more energy. And they are not heroes. We met a guy who went on the same trip but on his own. Without two years of preparation, without the best technique, without the newest motorbike. It was just him and his beloved old motorbike. He did what we did but there is one difference. He managed to do it on his own. This is something that deserves appreciation. But not as a hero. For me a hero is a person who scarifies something from himself for other person. Not the one who scarifies something for himself. Not even Kubo is a hero although he is very extraordinary. I admire his performance and I find it more valuable than our. We met in Magadan and I would say we became friends. Kubo, thank you very much. Yo have all my admiration and respect.
I fell in love with Russia. We didn't experienced anything negative during all the 40 days of our trip. No envy, anger, grievance. We only felt goodness and kindness in every single moment we spent in this amazing country that is full of such a good people. I do not want to speak highly about myself but I travelled a lot. I met different cultures and many kinds of people. I know people that are wise, educated, I lived in primitive tribe in Indonesian jungle between shamans…but the concentration of such beautiful and varied country with its people that I experienced in Russia was the strongest one for me. I remember when I came back from the Caucasus expedition in 2012. I was charmed and full of values. The same country, the same feelings after coming back home. Coincidences do not exist.
Russia offers never-ending option for travelling, not only on motorbike. The values or experience are different. The are more full. Maybe it´s because of the good people that live there. I never experienced anything similar and this is the reason why Russia won my heart. I know it is necessary to go back there. Not because we didn't cross the old Kolyma Road, but because my inside world needs it.
And while we are at home lets´s try to be more tolerant to each other, let´s notice the needs of other people, let´s wish joy and happiness to each other and let´s not envy to each other. There is one rule I like: the system gives you back what you put in it.
Thank you Russia, thank you Magadan, thank you guys!
Read also…