12th July 2018, Thursday
Route: Novosibirsk – Ačinsk
Total km: 7219
Mornings are the same. We wake up at 7 AM, then we have breakfast, pack the things and leave. We do the same for almost two weeks and we still have many weeks to come. For now we enjoy the comfort of hotel room but we know that this will not last long. But I have to admit that for now all accommodations but one were very luxurious for what we need. Always clean and the people were very kind.. They appreciate their guests.
The mood is great, I slept very good and I enjoy the day. The land is covered with coniferous trees, it smells differently. The never-ending fields changed to never-ending forests. The forest is everywhere! But it is not the same as in Slovakia where the maximum you can see is one kilometre to the distance. This flat land is slightly waved and it seems like it never finishes.
The road is more winding, the fun can start. Approximately 30 km long part of the road with new asphalt makes me to have a field day. I have to grind the edges of the back tire because it already has mark from the flatlands. I overlie the motorbike and I leave the guys behind me. The drive was awesome, abrasion is on 100%, the tires are strong. It is only the weight that makes to wiggle sometimes. I drive through the beautiful and long curves in 150 km/h and I can finally grind the tire. After I finish I can see little cottage. I stop and I want to have a fag thinking that I have time. Guys probably didn't mind about consumption because I did not have time to light my fag. Marty does the same in the afternoon. Today is definitely a field day. 🙂
We leave the petrol station in the early evening. We have 15 km to reach the hotel.
After one kilometre we cross the cross road. In the opposite direction line I can see a beige car that does not move. I am the last one and in the moment I am passing by the car I can see a white van that crashed into the car. I can see a lost of dust and wrinkled cars in my line. If we go 2-3 seconds later we would have a problem. I raised my head to the sky and I thank the universe.
We reached the hotel through dirty industrial zone. I do not like this. In the end of the zone I can see nice hotel with tidy courtyard. The receptionist is young and beautiful girl with black hair called Darja. We pass her our passports and until she makes copies we cannot stop looking at her. This happened fast so we better lave to the rooms to have a shower because we stink.
Paťo relaxes in sauna and we are in the bar writing all the memories down. The waitress is a very kind lady who solved Marty´s problem with internet and at 11 PM she prepares delicious dinner.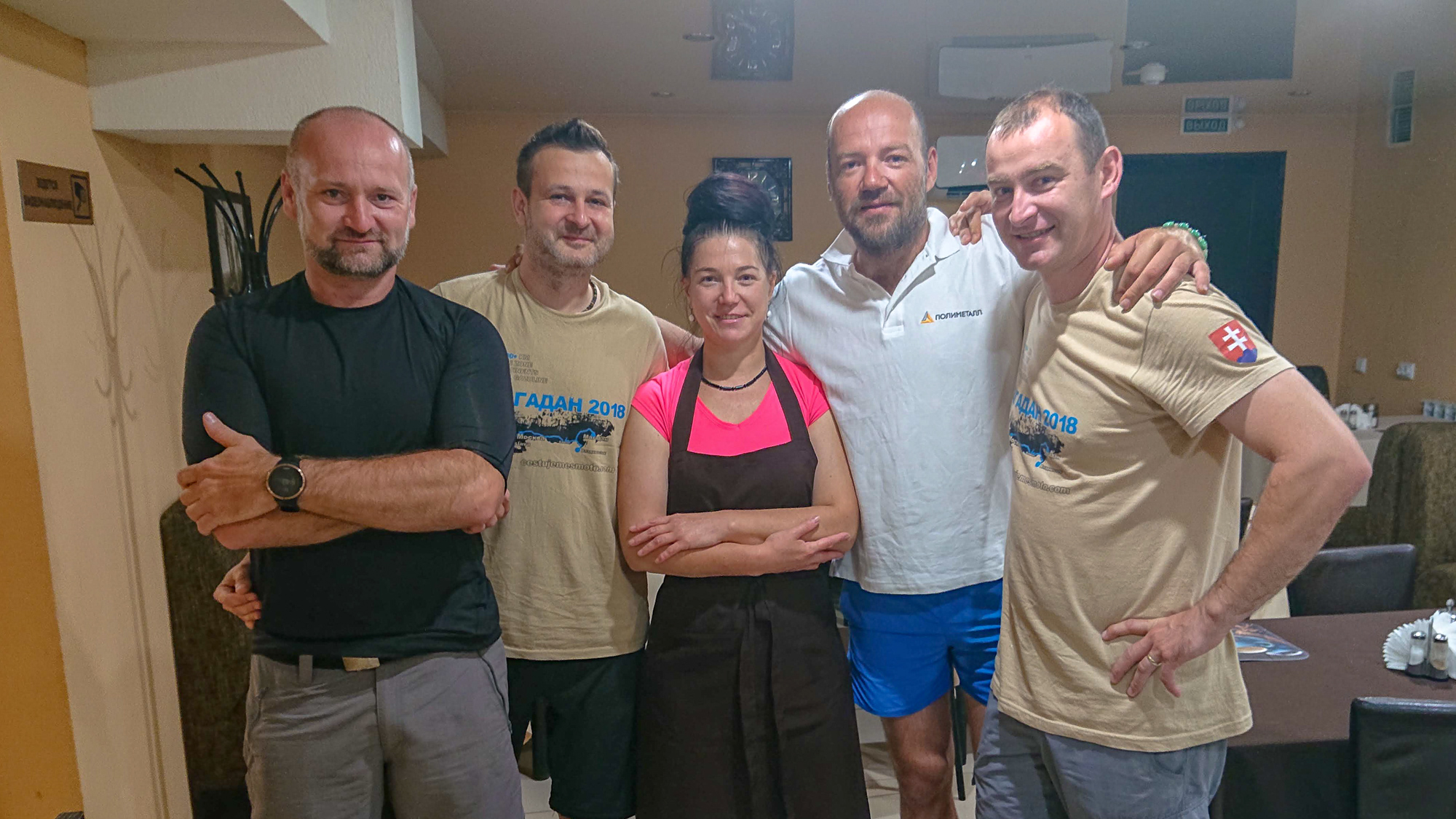 13th July 2018, Friday
Route: Ačinsk – Polovino Čeremchovo
Total km:  7 881
We have been travelling for two weeks already. We travelled a small part of our journey and we experienced a lot. Before we left all our friends were asking why Russia because it is dangerous country. The preconceptions showed that we are going into the land of murderers and bad guys. We have not met a bad person yet. Not a single one! Everyone just asks us where we go, where are we from, if we are ok and if we need anything. And in the end they wish us a safe trip home. One can envy their humanity and honesty.
Something magical happened to me today. I met an angel. Shortly after we started the day I enjoy the land when I can suddenly see a good idea to take a picture. I stopped the motorbike next to the road. The guys continue. I take the camera out, then I take the picture. When I pack it all back, a very old lady on bicycle stops next to me. She carries a lot of baggage. I was staring at her, thinking if she just fell from the sky because I have not noticed her before and she just suddenly appeared. Next to me. She asked me where am I from and where do I go. She said she went to Magadan as well in 2011 but she did not finish the trip. I ask her the same questions. I didn't understand where she goes but she started from Moscow. She has already made 4000 km and she continues. She is 80 years old. This information stops my brain and I cannot stop staring at her. I take the camera out again and I ask her if I can take a picture of her. She does not have problem with that and she poses proudly. i say goodbye with shaking her old hands, she made me a cross on my helmet and wishes me safe trip home. I leave with tears in my eyes and goosebumps. I say to myself that if guys did not see her then she must have come from the sky straight to me like an angel to Buhuš in Kurva hoši (very old Czech comedy) with some message. The fact that they did not see her does not mean that she didn't leave a message. I thank for this strong experience and I can still feel its impact on me.
I reached guys who stopped next to shop with stuffed animals. The bear skins costs 100 000 roubles (1400 euros).
To brighten up the day, Milan takes us with other road that is winding and we enjoy the ride. The surface is not that good as yesterday but the safety is on the first place. Despite of this we enjoy the curves. We reach huge dam. There is safety fence everywhere and the guarding base makes us to have respect. We run around with cameras and I took a picture of the base. Suddenly a soldier comes out and he wants me to come to him. He makes me to delete the last picture. I do not mind.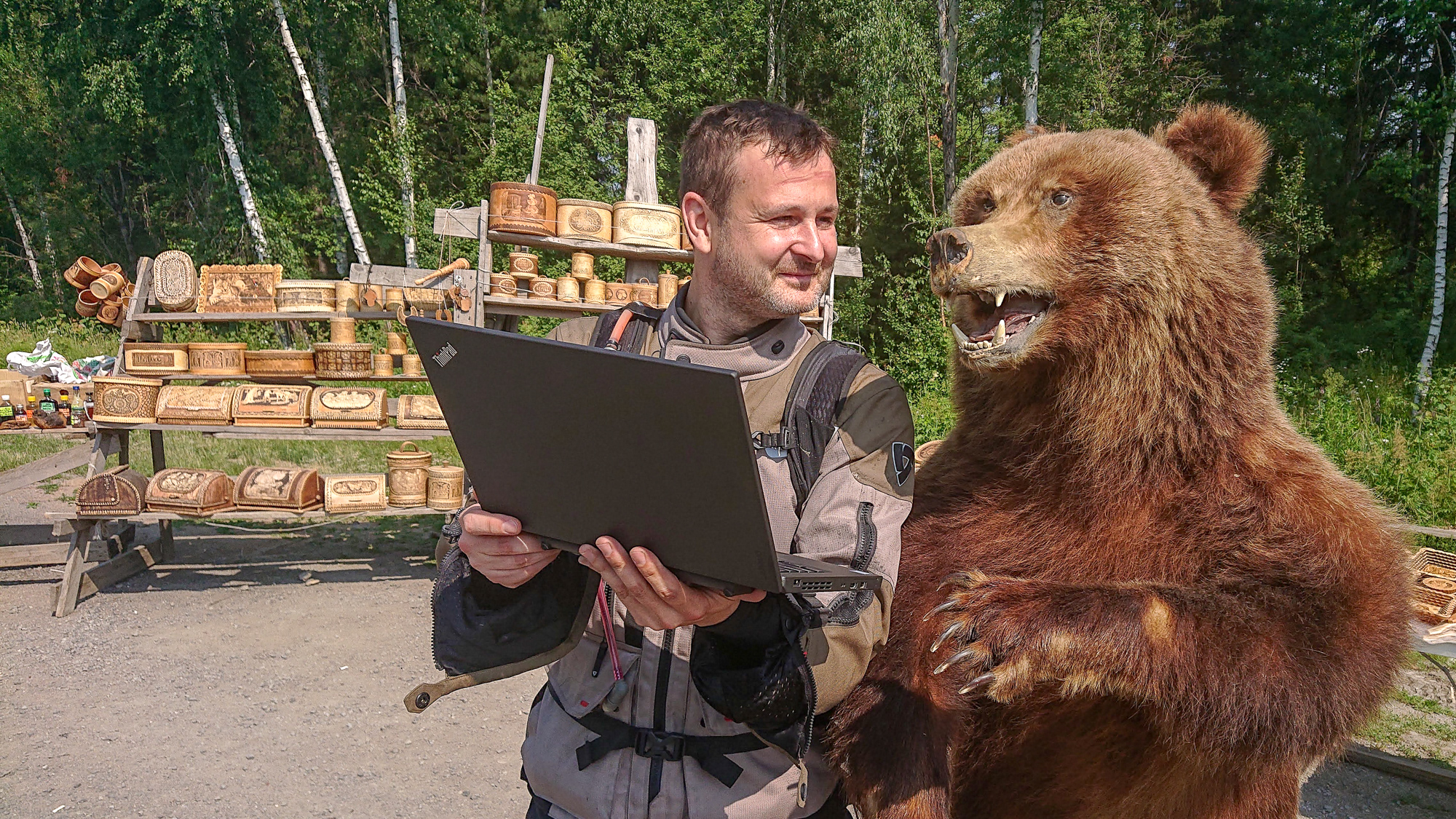 After a week of driving through flat land is this coniferous land full of villages with little tiny cottages something completely different. We are tired after 600 km but when we see the information board about entering the Irkutsk Oblast. We just pass by but then Marty looks at me in the mirror and he expects my reaction. We agree, turn around and pose. We have fag watching the sunset and on the board with stickers from all the travellers we put ours as well.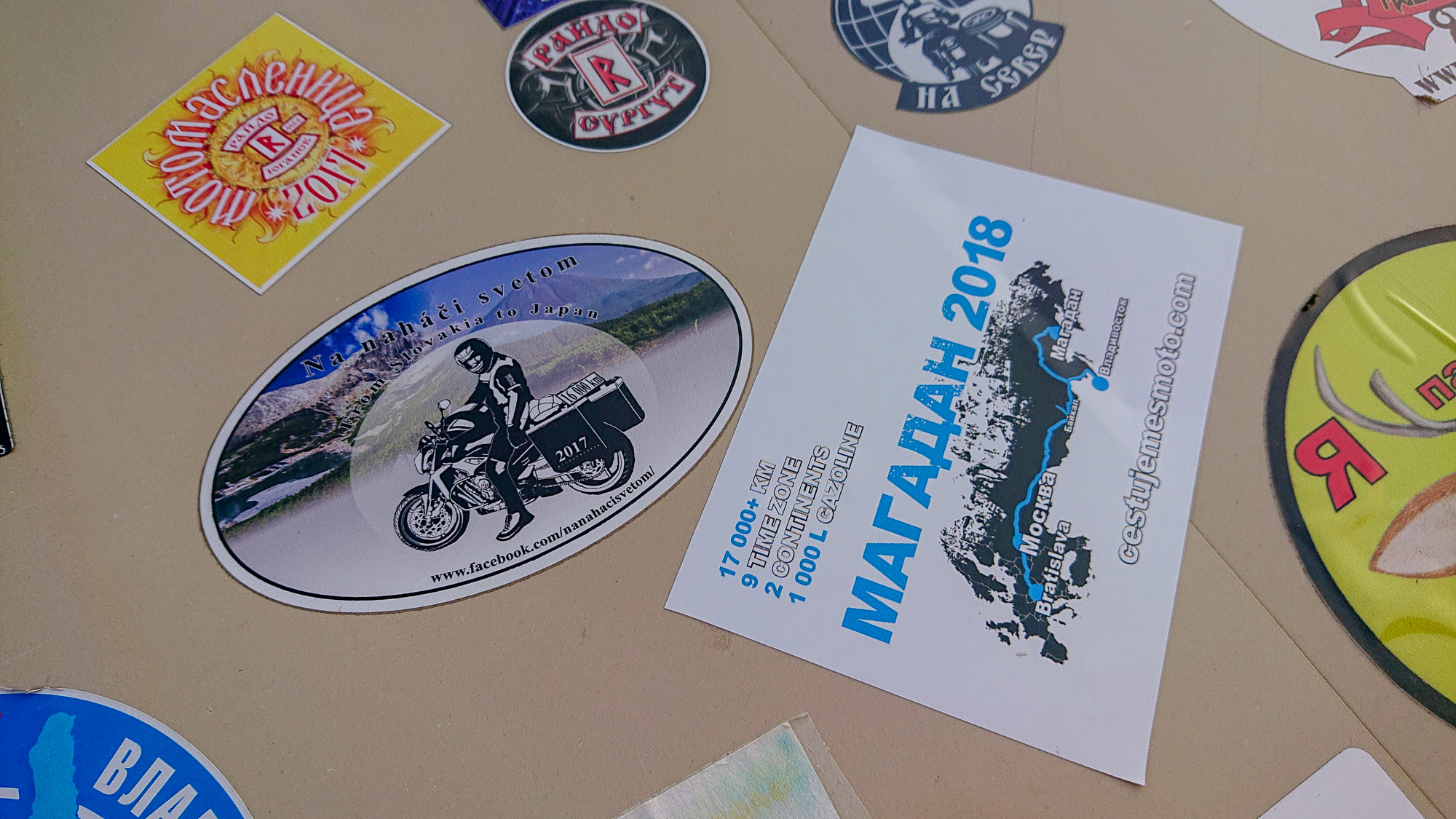 We finish this beautiful day in a hotel next to petrol station. There is wash in front of the hotel and the motorbikes are given a little bit of love. An alabaster lady cleans the bikes off the toxic waste for 150 roubles. We will smell nicely tomorrow. It is still 698 km to Irkutsk and other 80 to reach Baikal lake. We would like to do it in one go and camp by the lake. Wish us luck!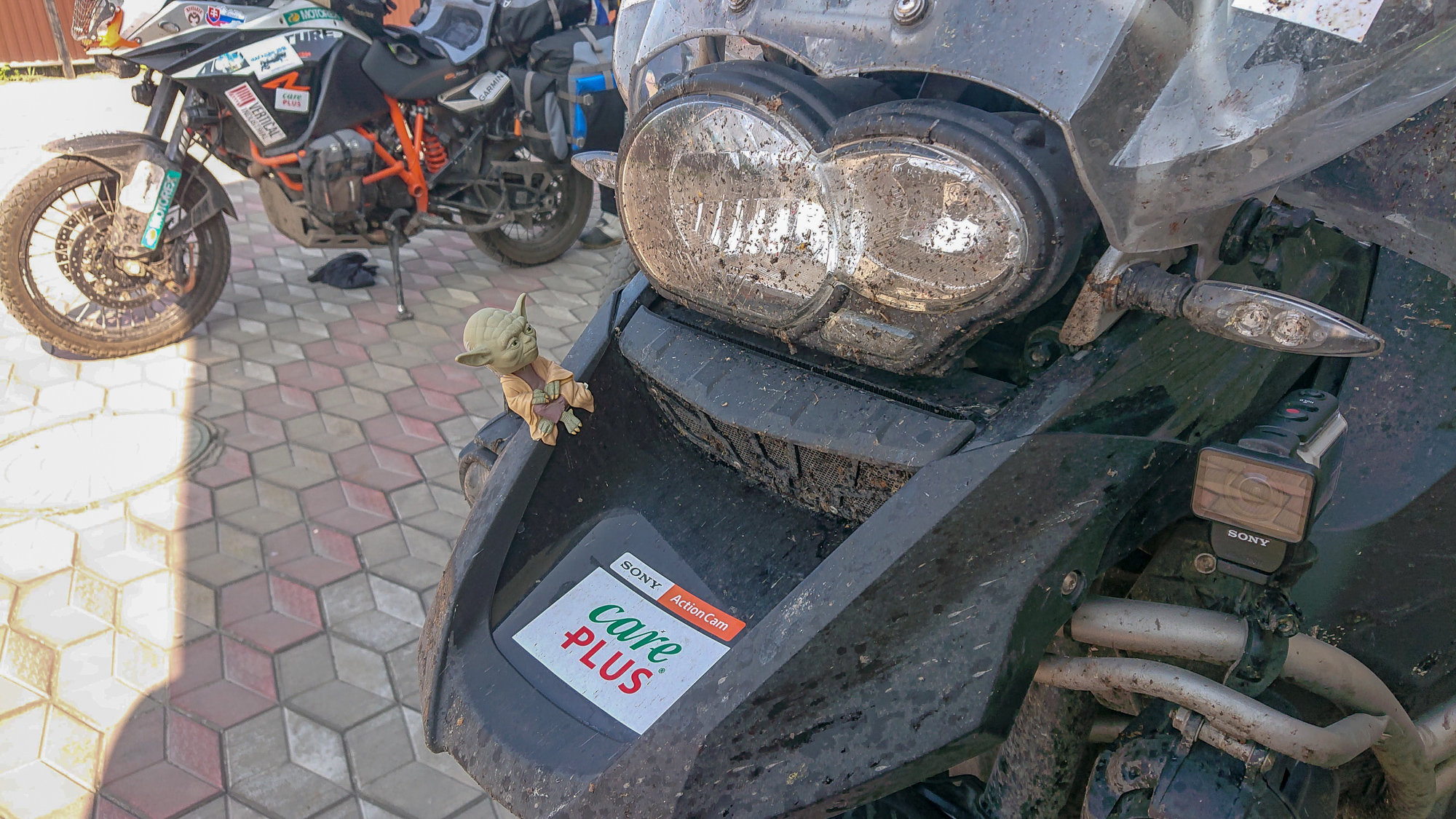 Route that we've made during "this article"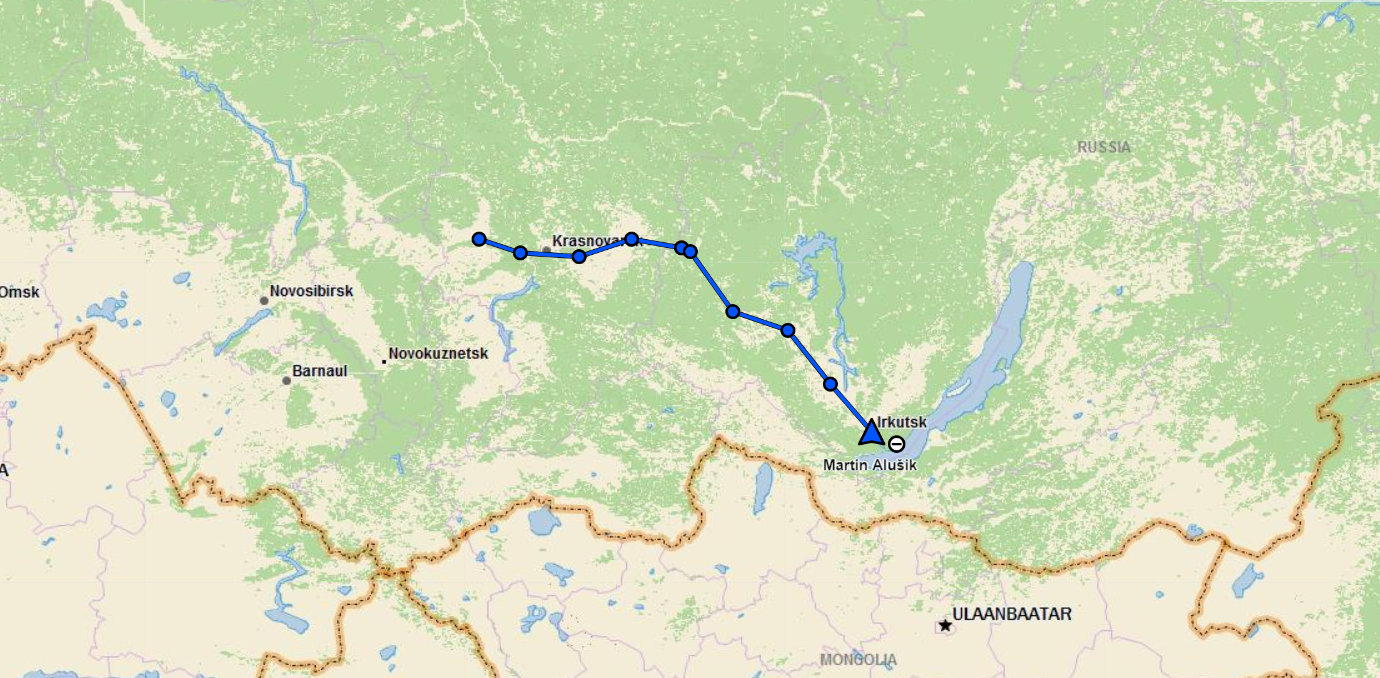 Read also…