15th July 2018, Sunday
Route: Irkutsk – Sljudjanka
Total km: 8 883
We have two days to spend around Baikal. We enjoy the opportunity to sleep more. Around 5 AM I woke up because someone knocked on the door. I open the door with closed eyes. The receptionist explains that we have to re-park the bikes. I come down and…of course….Paťo parks like a boss and I have to sort it out. I move the motorbike and I go to bed again. I hope to fall asleep again. At 8 AM I woke up again! Someone knocks on the door. I go to the door….if it is Miňonka with breakfast I will kill him. It is the receptionist again….with breakfast to the bed? Seriously? I take the tray, I put it on the table and….just leave!
I wake up at 10 AM, we pack and leave the hotel at 12. According to GPS we were found by Janko Manca from Banská Bystrica city who travels around the world as well. He joined us and we leave to Baikal.
It is 80 km to reach the biggest reservoir of drinking water, to the deepest, the biggest and the oldest lake on the Earth. We came there after 45 minutes of ride. I will remember the song that was playing in my helmet till the rest of my life. Marty connects with communicator and I ask him to disconnect. I want to enjoy this moment on my own.
I realize where am I. The place I read about and dreamed off. After such a long journey on motorbike, my love, I can see the greatness of Baikal lake. I can feel its closeness through music and slow ride. I drop a tear realizing the strength of the moment and distance from home.
We enter the tourist area. We buy different types of mackerels on the market, some round bread and we go urgently to the beach to eat. We sit on the stairs next to the picnic houses and we eat. Baikal is such a attraction for us and I think that we are attraction for Baikal.
We try to think of the possibility to take the ferry to the East seashore. We are told that there are no roads so we have to go back to Ulan-Ude and continue underneath the lake. We wanted to rest today but because we keen on camping by the lake shore so we have to go closer. The road is joyful and winding. The side bags are about to touch the road when we take the curves. We are enjoying a lot.
Miňonka suggests to sleep in yurt. I have never experienced that so…. let´s do it! We got lost for a moment because of the wrong position on the map. After we spoke with the host on the phone we decided to wait for her to come and pick us up.
The accommodation is awesome, colourful, nice, cosy and different. The host lady cooks dinner and the host man prepares sauna. This activity is a chapter on its own. We are always offered sauna, we order it and it is always Patrik Problematik alias "Chaker" who saves the situation. We do not mind. Thanks Paťo! Why Chaker? They asked us somewhere what we do. When they heard that Paťo is IT specialist they simply said… "Chaker"… in our language Hacker 🙂
16th July 2018, Monday
Route: Sljudjanka – Babuškin (v stanoch pri Bajkale)
Total km: 9 091
We wake up to rainy morning. We put waterproof clothes on and leave. It doesn't take long and the sun dries our clothes. Today we want to camp and rest. We did 200 km with the finger in… The nose. Around 3 PM we find nice place where to camp, only 20 metres from the shore. We set up the camp, cookers and we cook soups. Marty and Paťo do disco with two speakers. The mood is awesome and the weather cannot be better. Our tents are set next to pathway to the lake so sometimes the people who live there pass by. They stop, talk and never forget to wish us all the best. After such a good lunch, soup and can with horse meat we leave to the nearest shop to do some shopping. I mean…the wine. We need it for the evening mood. We use the time to get the wine cold for bath. Naked… obviously. The water is fresh… I mean if you look down it´s approximately 3 cm.
The wine did not get that cold but that's ok and we open the first bottle. We stand on the shore with the glass in hand, we enjoy the sunset. After such long and tiring days it is more than welcome. To leave the motorbike after 3 PM and not 7 PM is like to run away from school.  Milan, who does not drunk that much and talks lot after first beer, leaves as the first one. This youth… We talk until the fire goes off. I think it was because of the horse meat. It was amazing day! Baikal is charming…
17th July 2018, Tuesday
Route: Babuškin – Sosnovo Ozerskoe
Total km: 9 589
When setting up a tent it is important to choose flat and elevated place. It is difficult to sleep in inclination and we cannot talk about rest. Colleagues make noise from the early morning. I planned to take pictures of the sunrise but it was quite difficult with closed eyes.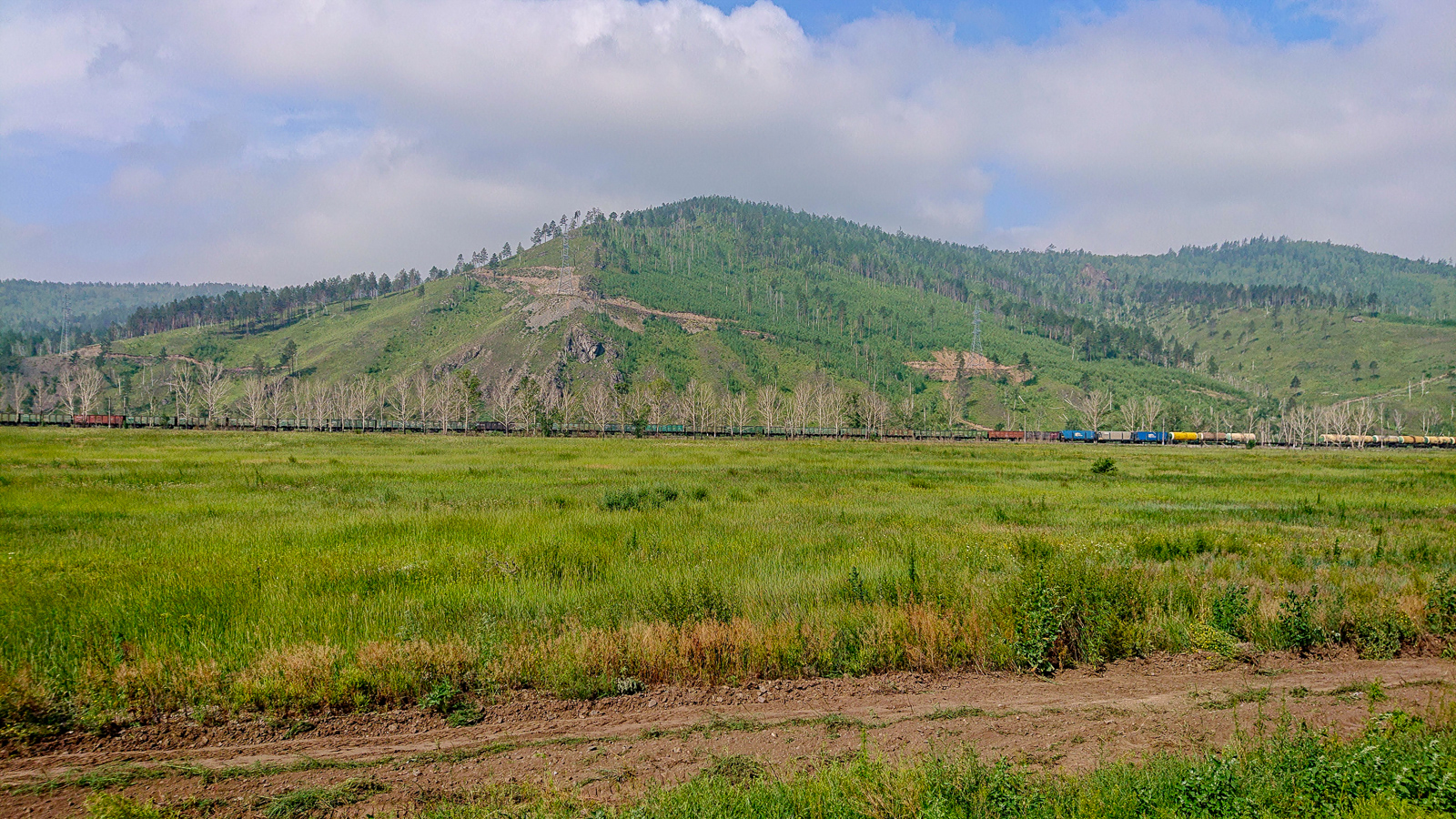 Our direction is Ulan-Ude. With dynamic ride we enter the city. Milan agreed on meeting a "Finish guy" who is in the town and he is on his way back from Magadan. We have lunch and we try to get all the necessary information. He still has protective spray for bears and he changes it for Marty´s Camelbag. That is not a spray, it is small fire extinguisher. I am afraid that in case we have to use it on a bear standing in head wind it will finish that the bear will run away because he will feel sorry for us.
When we leave the town, my lights go off like a discotheque. I have puncture on back tire again. It drives me mad. Fortunately I can see the tyre repair shop nearby. We stop, the bike has its service and I can take a nail as big as Kain´s consciousness from the tyre. The guy does his job, it seems ok and we can continue.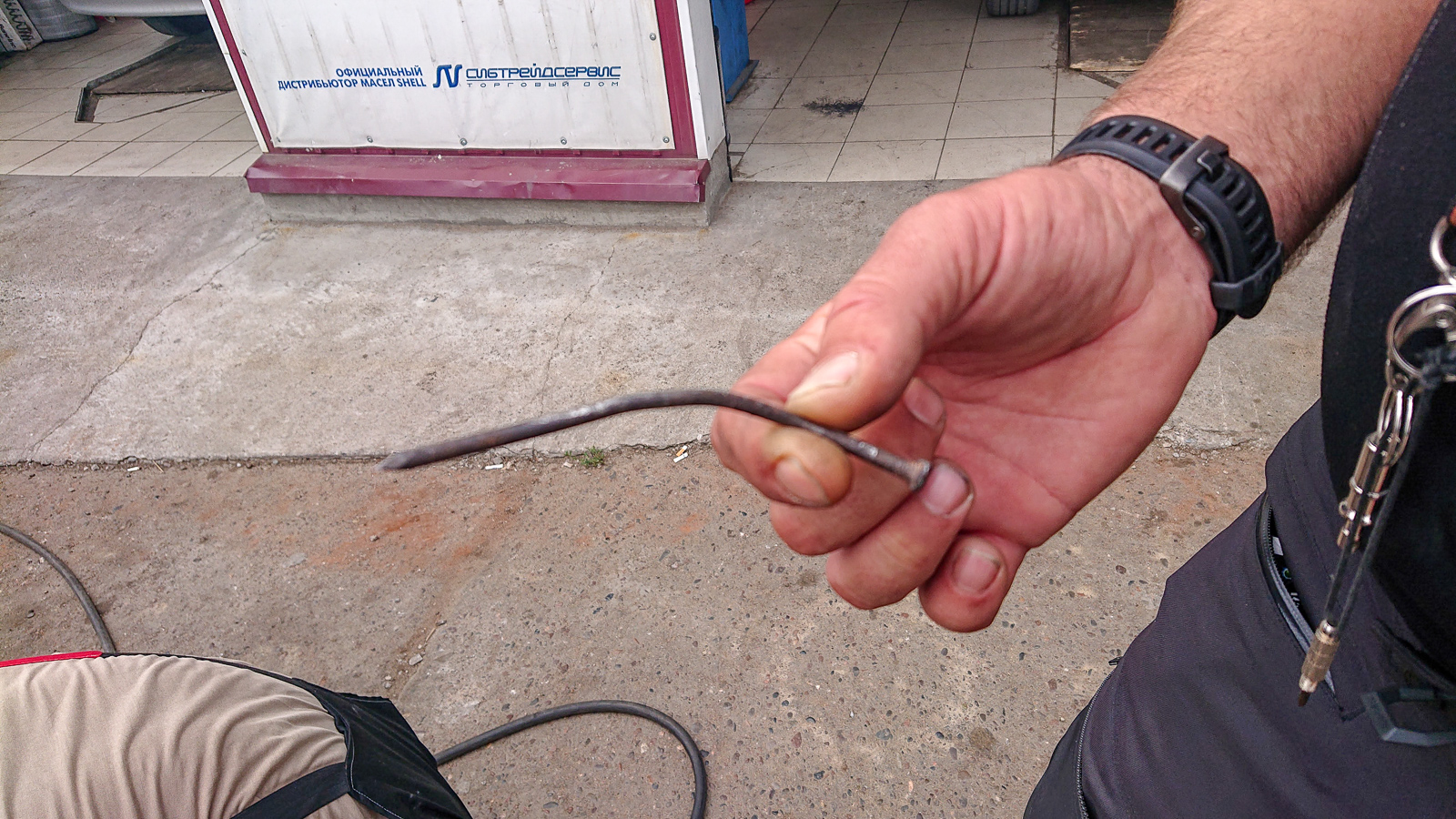 This part has a name of "Milan, Google and his shortcuts".
Milan alias "Tribal Chief, The Little Lighter" says: I found a short cut to Chita…..minus 50 km that means 20 minutes saved. Well…let´s try it. But it was a mistake. The beginning itself was quite weird. We did not hear to ourselves and it cost us the whole day. Although I am very thankful.
Yesterday we said that if we find an exit from the main road to some village we will stop and have a look around. We want to see the village life as well. The look into the exit always seems like a look to nowhere. This road is only 20 metre long with asphalt and after it is only muddy lie between the trees. Our wish has come true. The short cut is broken asphalt at the beginning but afterwards it is only in picturesque villages. We are passing through amazing country. The rain makes us to stop in little shop, the shop assistant makes us a tea, we have cake and then we continue. From this moment it almost always rains.
The only hotel is "U plukovnika". We named it this way because it could be seen, it is gonna be strict here. And it was. Former soldier with his friend gives orders ad one could feel their military background. While cooking a soup they start to talk about the politic situation, they agitate for separation of Zabaykalsky Krai from Russia. On one side they are very kind and able to kill the ram for you but on the other side one can feel the ability to hurt someone while reaching their goals. I think that this phrase says it all: "Tell all the normal people: if you want to fight, we will fight. If you want friendship, we will be friends!".
18th July 2018, Wednesday
Route: Sosnovo Ozerskoe – Čita
Total km: 9 891
We have problem because of the yesterday´s puncture. We come to the garage, I take the bike off the stand, I move it and look on the tyre…empty. Maybe it is a valve or weak leak of air. We push some air inside and it seems ok. We say goodbye to colonel and we leave the village in waterproof clothes.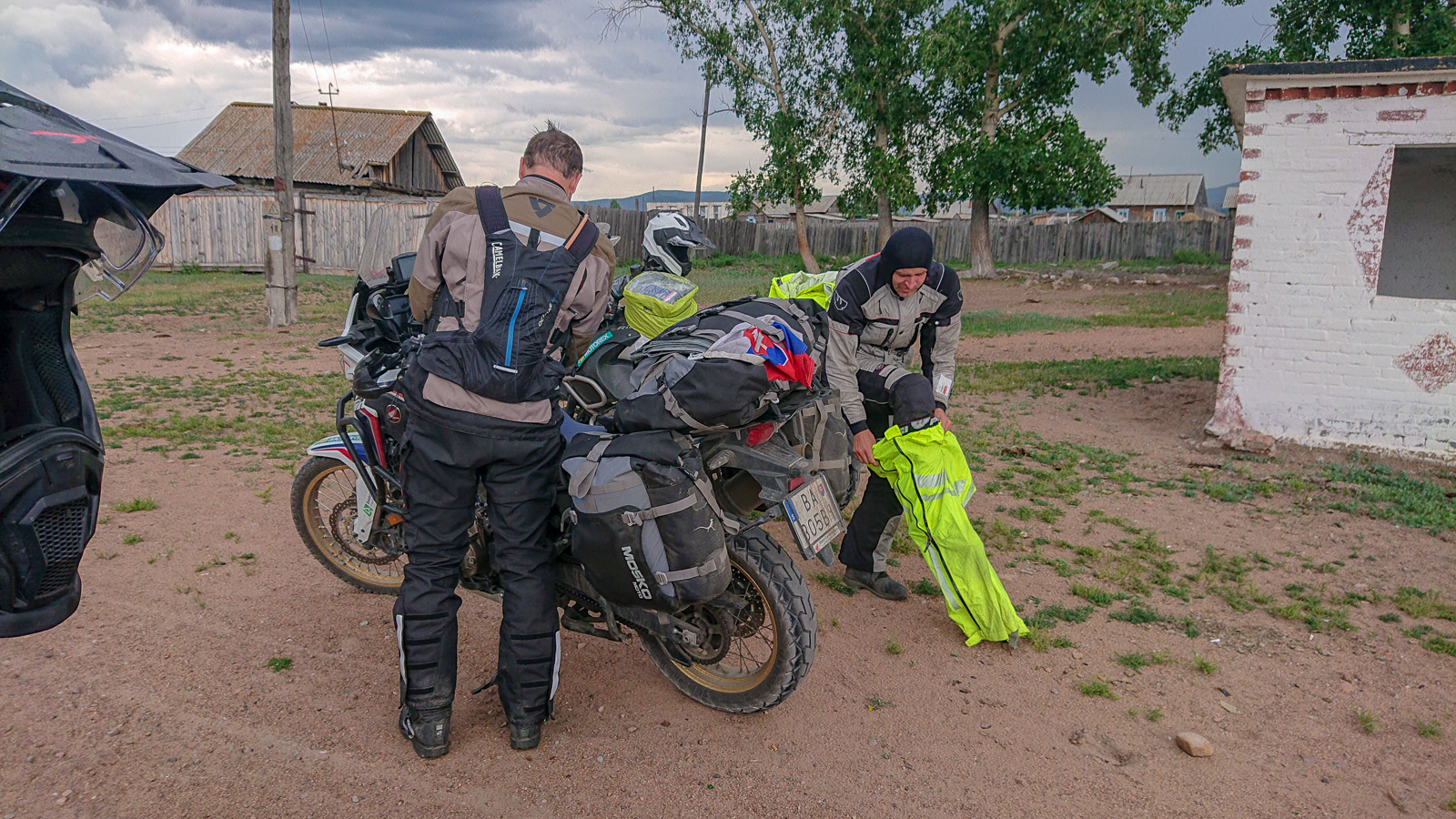 Behind the village there is no asphalt, only its fragments, mud and sand. Fraction 0-4 mm. It has not rained yet, the road seems to be wet from night rain. At least it is not dusty. I press the accelerator and I loose guys. Finally offroad. I do 110-120 km/h and the motorbike beautifully eats the holes. I stop and turn the offroad mode on to have even more fun. And then I realize how slippery and unstable this surface is. The tyre gets slippery and I try to go but in 80 km/h speed and all the baggage it is a suffering. TKC 70 is not exactly a tyre for mud. The fourth gear is not available? Doesn't matter! The fifth one is! From 100 km/h speed the motorbike gets stable and I can continue.
It started to rain, I saw rest area and I smoke while waiting for the guys. Paťo Chaker with Milan The Chief come in good mood but Marty is a little bit shaken. He got into a skid, he checked both of the shoulders and according to his intelligence he managed this situation. I got a bit scared and my ride is much calmer. The road gets more wet, broken and muddy. We try to avoid the rails from the cars. There is 3-5 or up to 15 cm of mud between the rails. This shakes the whole motorbike. We can continue only with footrest. The ride is "funny", I balance a lot. When we finally can go faster we have to stop because of big holes that look like a traps for mammoths. These tyres are not for such surface. The ride changes to fight for every kilometre. It took us 3 hours to do the first 100 km.
We stop on petrol station where we fill in the 92 petrol for the first time. The output seems the same, it is only a bit different with the fifth and sixth gear. The back tyre went from 2,9 to 2,2. Very good for such a surface. While resting next to small village shop we are told very good information. We have 90 km left to reach Chita, 30 km is mud but 60 asphalt. We measure every kilometre. After 32 kilometres we have solid surface! The Chief kisses the ground and we do not mind about any little damages. The joy is huge.
Yesterday I mentioned my gratitude for this road. It was difficult and sometimes very easy to kill ourselves. It was a test for all of us. Paťo and Milan gained new experience and it gave us a lot of necessary information for next days. It is more than clear that to do Kolymska road with such a baggage is crazy. We stop before Chita to take a picture. A group of young boys gives us 1,5 L of beer and railwayman cap. Quite difficult to pack it.
We are nicely surprised by a guy who offers us accommodation in his house. There is no free space in hotel. We have the same feeling from a taxi guy because we sent him to buy pizza with money. We gave him 2000 roubles and he arrives with dinner. Almost like in Slovakia. Today was a never-ending, difficult and beautiful day. We passed the test without falling, mental or physical and we are very proud of ourselves.
19th July 2018, Thursday
Route: Čita-Mogoča
Total km: 10 511
The back tyre is on 0 with pressure. I push some air in with compressor and I dream off the idea that this tyre can do other 900 km. The morning plan is clear. Go to car wash, get rid of all the shit and leave ASAP. While leaving the hotel we still do not have the necessary permission of residence. We use the time to clean the bikes. After an hour we are back in hotel and it takes another 1,5 for the girls to bring the necessary documents from the police station. I look at the back plates. They are very used so I decided to change them. We leave at midday and quite nervous because we lost half of the day.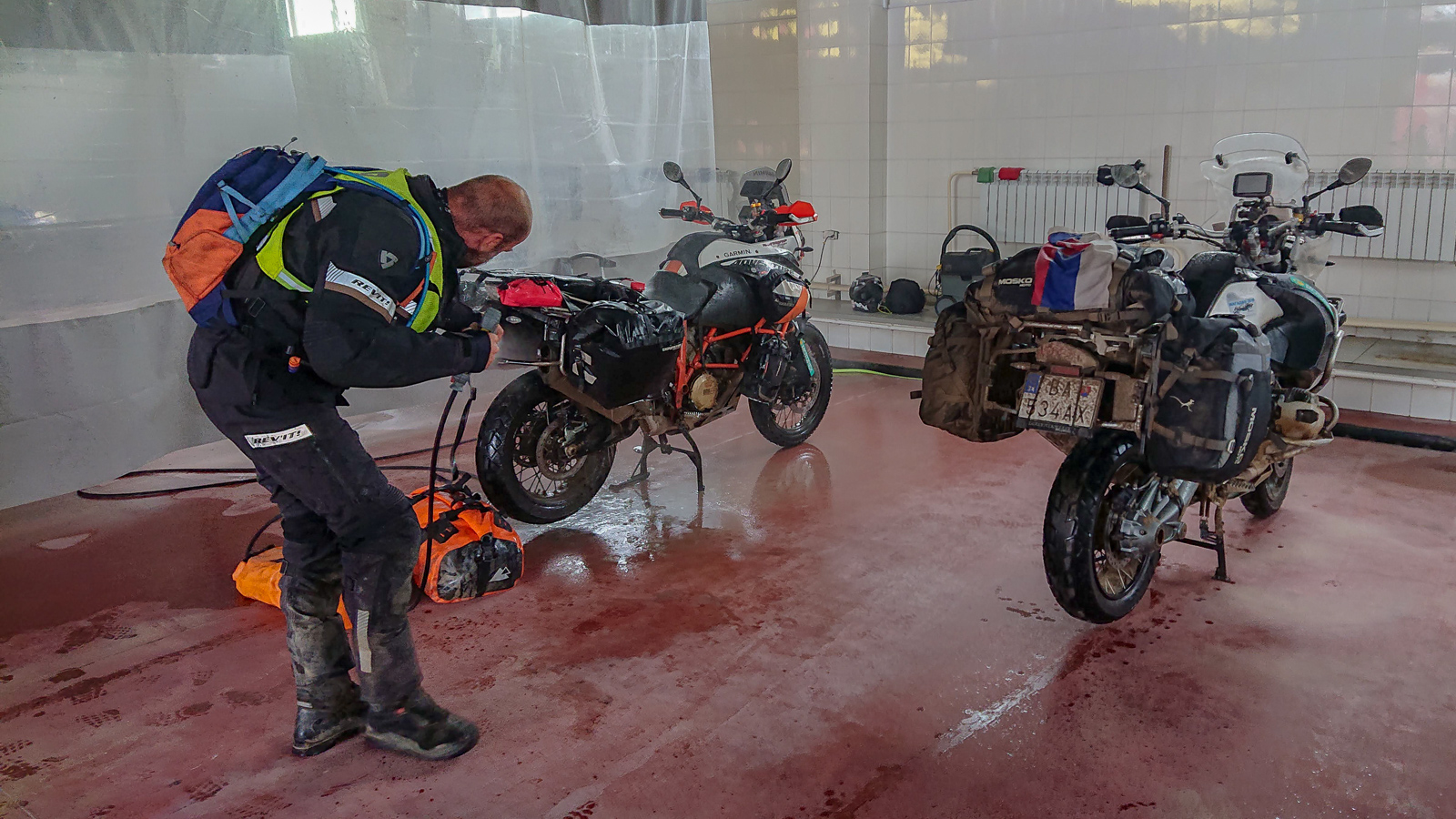 After the first stop it seems like Paťo took some drugs or on the 20. Day he realized where the accelerator is. Paťo does 150 km/h! We are behind him and we do not understand. Today is his day. He was stopped by the second break on petrol station where we found out that his front silencers are broken. We take the dirt out and we continue. My standard on every break is to pump the air.
At 6 PM we stop to get coffee approximately 120 km form the town where we want to sleep. The tyre has no pressure and the hole gets bigger. I try to another wick there. We pump the air in, it does not leak so we can go towards our goal.
We arrive to Mogocha city in the evening very satisfied with done kilometres. We stop next to bikers who take us to petrol station, cash machine and finally to recommended hotel. We talk for a while with very well deserved beer. After they left the host makes us dinner. She even put a shorts on. It was more like a wide belt then trousers. She has beautiful legs but… Not for us. We are very tired and we go to bed. We have to solve Paťo´s silencers in the morning. The oil leaks from them.
20th July 2018, Friday
Route: Mogoča – Skovorodino
Total km: 10 870
I am not surprised by flat tyre. I try to talk to her to handle other 350 km.
The last chance of how to deal with broken silencers is to clean completely everything including the internal gufero. If this does not help then we have a problem that we do not know how to solve. We are in a hurry because by 5 PM we have to be in Skovorodino city and take the tyres from post office. Weekend starts tomorrow and we do not get them before we would have to wait until Monday.
The good news on the first petrol station is that the silencers do not leak. Chaker is in much better mood now. The bad news is that after few kilometres I stop in rest area with decreased pressure in my tyre and increased pressure in my head. I think that the 150 km/h speed was not that good for the tyre. I try to put there rubber mushroom. Nothing helps. The Chief is very nervous about not getting to the warehouse on time. The only solution is to attach the inner tube. The wheel has to go down and the compressor has to start working. When it is that hot that one can make well done fried eggs on it because its pressure is not enough, I ask a truck driver for air. He pumps 6 atmospheres in and that´s it.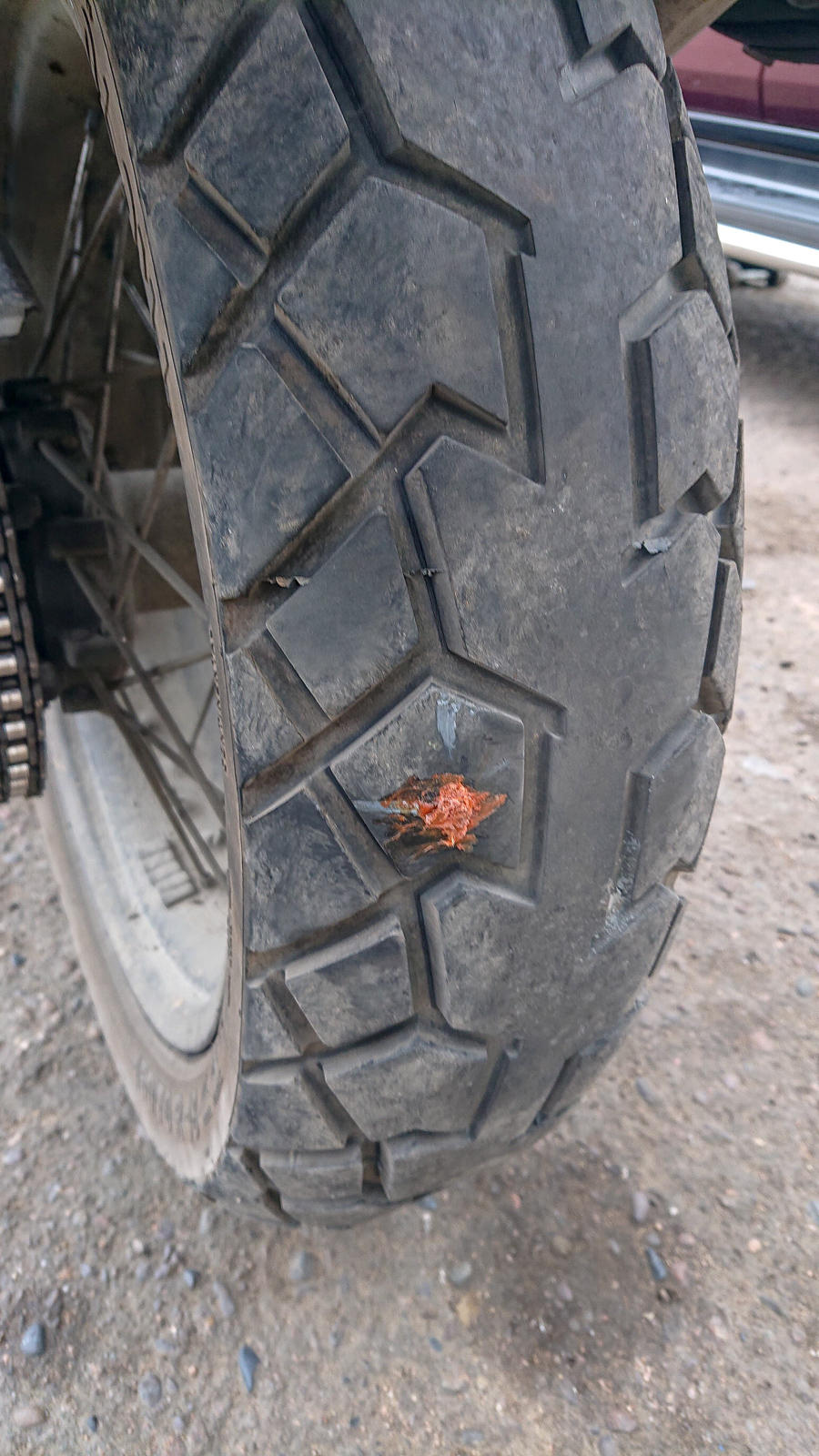 We lost one hour. We try to compensate it with not exactly slow ride. The weather is awesome and the nature is beautiful. We cannot say the same about the road. A cross undulation is very characteristic for this road. Sometimes it is fluent, sometimes it is not and sometimes you have to get into footrest. We do 120 km/h behind Milan. The order is me, Marty and Chaker. Suddenly I can see, not a hole but dented rail in front of bridge dilatation that was getting deeper. I just slightly put my bum of the seat and I fly. The legs loose contact with footrests and I find myself above the motorbike. The impact is hard, the silencer of steering did its job well and I stop quite surprised and shaken. I thought that it is only me who has this experience but when I saw guys´ faces I realize that they followed my example. Mine and Marty´s front rims has signs of damage. from this moment I do not give a shot about the tyres that are waiting for us. Approximately two kilometres from our "ski jump" we have to stop because of three broken cars on the road.
We arrive to Skovorodino at 4:30 PM. Milan and Paťo deal with tyres and filters, Marty and me wait at the petrol station. We need coffee and fag. The guys were told that because of floods the oils will come in 9 days. We got shocked with that information but after all we do not mind. We will change it on the way back. We go straight to reserved hotel which is close to tyre service. Lady from logistics brings the tyres in front of hotel and we can relax for a while.
We met a group of Russian guys who go to Magadan on new road. We changed the phone numbers to get better information. I try to write a little bit more. At 11:30 PM we keen on having some wine. It is weird, I know but thirst is a bitch. There is a discotheque in the hotel restaurant we grab two bottles of warm white wine and we go to bed. The plan for tomorrow is servicing the motorbikes.
Route that we've made during "this article"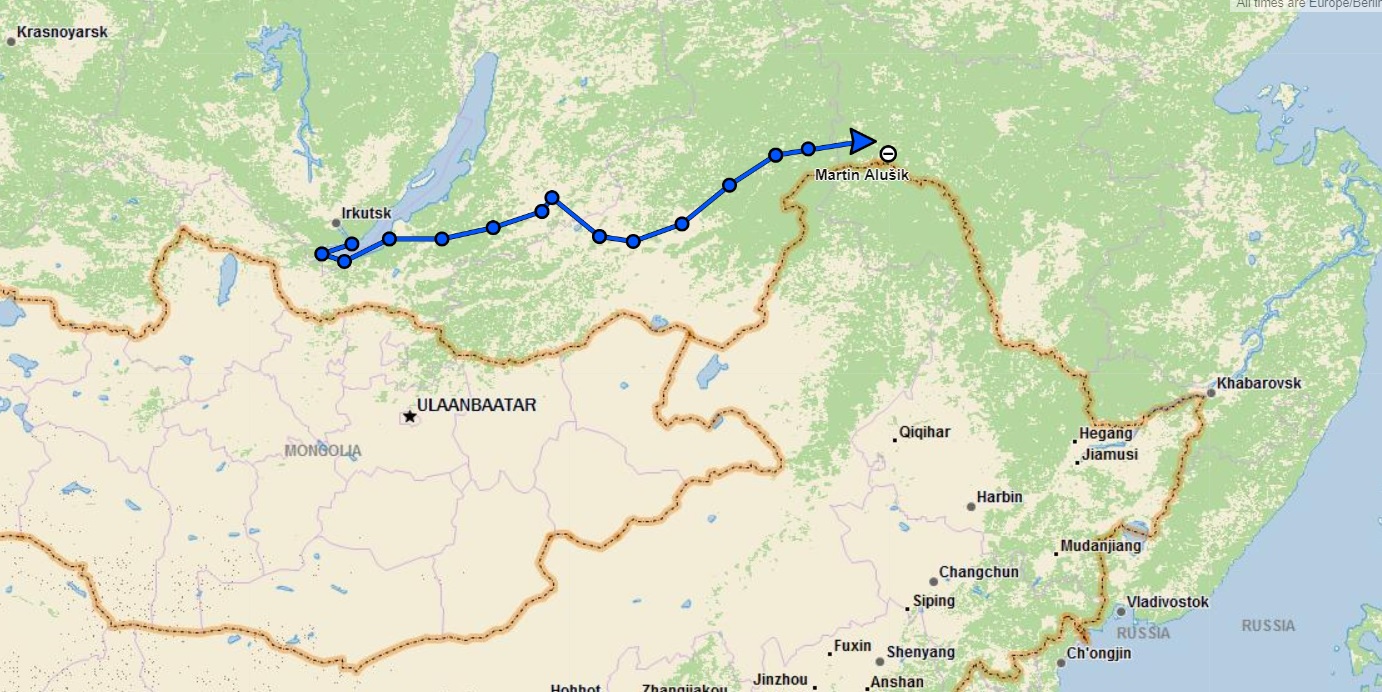 Read also…