We have already talked about motorbike "skid control" training, but since you never know what awaits you and since I love to try new things, preferably those which don´t bankrupt me (for example the unnecessary repair of my smacked bike), we will mention it again.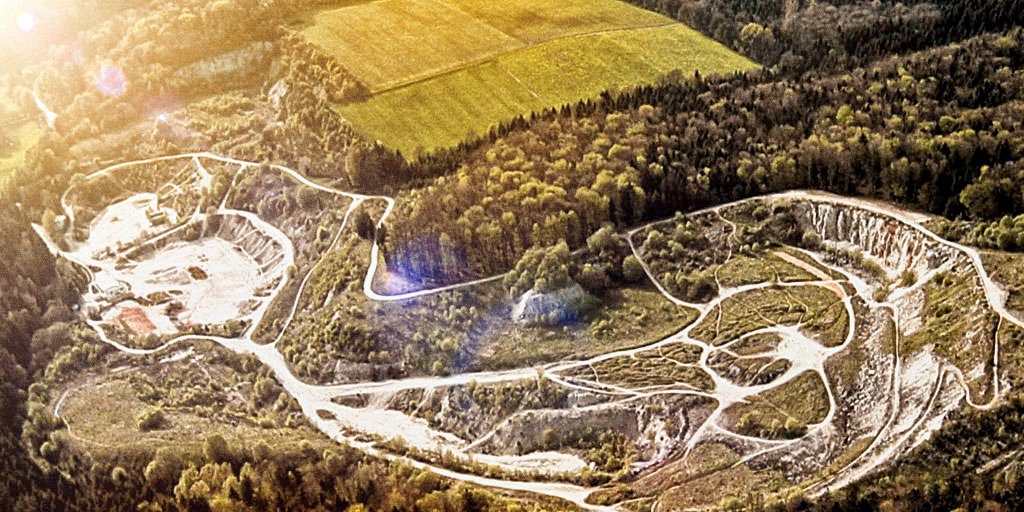 My curiosity was piqued by Števo Svitko, whom I met at a "team building" in March. After a brief talk, he got me interested in trying something bit different from tarmac roads.
I wasn´t very interested in any of the local off-road schools but by accident I came across an interesting BMW "Enduro Park" Training Center in a small village nearby called Hechlingen, in Germany.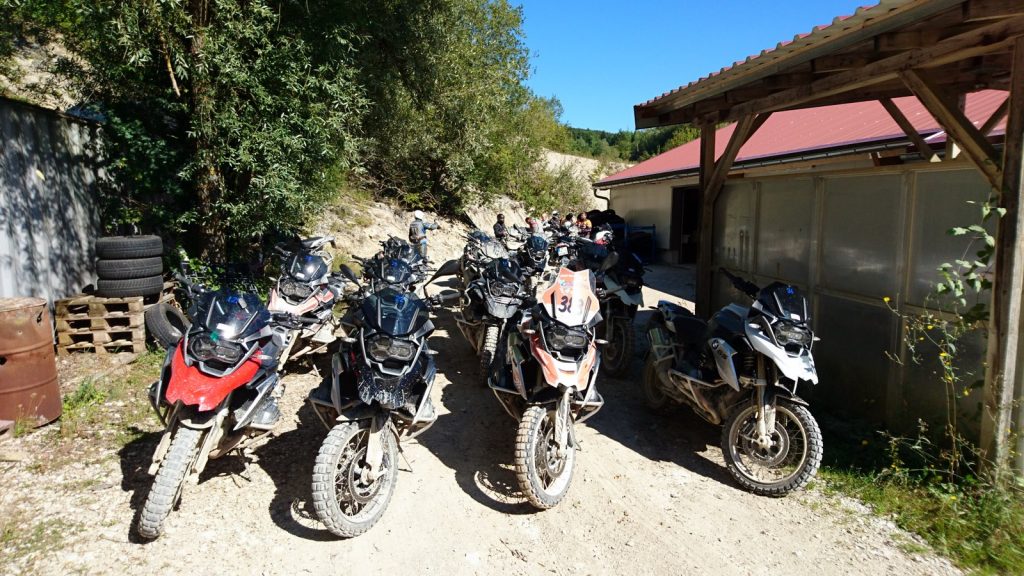 After checking their website and finding out how far this place is from Bratislava, I made my mind up; I definitely have to try this out. Considering the distance, we went for a two days training and hoped we would enjoy it. It will be the first time I will ride on enduro tyres. That´s how our enduro experience across 27 hectares of land started. We have high expectations and can already feel the German rigour from their website and instructions.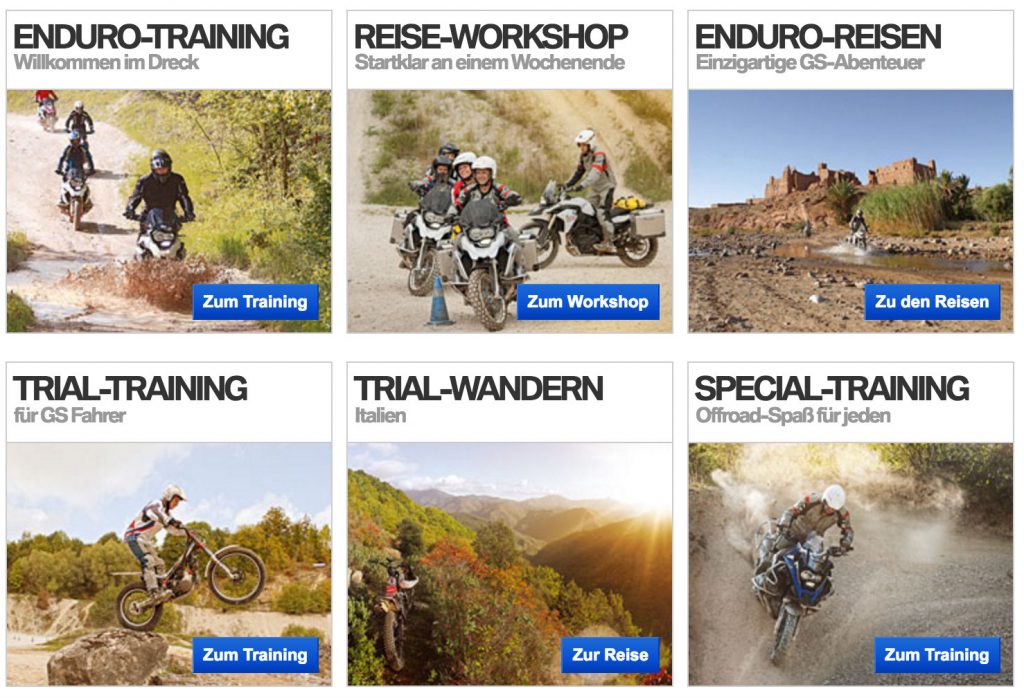 We considered our accommodation in a local hotel "Forellenhof" to be a part of the overall experience. One of the advantages is that the dinner after first day of training (which is included in the training package) would be held in this hotel. The decision was made to go there by car and rent bikes with enduro tyres there, which was very reasonable and practical of us. A car is a much faster and more comfortable way of transport. Due to the short time frame to get there we decided to stay on the highways. Another reason we decided to travel by car instead of bike is possibility of falls, injuries and motorbike breakdowns on the way. We left Bratislava bit later than we had initially planned. We arrive to the hotel at around 9.30pm (Monday is apparently the day off so the kitchen is not in service, which is good to know in advance. They sell beer but only lagers.) After a couple of beers we go straight to bed. We wake up in the morning and try to pack some stuff for our first day. The problem is we don´t know how it works here, what to take with us and how to dress.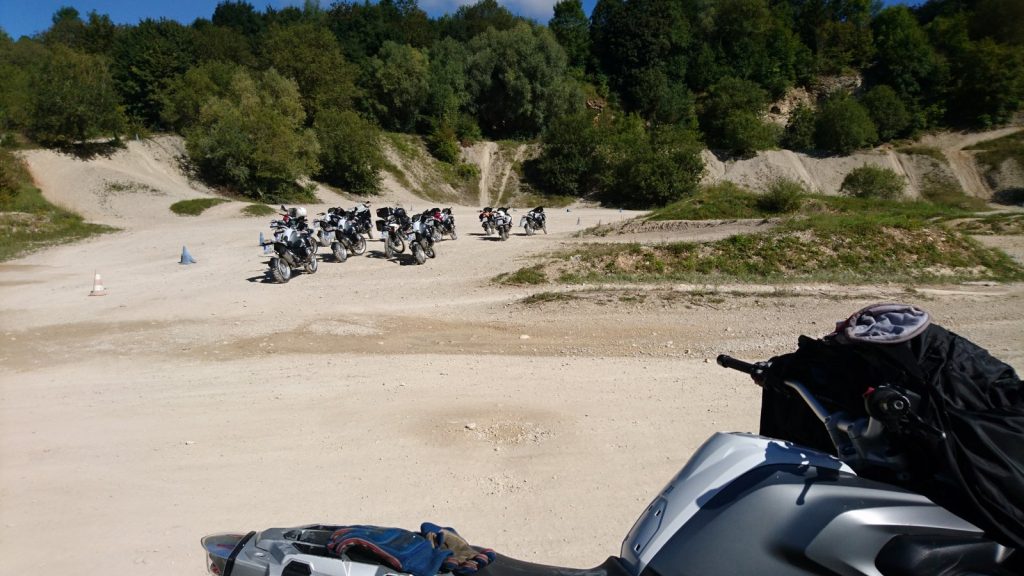 The weather is quite warm in the end so we are very happy with our decision to take cooling thermal underwear. We also need gloves and the recommended enduro boots (though you can use any other biker boots as well). Enduro boots are recommended for one reason; safety, they can make a big difference if you fall off your bike to your ankle. Safety in all aspects is really important here.
Our first training is in German but our instructor translates everything into English for me and two other participants. When we finish I´m pretty sure I would understand the gist of it in German as well. It´s nothing complicated. We go to change and find out the facilities are pretty superb here. Forget about your little bungalow changing room. Here there are changing rooms, showers, toilets (though we did take our own towels). We are told to help ourselves to tea, coffee, water, juices and all sort of snacks all day long. The instructor stresses that if anybody feels thirst during the training, they need to leave the group and have a drink as dehydration can become your worst enemy. Beside this we also have breaks for relaxing and refreshments.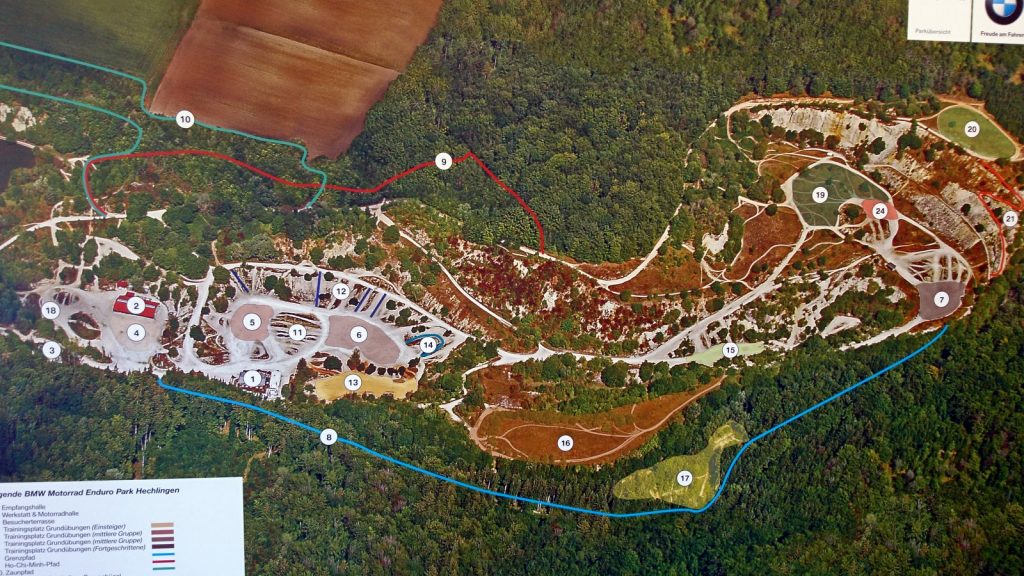 Getting your bike is quite an experience. You walk towards the line of motorcycles which are marked with the name of its rider. It looks great and it leaves a really nice impression. We get familiar with our bikes and our instructor quite quickly. The instructor watches us ride around for a while give us a few riding exercises; riding in different positions, getting from one side to another while riding. I started very cautiously with it at the beginning but practice makes perfect. All of sudden you start to feel much more confident and start going through the motions quite easily.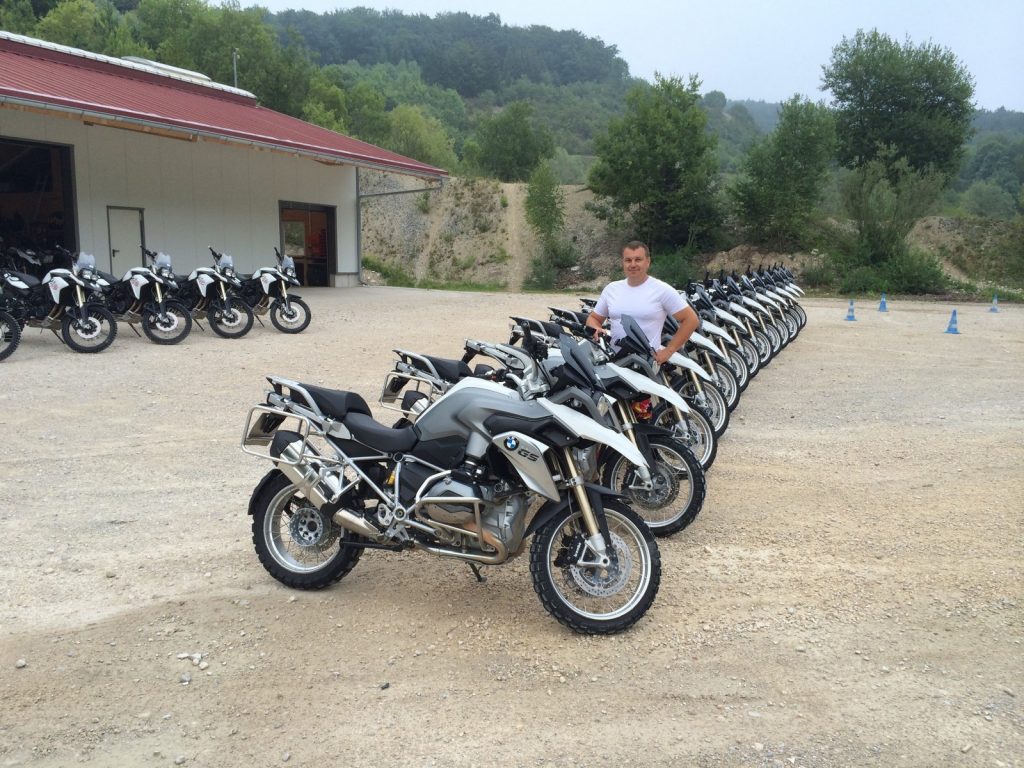 This is followed by our first training. Step by step the instructor explains to us the technique of riding up and down the slopes and after that we go for our first ride. He corrects our mistakes, including body posture, balance etc. During two days spent in the enduro park you will experience riding on šotolit (very fine gravel), mud, sand, rocks and gravel. You will try everything, including riding through wooded areas, through the roots and all sorts of different delights. All the time the instructor gives advice on how to pick up our bike after we fall, when you end up in different positions. The truth is that we all experience more than enough of those falls (although, Slovaks tended to be the most skilful and in the end also the fastest riders there).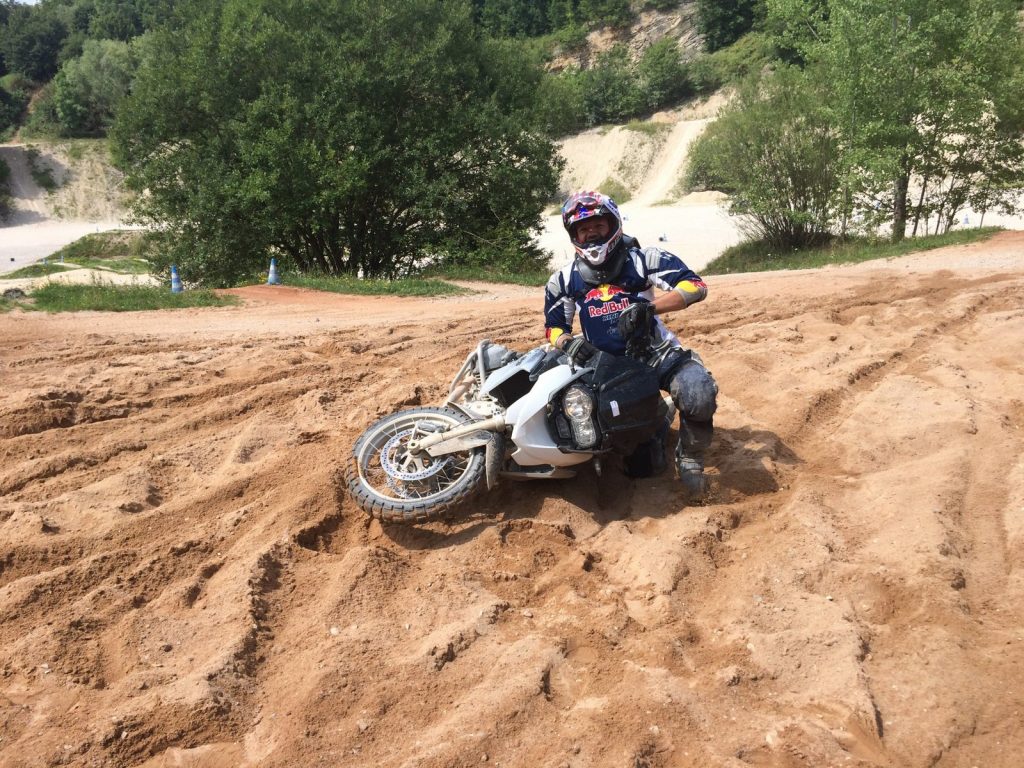 I definitely won´t forget the steep slopes we were riding on. When I stand there without my bike I couldn't believe anybody could get down on foot let alone on bike. But since our instructor went first I just decided to follow him. I just thought if he could do it we all can. When you are doing it for the first time, the feeling is priceless. All of the sudden your bike just disappears from under your ass and hands and you find yourself falling behind it. The same applies when you´re getting up. The instructions? If you can´t get up and you start falling, do not try to hold on to your bike with all means necessary. If you feel you can´t do it, jump to one side and let it fall (it´s bit easier to follow this instruction when you´re riding a rented bike). Nobody fell, of course. It was just typical German rigour and attempt to get us ready for all situations.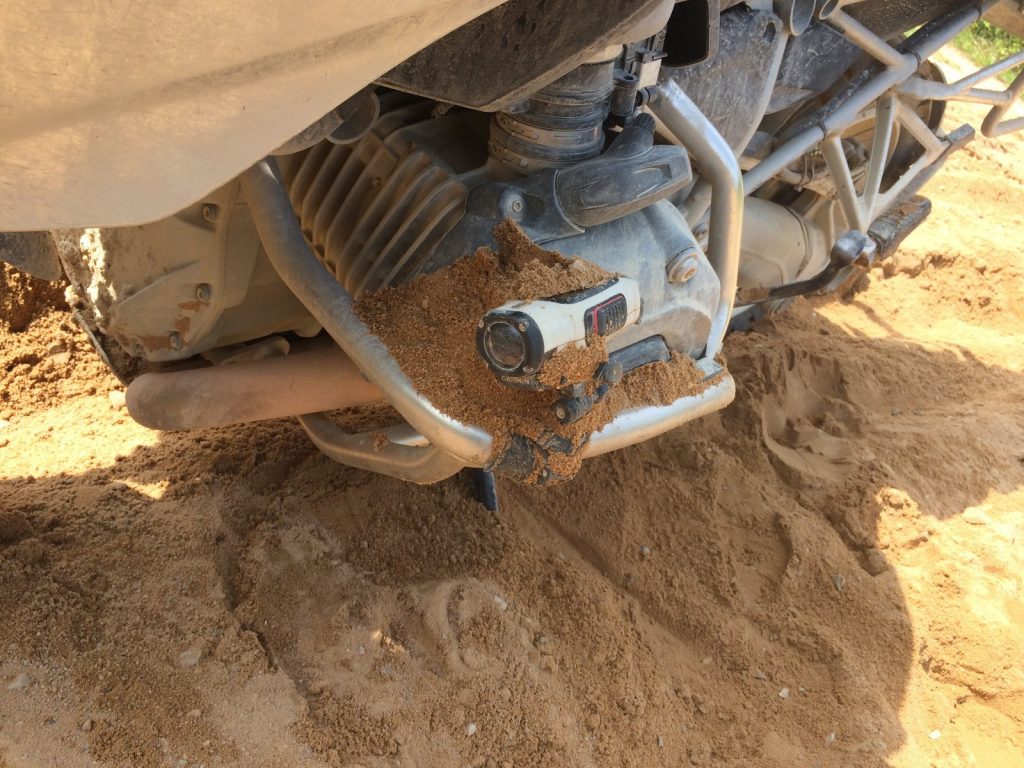 Everything is done very calmly. The instructor is very patient, you never feel like you are doing something wrong or that you are holding somebody back. Dinner is also very relaxing and almost family like. Our instructors talk to us about everything; they have ridden all sorts of bikes and they can recommend different roads and trips. They offer and organise them themselves. They are too organized and way too pricy for me (and I guess for most of the people living and working in the part of Europe we come from).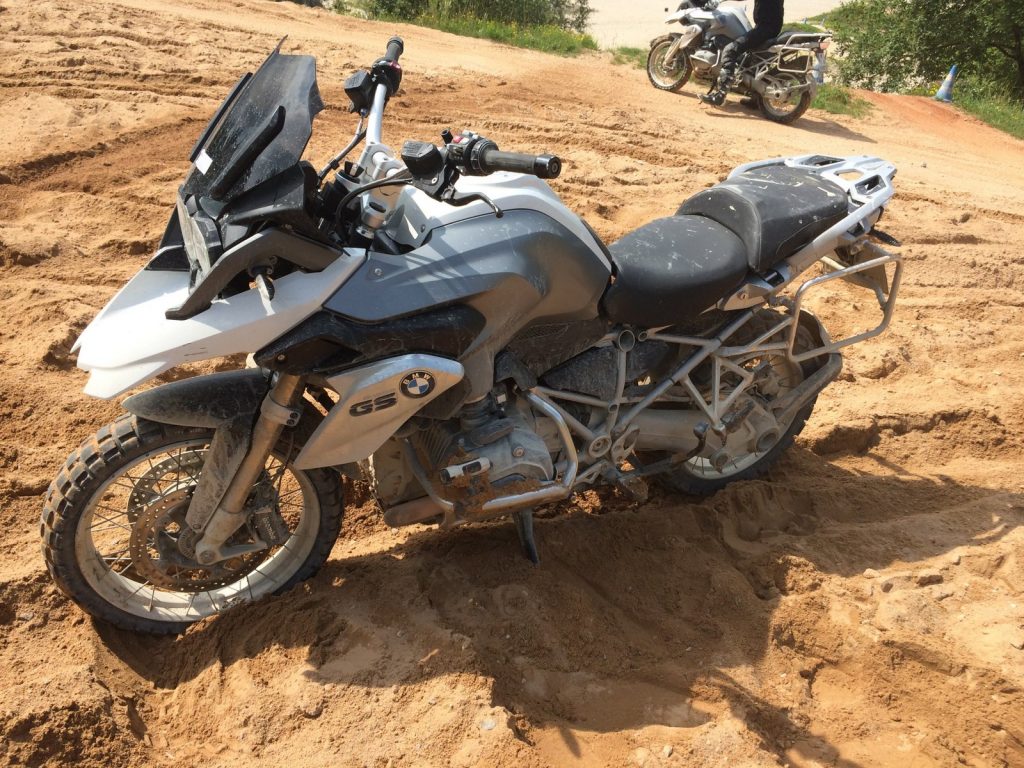 We don´t have any briefing the next morning. But we start with the warm up which reminded me of warm ups we used to have at the beginning of PE lessons (only the red shorts and white vest were missing). At least we were warming up with nice music in background. The warm up was followed by some riding in circle and some exercises on bikes.
The highlight of the day was definitely riding through deep sand and panic breaking with the traction control and ABS turned off. They explained the enduro pro regime to us and we tried it in action. A few minutes before the panic break training I found a little fault on my bike. When I was getting through one of the water obstacles, which is a bit of a turning, I had to get off the bike and while doing that I bended and cracked the footbreak. Have I mentioned that we didn´t really fall from our bikes all the time? I don´t really consider this a fall. The water there was pretty deep so I could easily get of the bike. The motorbike lied on its side and since the back wheel was in the air the engine didn´t stop working. So I just stood it up, pressed the clutch and carried on. You can´t really call this a fall, can you? 🙂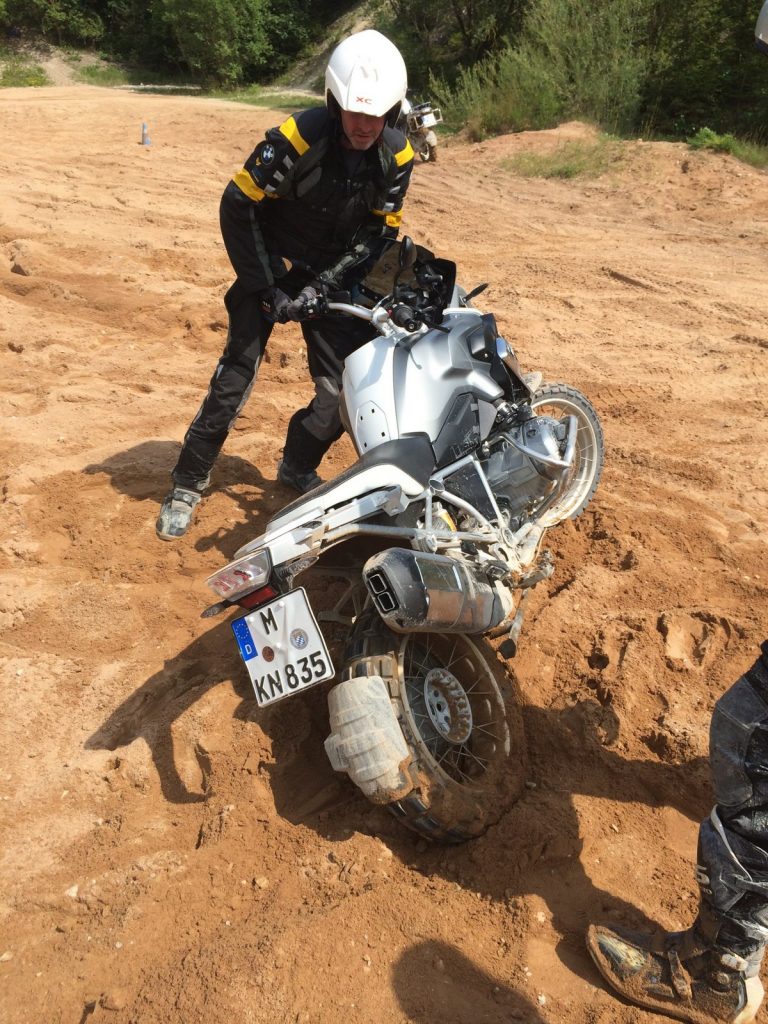 I told our instructor about the break. He took me to the garage where the mechanic changed it. Meanwhile we got some further instructions about panic breaking and we carried on with our training. When I objected and told him there was no need to change it he explained that the footbreak is very important for panic breaking since I need to press on it hard and he won´t risk that I´ll break it and then fall. I think we can agree that it´s definitely worth it to rent a bike from them even if it was just for the little things like this.
The last ride was outside the enduro park. We rode through the forest and along the back roads. We went as a group but nobody could keep up with the instructor except us four Slovakians. I have to admit that we egged him on a bit. After a few minutes he finally speeded up and we got on with it properly. Often we had to wait for the rest of our group. In the end the instructor exclaimed "the Slovakians fucked up all of the west Europeans".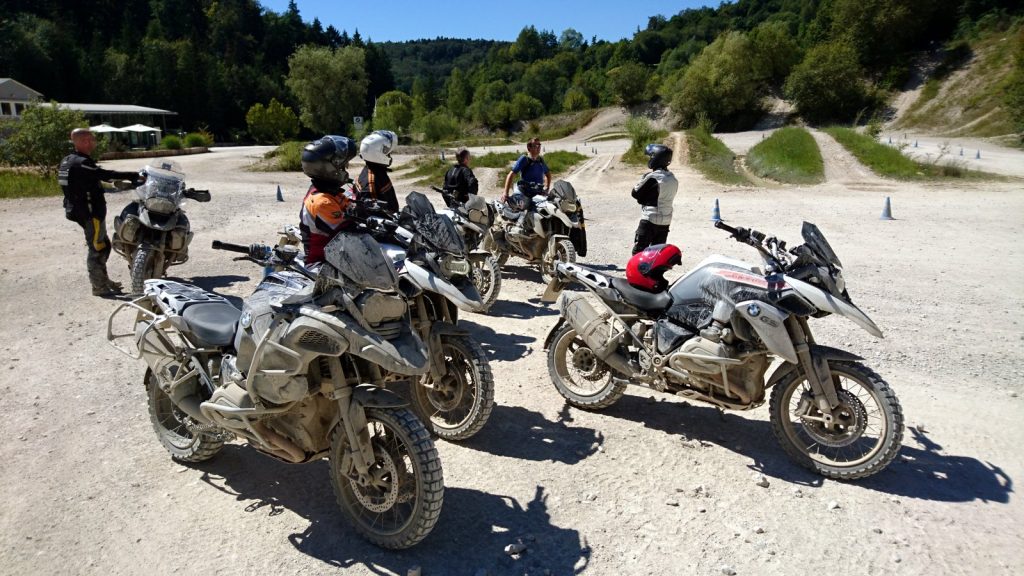 The training finishes at 16:00. You need to park your bike behind the garage/depo. I, as a big fan of BMW, really appreciated the beautiful view of the bunch of BMW GS' dirty from two days of long riding. You have approximately an hour to have a shower, pack your stuff and get ready for the 600 km journey back home to Bratislava. We did it in less than 6 hours. We were very tired but happy and impressed. In that moment the idea was born to do some enduro rides in the Romanian mountains in 2017.
Most of photographs were taken by smartphones Sony Xperia X.