We started to plan this trip at the end of the summer of 2014 when we visited north Albania and realized that it would definitely be worth seeing the rest of the country. We were inspired by many riders who shared their stories from Albania on the website "motoride.sk.". The First question we asked was: How to see the most in the least time? As to take 14 to 20 days of holiday from work and leave my family for even longer seemed like a mission impossible.
Once again we put our faith in Google almighty. It turned out to be an amazing idea since we discovered a vehicle carrying train from Villach to Edirne, a city situated on the borders of Turkey, Bulgaria and Greece. This train ride saved our asses from a 1400 km or roughly 14 hour drive. We had bought a one way ticket on the 29th of April 2015. That evening we met at my house and started our journey.
When we got to Villach after a 380km long journey, we loaded our bikes on the train and began to discover the magic of travelling in wagon-lits built in 1989. I have to admit that for someone like me, who was born and bred in Bratislava and didn´t have any previous experience with this kind of traveling, it was a huge Enterprise.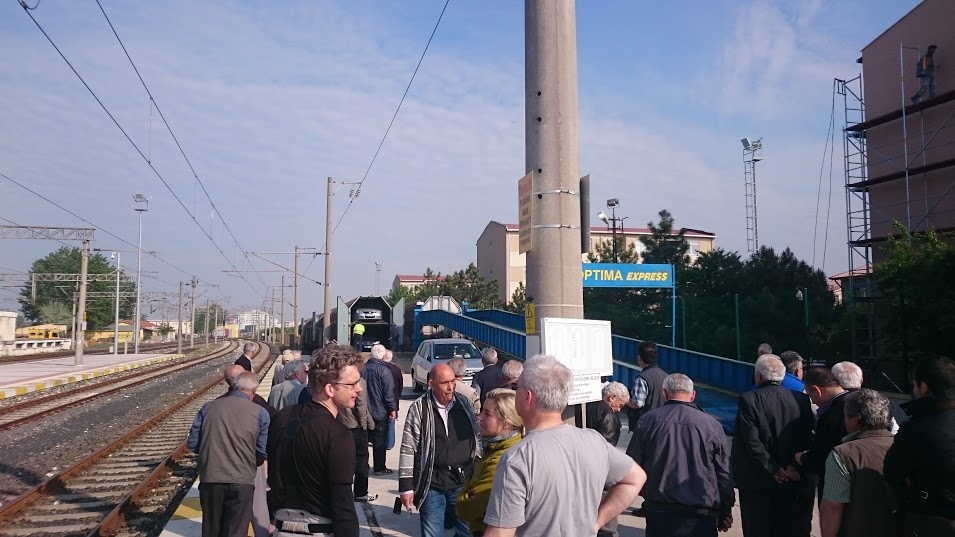 It was great that there was only three of us that night because I honestly don´t know how six people would fit in that wagon, which was surprisingly the recommended capacity of passengers. Just so you can judge for yourself, take a look at the photo of us in the wagon after we stripped out of our biking gear. Our journey started with bit of excitement; the boys went to get some drinks for the journey and when they got off the train it started to move to a different track. For a brief moment I thought that it would be just me and three bikes for the rest of the trip. In the end everything was fine and they managed to jump back in. The train left the station and our 31 hours long train journey began.

Part one – warm up day – proper warm up
Because of the numerous border controls, our planned 31 hours on a train turned into 37. When we finally got to our final destination, we unloaded our bikes and noticed that we weren´t the only ones who had had this idea while planning their trip to Turkey.
You need to pay a lot of attention to all the paperwork you need for your bike on this route. Turks are very particular when it comes to all the sorts of permits and licences needed, that´s why we spent more than two hours at customs. At times we were literally sweating buckets and it wasn´t because we were hot, but because we were stressed out. And after all of this malarkey we finally got to eat something. It was our first holiday breakfast, never mind it was actually lunch time already. To have a meal near the Selimiye Mosque (the mosque with the highest minarets in Turkey, built in 1575) was a real treat.
The only place in Turkey we really wanted to go to was a train station in the city of Edirne, where we wanted to get on the train heading to the Greek city of Khalkidhiki. It was not a very exciting 300 kilometres. Old dusty petrol stations with dated supplies and almost antique maps were the aftermath of the recent economic crisis. It was only after 250km, somewhere near Chrysoupolis, that we were already bored with the highway, when we noticed some mountains on our right hand side. We couldn´t resist and decided to have a look. We headed towards Nikites. where we came across a nice quarry, we had a look at the huge rocks similar to the ones used to build castle walls and then returned to our main route to Khalkidhiki.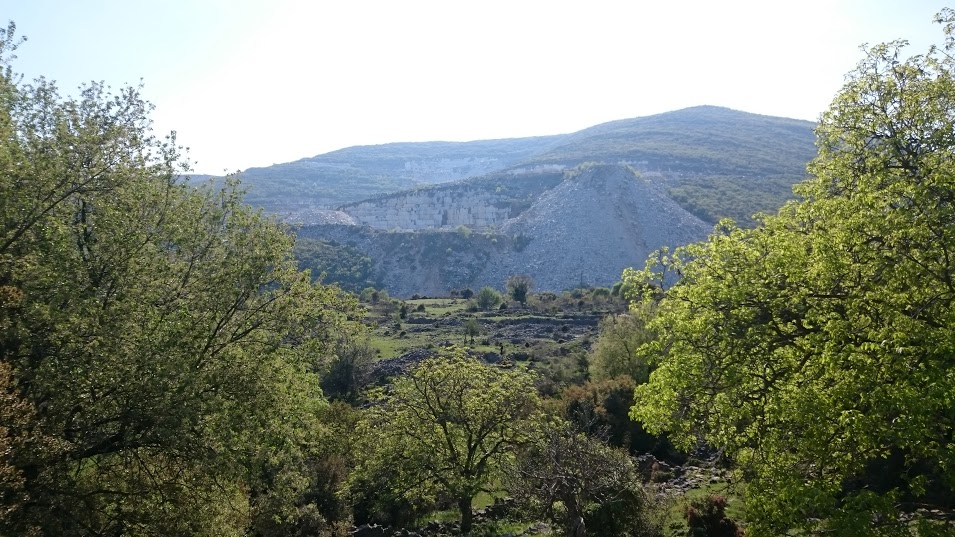 We spent a night in a hotel intriguingly named Electra, in the town of Stavros. A nice dinner accompanied by the local wine in a restaurant situated on the promenade while out of season, it was as they say "like a MasterCard"; priceless.
Greek part – at once (almost)
In the morning we headed towards Kalamitsi beach, the road to which is enjoyable and very pleasant, full of nice turnings and panoramas. We ate in the beautiful surroundings of the beachside. We rode around the whole middle finger of Khalkidhiki; it is really worth it.
Next stop Thessaloniki (also known as Solun) a very nice town. You would hardly notice that they were in the middle of an economic crisis. Although you could only pay cash almost everywhere, including petrol stations ☺
There were Cafés and restaurants full of people as if they didn´t have a single worry in the world. Having visited The White Tower of Thessaloniki and eaten some pizza while walking around bit, we decide it was time to conquer Mount Olympus. We headed towards Meteora where we planned to spend the night. I did a little bit of time travelling as we were riding from Thessaloniki to Paralia where I spent lovely seven weeks in 1996, working for a travel agency. I almost didn´t recognise it; the old road where nobody ever bothered to drive by the rules had turned into a flawless highway with next to no traffic. We took our chances with the empty highway and tested how fast our fully loaded bikes could go. Let me tell you, they went pretty fast. ☺ After few kilometres we slowed down (we were all parents after all) but we couldn´t get rid of our satisfied smiles until the late evening. Looking at the old palaces from I´d seen in my youth I experienced a pang of nostalgia. It was a really nice route and enjoyable experience.
In 1996 I was fascinated by the view of this snowy mountain, which we could then see from the boiling hot beach.
We got to Kalabaka late at night after a long day in which we did over 500 km. That´s pretty good going when you consider that we didn´t really stop anywhere along the way. We saw quite a lot, though and when I think about it, we did half of our Greek route that day. Our welcome at Kalabaka was priceless as at first we couldn´t find any hotels with vacancies. It didn´t contribute to our good mood at all since it was already half past nine at night. I don´t remember after how many fruitless efforts we finally found a room in Hotel Kosta Famissi. We were given a fold out bed and our double room transformed into a triple. An interesting experience. After a while we heard a noise coming from the street outside, we opened our balcony door to the view of some kind of procession. It was nice to watch and we didn´t have to endure the crowd to experience it. We waited for the crowd to pass before we ventured out to find somewhere nice to eat. Of course we ended up having gyros and beer, we were in Greece after all and as they say "while in Rome…" nobody expected to have halušky. Our group split after dinner, Ivo went to sleep and Kubo and I carried on drinking beer and wine. Drinks helped us to digest everything we had experienced during the day and also helped us to sleep better ☺ That day we learned one thing; there is no out of season time in Meteora/Kalabaka.
Part Fairytale morning; what you can´t see at night, you´ll enjoy in the morning
Seventeen years ago I didn´t get a chance to visit anything except Athens, so I was really looking forward to seeing Olympus and Meteora. I couldn´t believe my eyes when I looked around in the morning, it was even more magnificent than I had imagined. It exceeded all my expectations. I just wished all those busses and tourists blocking the road and destroying the amazing atmosphere weren´t there. Although, we really loved seeing a guy riding his bike with his dog sat on the back seat!
Part GrExit – on our way to Albania
After a few circuits around the Meteora monasteries, we slowly started making our way to Albania. We seek meandering roads and abage highways. We headed towards Ioannina and we had lunch in the city on the lake. You can find some photos and a discussion above the map.
We knew exactly where we wanted to go – South Albania to see its ´miracle´ Blue eye. The river rising out of nowhere was a really interesting sight. The clear blue water of the river bubbles forth from a more than 50 meter deep pool and its source has a discharge rate of 18400 l/s.
Albania is an underrated country with lots to offer whether discussing services, places to go or experiences to gain. After vising the north of the country last year, we knew we had to return soon. And at that point we were still to visit its capital Tirana and the centre of Albania. Having seen Blue Eye we headed towards Buthrotum. Buthrotum is an important fort and harbour established sometime around the 4th century BC. It has a nice orderly National Park which could be compared to the Roman Forum in Rome, the Acropolis in Athens or Pompey under the Vesuvius.
The fantastic architecture of this period of time never ceases to amaze me. Not only the buildings but also the aqueducts transporting water to the forts. Unfortunately, in the 12th century the city was hit by a huge earthquake and later it was invaded by the Venetians. Most of the population died out over the years because of frequent epidemics tormenting the region. I wonder how it would look like if it wasn´t for the earthquake which had started its decay. Archaeologists started to uncover the remains of the city in 1920's and it was declared a UNESCO World Heritage Site in 1992.
We ended our day in Sarande, a town situated in the south of the region. A very nice town with a promenade, a busy night life and lots of restaurant. We decided to eat in Gostivari restaurant along the middle of the promenade. It was quite a long way from our hotel, so on our way back we got a chance to burn a few calories we had gained while eating the rich local food and drinking the lovely local wine. A room for three in a hotel with the impressive name of Royal Saranda cost us 30 euro. It was very reasonable when you consider that there were cameras everywhere and the parking and breakfast were included.
In the morning we enjoyed our breakfast, coffee and the lovely panoramic costal view and carried on with our journey. We were about to start a part of our route which was recommended on several websites, the road was marked as SH8. This coastal road headed north to the city of Vlore. Only after we passed Vlore, could we enjoy the stunning views of the beaches which, now out of season, were used as pastures. Riding through one of them we were met by a crazy dog who wasn´t afraid of our bikes at all and tried to catch us.
Later we did a few unnecessary kilometres. The mistake was caused by a lack of information on our behalf, but we also blamed it on the badly built roads leading through the Albanian sierra around the city of Gjirokaster. We wanted to end our day in Gjirokaster and have a look at the fortress in this old stone built city. Climbing up to the fortress was really tough and apparently you can get even further up the mountain, but after a 30 minutes long climb we lost the will to carry on along with our confidence in ourselves and sense of direction.
After all this time travelling we decided to spend a night in the town Permet. There wasn´t much of a choice so we agreed to stay in a hotel with a local name of hotel Permeti situated on the town square. We received good advice from some locals to not to pay more than 40 euros per night. It was worth paying attencion to. In this hotel they tried to charge us much more but after refusing to pay more than 40 euros, we made a deal with them very quickly. They obviously understood that it wasn´t our first time in Albania and that we had some inside information on the local business practices.
Part Albania – time travelling, part two
This time we travelled back to the 19th century. We stopped to have a bath in a thermal springs that rose into a swimming pool built by some English soldiers. It´s amazing to take a swim in a lovely warm natural spring while there is a fresh cold brook running down from the mountains just few meters away. I have to admit that I didn´t do much bathing as I´m one of those practical people who don't really enjoy bathing during the day. What's the point anyway? So I have to dry myself afterwards? Am I right, or am I right? ☺ We started to make our way to Macedonia and Lake Ohrid. We were riding along the SH75 towards the city Korce. The road was situated on the beautiful land table approx. 1000 meters above sea level.
Eventually we made it to the borders battling multiple sharp turnings on poorly built tarmac. The road reminded us of French Emmenthal cheese; it was full of holes. The border control here is usually seamless (Unless of course you ride a bike registered to your firm and you don´t have a declaration from your boss that you are allowed to ride it through foreign countries. But that´s a different story altogether). From Korce we headed towards the village of Stenje, having checked a road map I found this route much nicer than the one we had originally planned. Moreover, this way we could ride through the hills on the Macedonian side of the border which makes for a much less arduous experience than riding along flat land overlooking a lake. It turned to be a good move, the road was pleasant and parts of it were truly magnificent. The only problem was the setting sun in front of us that was blinding us for most of the way. The sun visors on our helmets were of no use so we had to be especially cautious. The road was quite narrow leading through the small forest and the sparse bit of a bushland. A few more corners later and we started to decent towards Lake Ohrid.
Our next challenge was getting to the town Ohrid without having to push our bikes. The last 50 km were very tricky since my bike was basically running on fumes, at times I was truly afraid to push it any faster☺. Everything ended up well and after filling up on petrol, we started to look for some accommodation along local promenade.
For the first time on our journey we tried the local predecessor of Airbnb or booking.com: locals standing alongside the road offering accommodation. They don´t take no for an answer and follow you on foot, on their bicycles or motorbikes. Sometimes they even fight for a client. We decided to spend a night in suit Jovan (a flat inside a newly built block of flats) with underground parking and breakfast included in price. We paid 33 euros and the owner brought our breakfast to our room. We had dinner in a restaurant and ended the evening with a nice beer and some wine.
Part Macedonia – where to go next? Kosovo?
In the morning we found our way out of town and headed towards Debar, Trebishte, Tetovo, and eventually Kosovo. On our way we visited Skopje. There were some road works going on at the time of our visit, so the city centre was a proper mess to say the least. I can´t really decide whether I liked this city, some of my friends really fell in love with Skopje but not me. At least not this time, though I´m not saying that in the future I won´t change my mind.
We really wanted to see Kosovo but we didn´t know what to expect. The only thing we knew about this country was that you have to leave the same way you got in otherwise you won´t get back to Serbia.
The first surprise came at the border (Hani i Elezit). Our green card was no good in Kosovo. If we wanted to get in we had to buy a 14 day insurance for 15 euros (never mind the fact we were going to stay for only two days), it really caught us off guard. Angry and quite frankly offended we wanted to turn around and leave. Unfortunately every other possible route would take far too long and complicate the trip much too much. So we paid the ransom and crossed the borders.
Our first stop was a local shop where we brought our requisite water supplies, here we had a lovely encounter with the locals: When we parked up in front of the shop a few of them came out to have a look at our bikes. Straight away they noticed our trunks with stickers representing each country we visited. When they found the Serbian one and couldn´t find one from Albania (we really wanted to buy one but we couldn´t find it anywhere) or Kosovo (similar) they jumped in the car and returned with three stickers. We told them that they can choose the place and put the sticker there. It didn´t surprised me when they wanted to cover Serbian sticker but I was surprised when they refused to take money for stickers. They said it would make them proud knowing that we had them on our bikes.
Despite my protests and lack of enthusiasm we headed towards Pristine. What could I do? They overruled me 2:1. We got there to find out that it really wasn´t worthwhile. We quickly turned around and headed towards Prizren. This time we used a bad shortcut for anyone on a bike, a so called highway. In our defence, I must say it was getting late and dark so we just wanted to find some accommodation as fast as possible.
Prizren; a nice historical city with lovely people. We visited the Old Town where we found accommodation in hotel Venisi. We had a walk around and visited Sinan Pasha Mosque and in the evening we talked to the locals about their life and the separation from Serbia. We asked them whether they cross the borders often. KFOR soldiers were everywhere but they didn´t look very busy but the truth is that if they left the locals would probably go to war with each other. I liked the food in Prizren the best of all we had tried so far. That was one of the reasons we returned there for breakfast the next day. ☺ Here is a photo of the "tuning" on one of the local bicycles. I´m sure Sagan would be envious.
Part Kosovo – sometimes you have to have a bit of luck as well
We headed towards Gjakova (R107) and then further to Desan. We found this road too plain and boring so we decided to swap to the R109, which was not our greatest idea. We had a really good kebab on the way but our presence on this road probably caused the accident. It looked like one of the drivers was looking at our bikes and didn´t noticed the other car turning left which caused the cars to crash into each other. It missed us by a few meters and gave us all goose bumps. Just imagine, few meters and…
We tended to watch the skies more often at this junction of our trip. There were still more and more clouds hanging above the hills of Prokletije National Park. Not far from the city of Peja we started to consider changing into our waterproof gear or as I call it our " teletubbies costumes". We still had to get to R106, a pleasant road leading to the town Rozaje in Montenegro. We got to the borders and that´s where downpour started. The road became a river in a matter of a few seconds. We changed under the roof of the border control cabin and I don´t have to tell you that the custom officers weren't very impressed. We stood there more than 40 minutes and waited for the heavy rain to let off. We took some photos and made few videos of the downpour. It was truly horrible and they probably didn´t have the heart to kick us out of there.
It was interesting to look at thermometer and see 4°C. We were familiar with the roads in Montenegro since we had done a very similar route through this country in 2014. We headed towards Mojkovac and the Durdevica Tara Bridge over the river Tara. In Durdevica we had lunch in the place overlooking a local attraction; a zip line over the canyon of the Tara River, at that time the longest canyon in the world. The Canyon is the deepest in Europe and the second deepest in the world. It´s amazingly 1300 meters deep.
We knew exactly what we wanted to do; the plan was to carry on to Durmitor and ride through it for the third time in last 12 months. We decided to make our way to a small town called Zabljak, from there to Durmitor and after that we carried on toward Piva Lake and then to Bosnia and Herzegovina. It was technically the way back home. We didn´t really plan on stopping anywhere anymore and Durmitor was closed. We were told that there was still snow over there, never mind, at least we tried. We returned to the main road and headed towards Nikšič. We took it through the city of Šavik which ended up being a lovely road with nice snowy views.
After Nikšič we got on the M6 and headed towards Trebinje. In my head I couldn´t quite understand why we would go all the way round to get to Mostar and didn't take more direct way. Even the GPS was telling me that there was more straightforward route and near Vilusi I talked my friends into turning right.
It was getting dark and we knew that the combination of dark and unfamiliar roads could be a bit challenging, which it was but it wasn´t as bad as we had expected. Just a small part of the road looked bit on the scary side, dark and narrow but just big enough for a lorry to pass through. We were really tired and I was getting annoyed as I realized that I was responsible for ending up here. There was no point turning back now though and finally we got to the border crossing Vracenovica. Here we asked one of the custom officers whether it would take us long to get to the nearest town (the town of Bileca, on the Bileca lake), thanks to a shortcut it took us only 29km to get there.
Our mood significantly improved when we found some accommodation, had a dinner and drank some local wine. Our plan was to get a good night sleep and then carry on through the city of Mostar. I was looking forward to seeing this city again. I visited Mostar before the war when I was very little. As you can imagine, the only think I remembered was the Old Bridge.
Part Back to the childhood years or revisit what you can´t remember
In the morning we headed towards Krivač and then we got on the R427 and headed towards the village of Jugoviči (in Nevesinje) and from there to Mostar. The day before we had rain and temperatures of 4°C in contrast to this day where it was 30°C and pretty boiling. Quite a significant difference.
We stayed few hours in Mostar, had some lunch, walked over the bridge and watch the bridge jumpers. They were teasing tourists looking like they were going to jump any second, but they didn´t as they needed to collect money for the act first. After an hour they finally jumped. I was expecting some kind of spectacular jump with a somersault or something somewhere in the middle, so I was pretty disappointed when they jump doing the pencil (with both legs straight and arms by their side).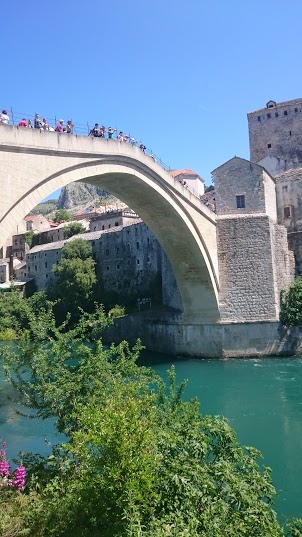 Our stay in Mostar was unforgettable. We saw lots of souvenirs from welded cartridges (which was probably the most common material), buildings riddled with bullet holes and depleted buildings in the town centre. One can´t help themselves but ask what good comes from of all of these wars and local unrests (the answer being nothing).
After an absolutely boiling day in Mostar we started making our way home. I approximated it would take us two days to get there more or less. We knew our final destination but we weren´t sure on the route we would take. We were tempted by the idea of a nice swim somewhere in Adriatic Sea, but in the end we made our way through Bosna and Herzegovina along the Croatian border. We were heading towards Livno, Bosansko Grahovo and Bihac. Approximately 30 km after Bosansko, when you head towards Grahovo is Drvar, that´s where you need to turn left and get on the R408 and head towards Martin Brod. You won´t regret this. There are beautiful wide roads with wide rolling turnings. You don´t need to worry about the clock, just count down the kilometres and enjoy your journey, it´s unbelievable. I didn´t even take any photos. All the way I was just focusing and enjoying the ride.
We had no idea where to spend the night. We had got as far as Plitvice Lakes and had stopped not far from them. We lodged in Hotel Plitvicka Vrela. It was our last evening and we enjoyed our last local meal. It was only 400km from Mostar. I can only wholeheartedly recommend this route.
Part home sweet home
It was 10 days, 11 countries, 4000km at an overall cost per person of 1050 euros, but most importantly we had lots of amazing experiences, views and emotions.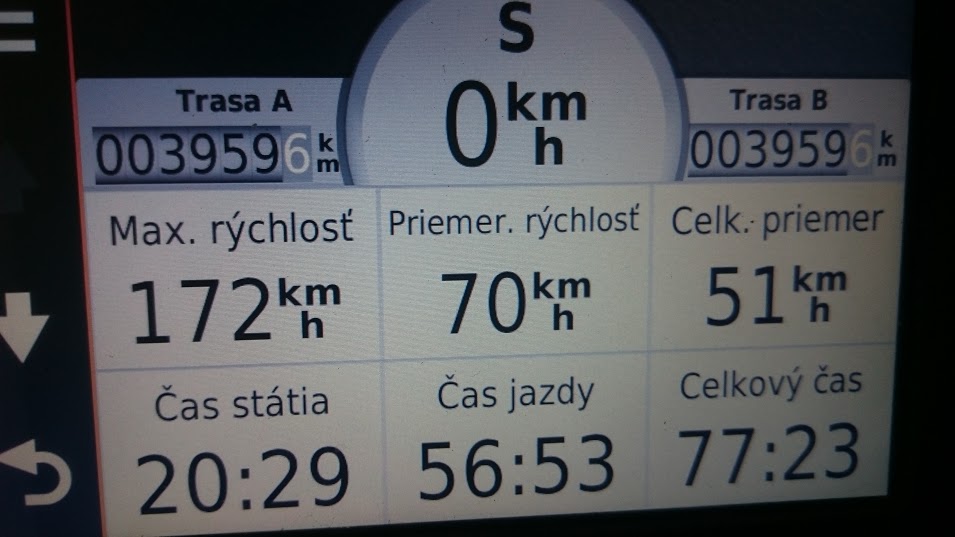 Fotogallery (picture were taken by Sony Xperia Z3 Compact).