The decision to travel to Ukraine was relatively spontaneous. Although the country is not that far away, except for a few business trips, I haven´t spent much time there. My secondary motivation was my own curiosity. Carpathian Ruthenia is interesting to me because this area used to be part of Slovakia once. That´s how we decided to go for a short trip to Ukraine, just for a week, on bikes.
Story by Milan Dzilsky.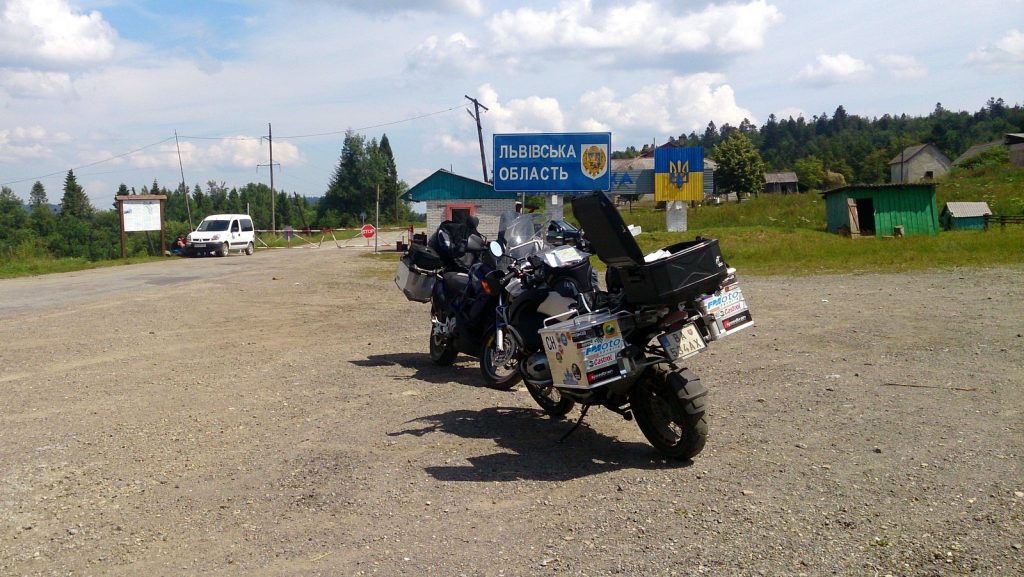 Saturday the 6th of July 2013; We are leaving Bratislava. It´s 9am in the morning and I´m leaving with Paťo, who I´ve travelled with before. We are riding through Slovakia, heading towards Vyšné Nemecké. It´s quite quick despite a little bit of hesitation at the end. That time I didn´t have GPS on my bike and I relied on Paťo´s knowledge of southeast Slovakia, which actually wasn´t that good. I thought that the best way would be through Kráľovský Chlmec but I was wrong. Never mind, at least I saw that part of Slovakia, where I´ve never been before and I could enjoy the fresh Tokaj air. It was a shame that we couldn´t enjoy some wine as well . After 8 hours of riding, eating and refuelling, we finally arrived at the border with Ukraine and we started to wonder how this thing actually works here, but it wasn´t that bad at all. An older guy with a beard who was obviously in charge went to check whether everything was ok. A lady who checked our passports was very nice. They just noted the kilometres on the clock and petrol levels in a tank and in no time we were in Ukraine.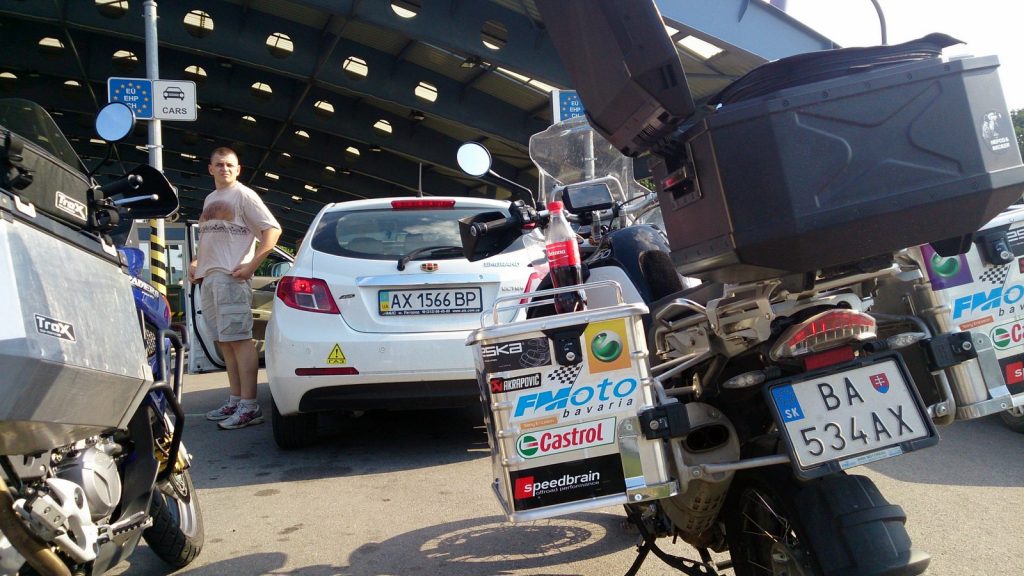 Since I didn´t have GPS, I relied on the old fashion paper map. You will probably agree with me when I say that to plan a route with the big paper map is much better than with all sorts of displays. Paper map gives you more possibilities and sparks the imagination.
Our first stop was Uzhhorod, the moment we stopped somewhere near the parking lot, road, pavement or whatever it was, we were greeted by two gentlemen from the Ukrainian police. And that´s when it started, a local performance starring two policemen. I was lucky that some of my Ukrainian colleagues had given me some training in negotiating with the local policemen while on a few business trips. I have to tell you, that if I hadn´t seen them doing it before I would get a little bit nervous or possibly even scared.
Long story short, according to the police we parked two bikes next to each other on the pavement. Which was technically true, but the question was; is it actually a pavement? That´s where the problem laid. The first amount they came up with made us laugh. It was mad, approx. 200 euro fine per bike. Before we agreed on anything we asked them to lead us out of Uzhhorod so we didn´t get even more lost. They both were very keen on doing that and later on we understood why. It´s much easier to take a bribe when there are not a lot of people around you. We follow them to the suburbs of Uzhhorod where we continued in our little "dance". The amount was already a bit lower. The new proposition was followed by a line of questions: What is that microphone doing in your helmet? Are you recording us? Where do you have camera? Are you taking photos?  We spent a few minutes reassuring them that we had no cameras and we certainly weren´t recording them. After that they came up with a new proposition which was approx. 10 euros for both bikes (I shown them that I didn´t have more). Neither of them touched the money though. We had to put it on the driver seat of their car.
We carried on towards Mukachevo to find our first Ukrainian accommodation. We found a nice little motel, мотель-ресторан "Сині потоки". It was cosy, clean and they served really lovely food. We paid around 30 euros including breakfast.
Route approx. 611km
Sunday the 7th of July 2013. We checked the map in the morning and decided to go to Synevyr pass, Kolocava. Riding around this part of Ukraine was like time travelling back to the eighties. Same quality of roads, minimal traffic, old cars, and old busses remade to run on gas with big gas tanks attached to their roofs, an amazing amount of old Zilovs carrying firewood. A perfect picture of the country from the past. Everything seemed so calm and slow, unlike our Slovakian lifestyle.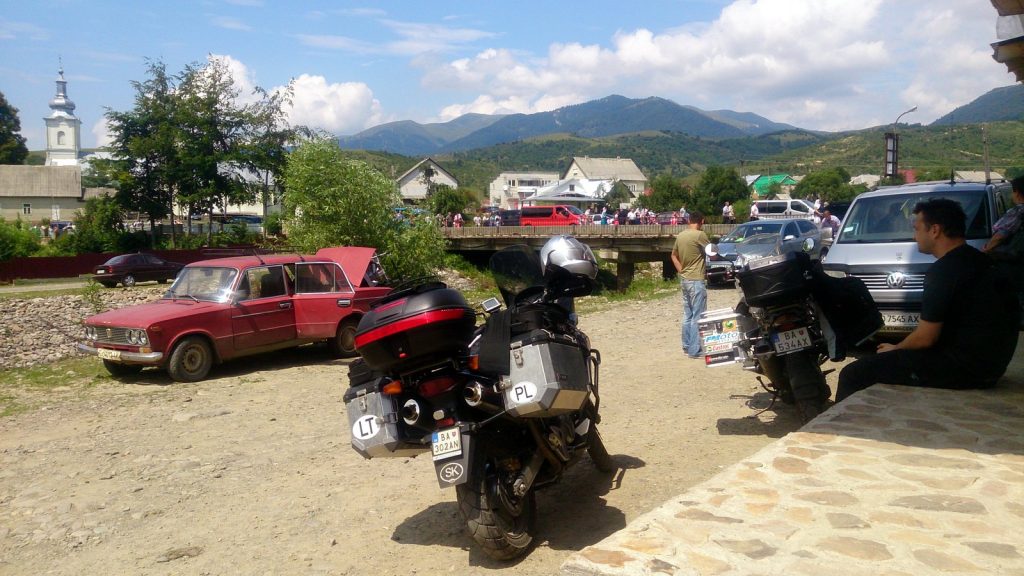 We enjoyed our first set of lovely turnings just before Volovec. The view from there was amazing. Second one was Synevyr pass. Not too high, far from the Alps but it made the ride more enjoyable. We got to Kolocava around noon. There we experience 200 meters long procession heading to a church. Lots of people and stands. We almost couldn´t get through. It took us a while to manoeuvre through the crowd. The road was of quite good quality there. We were going to find out that it could be much worse. We ended up in a local pub where we were properly stared at for some time. Apparently there is some kind of museum here as well but we didn´t really go inside. We were wondering whether the smashed old van outside is a part of the exhibition or just an unlucky coincidence.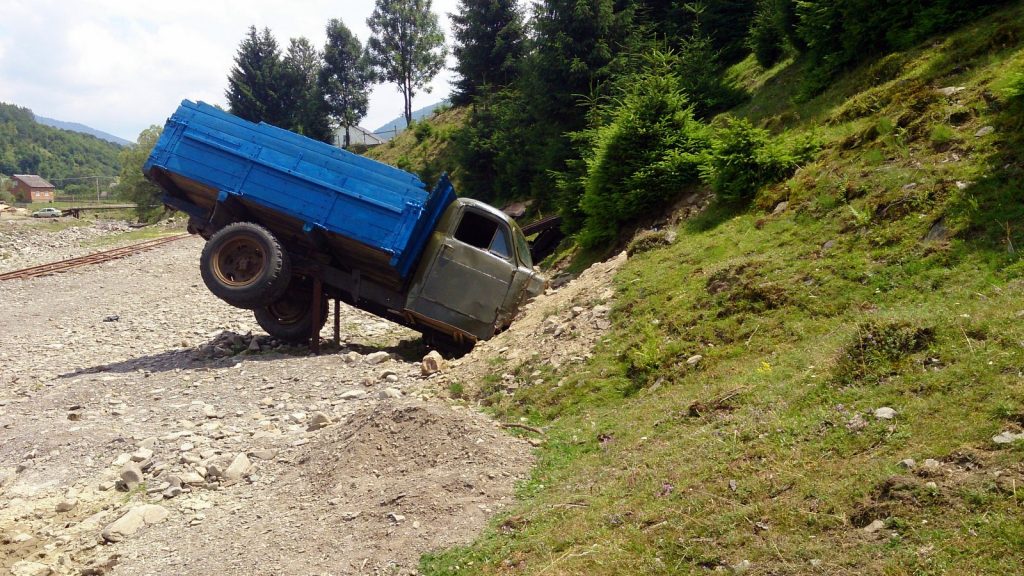 When we passed Kolocava we came to another set of turnings. All the time we were thinking about how to avoid official roads and find some shortcuts. In Kobyletska Polyana we decided to ride straight through the forest. This idea was born earlier in the village when we were talking to two local guys. We were speaking Slovakian since quite a few people (before 1989) used to work in Slovakia or the Czech Republic. When we asked them whether we would get through, we got very contradictory answers. One of them was pretty sure we could do that, the other one didn´t even want to hear about us trying. They had a little discussion about our plans and their realization. In the end they told us to try if we were brave enough and we decided that we were. Our resolution didn´t last long. On our way we met only one car and its driver was looking at us as if we were mad. Potholes and ruts were so deep I still can´t believe we eventually got through.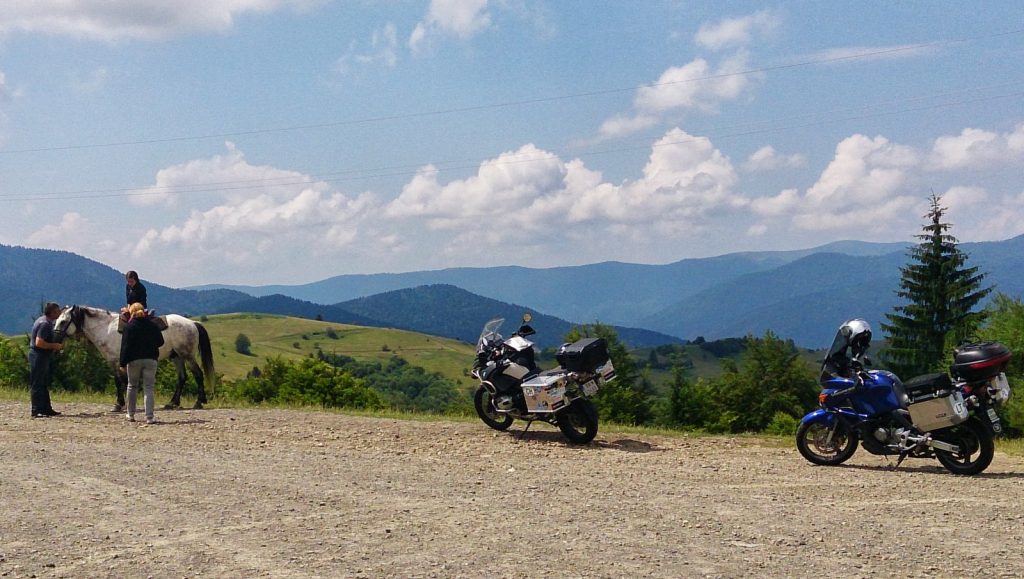 We left our boldness behind and we got back to our common sense and using of official roads which led us to another geographic midpoint of Europe (this time, the Ukrainian one). Is it just me or Europe is the only continent with at least three midpoints? 🙂
Here we found our accommodation and had something to eat. Motel Tys was a truly interesting place. My bed was like the one from the story about Snow White and seven dwarfs. No matter which way I was lying on it, my legs were sticking out. I actually wouldn´t mind if there wasn´t a headboard on each end of the bed. Finally I was sleeping with straight legs rested on the top of the headboard for a while and then with my legs hunched. Since this motel was situated near Romanian border, on our way from the midpoint of Europe we had to go through the border control. Route: https://goo.gl/maps/u9TGa4p4oJs
Monday, the 8th of July 2013. Although, we had a really bad night, we carry on with our journey in the morning. We are really tired and something tells us that this is going to be a really long and hard day. Approximately 15km later we´re stopping in a small restaurant for late breakfast. A nice restaurant near river Tisa.
The weather is quite warm during the day (who would guess this at the beginning of summer) and we are worn out. We aren´t in mood at all and we feel a bit sleepy. After another 27km we come to a small waterfall called Trufanets.
A bit further we can see some placards and signs for the ski resort Bukovel. We´re deciding whether to go and check it out, but first we need to cool down with some ice-cream.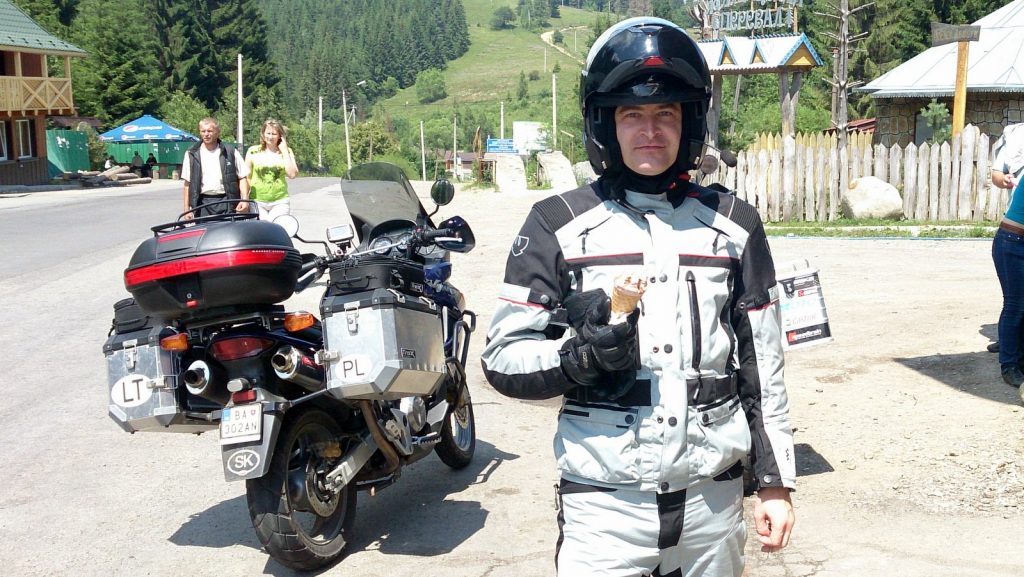 In the end we decided to turn around and have a look at the famous Bukovel. We passed the first turning and we could see the change immediately. New lovely tar. It looked like it was put there only yesterday. A security guy standing near the road, a ramp lifted. We really enjoyed those 9 km of beautiful tar. Bukovel reminded me of Donovaly. Very similar altitude and design. Just prices were little bit different. In 2013 an all-day ticket for Bukovel was 5 euros, accommodation in a hotel near the slope 40 euros. That time it also included a ski-pass. (At the moment the all-day ticket costs 25 euros). But I have to say that at the time of our visit of Bukovel, it was the fairly new resort and that´s probably why the prices were so low.
We are heading towards Tatariv now. It looks like today we are easily influenced by advertisement. Another one we followed was the one promoting
Hotel Koruna
.
A nice wooden construction consisting of several buildings built on a relatively large area. The hotel had a nice restaurant, Russian banya (aka. Sauna), wellness and a small swimming pool. Everything you would expect from a proper hotel. Prices were a bit higher than everywhere else where we had stayed so far but the quality of accommodation was much higher as well.
We decided to conquer our tiredness by good rest and food. We enjoyed some wellness (sauna and massage) and after that we had a nice dinner in the hotel restaurant. Sauna and massage were particularly enjoyable. I like Russian sauna the best. It warms up your whole body from the core and it´s really nice when a banya master tops up hot water and beats you with birch twigs. The temperature in Russian banya shouldn´t be higher than 70 degrees and humidity is very high and can easily reach 80%. The temperature in Finnish sauna is more than 90 degrees but the humidity is very low, only 15%.
We were massaged by the masseur who told us that she had used to massage the members of the government in Kiev. She was really good. I have problems with my spine so I regularly go for massage and I must say that this lady really did a good job. She immediately knew what to do so my head and neck were working properly again.
I must say, the restaurant was another treat. Taste of the food there was unbelievable. People who have read about my trip to Albania will think that I´m repeating myself but the butter tasted like butter, cream tasted like cream and meat was proper meat. When we asked them where they get their supplies their answer was pretty simple. They make everything themselves. They have their own farm and cattle. They make their own bread. It was a real gastronomic experience. I can´t tell you how amazing their home made potato pasty filled with cream were. It was heaven. 🙂
Tuesday, the 9th of July 2013. We woke up rested and full of energy and we decided to go as far as Moldovia or somewhere close. We headed towards Snyatyn and Cernivci. We passed Snyatyn and we got to the main road full of cars, vans, potholes, road works, and traffic lights with traffic management. Just terrible.
We went off the main roads after Kolomyia. Just then we realized what black and white Ukraine means. We just had a really bad day. I suppose you need to have some of those as well. Anyway, on our way to Stryi we considered it a great idea. Why to follow the main roads with their lorries and never ending potholes when we can ride on the roads with no tar at all? Cars didn't follow any traffic rules here. They simply tried to avoid as many potholes as they could. Who cares that there is a bike in opposite direction? It has more space to get out of the way, doesn´t it? Sometimes we just changed the direction so that cars could get past us from the right side.
This day was one of those you would like to forget about. Hot weather, dirt, dust, rubbish, exhaustion and ignorant drivers. But it hasn´t finished yet. We are yet to find some accommodation. We found a little hotel which looked really nice from outside. Pato went to see one of the rooms but as I learnt later he could do that only after he had paid 20 euro for it. Our room was at the back of the old building. They didn´t let us inside the new one. Hotel U Adria. We didn´t really want to touch anything in case we would catch some disease. A toilet and bathroom were just laughable.
It was the first time when Pato drank two beers before I could manage my first one. Once again we had chips with dill for dinner. Lots and lots of dill. Everywhere. I was surprised they didn´t serve Ukrainian dill mojito anywhere since they like it so much.  And then there was this old local guy who was telling us how f*cked up everything is nowadays and how everything was better and actually worked few years ago.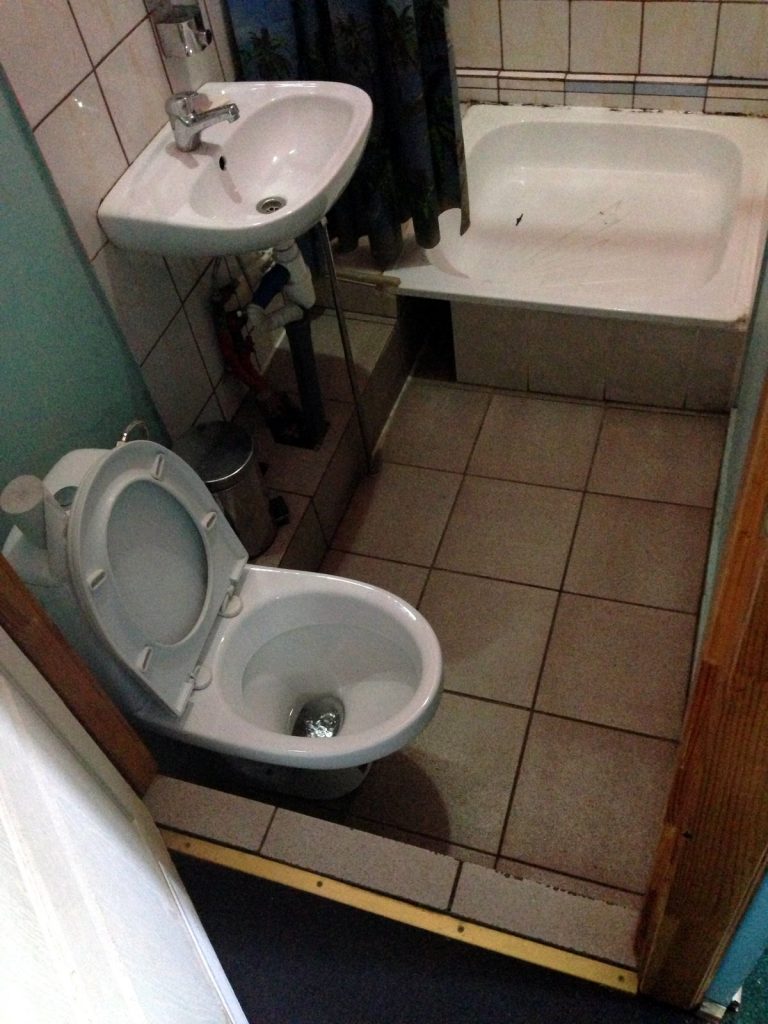 Wednesday, the 10th of July 2013. After a short, restless and uneasy sleep, we couldn´t wait to get out of the "hotel". It crossed our minds that we might not find our bikes where we had left them last night. Thank god, they were still there in the morning and we got on them as quickly as we could and headed towards Uzhanskyi National Park.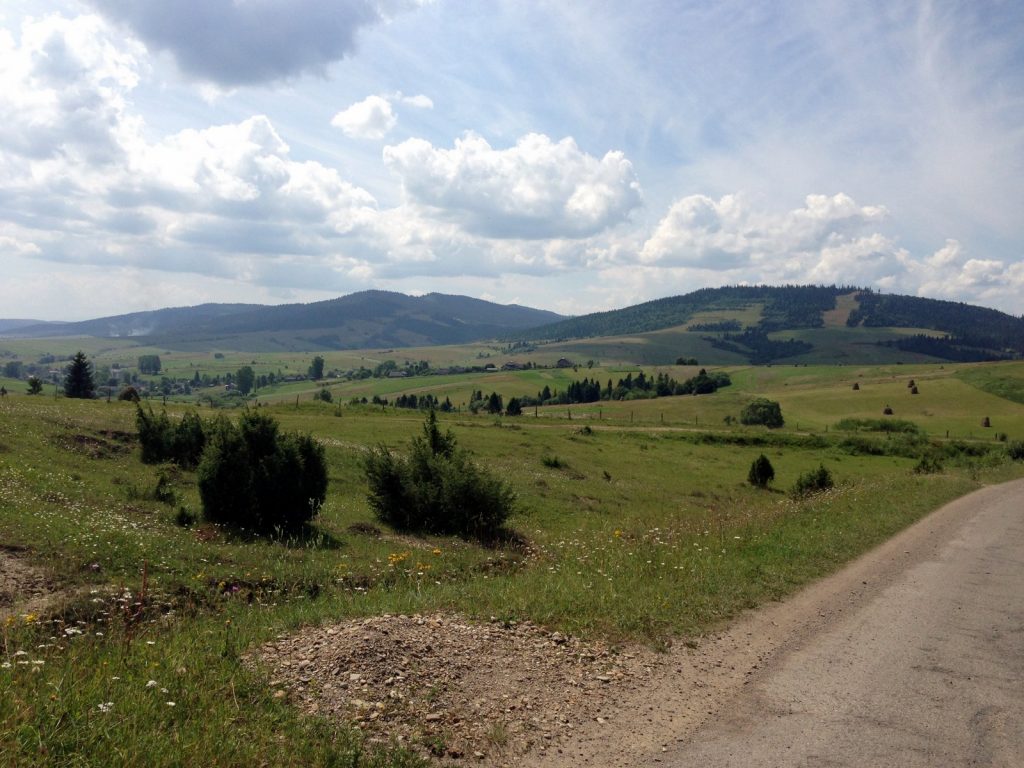 Once again we were surrounded by the lovely country which allowed us to start forgetting about yesterday and think positively again. That´s why it´s called black and white Ukraine. There are only two options. Everything is perfect or complete opposite.
We rode alongside the west Ukrainian border and returned back to Uzhhorod where we planned to find some nice accommodation. We can see the billboards promoting hotel Thermal Star but we can´t find the right turning to save our lives. Obviously, they don´t have very good directions in this area. Or maybe there is something wrong with us. 🙂 After an hour of wandering between Uzhhorod and Mukachevo we finally found it. It was a nice thermal swimming pool just the water there wasn´t very thermal which we didn´t really mind since it was boiling hot outside.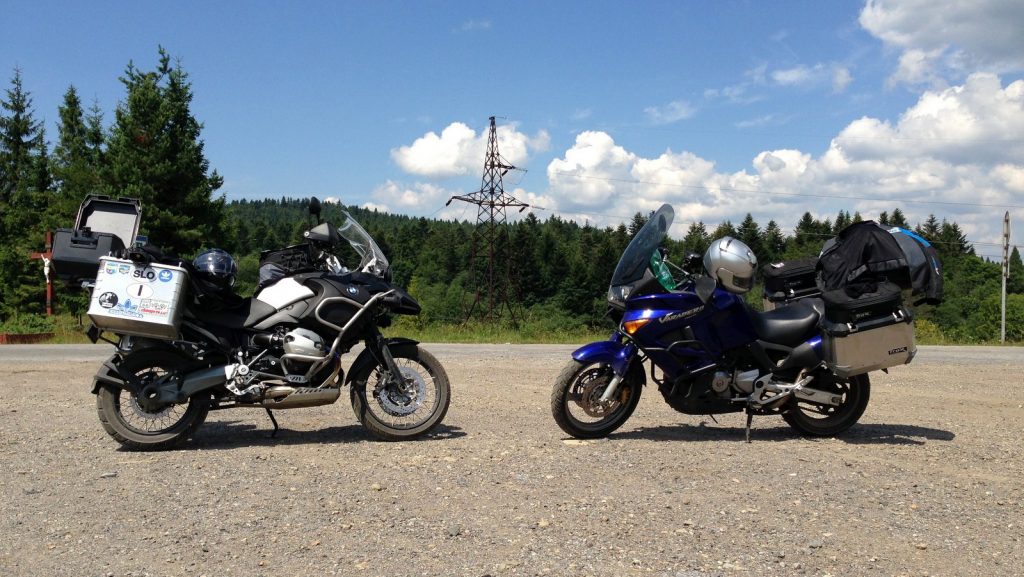 Thursday, the 11th of July 2013. In the morning we start to get ready for our return to Slovakia. We want to go through Ubla and have a look at lake Morské oko (Sea eye) but we have to get some petrol first. Petrol is bit cheaper here than in Slovakia but to be honest, it´s not much difference when you ride a bike. We get going, stop at the nearest petrol station and get some petrol. And that´s when fun begins. Paťo´s bike wouldn´t start. Fortunately, they have jump leads at this petrol station, and we buy them immediately. We take our bikes apart to get to the bike batteries. We couldn´t be happier with those leads. Mission accomplished. Paťo´s bike is working again. I don´t believe that you can buy this sort of thick leads anywhere in the EU. Maybe in some professional garages.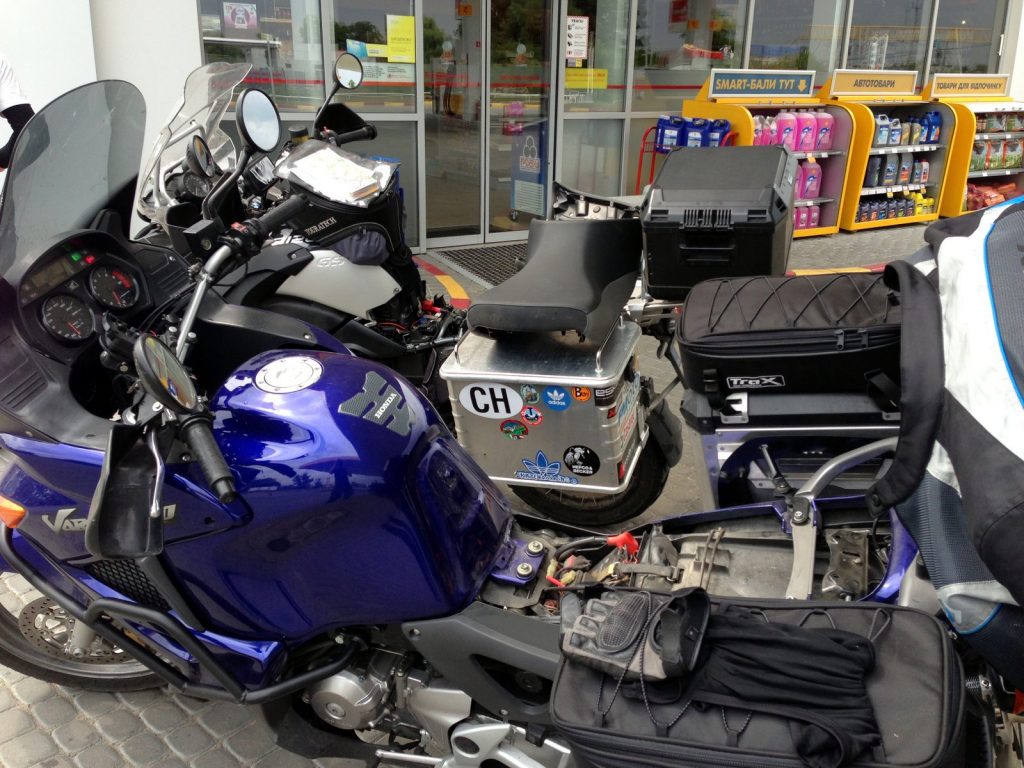 We are enjoying a slow ride until we get back to Slovakia. We cross the borders relatively quickly. Border control is very kind to us. Both Slovakian and Ukrainian border police let us jump the queue of cars so we don´t have to spend any more time in this scorching sun. Later we find out that that Ukrainian border police weren´t motivated just by kindness of heart. I think it cost us something around ten euros for both. Their Slovakian colleagues check kilometres on the clock, petrol levels and let us go.
We try to get to Morské oko lake from Snina through Zemplínske Hámre. Locals and few signs tell us that it probably won´t be possible. So we decide to go around through Humenné and Zemplínska Šírava, where I´ve never been before. It starts raining so we stop in a roadhouse Rybnička and get something to eat. It is pouring down with rain so we decide that we will visit Morské oko some other time. We are heading towards Sokoľany, where at the friend´s house we change to dry clothes, have a sip of wine and go to sleep.
Route: https://goo.gl/maps/tnrmPfAQorR2
Friday, the 12th of July 2013. It wouldn´t be fun to choose the easiest and shortest route home so we decided to go through central Slovakia. We´re heading towards Medzev, Mlynky, Dedinky and finally home. Quality of roads vary from new tar to completely abandoned areas. It´s funny that one sees so many foreign countries and doesn´t know his own.
We´ve done 2350 km in total on the good and bad roads and had nice and not so nice experience. Ukraine is definitely worth seeing again so I hope I will return there one day. Mostly because of the "white" moments. 🙂
Route: https://goo.gl/maps/mva4Z6y95PU2
Fotogaléria (nasnímané smartfónom Sony Xperia Z):