Lots of people think of Romania as the type of place you go to get robbed, and these prejudices made it all the more attractive to us. It was our very first road trip and we decided to explore Romania, its "Transalpina" Road and the "Transfagarasan" road that crosses the mountains. Our group consisted of seven people riding six bikes.
First of all, I need to tell you how I felt before our initial trip and provide some background information; at the beginning of our trip it had been exactly 9 months and 10 days since I had got my driving licence. By then I´d done approx. 2200 km, 500 of which I had my wife with me as a co-driver. I knew this trip was a big thing for me and I was fully aware of the responsibility I had since I wasn't travelling alone. The point was to get over my fears and out of my comfort zone. I didn´t think we would manage to pack all of our stuff including a cooker into a 42 litre trunk. We also needed sleeping bags and a tent. But in the end we managed and with the tank bag filled to capacity with batteries, chargers and camera we made the leap into the dark.
I still didn´t quite understand how we were going to manage all of this. I mean, how we would cope with the rain, heat or cold. It was dead easy in a car but on the bike…
Our group is got together and we all met up…
We met up in stages, we first met 5 bikes at the petrol station in Hungary and the last bike caught us up with not far from Budapest. The road was pretty boring to start with like a never ending highway, just miles of cornfields in the heat. After the last bike joined us I started to look around and learn. I realize that while driving, one needs to look around horizontally just as much as they do vertically. When I say "look around horizontally" I mean to keep an eye on the weather. When I looked up I could see quite a few heavy grey clouds, so here we go our first proper downpour while riding the bike. Later we learn a few new commands and hand signs which helped us communicate with the other riders in our group while driving.
The route for today is quite an ease one; Bratislava -Budapest-Karcag-Oradea, it´s only a 461km route. The border crossing is quite an experience, and you can notice the difference immediately when you look at the state of the road.
After Alesd we took the 1H road heading towards Sinteu, here we finished for today and pitched our tents on a big meadow in Nová Huta/ Sinteu. The 1H is a really nice road and a pleasure to ride along.
At the beginning none of us could really understand why we kept seeing so many cars with Slovakian license plates. Later on we found out that we were in a part of Romania with a huge Slovakian community. After a little chat with one of the locals we found out that we could pitch our tents on a meadow near the local school. He also told us that we had arrived on the second day of the local music festival, so you can imagine what followed. We put up our tents, changed and went out to socialise. We paid for the tickets and then ate, drank and I can´t quite remember whether we danced as well. It was absolutely amazing. The next morning wasn´t the easiest one, but definitely not the most difficult either. Sleeping in a tent with our shoes outside the entrance brought back some good memories. But it also reminded me that camping wasn´t really my cup of tea. Never mind, I had accepted this challenge and I didn´t plan on giving up now.
Have a look at this Tv report they´d made just one day before we arrived: http://tv.sme.sk/v/20467/ziju-tazko-ale-pokojne.html
Čágo bélo šílenci
The next day we got ourselves ready, folded up our wet tents and in the deep mud we turned our bikes around. Oh, I almost forgot to mention just how absolutely perfect one of the bikes was for traveling with; Pato´s little chopper, who found it really difficult to turn around in muddy terrain. Now all I can just say is "R.I.P little chopper" as Pato sold it and swapped it in for a more reasonable set of wheels.
We knew exactly where we were heading, we wanted to cross the Transalpina and Transfagarasan roads through Cluj Napoca, Turda, Alba Lulia towards Sebes (approx. 246km). On our way we saw lots of yet unfinished mansions under construction.
After Sebes we entered the hills and forests leading to the long-awaited Transalpina road, which we had written down as the 7A. We rode around Oasa Lake (Lacul oasa) and found accommodation in Obarsia Lotrului. Here we found a campsite, but because of the impending rain I went for a motel/hotel this time. I even talked the rest our party into joining me (though I must admit not everyone was happy about this). We took out our tents out and let them dry after the previous night.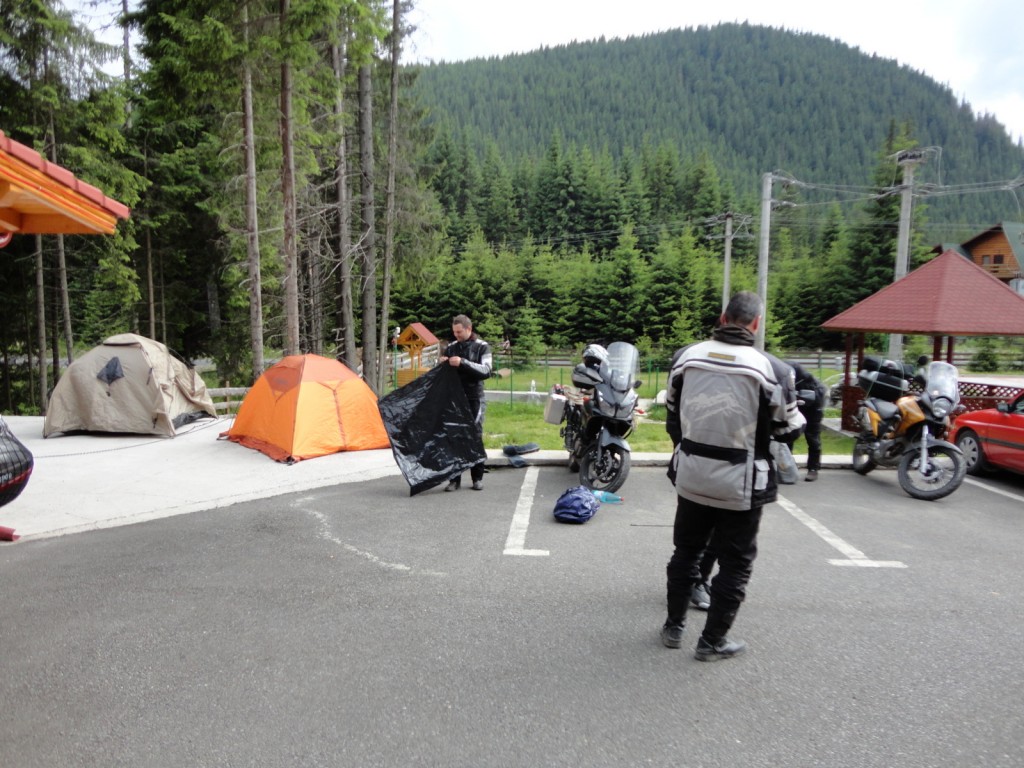 Transalpina not-transalpina
We woke up early and packed. We had a big decision to make concerning the days route. Were we to go east or west? Where would we actually find THE Transalpina? The 7A was heading in both directions. We didn´t really like the look of the road heading West so we decided to go East around lake Lacul Vydra. It was a bit cloudy and we were expecting some rain on the way. The meandering road was pot-holed but nice, typically Romanian and nobody really minded. It was the day we were expecting to end up at the Transfagarasan. A nice short route of not even 250km.
At first it looked like a nice road, but from Brezoi to Curtea de Arges it was quite tedious. The road was full of traffic since it is a main route and part of the E81. The nice part starts somewhere around Lake Vidraru. From there it´s a nice meandering road and at this point everyone was excited to see the famous Transfagarasan.
The weather was not on our side that day. It was rainy and the visibility was close to zero. We were crossing Transfagarasan downcast, cold and chilly. We crossed the tunnel to get to the other end but conditions didn't improve. We didn´t really stop as we want to carry on and find accommodation and sit out the weather till the next day.
We ended up stopping in Bâlea Cascadă. The accommodation here was acceptable and cost us just a few euros.
The story of Matthieu Tordeur and how our jaws dropped
In the evening we met a young guy on his bicycle, very modestly packed for his trip, pedalling up the Transfagarasan.  After a while we found out that this guy was French and he was travelling from Paris to Istanbul on his bicycle. Our jaws dropped in amazement. He was travelling very modestly, with a very small budget, sleeping wherever he found a place. Immediately Miro offered him the spare bed in his room. In the end we invited him to dinner and it was really nice to have met him. Later we found out that this wasn´t his last journey… but if you are interested in his story, you can put his name into google and add "Microcrédit en 4L" to the end of it.
Transfagarasan for the second time and Dracula in the wrong place
We took a photo with Matthieu in the morning and went our way. We crossed the Transfagarasan for a second time since we hadn't seen much of it the day before. But before we could do that we needed to start one of the more mischievous of the bikes, due specifically to its battery… thank God for our handyman Miro.
We overtook Matthieu twice. First on our way there, and then on our way back. To this day I still can´t understand how he could manage that road on his small bicycle.
At 1pm we had lunch in camp Poiana Marului which has a nice name and had an even nicer closed gate. We were really starting to starve and getting some food became our top priority. While we were parked up talking in front of the closed gate, and slowly getting back on our bikes, the gate opened and the owner invited us in. He only spoke Romanian, so after we ordered through the means of hand signals, pointing at legs and making facial expression, we waited to see what we had actually ordered 🙂 Our soup was a good example of how we had not exactly expressed ourselves well.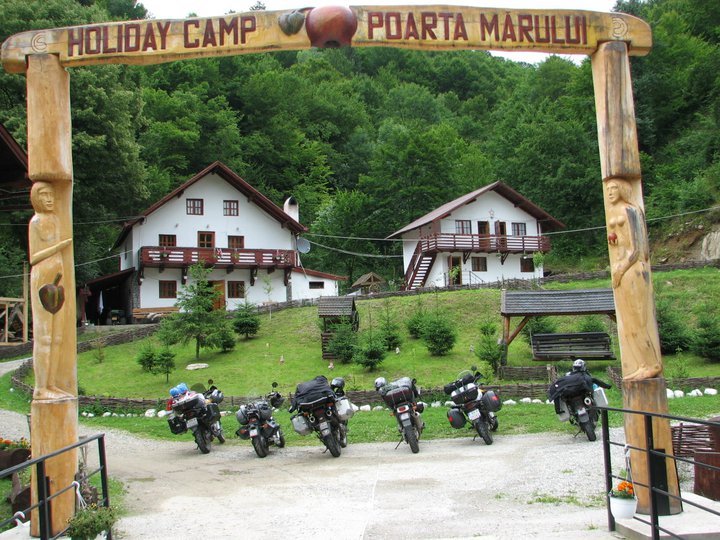 We were heading towards the town of Bran. We wanted to see castle Bran, the former home of Count Dracula. Walking around the castle in bike gear was very "in" and comfortable. To be honest, I wasn´t very impressed. For me it was just another castle surrounded by stalls selling all sorts of souvenirs. It was a complete tourist attraction. Moreover, apparently this isn´t even the right castle. The one Dracula actually lived in, or better said what is left of it, is the ruins we saw on our way to Transfagarasan.
We lodged in the small guesthouse "Beatrice" in a small village called Bradet, a few km from Brasov. We had made better time than we thought we would when we were planning our trip, so we decided to go and see the Berca mud volcanoes. Our guesthouse had its own petting zoo consisting of deer and ponies 🙂
Volcanoes without lava
We got on our bikes at around 9am and we parked up at 10:45 in a nice and simple parking lot. The walk up wasn´t difficult at all. Even a lazybones like me can do it without a problem. I didn´t know what to expect but I was pleasantly surprised by more or less everything there. If you´ve never been to Iceland, don´t bother, you ´re going to be disappointed. Come here instead. It´s approximately an hour long walk and when you get to the volcanoes there is a small snack bar to rest at.
Having visited the volcanoes we turned back home, the volcanos were the furthest point of our trip. We headed towards Sighisoara. The weather was quite warm and we couldn't find anywhere to have lunch. By 16:00 we finally found somewhere to get a Romanian BBQ.
We wanted to get as far as Sovata that day but due to fatigue and the look of the weather, we started considering finding accommodation as soon as possible. Once again, we didn´t seem to agree on whether it should be a campsite or a motel.
In the end we decided to go for a motel. Not everyone was happy about it as we were carrying tents with us, which we had only used three times so far. We found quite a nice motel called Motel Corsa. We started considering the issue of security as we were in close proximity to a town, we worried about the potential danger of our bikes being stolen during the night. Having asked the receptionist we were assured that everything was monitored by closed circuit cameras 24/7 so it was absolutely safe. In spite of that, just to be on the safe side, we parked our bikes in a configuration that made it very difficult for them to be stolen. The last two bikes on the ends were also chained to things. Call us paranoid but it´s always better to be safe than sorry.
A lazy day with bathing in the cold thermal springs
In the morning we went to see the town and its surroundings. After yesterday's trek I didn't really want to walk anywhere. My boots badly hurt my feet so I immediately volunteered to keep an eye on our bikes. It took them approximately an hour to look around the town and visit the castle on the hill. I have no souvenirs from this town except a photo of neatly parked bikes and the knowledge that one of my colleagues was born here. When the rest of our group came back they told me they had found a house where count Dracula was supposed to have lived between 1431 and 1435.
We left the town at approximately 11:30 as we were getting a bit tired. The next stop was a spa town called Sovata. It´s only an 88km long ride and the sun was shining. We were trying to join the main road but we came across a STOP sign. It took a while to find a gap big enough to take in 6 bikes. All of a sudden there was a local policeman directing the traffic and trying to make a gap for us. But one of the drivers wouldn´t have it and tried to push the policeman aside with his car… if you want to see more watch the following video. I´ve never seen such a rude driver in my life.
We found Camping Perla Lacului Sovata where we dropped everything, put on our swimming suits and got ready to try out the lake. On our way we came across a stall selling langoše (A deep fried flat bread made of potato-based dough, served with toppings of for example sour cream, cheese etc.) We ate, drank bear and had a swim in the lake Ursu. This resort has been used and sought-after all year round since 1850 and it was personal favourite of the Romanian Royal family. Ursu is the largest salt and heliotheric lake in Europe. The water in the lake is salty but its top layer is fresh. The fresh water on the surface of the lake comes mostly from rain fall. Fresh and salty water doesn't mix which means that the layer of the fresh water works as an insulator. The water temperature in large depends on the intensity of the sunshine.
We brought some supplies and the local alcohol "Transilvanicum" in the local shop. The evening was short, funny but also very tiring. For breakfast we had leftovers. Have a look at the photo (132).
Happy cementary and whimsy beyond understanding
This was the day before the last day that we spent in Romania. We headed north, having rested for a day, we were now ready for the forthcoming 250 km heading towards Sapanta. We took a look at the map and decided to stop in the small village called Moisei. That´s where the photo called "End of Mojsej in Romania" was taken (slovak story that can be hardly understood by foreigners, sorry guys 🙂 ). The entire country reminds me of the Carpathians; stark contrasts of many people on horse carts in areas with rows of huge houses (159, 160) the use of these houses remains a mystery to us.
It was only when we got to Sapata and saw the "happy cemetery" we could laugh at the wit and sense of humour of local villagers. At the time of our visit they held a local fair there. To get through the crowd proved quite difficult but not impossible.
We decided to spend a night here, since at the end of the village we discovered campsite Sapanta. We pitched the tents and ate at the local pub/guesthouse Ana, situated on the bank of the local brook which was also the natural border of our campsite. We were woken up by horses running unattended around the campsite. It was quite picturesque, shame the horses weren´t very friendly.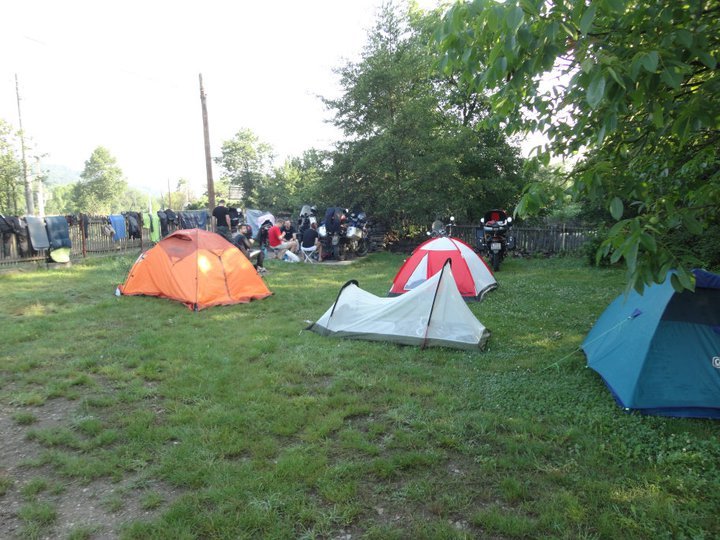 Every trip must come to the end
Our trip was definitely at that point now. It was only a 640km ride home which could have been done in one go as the rest of our group did. We however decided to say goodbye to them and visit our friend in eastern Slovakia and spend some time with my godson. This way we prolonged our trip by a further two days. I´ve discovered that even the same road (Košice – Bratislava) can be different every time you decide to ride it.
And that´s the end of our trip with two Transalpas on the Transalpine.
Pictures were taken mainly with Sony Ericsson Arc.